taylor swift's new merch is inspired by the time she wore her clothes backwards
The snake emoji isn't the only thing Taylor's reclaiming.
|
03 November 2017, 4:19pm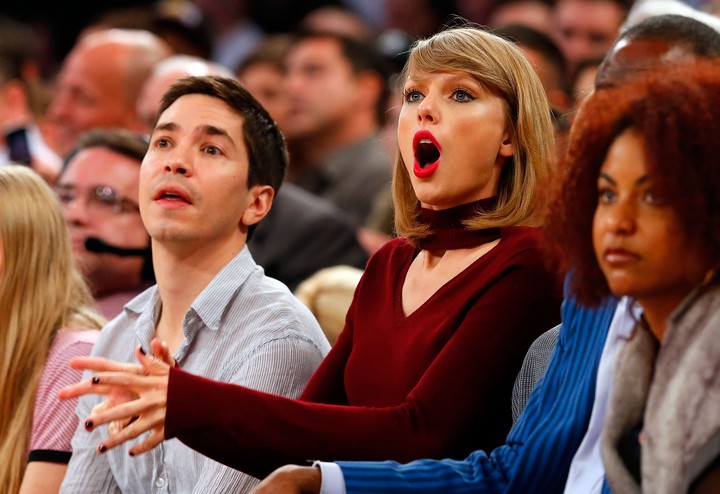 Jim McIsaac via Getty Images
There are certain narratives that Taylor Swift would like to be excluded from, and then there's the time when she accidentally wore her clothes backwards. That time was in 2014, when Taylor was photographed at a basketball game wearing what appeared to be a maroon sweater with a clever cut-out at the front. It resulted in a floating turtleneck situation that was supposed to happen at the back. "But backwards tops are all the rage," you might say, which is true, except that Taylor had no idea she was wearing the top backwards until it was pointed out to her on Tumblr.
The account tayswiftstyle was very generous about Taylor's "decision," writing, "Her bordeaux sweater here is actually a reversible piece with Taylor opting to wear the neck cut out side for the front and the high-neck turtleneck to the back." But the pop star's response said it all: "I think what they're trying to say politely is… I wore the shirt wrong."
Well if the shirt is wrong, Taylor doesn't want to be right. To hype her new album Reputation, Taylor has dropped a merch lookbook, and as Buzzfeed points out, one shirt looks very similar to the one she wore to that basketball game three years ago. "Everyone told her she was wearing the shirt wrong so she went ahead and made it herself. Iconic," tweeted one fan. The top isn't yet available to purchase, so the product name is TBD. It wouldn't be the first time Taylor has playfully trolled us with a clever shirt.