Bonzai wears jewellery model's own.
i-D's music class of 2018: bonzai
If you don't recognise Bonzai by name, you'll certainly be familiar with her vocals via one of this year's biggest bops, Mura Masa's What If I Go?.
|
14 November 2017, 9:11am
Bonzai wears jewellery model's own.
This article originally appeared in The Sounding Off Issue, no. 350, Winter 2017 as part of our Music Class of 2018 portfolio.
Dubliner Cassia O'Reilly doesn't really know how to define her sound yet. And why should she? At 21 years old, with a handful of experimental EPs out, Bonzai -- as she's better known -- should be in no hurry to label it. On the other hand, having lent her vocals to a couple of pop bangers on her mate Mura Masa's debut album -- both of which sonically and lyrically overflow with a vibrancy often lacking in chart music -- we feel like we already know her so well. "Last year was the best year of my life," she says, of performing Nuggets and What If I Go? live with Mura, from small gigs to Glasto, ahead of his album release. "It was just like touring the world with your best mate. What more could you want? I like songwriting, but my favourite part is performing."
But the party had to end at some point, and now she's fully focused on crafting her hotly-anticipated debut album. As we spotlight i-D's Music Class of 2018 -- and the raw talent hailing from outside the capital -- get to know the effervescent Bonzai before she graduates to the big league.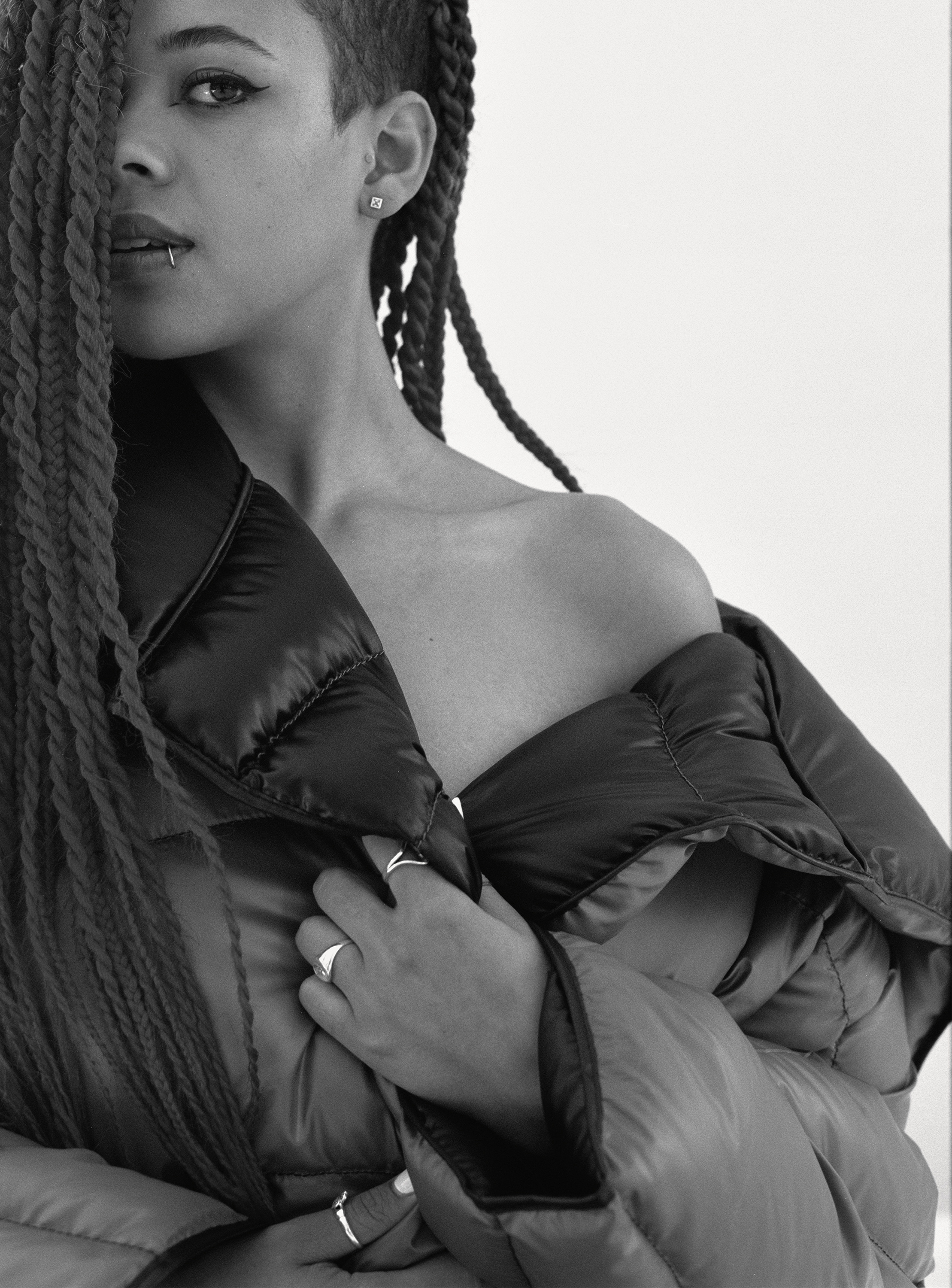 Hi Bonzai. How would you describe your music to someone who's never heard it?
Hmm I don't know. It's not solidified yet. I've just been having fun and experimenting, so 'experimental' I guess.
Tell us a little bit about where you're from.
I'm from Ireland. I grew up in Wicklow and then moved to the capital, Dublin. It's very fun and the people there are great. There are not many places like Ireland on earth. The Irish -- they're just very, very good people.
What is the music scene there like?
It depends who you hang out with. If you're on the surface, it's gonna be like everywhere else -- pop -- but if you're beneath the surface and into the music scene, it's mainly dominated by techno-house. Techno-house or hip-hop. They're the main things that have stuck. Most of the nights I went to were house and techno nights. There was this one strange phase when dubstep was happening.
Back in like 2008?
Yeah. That was actually sick, really fun.
Do techno and house beats have a big influence on your sound?
Yeah I think they definitely have. I used to only listen to beats, there was a big chunk of time that I only listened to house music. Not many vocals or anything, but I obviously love to sing.
So you had to combine the two?
Yeah, it was a little bit tricky, it was like, "Wow how do I do this?" I'm not so into the trance-y vibes.
What do your do parents do?
My dad is a businessman, he does lots of different things, had a restaurant, had a skip company that I had to work in, properties and stuff. Sometimes we did this together -- buy a house and do it up, which was really cool. My mum used to be a teacher and now she's doing jazz music, she's a singer.
Was this a big factor in becoming a musician?
Yep. My dad is a great drummer. They've both always been really into music and listened to it at home. My dad was into rock and soul. My mum's more into gospel, I guess. But still, enjoyed like Destiny's Child. All sorts!
What do you think is the biggest challenge young people today face?
I think there's a lot of -- in western society -- pressure put on young people, to do 'something'. The aim instead should just be to be happy. I think back in our parents' day, or are grandparents' day, you met someone, you had a family, you went work in the post office, it's like that's cool, no one's judging you for working in a post office. Today there's so much pressure on kids that's like, "What are you doing with your life?" "Why are you working like this?"
"Being a woman is definitely something I love and want to embrace. I want other women to feel good about themselves because I feel good about myself."
A lot of high expectations.
Yeah there's just a lot of that put on young people. Fair enough if that's not what you wanna be doing, then don't, get yourself out of it. If people are happy, that should be enough. And also, everything else that's going on in the world is pretty stressful and it's been left to us to sort out.
Musicians are increasingly using their platform as a place for change. How do you intend to use your platform? What's important to you?
When I have more platform, I will. Definitely for women. Being a black woman, it's one of the hardest things to be in the world. But I think I get more shit being a woman than I ever have for being black. Being a woman is definitely something I love and want to embrace. I want other women to feel good about themselves because I feel good about myself. I'm comfortable in my skin, I don't mind having hair on my body, or wearing no make-up. I'll go wax too, but when I feel like it, not because I'm feeling pressured.
So you feel a pressure to conform to a certain look within the music industry?
Definitely. Look at Rihanna, who has gained a little weight. I think it looks great, and most people I know would be like, yeah she looks sick. But I've seen tabloids being like 'Is Rihanna gonna make fat the new thing?' How is anyone calling that fat? It's just crazy. There's definitely pressure to be a not-real-human-thing, just a nice thing for people to look at.
How did you come to work with Mura Masa?
We met somewhere on a rooftop a few years ago. I'd been sent some of his beats from his first mixtape. We met up and whatever and it was just really fun. We went for pizza and drinks the day I moved to Brixton. It was his first time in London, he's from Ireland too! We went back to my house to chill. As soon as we got back he picked up a guitar! He's amazing, he's really nice to be around.
And you consider him an important creative collaborator of yours?
You know what's funny, I really respect all of his views on everything. We agree on what music we like. Honestly, we've got loads of tunes together. But we don't work well together. It's not a match made in heaven. We end up doing stuff which is fine but he'll send me something and then I'll write something. We're almost too close, you know. We've lost that element of professionalism. We're just too close. If we go in and are having a shit day, we just take it out on each other. We just know each other too well.
What was touring like?
Touring was amazing. Last year was like the best year of my life, so far. Touring the world with a best friend, what more could you want? But you know, now I want to do this thing alone, so I left.
How do you feel about everything right now?
It's alright, but now that we're working on an album, it's different. Before when I was starting to make my own music, it was all experimental and on EPs. You can do what you want on EPs, so it's a lot of fun. Making an album, you really have to put your head down and really write. Last year all the EPs I wrote were on the road, almost demos. A lot of it was just to see how I felt about things -- I think it's difficult to hear something if it's still just you.
What effect did What If I Go? have on your career? Did it feel like a turning point at all?
No, not really. I don't even think my name was on it. It's funny because it was big in Ireland. That was the only thing, I got a lot of messages from people back home, being like "Oh my God, is that you?" It was on the radio all day. It was a proper pop song, on all the mainstream channels!
What song makes you want to start a revolution?
M.I.A., Born Free.
Credits
---
Photography Ronan Mckenzie (Collage by Kristina Britton)
Styling Julian Ganio
Hair Naoki Komiya at Julian Watson Agency. Make-up Ammy Drammeh using M.A.C Cosmetics. Styling assistance John Handford and Nathan Henry. Hair assistance Kazuhiro Naka. Make-up assistance Grace Ellington.