Calvin Klein spring/summer 18. Photography Mitchell Sams.
the ever-changing nature of the art x fashion collab
Spring/summer 18 was a landmark season for a new kind of partnership.
Calvin Klein spring/summer 18. Photography Mitchell Sams.
"Why have there been no great women artists?" asked the Breton top that opened Maria Grazia Chiuri's spring/summer 18 Christian Dior collection. It recalled the opening look of her debut collection at the house, a T-shirt that read, "We should all be feminists." Both looks divided opinion, not so much for their politics but for the fact that Dior was making T-shirts. Maybe we should be glad then, that even if the world won't accept Dior doing T-shirts, they will accept them putting feminist slogans on them. Not that this is about the politics of the slogan T-shirt.
The tee took its title from Why have there been no great women artists? a 1971 essay by Linda Nochlin that examined women (or their absence) throughout the history of art, and the reasons for their lack of representation in the art world.
The "Why have there been no great women artists?" T-shirt, would, you imagine have been of particular resonance for the first female creative director of Dior. Possibly a little dig at the lack of women running the big fashion houses, or an ironic jibe against some of the criticism her collections have received within the industry.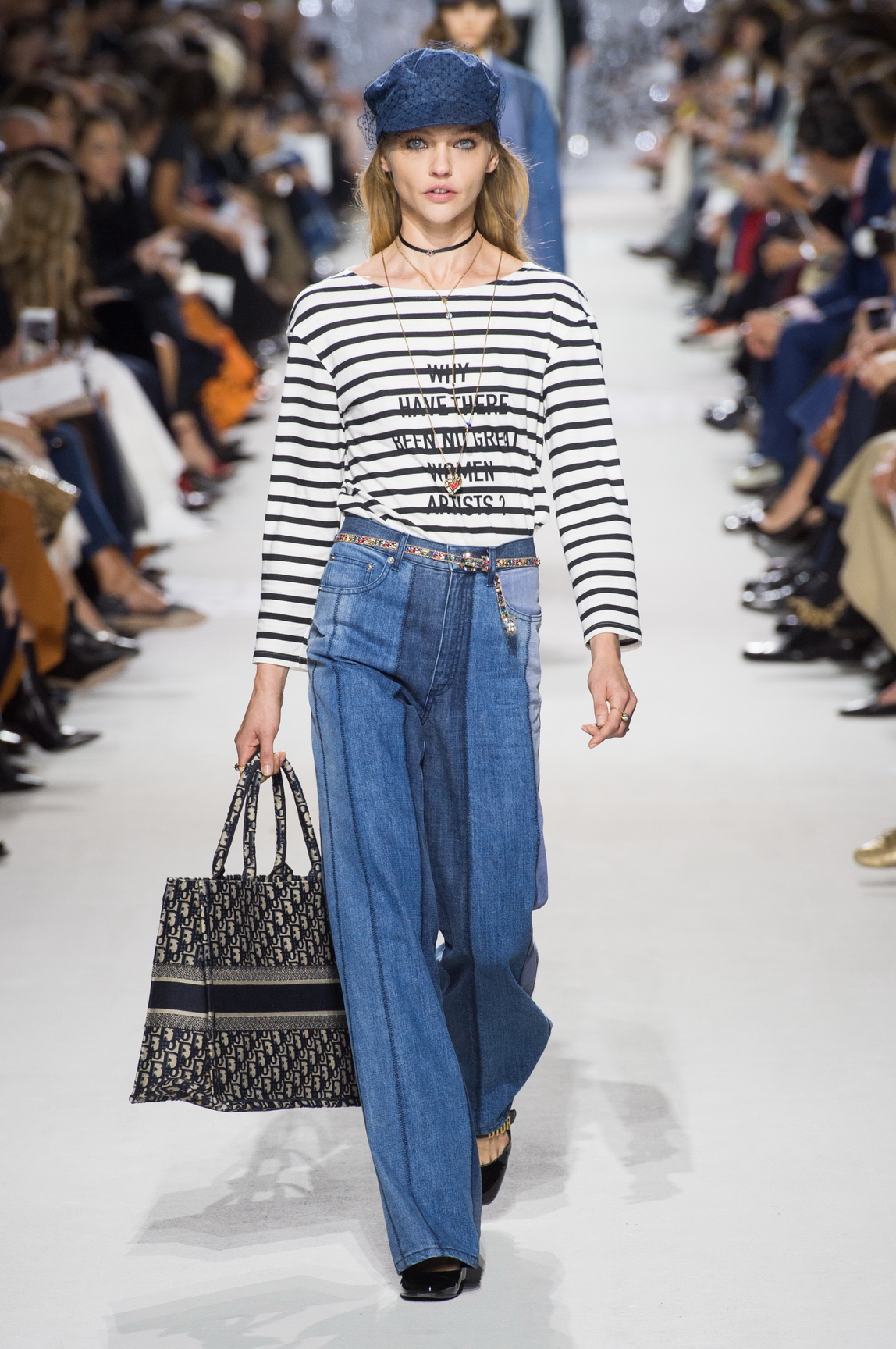 More than just an empty T-shirt slogan though, Maria recruited Niki de Saint Phalle (or at least the estate of, seeing as Niki died in 2002) for the collection, utilising her motifs and imagery throughout the collection. She was hammering the point of the essay home by enlisting a great female artist who's not really a massive household name, even if she was also fêted and respected by the art world during her lifetime, collaborating with Jasper Johns and Robert Rauschenberg (most female artists having to wait till they are dead to achieve success).
Niki de Saint Phalle was most well known for her human-esque sculptures that, in their bumps and lumps, resembled a colourful and particularly avant-garde offering from Rei Kawakubo. But her work could easily be as disquieting as joyful. She made paintings using a gun and bags of paint (the most famous image of the artist features her pointing a gun at the camera) and used art as a form of therapy. When Niki was young she worked as a model and graced the cover of Vogue, but she had a traumatic upbringing, was abused by her father, and suffered from mental health problems throughout her life, which art helped her deal with.
So there's a lot to unpack there for a Christian Dior collection. But if there was a defining mood in the art x fashion collaboration business this season, it was that we are stretching to something a bit more intellectually stimulating than pretty prints by big name artists.
The art x fashion crossover has been peaking for a few seasons now, and it has definitely reached some kind of saturation point, or at least a peak. Every season is roundly filled out with over a dozen once in a lifetime collaborations. Most of which feel cursory and tacked on; a signature motif on a signature jumper or a special print on a very expensive scarf.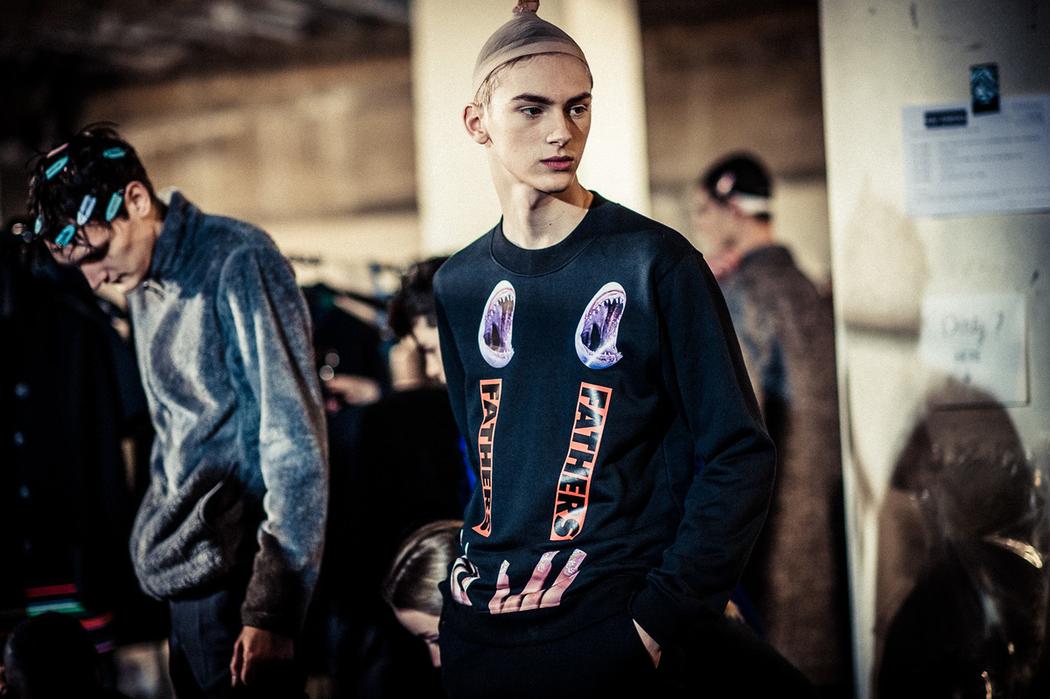 Few seem to want to utilise the best of what both art and fashion do best to enhance each other, the best of spring/summer 18 seemed to at least attempt to do this. It moved on from the dull but dominant art and fashion collaboration vibe and tested new ground. To riff on Linda Nochlin, we should be asking ourselves: "Why have there been no great art and fashion collaborations?" Although of course there have been iconic and covetable and collectible and interesting ones. It's just not a lot that have aimed for depth.
So a nod first, to Raf Simons and Sterling Ruby, who, it seems, must be nodded at whenever the subject of the relationship between art and fashion comes up. But here, especially, as they kicked off the season with Raf's Calvin Klein collection, which was a tribute to American horror and American beauty; finding these themes in the works of Andy Warhol, portraits of Dennis Hopper, and a Sterling Ruby designed set that featured Carrie-esque buckets, axes and cheerleader pom-poms. It set the mood for the season's art-fashion mix, by actually using art to amplify the meaning of the fashion. And of course, Raf's 2013 collaboration with Sterling still sets the high water mark of what is possible when art and fashion combine.
If art and fashion found feminist form at Dior, it was a mood continued throughout the spring/summer 18 shows. They united to push each other's progressive politics. Take Prada for instance. This season the brand collaborated with a host of female comic book and cartoon artists to tell a story of feminism, female achievement and creativity in a stereotypically male-dominated field. One of the artists Miuccia featured, Tarpé Mills, even created the first female superhero made by a women.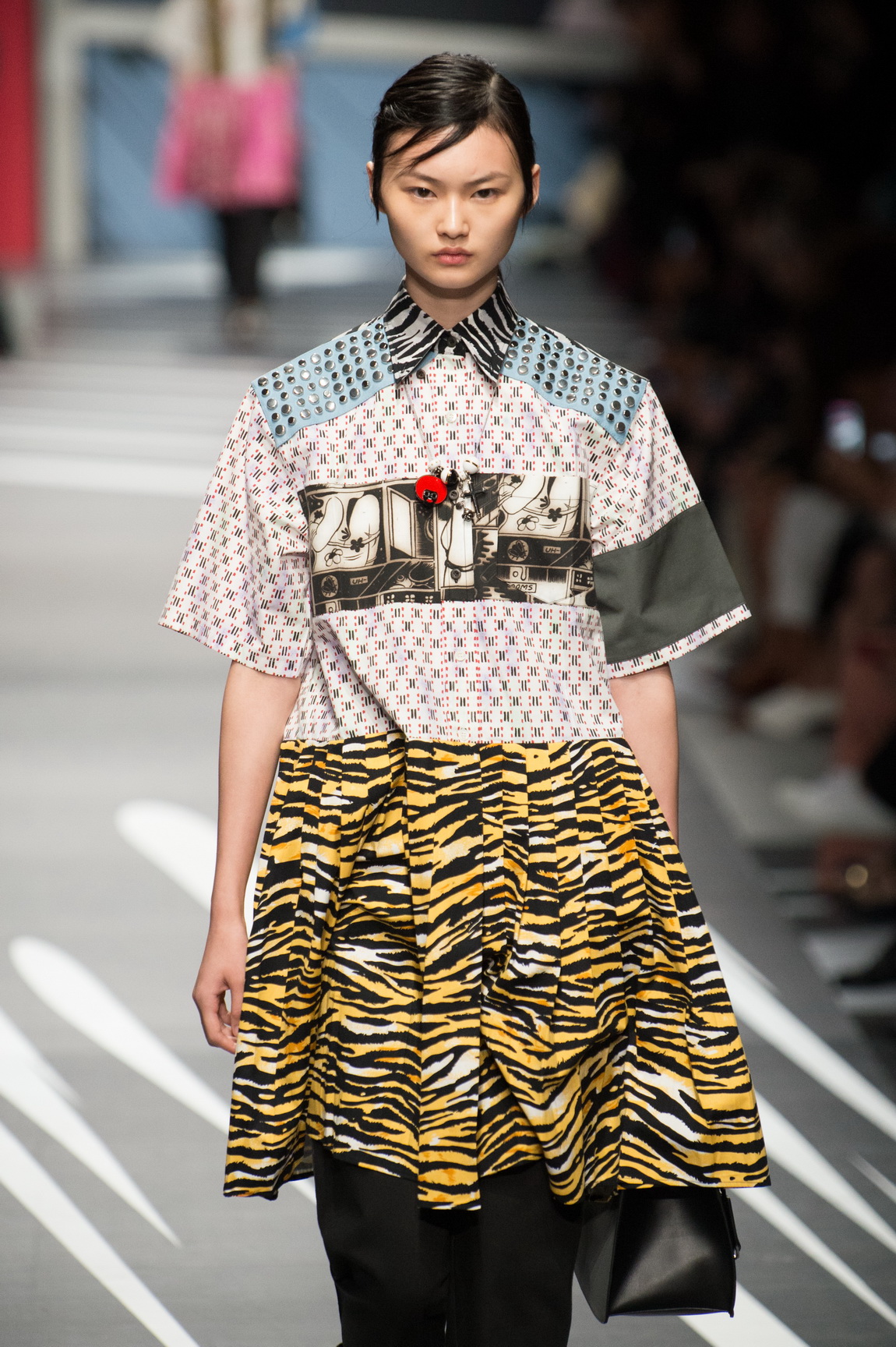 The collection managed to easily bridge those most Prada-esque of juxtapositions, being in parts cutesy, tough, artsy and intellectual. The clothes mirrored the feminine punky spirit, rolled up sleeves, protective silhouettes, and aggressive patterns. Miuccia used the comic book art to enhance all this. It was never though, a collection about the art, or conversely a collection which overshadowed it either, both seemed to strike together a political-fashion-visual harmony.
Usually it's left to either the artist or the designer to lend a bit of theoretical heft to the ephemerality of the fashion, an easy shortcut for a designer to add some intellectual weight to another parade of dull dresses.
Maybe the most conceptually interesting art fashion collaboration of the season was unexpected. Firm fashion world favourite Cindy Sherman, you might imagine, has been featured to death, yet Undercover's Jun Takahashi, rather than slavishly reworking Cindy Sherman's art into garments, instead riffed on her work's concerns, uncovered her themes and worked them into the collection.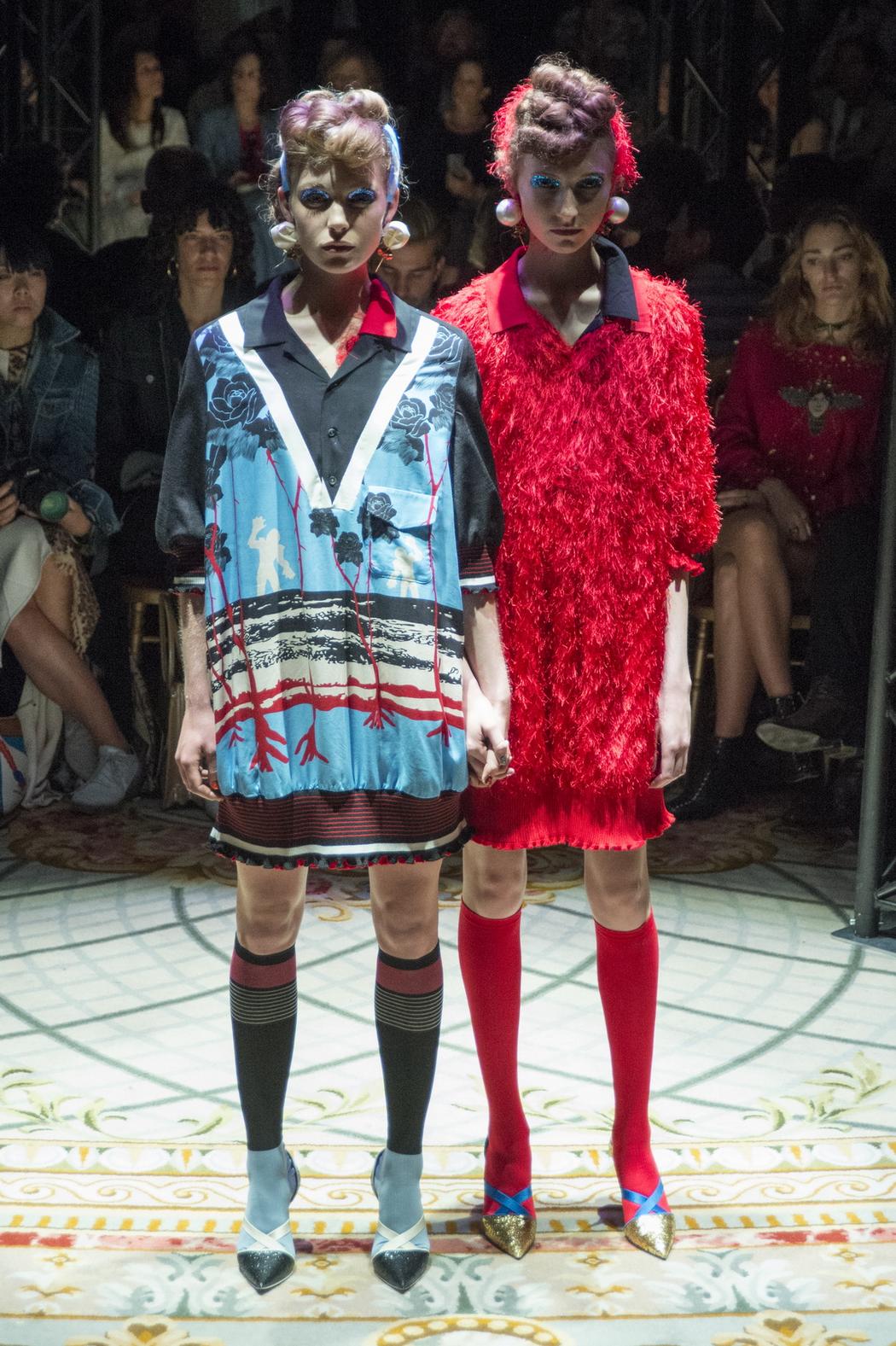 The models came out two by two, kind of The Shining meets Noah's Ark, with each pair's look exploring ideas of similarity and difference. One look featured identically cut dresses, but one in floral reds, whites and teals, the other in a stilted grey. Or two identical suits, one a negative of the other, or appearing in variations of the same pattern. There was here, the hint of reversal, each garment, the designs lead you to believe, was the same, just turned inside out, revealing something entirely different on the other side. Which is what Cindy Sherman's work does so well; the power and possibility of change through surface difference (make-up, clothes, etc.) and how these all pose questions of identity.
What all these collaborations and crossovers boil down to, like all of fashion, is just that -- identity. More specifically, female identity seen through an explicitly feminist lens. It was refreshing to see two creative worlds come together to explore this and to do it in such a variety of ways. Spring/summer 18 felt like it pushed forward the way art and fashion can interact, dovetail and work together. It was striving to reach some more intellectual depth that does both forms justice.