frank ocean's 10 most subversive fashion moments
The R&B superstar celebrated his 30th birthday in glittering Gucci leggings, and fueled the year's best bromance by wearing a Brad Pitt t-shirt. We track the evolution of Frank's quietly disruptive sartorial statements.
Photography Frank Ocean
"He was a straight black man who played his first televised set in bikini bottoms and knee high heeled boots, epic," Frank Ocean wrote in a passionate all-caps Tumblr post thanking late pop superstar Prince for rejecting "archaic" gender notions last year. Frank — unlike Kanye West or A$AP Rocky — isn't the first artist who springs to mind as fashion superstar. He composes his Tumblr essays in the middle of the night, and live-streams albums from abandoned Brooklyn warehouses. When he goes to fashion week, he often does so in secret. But the elusive R&B artist has a seriously bold wardrobe game. From t-shirts calling out bigotry to checkered Vans at the White House, we revisit Frank's most revolutionary fashion moments.
Glittery Gucci birthday leggings (October 2017)
Frank's Paris Is Burning-themed 30th was sheer opulence, and so were his pants. The bedazzled crystal mesh Gucci leggings he wore to see out his 20s are from Alessandro Michele's fall/winter 17 runway collection, and appeared in bodysuit form on Rihanna at Coachella. While Rih wore the look with jorts and a singlet, Frank paired his birthday pants with a fitted red top, calf-height boots, and dramatic Gucci pineapple sunglasses, before hitting the runway to face off against drag queen Gia Gunn. The normally reclusive birthday boy has long been inspired by ballroom culture. On last year's visual album Endless, he sampled ballroom legend Crystal LaBeija, and name-checked the House of LaBeija on A$AP Rocky's track "Raf."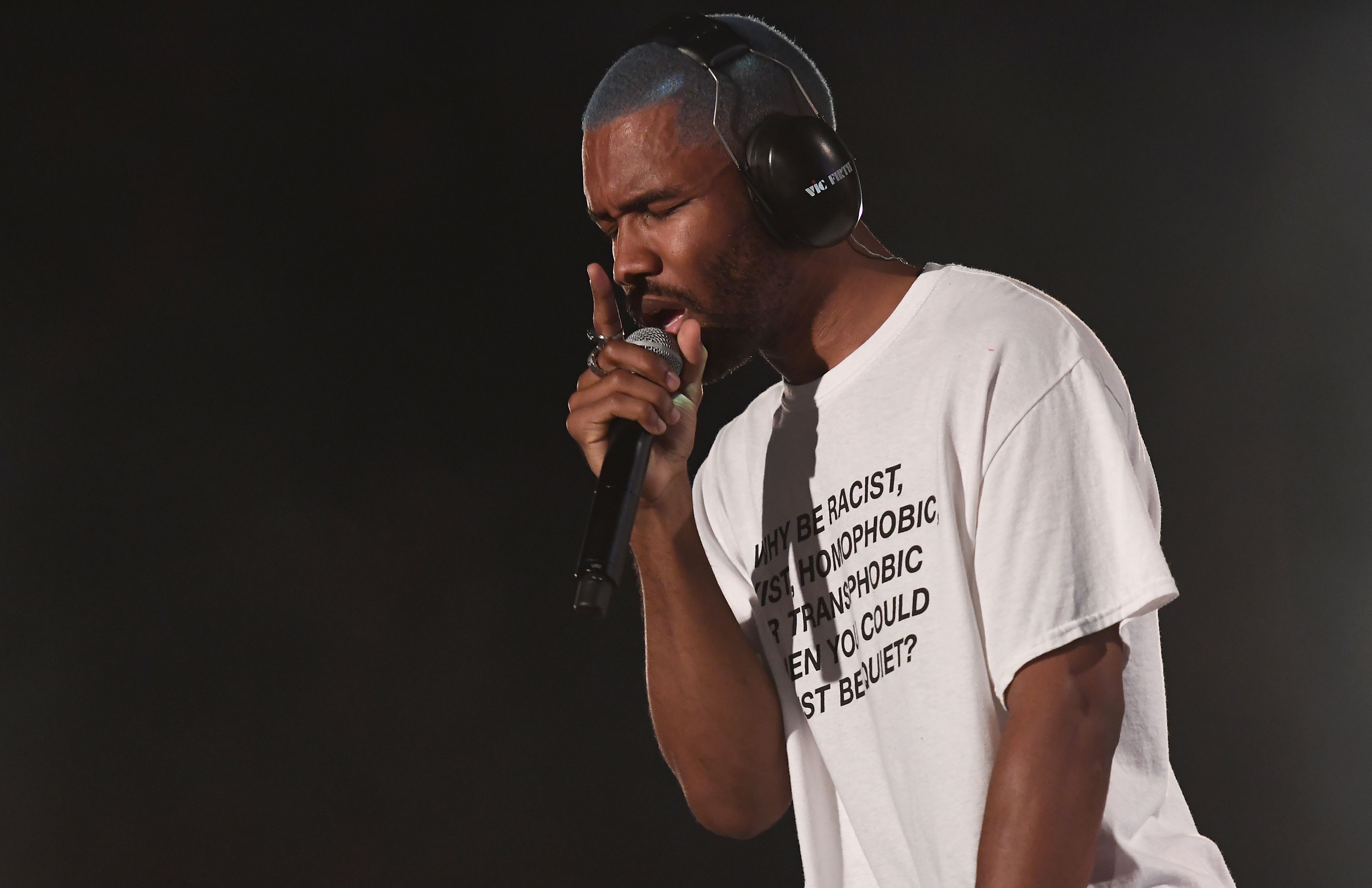 "Why Be Racist" t-shirt (July 2017)
Woke political t-shirts are hardly a rarity in 2017. But the one Frank Ocean wore for a Panorama Music Festival performance over the summer — a white tee asking, "Why be racist, sexist, homophobic or transphobic when you could just be quiet?" — immediately went viral on social media, where people praised its clever calling out of systematic oppression and dangerous stereotypes. But the shirt also had consequences far bigger than Frank could have ever foreseen. The $18.99 design was produced by an online retailer called Green Box Shop, but it turned out the slogan had originated from a 2015 tweet posted by a teenager named Brandon Male, raising questions about copyright in the age of social media.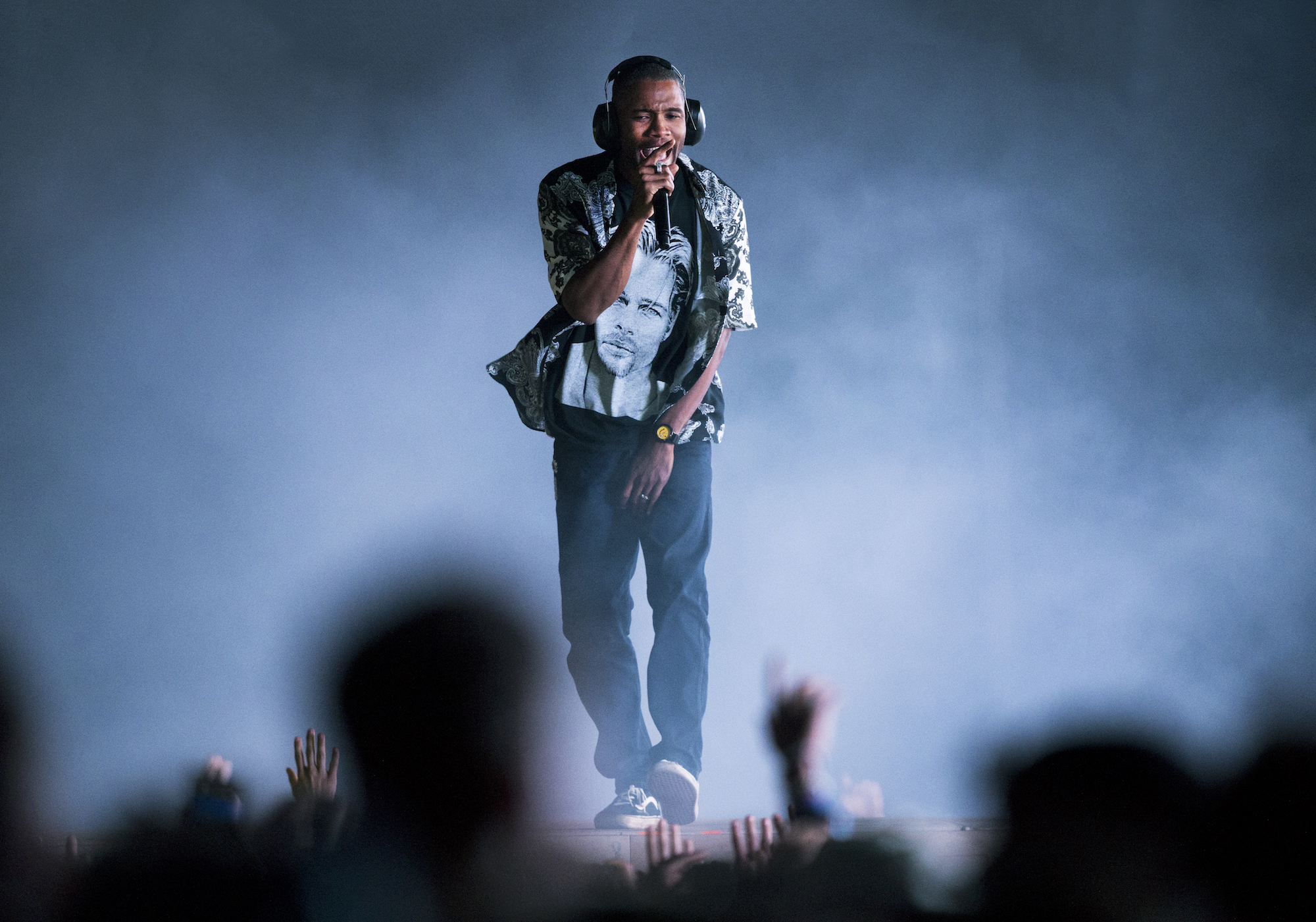 Brad Pitt t-shirt (June 2017)
"I've been listening to a lot of Frank Ocean. I find this young man so special," 53-year-old fangirl Brad Pitt gushed in a GQ profile last year, initiating the bromance you never knew you needed. Reciprocating the love, Frank took to the stage at Manchester's Parklife Festival wearing a t-shirt featuring the movie superstar's face, even playing up the Hollywood Boulevard tourist vibe by layering it with a Hawaiian print button-down shirt. To Frank, a t-shirt is never just a t-shirt — for a performance at FYF festival shortly afterwards, Frank serenaded Brad by singing to him over the phone while the actor's face was projected onto a screen. The public display of mutual admiration felt extra special in an age where most shout-outs are done on social media.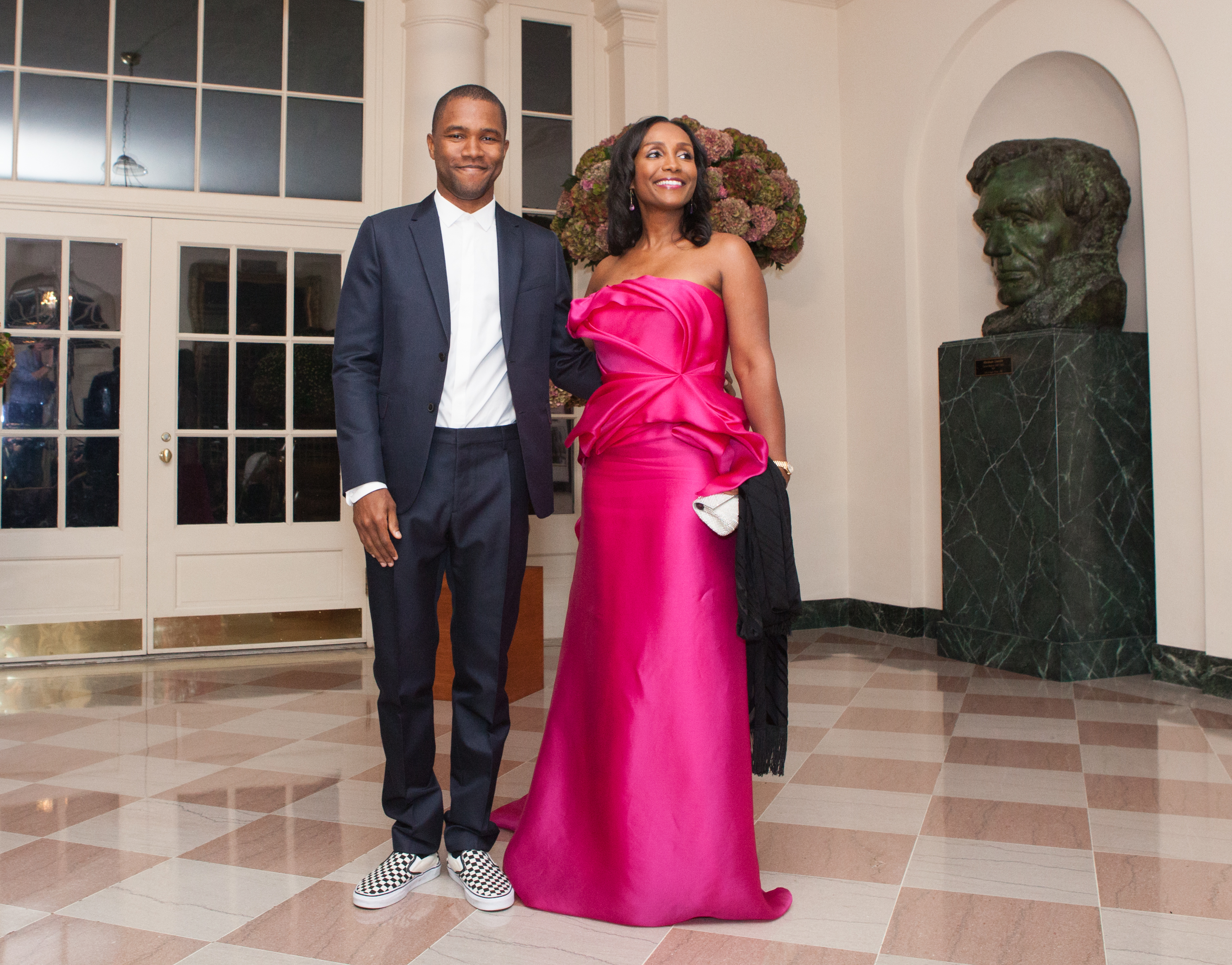 Vans at the White House (October 2016)
Frank had no profound reason for rocking up to Barack Obama's final White House state dinner last year wearing checkered Vans. "You can't think, you just have to do things," Frank explained matter-of-factly to reporters after confirming that this was indeed his first time wearing Vans to a White House state dinner. Incidentally, the spontaneous questioning session happened to be Frank's first interview in three years. Remember when the only scandals emanating from the White House were fashion-related?
Balmain embellished leather jumpsuit (August 2016)
"These bitches want Nikes / They looking for a check," Frank sings in "Nikes," denouncing materialistic trappings while confronting his own newfound status. In the Tyrone Lebon-directed video for the track, the singer dances around in a custom pearl-encrusted Balmain jumpsuit, styled after a racing suit — in reference to Frank's love of fast cars. The expensive outfit and his glitter-dusted face subvert stereotypes of masculinity while also implicating Frank in his own consumerist critique. It contrasts noticeably with a Jenny Holzer t-shirt emblazoned with "Abuse of Power" that Frank wears in a later scene, and a stripped-back D.I.Y. version of the song he uploaded to Tumblr last month.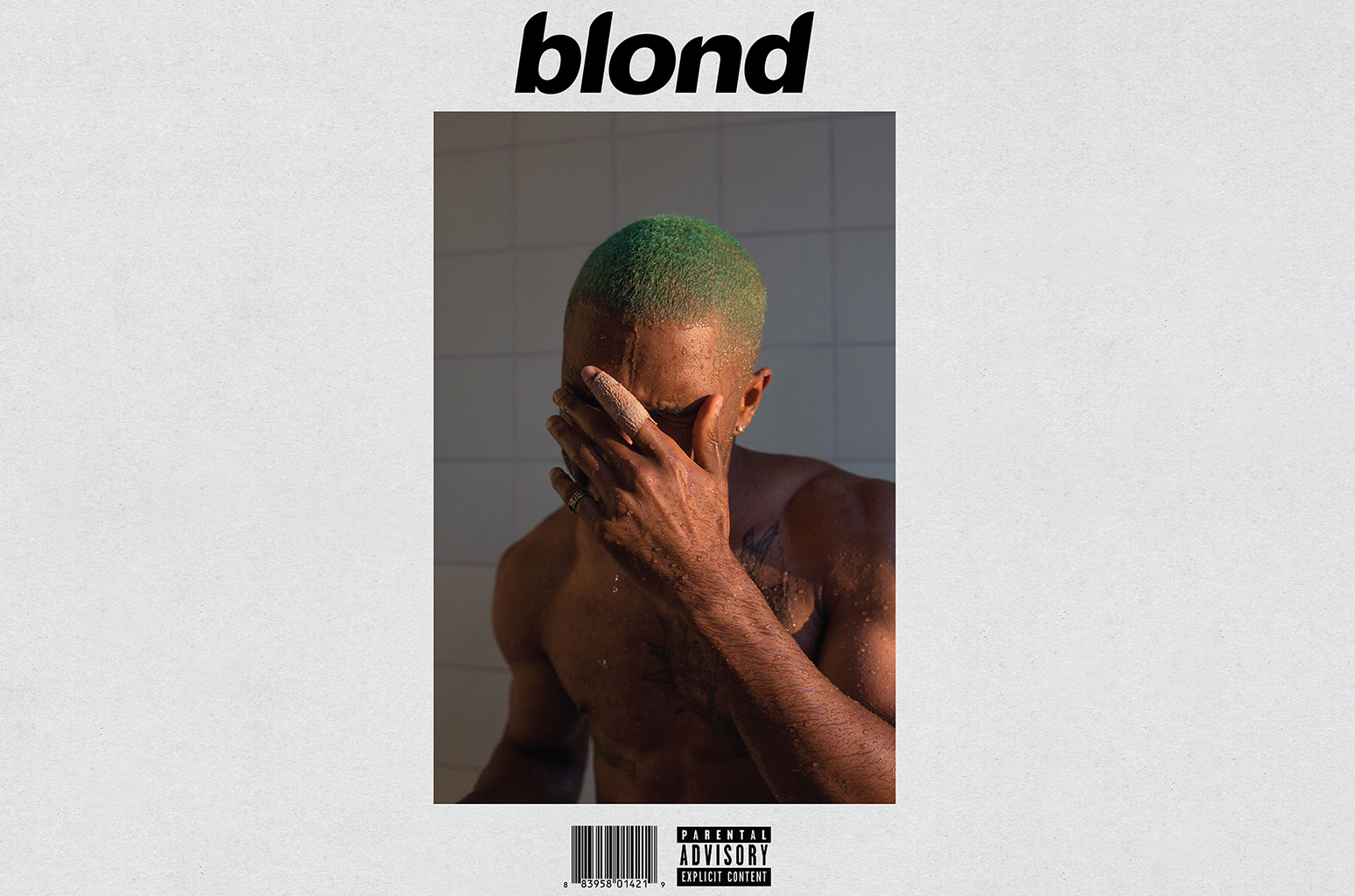 Vivid green buzz cut (August 2016)
Frank Ocean has synesthesia. The neurological condition — which Lorde, Dev Hynes, and Kanye West are also said to experience — basically links two or more senses, and can result in synesthetes seeing sounds as colors. Frank named his 2012 album Channel Orange after the condition, and has continued to reference colors in his music in the ensuing years. Fans have many other theories about why Frank first dyed his hair "seapunk" blue then chlorine green, including one about blonde hair and swimming pools. What's incontrovertible though is that Frank's dye jobs frequently subvert gender. His latest album, Blond(e), rejects gender and sexuality labels by encouraging fans to consider why we even have masculine and feminine denotations. It would have been way too obvious for Frank to appear on the album cover with a blond or blonde buzz cut, but his green hair can also be seen as a rejection of labels. Last summer Frank switched it up again by dying his hair millennial pink.
Calvin Klein campaign (July 2016)
While not the first of Frank's viral underwear photos to go viral — that award goes to the now-deleted mirror selfie he posted to Tumblr back in 2014 — the R&B star's 2016 Calvin Klein campaign was equally mysterious. The ads came while rumors were circling that Blonde was about to drop any day. Meanwhile, a hidden passage in the source code of Calvin Klein's website suggested that Frank was working on a novel. "[Frank] resists pressure and follows his own vision," the passage read. "He has published a magazine and worked on a novel while continuing to perfect his highly anticipated second album." The final ads — "I feel loved in my Calvins," Frank wrote across images of himself in the brand's signature briefs — made no reference to the novel, and we're still waiting to find out where it is.
Chris Brown t-shirt (September 2013)
Perhaps the boldest of Frank's many t-shirt choices was a 2013 number that called out Chris Brown for assaulting his then-girlfriend Rihanna. The shirt featured a black-and-white photo of Chris's face with the caption "Wanted! For Domestic Violence." Chris's tendency towards aggression has been well documented — including by Frank, who had claimed a few months earlier that Chris jumped him after trying to steal his parking space. At the time he was still on probation for attacking Rihanna.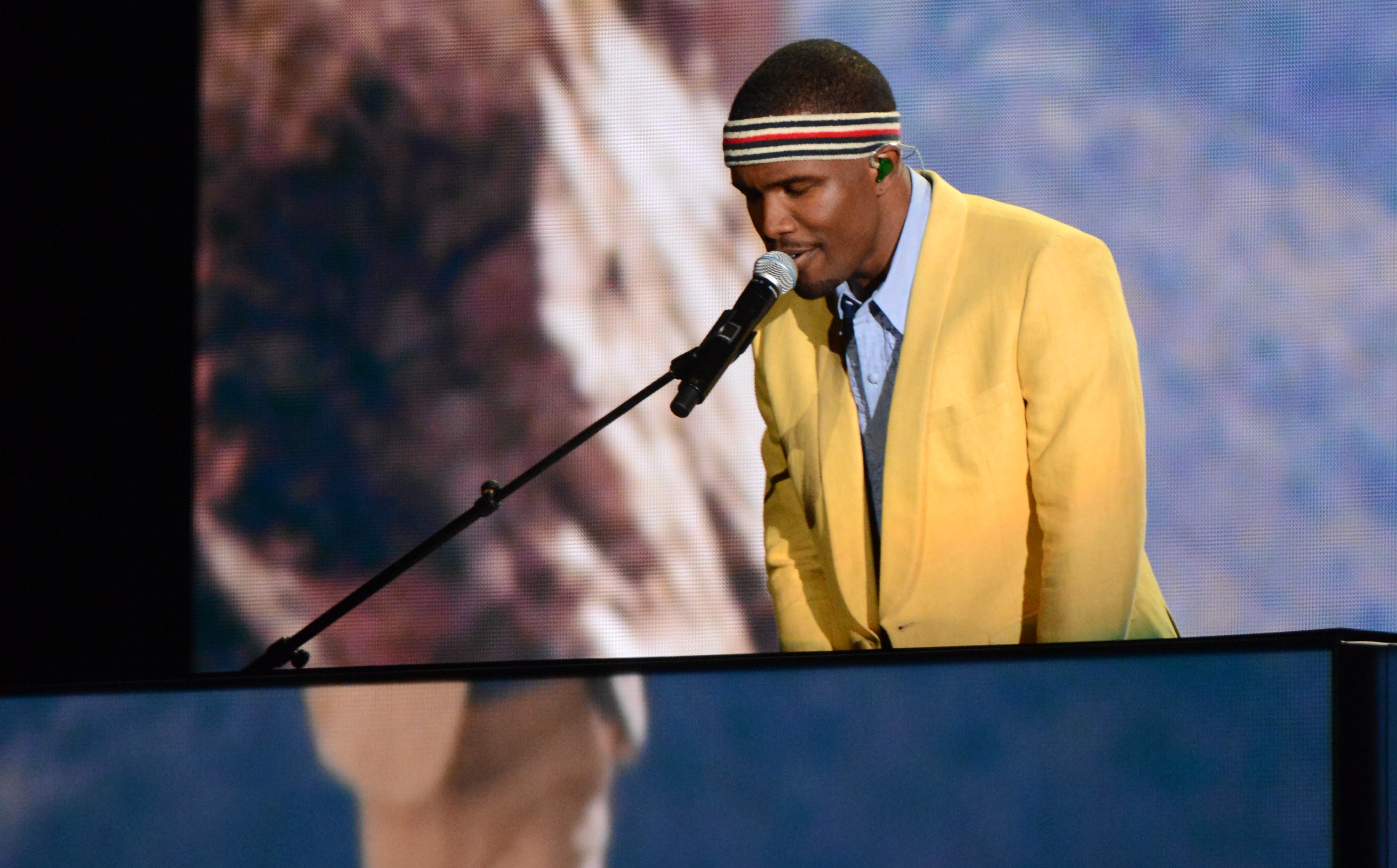 Wes Anderson suit (February 2013)
It might not be a huge surprise that color fanatic Frank is a Wes Anderson fanboy. "If you watch a great film," he told The Guardian in 2012, "you have a musical element to it, not just on the scoring, but in the way that the shots are edited — that has music and rhythm and time. Obviously the cinematography of films is art, just as a still shot can be art. If I'm watching a Wes Anderson movie, the color palettes alone, and the way they're painted, could be art." The mustard suit and striped headband he wore to The Grammys a year later? Straight out of the Richie Tenenbaum sartorial rulebook.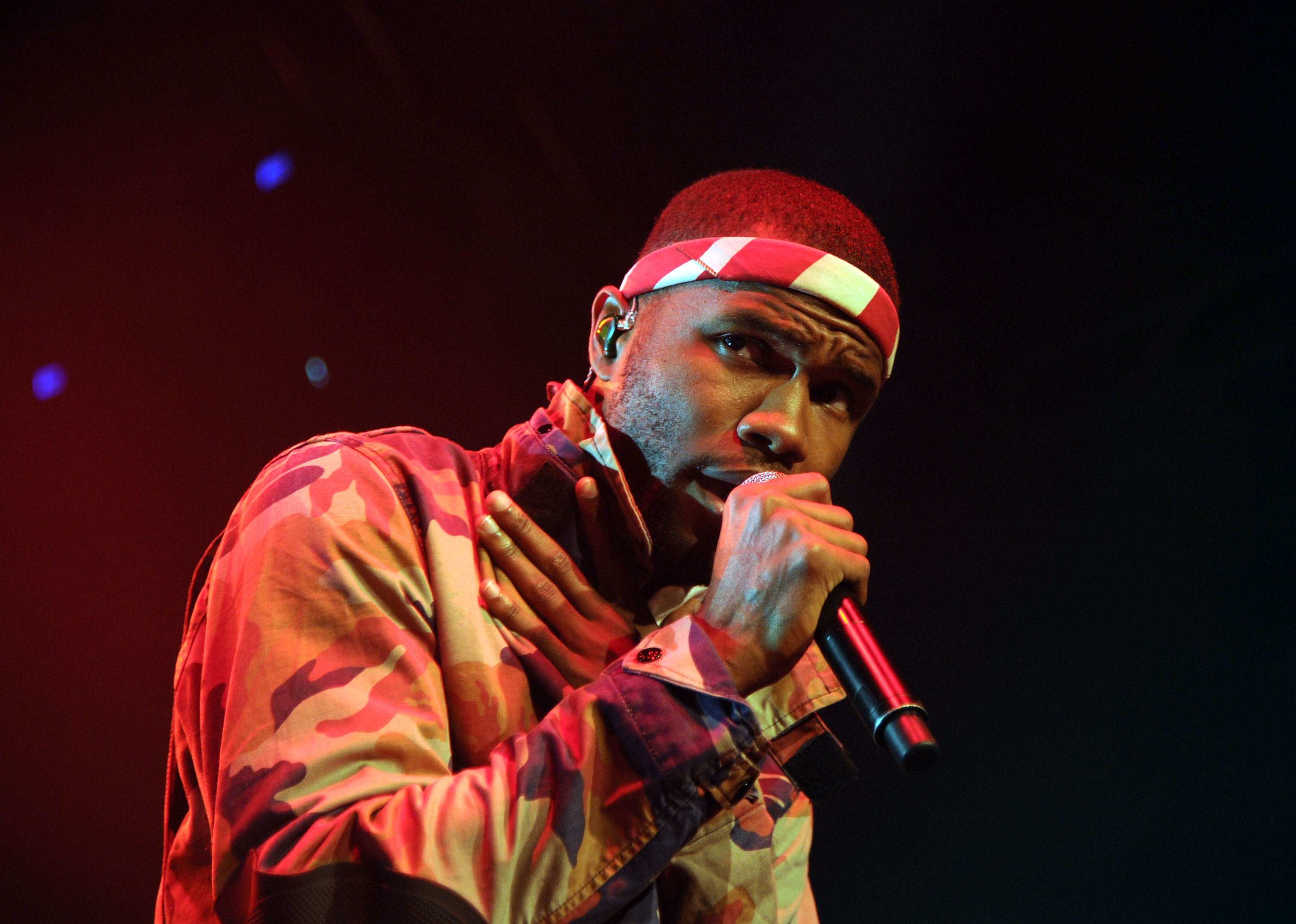 Rising Sun Bandana (2012)
Before he committed to Crayola-colored buzz cuts, Frank was rocking the same rolled-up bandana almost every day. The bandana features a Japanese rising sun, a symbol of the old Empire of Japan that has been co-opted by right-wing nationalists, and even equated with wearing a Nazi swastika or Confederate flag, though this was almost certainly not why Frank chose it. Rolled up, the pattern resembles an innocuous candy stripe. Nevertheless, Frank seems to have retired the accessory some time ago.