Collage by Douglas Greenwood
7 of The Simpsons' most iconic outfits
Even before the Balenciaga co-sign, America's most famous family had a storied fashion history.
Collage by Douglas Greenwood
For a family who've famously worn the same outfits for over three decades, The Simpsons, and the townsfolk of Springfield, have managed to birth a surprisingly fruitful fashion legacy. The blue denim in Bart and Homer's everyday looks; Marge's pearls; Lisa's sweet, swaying dress — in many ways, the wardrobe of America's most famous family has become as iconic as the characters themselves.
The Balenciaga SS22 show was a testament to that status. Last week, Demna Gvasalia's obsession with the long-running television show culminated in a miraculous presentation, set inside the Théâtre du Châtelet. Models, celebrities and editors alike paraded down a catwalk outside the venue wearing the new season's collection, with audiences of journalists inside unsure whether they were watching the arrivals or the show itself. It was part of the latter. The other half? The most incredible, cartoonish act of couture imaginable: a bespoke Balenciaga episode of The Simpsons, made by Matt Groening himself.
With Marge in that big gold couture gown, Homer wearing the bouncer high-collared jacket, and twins Sherri and Terri wearing those deliciously dark velvet bell jar dresses, the show brought all of the moments in The Simpsons where the fashion felt next level hurtling back to us. 32 years after its first episode aired, here are the looks that stand out as the most truly iconic.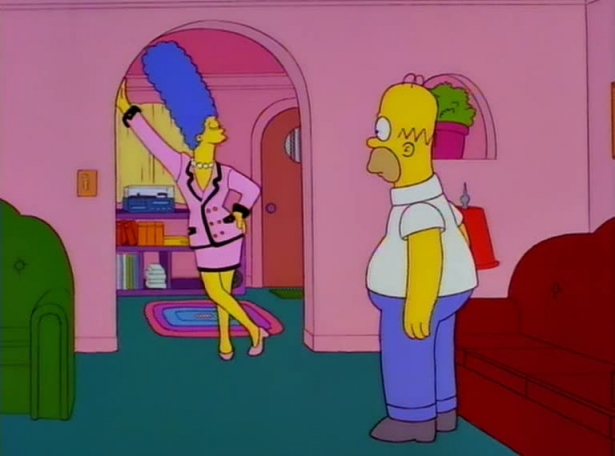 1. Marge's Chanel suit
In 1996, a landmark episode of The Simpsons aired. "Scenes from the Class Struggle in Springfield" saw Marge decide to slip into the persona of a woman of high society after stumbling upon a Chanel suit at a thrift store for $90. The energy it possesses leads to her joining a country club and fraternising with the wealthy women of the town. It was a rare moment for Marge — who seldom wore anything other than her famous green tube dress — to be framed as an object of power and desire in the show. But it was also a big moment for the representation of women behind the scenes in TV: this was the first episode of the show to be directed by a woman, Susie Dieter, and written by one too, Jennifer Crittenden.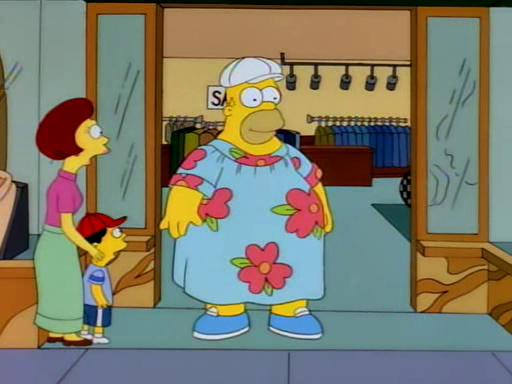 2. Homer's muumuu
Before the government was trying to force us to return to the office after the panny dee, Homer Simpson had his own way of ensuring he didn't have to drag himself out of bed in the morning and head to the power plant, leading to a look that's ingrained into our memories forevermore. In season seven's "King Homer", the Simpson's patriarch gains 61 pounds in order to claim he has a disability so he can work from home. But his weight gain also leads to this hot fit: a baby blue muumuu with a cute peplum skirt, adorned with aloha flowers. Paired with a baker boy hat that Dawn the Apprentice Jockey would rock just as hard, it rightfully earns its spot in the line-up of iconic Simpsons fashion looks.
3. Bart and Milhouse as sisters
Sometimes even the briefest of moments in The Simpsons stick in your head for a lifetime. Case in point: that time an episode of season 11 opened with a scene that saw Bart and Milhouse dressed up as chic women having a great time, bouncing on a bed singing "Sisters are Doin' It for Themselves". Bart wears a flicky Abba wig and a chartreuse strappy sundress, but it's Milhouse who really looks like that bitch. His little fluffy orange top, the polkadot blue skirt – those red pumps! Honestly, RuPaul saw Milhouse in this look and retired. Wig.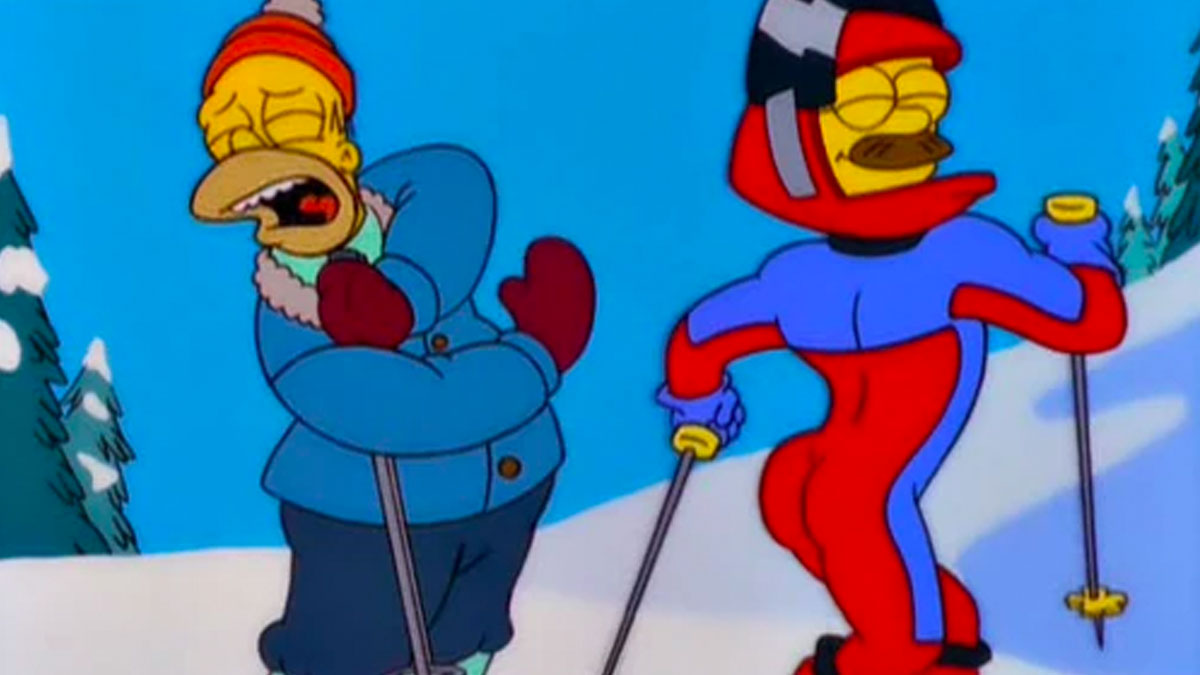 4. Sexy Flanders' ski suit
It's common knowledge that skin tight, barely-there sexiness is extremely 'in' right now. A sexless 2020 is being flipped on its head, but now that winter's coming, we've got to wrap up, right? Wrong! Ask Ned Flanders, The Simpsons' queer coded Christian do-gooder who, as seen in this iconic snow-swept episode, comes with cake. The show kicked off the new millennium with the episode "Little Big Mom", in which Homer has to look after the kids after Marge has a ski accident. But while that episode seems to feel distant plot-wise, we will literally never stop thinking about Flanders' ass in that lycra-fit red-and-blue ski suit.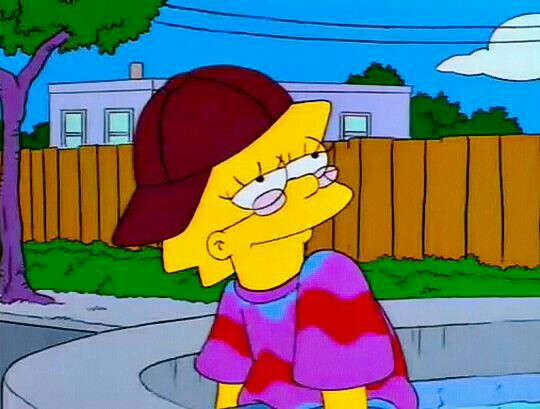 5. Lisa's trippy hippie look
Lisa Simpson is the unassuming kid in The Simpsons family: smart but famously overlooked for comedic effect. She dresses like someone who slips into the background. That is, until, she's the leader of the pack. In the episode "Summer of 4 Ft. 2" in season seven, the tables of popularity turn with Bart and Lisa. As the family head to the Flanders' beach house over summer, Lisa all of a sudden becomes everybody's object of affection. She dresses accordingly, like a 90s grunge hippie who can name, like, four Nirvana songs: ripped denim shorts, a loose tie-dye sweater, backwards cap and the famous, teeny-tiny shades.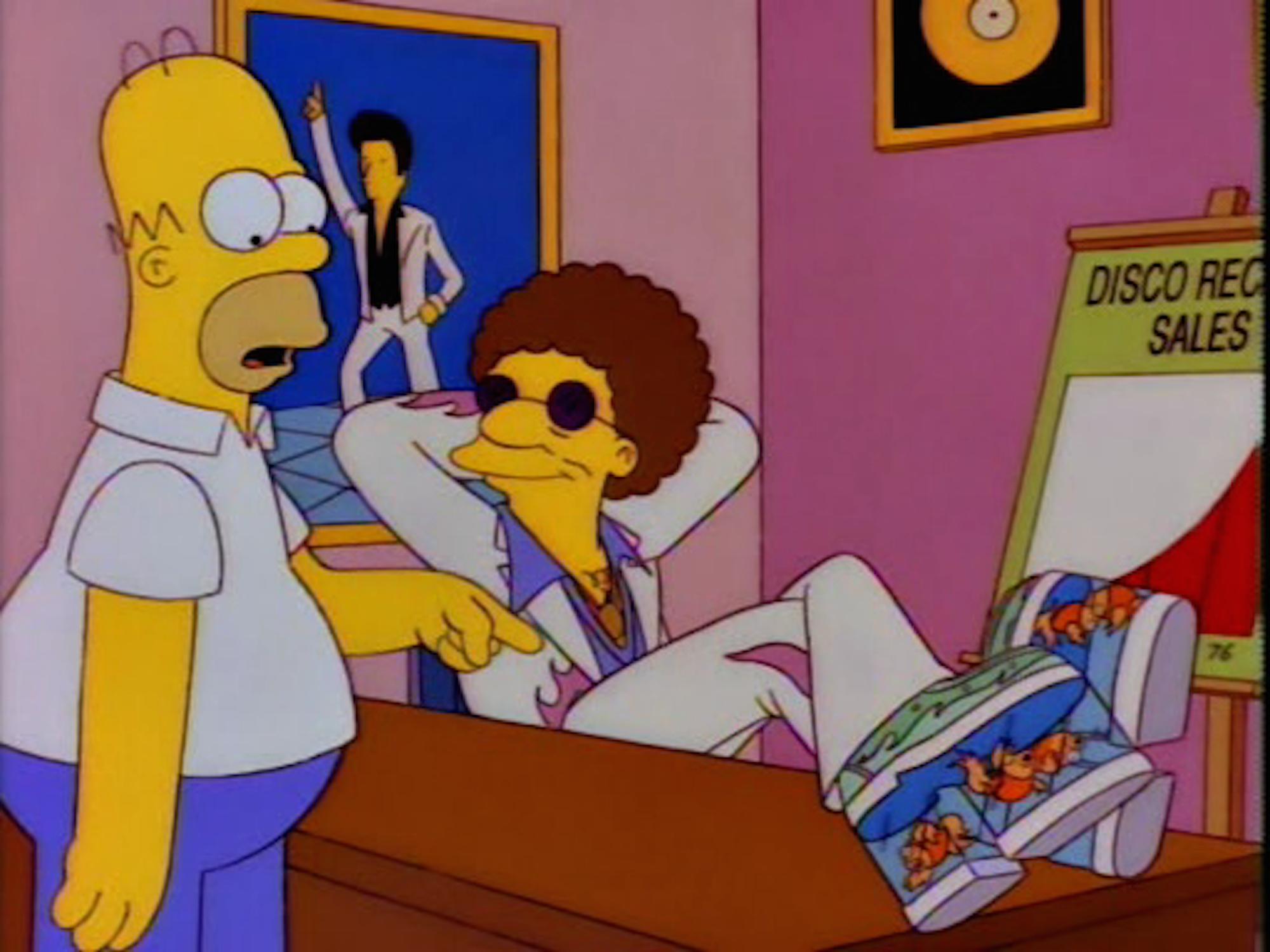 6. Disco Stu's flame suit
While most of the citizens of Springfield have fairly conservative outfits, a handful literally walk through daily life looking like clowns, bees or — in Disco Stu's case — like extras from Saturday Night Fever. That being said, Disco Stu has spent most of his time on The Simpsons looking dated, but now, thank to Gucci's throwback to 70s flares and oversized lapels, dressing like it's 50 years ago is extremely en vogue. His flame-doused suit also harks back to the 'best mate's birthday party' shirts era of the late 00s we've enjoyed a recent resurgence of too. And heck – our king even has goldfish platforms!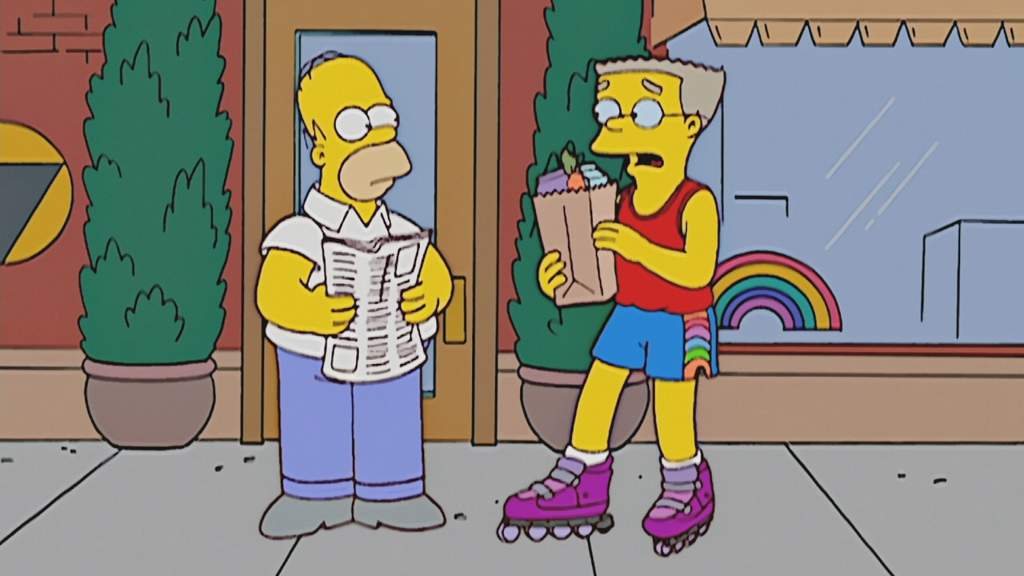 7. Smithers' Pride look
Every gay man knows the struggle of dressing for Pride. How do you put together an outfit that is appropriate for a) an annual protest to highlight the plight of marginalised queer people the world over, and also, b) a peacocking convention where hungry bottoms and tops chase each other round the streets and nightclubs of a city looking for NSA sex? It's hard! Know who's pinned it down though? Our boy Smithers. Mr Burns' lustful right hand man. In an episode in season 14, Homer ran into Smithers outside of the Sconewall Bakery, wearing the ultimate pride fit: a red vest, blue rainbow-adorned shorts and the greatest gay accessory… roller skates!
Tagged: