Listen to Charli XCX's funeral playlist
RIP. But dw angels, she's coming back to haunt you.
|
24 September 2021, 2:08pm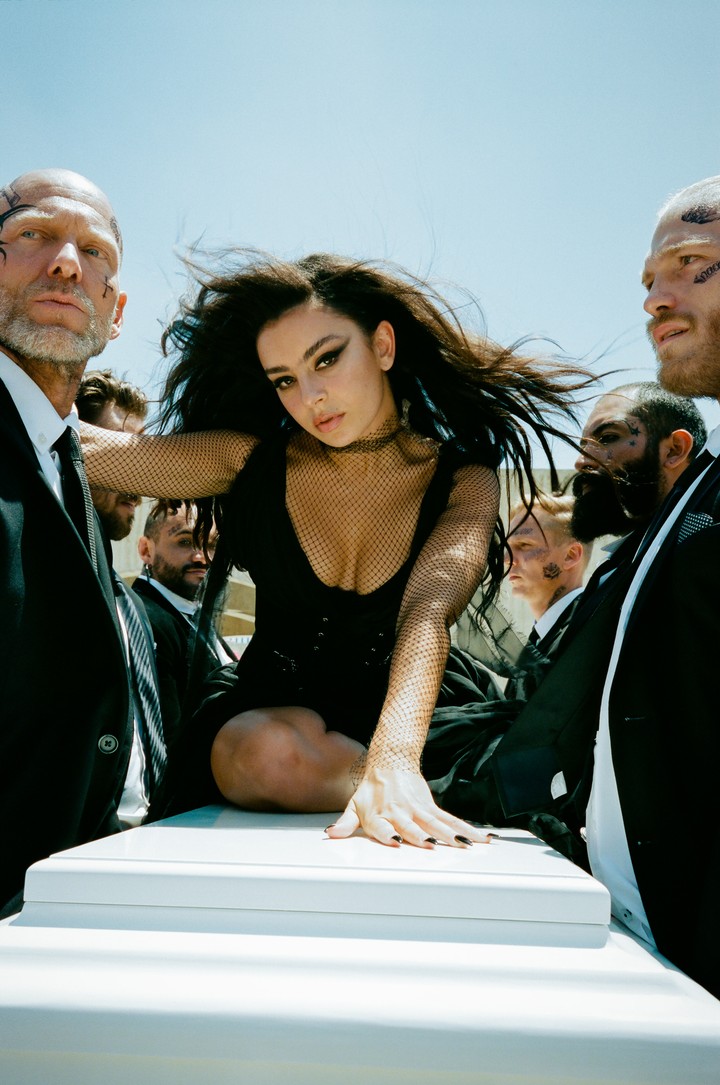 Photography Terrence O'Connor
"To become the new flesh, you first have to kill the old flesh," Charli XCX posted on Instagram last month, referencing cult 80s horror Videodrome but foreshadowing her new, much more evil era. Just a year and four months ago, the 29-year-old LA-based British pop star (one of the greatest songwriters of our time) released her lockdown album How I'm Feeling Now, a very DIY hyperpop offering which she captured the making of with a documentary. Now, for her forthcoming project — which she has quite openly declared will be her "last album on a major label" — she's decided to go all out and embrace herself for the pop icon she is. With new single "Good Ones", she ushers in that era with the slam of a coffin, big hair and some truly stunning graveside choreography.

All of this morbidity got us thinking… if it was Charli being laid to rest, in place of an angelic-looking dearly departed ex lover, what the hell would the soundtrack be? Listeners of her new podcast Best Song Ever — truly the Desert Island Discs revamp we've all been waiting for — will know that she views such end of life events as an opportunity to host your last ever party, so it's got to sound good, right? Far too curious, we asked Charli to indulge us and make a playlist for her own funeral. Featuring music by everyone from Kate Bush to SOPHIE, Aphex Twin to Eric Prydz, as you might expect, it's pretty damn eclectic.
Hit play and read on as we catch up with your very-much-still-alive fave to discover more about her post-mortem plans and the blood, sweat and tears going into album five.
Charli! How and where are you? What're you up to right now?
I'm okay. I'm at my place in LA looking after my dog and pacing around my house listening to new album mixes. I feel good actually, maybe a bit hungry.
What's this playlist all about then? Is it for your actual funeral or the after party?
It's my funeral playlist, for sure. I'm imagining my friends and family will be present at my funeral and each one of the songs on this list has a personal connection to one of my friends. Either the song reminds me of them, or it's their favourite song, or it's the song we share memories to or dance to together all the time. That's why it's quite diverse I suppose.
Which track from the selection means the most to you and why?
I think probably "Opus" by Eric Prydz, because I've shared a moment with all of my friends to that song, both together in one room and separately. It really reminds me of feeling euphoric with people I'm closest to.
Is there anything on there that you think might surprise people?
I think probably the Bread choice might confuse people a little, ha. But I used to listen to Bread all the time when I was younger because my mum would always play them — so that one's in there for her.
Let's get the rest of your funeral planned: What's the dress code? Who's giving a reading? What does it say on your tombstone?
I think the tombstone might say "coming back 2 haunt u" or something like that… I actually think I'd be an excellent poltergeist. I like the idea of a pretty classic all black dress code because I think it's so chic and aesthetically pleasing. My closest friends would give readings but they're only allowed to tell amazing and most likely embarrassing stories.
Tell us what we can expect from your new era.
EVERYTHING. My blood, sweat, tears and soul is going into this. It's all of me, fully high octane pop Charli.
In your opinion, who is the most evil pop star of all time?
Hahahahaaaa anyone who makes devilishly good music and serves look after look and makes me feel alive is evil. Evil people slay.
Finally, please hit us with one of your famed hot takes.
"Get Into It (Yuh)" by Doja Cat is song of the year and absolutely no one will top that track in 2021.
Tagged: