Main image courtesy of Prada
Everything you need to know about Milan Fashion Week SS22
Shows! Parties! People! Gossip! Trends! Your definitive guide to everything that went down at Milan Fashion Week SS22.
|
27 September 2021, 1:34pm
Main image courtesy of Prada
Ciao, Milano! Oh, how we've missed you! Back in February 2020, it was here that the fashion industry was first confronted by the imminent spread of you-know-what, long before it was officially declared a pandemic. The same week that the first cases hit Italy, Milan Fashion Week ended with Giorgio Armani cancelling his show, which felt extreme at the time, but entirely right in hindsight. Now, a year-and-a-half on, and fashion's travelling circus is back in full swing for SS22.
Well, almost. The world has changed, and there's still caution in the air, not just in showing vaccination certificates at the door, but in terms of what we've seen on the catwalk, too. The week-long event is, in many ways, completely different, but also the same. We've had physical shows, digital experiments, off-piste launches, and — despite the idea of wearing masks and keeping our distance — a surprising amount of bare skin on show. I'd go as far to say it's one of the most interesting ones I've ever covered.
So, here's everything you need to know about Milan Fashion Week SS22.
WORD ON THE STREET
There was just as much fanfare outside of the shows, with photographers camped out to capture the street style circus outside. Many of the shows had throngs of Milanese teenagers eager to get a glimpse of glamour, even if there were fewer celebrities in town. It makes sense. Milan is a well-heeled city, and everyone is making up for lost time — not just designers, but restaurants and hotels, too.
As for gossip, the week hasn't been abuzz with the usual rumours of designers playing musical chairs and celebrity appearances. Interestingly, Alessandro Michele talked a lot about Tom Ford in his press conference for Gucci's new project (more on that later) which makes one wonder if there's some kind of #collab in the works. Versace and Fendi staged a collaboration with a stellar cast of supermodels in blonde Donatella wigs — but there isn't much more to say about that at this point.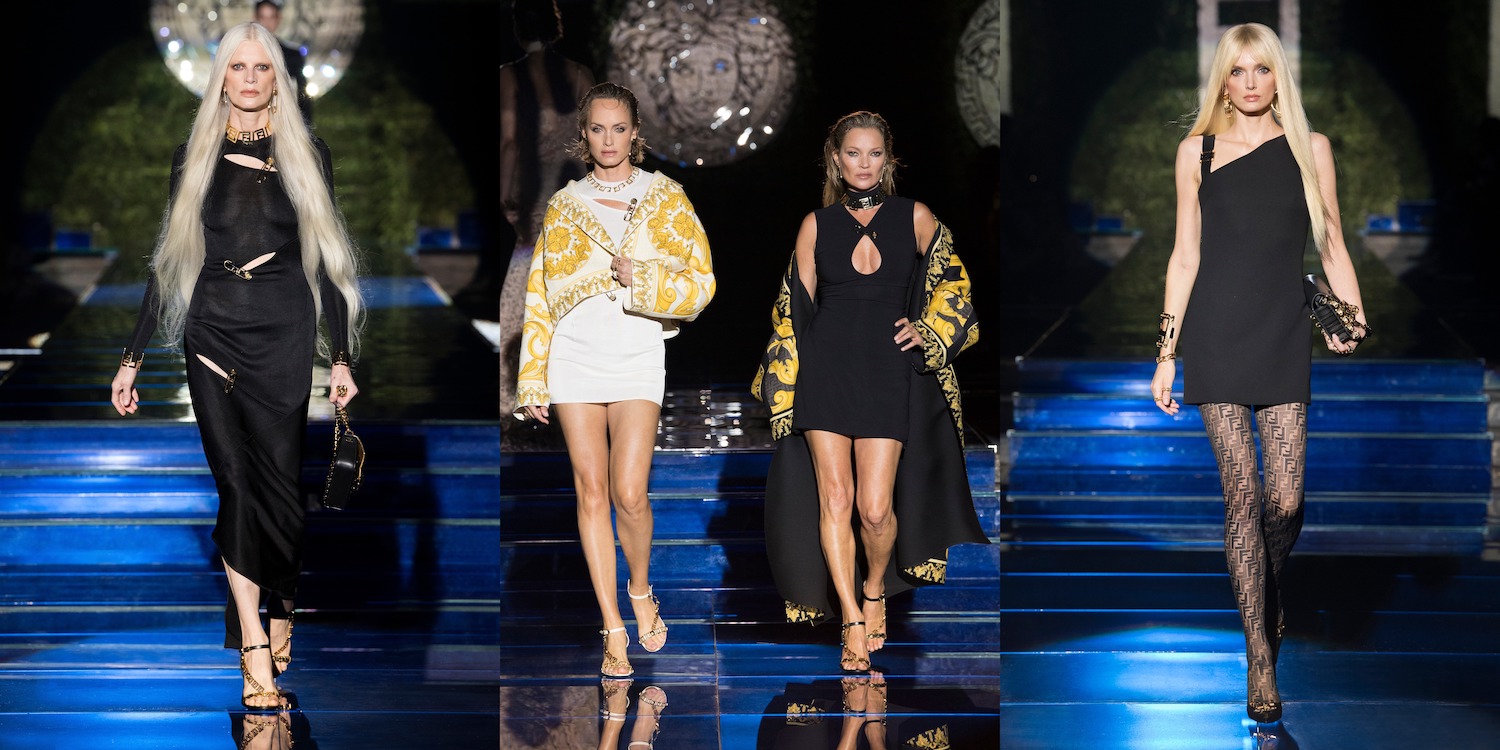 Fresh from his debut show in London, Harris Reed was spotted at Etro, arriving at the space in a brocade suit — perhaps he might be in line to work with the brand (which would be a good match, quite frankly). And of course, one thing missing this week has been the sense of international multiculturalism that usually characterised the biannual event. Hardly any editors or buyers flew in from Asia this season (hence Prada and Moncler Genius' cross-continental shows), let alone from other territories in Europe. Just a noticeable in their absence were the throngs of international Condé Nast editors who are currently banned from travelling for fashion weeks, all except the almighty Anna Wintour and Edward Enninful. The shows, as a result, were being run on smaller schedules with a metre in between seats in most cases. Thankfully, the spellbinding sets and huge productions acted as a distraction from the social distancing!
LET'S TALK ABOUT SEX
Fashion, as you probably already know, has gotten incredibly horny this year. Arguably, the entire world has. In pop culture, sex became all that anyone could talk about, rap about, or even watch on television (or on their laptops, if studies are to be believed). Horny, WAP, sexual, sensual -- whatever you want to call it, the world's emergence from a year and a half of pent-up isolation and Zoom calls is giving way to a new era of salacious sexuality. The SS22 season has been close to verging on swimwear, with skin being brazenly displayed on catwalks and clothes getting skimpier. We saw it in London, with designers such as Supriya Lele and Nensi Dojaka, and everywhere in New York, most notably at Eckhaus Latta.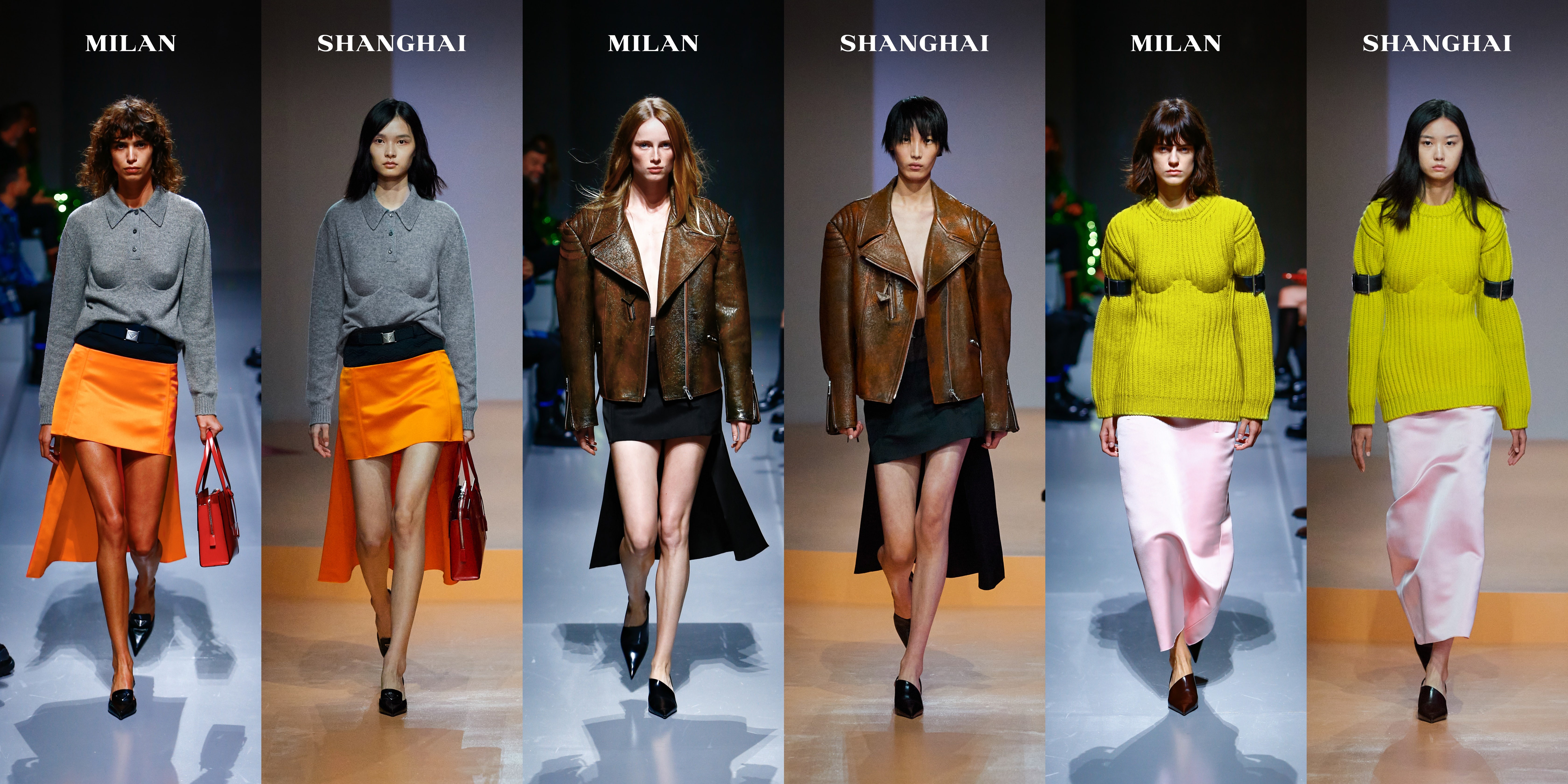 But what does 'sexy' mean in fashion? It's not quite the same as 'sexuality', and it's definitely not the same as 'sensual' or 'seductive', which was the word Miuccia Prada and Raf Simons kept coming back to for their latest Prada collection. Increasingly, it's becoming clear that the word 'sexy' very rarely correlates to the amount of skin on show, or even actual sex for that matter. SS22 has become the season for unpacking the incredibly subjective idea of what's sexy right now — or at least what's sexy to the designers showing their collections this month.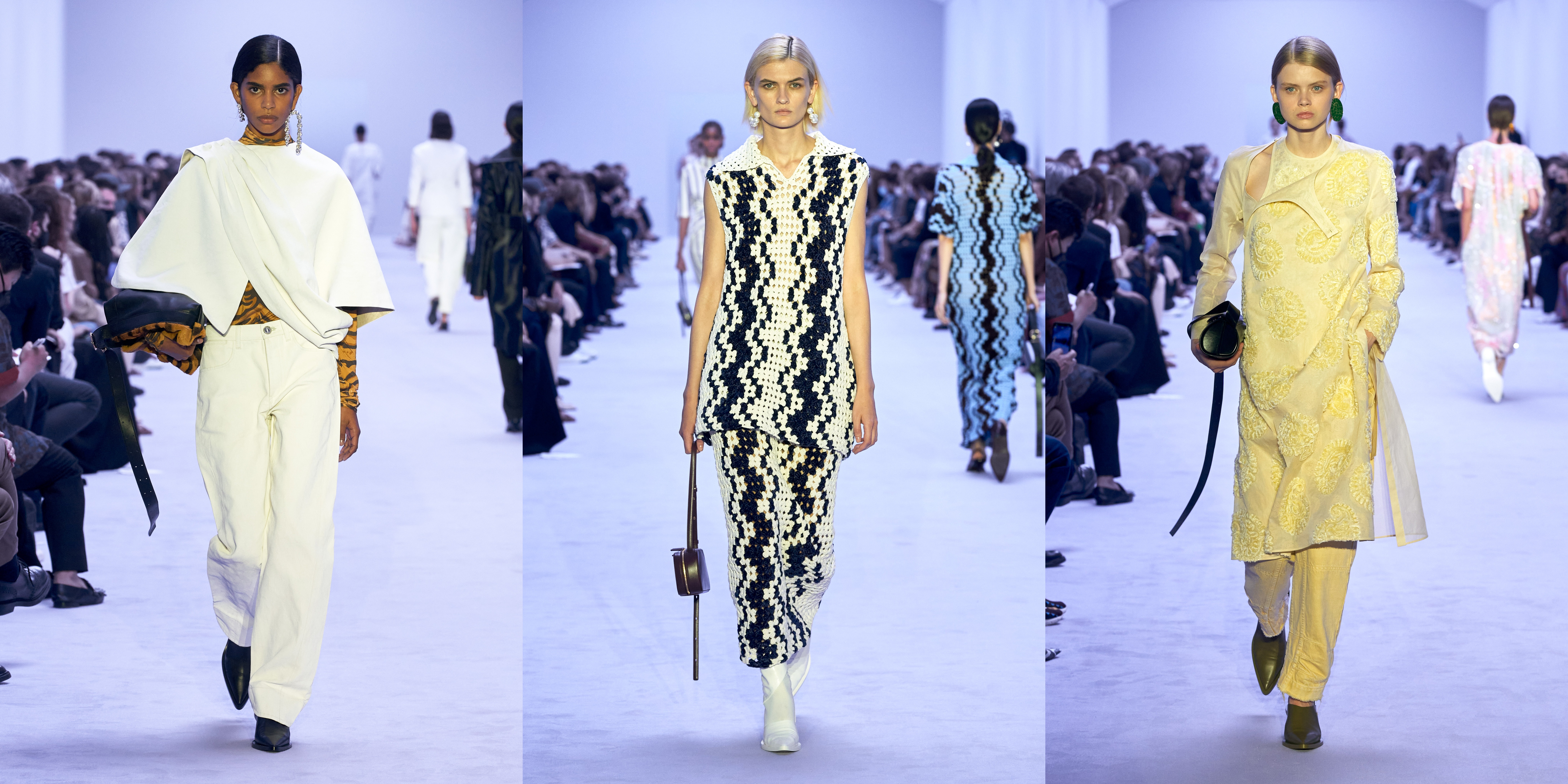 Jil Sander was clean and minimal (obvs) but with a bit more opulence this season, with details like tiger prints in mismatched textures, handkerchief-neck shirts, paper-thin leather jackets and luscious embellished paisley motifs on tunic-trousers combos. Lucie and Luke Meier are redefining what minimalism looks like in the digital age — it needs to still have maximum impact when viewed through a screen, but these were clothes that command you to touch them -- wear them, even -- because it's all about the fabrics. Maybe that's what's sexy to them, the idea of covering up in boxy silhouettes and chunky woven-chenille polo shirtdresses, inviting tactility. We've all spent a year-and-a-half looking, after all, so perhaps it's now time to touch.
On the opposite side of the spectrum was Blumarine, which has become the height of aspiration for e-girls who want sexy, sassy Y2K-inspired fashion, under the creative direction of Nicola Brognano. It's the kind of show that sizzles on social media, but that isn't necessarily a bad thing. In fact, this was one of the strongest shows of the week on account of its clear, unapologetic point of view. Nicola, with the help of i-D's Senior Fashion Editor-at-Large Lotta Volkova, is giving the girlies what they want: butterfly tops, chiffon cargo pants, rhinestone belts, plunging ruffled necklines with all the furry trimmings. It could have so easily veered into algorithmic design-by-numbers, but it was resolute in its commitment to the early-00s look. After all, if you're going to do it, you may as well go the whole way — in other words, if you're going to show some skin, at least spray it with glitter.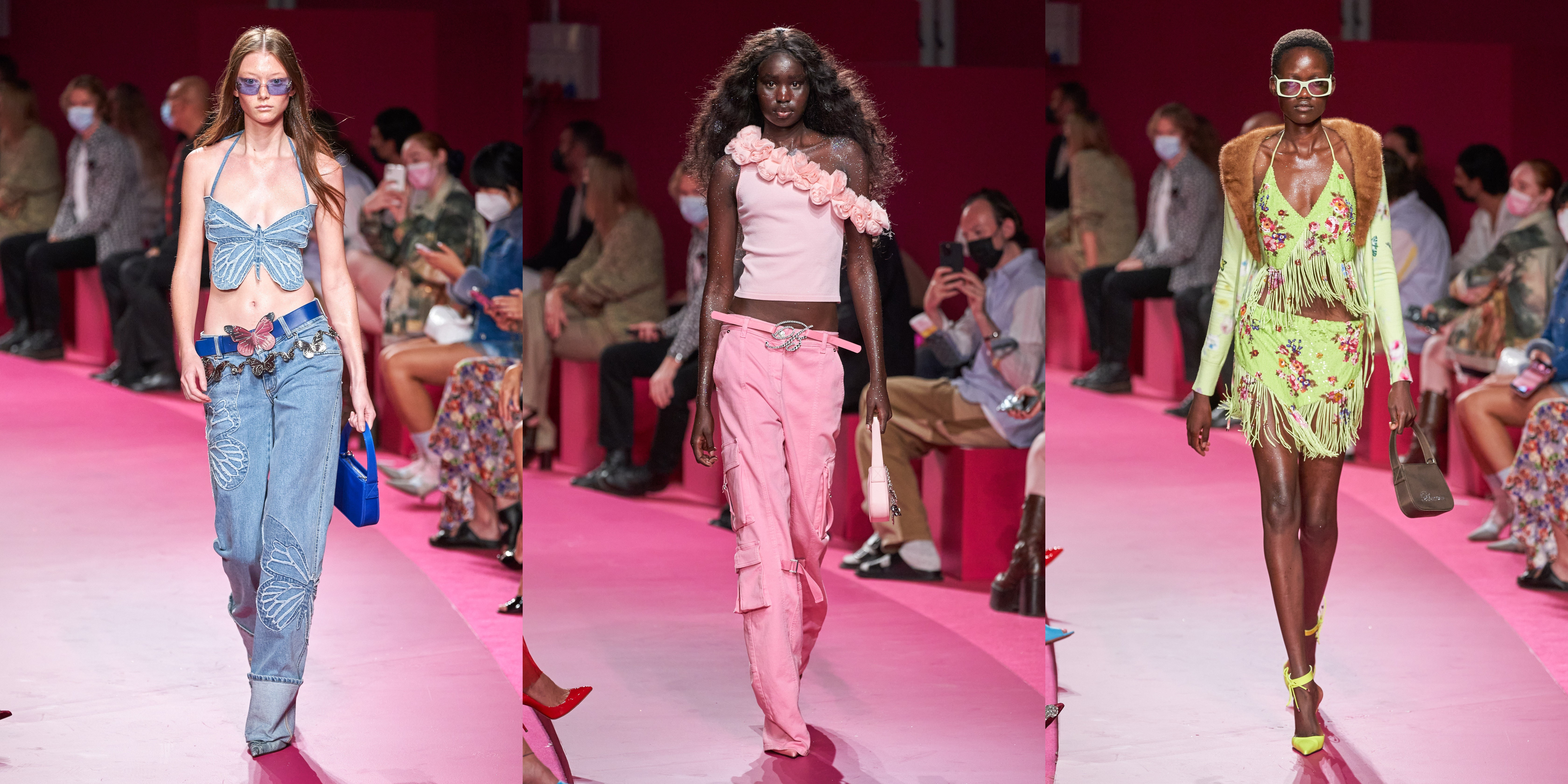 But although Blumarine was skimpy, it wasn't sexy. Or at least, it wasn't about sex — it feels quite saccharine and innocent, by comparison. Miuccia Prada famously once said: "The more you dress for sex, the less you will have it." It's fitting then that her and Raf Simons' show was about expressing sexuality through clothing. Bodies were exposed in abbreviated satin skirts and backless dresses unlaced at the nape. Yet this was about seduction, not sexiness, and the art of seduction is all about the details and surprises. The skirts, for instance, came with skinny origami-folded trains, sweaters with the sculpted outline of brassieres, tank tops with splayed corsetry boning, leather jackets with nothing underneath. It blurred the lines of actively seducing and being seduced — you couldn't work out if the lacing at the back of dresses was being undone by a lover, or worn intentionally that way to give a glimpse of underwear.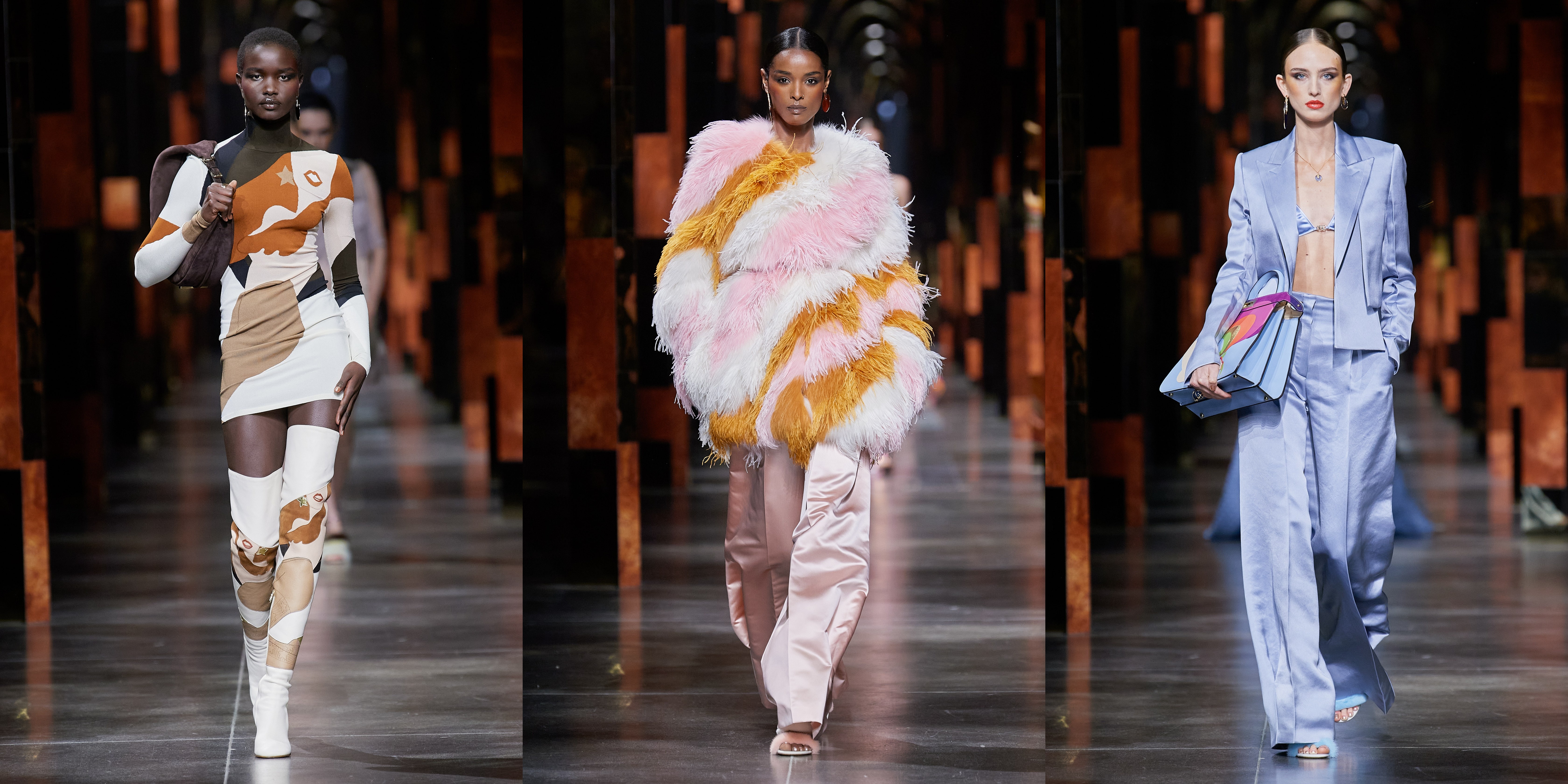 Fendi, too, was about sex in that it was an homage to the estate of the Latinx artist Antonio Lopez. His work not only greatly influenced Karl Lagerfeld (which you can read about in Alicia Drake's The Beautiful Fall), but showed that Black, brown, gay, trans and working-class people could be — and are — glamorous, something Cathy Horyn explores in the Fashion, Sex, Disco documentary. It was the perfect fit for Fendi, not just because it provided a wellspring of references to be magicked into clothes by Fendi's superior ateliers, but because it injected a bit of sexual energy into Kim's Fendi, which has so far been more about a specific kind of Roman elegance and classicism. Here were girls that looked, for want of a better word, rich and fun in their wide-leg trousers suits (matching bikini top worn underneath) and chubby coats with matching bags. And if we're talking about subtle in-person details, it doesn't get much better than Jane Forth's face transformed into lace, the kind of thing you might miss from pictures.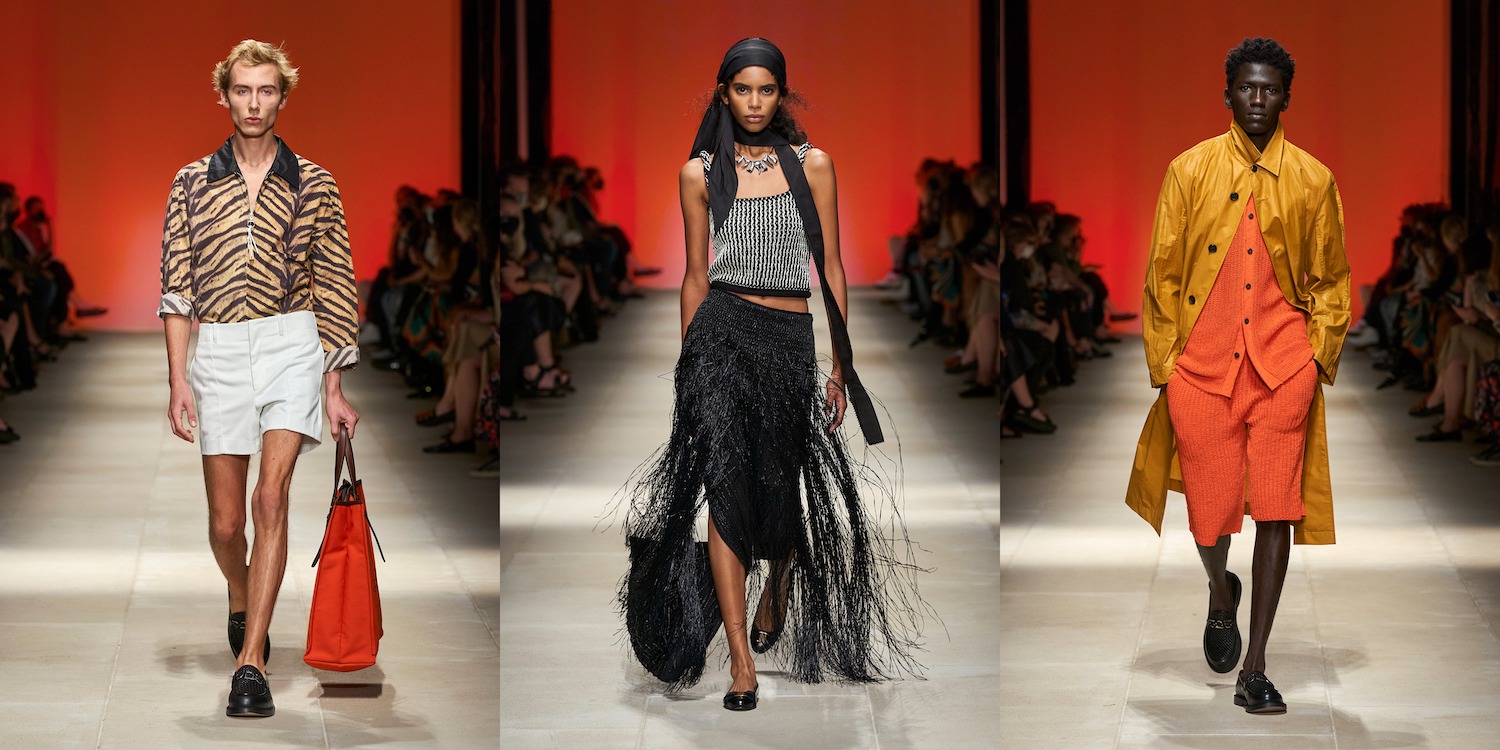 NEW BEGINNINGS, NEW CREATIVE DIRECTORS
There were also a few new beginnings this season, one of the most notable being at Salvatore Ferragamo. The Italian house is in a transitional phase following on from the departure of British designer Paul Andrew, whose last collections were cinematic reflections of his films with Luca Guadanigo and Wim Wenders. The latest co-ed show was presided over by the in-house team, led by Guillaume Meilland, and was a return to classicism. Simple clothes, done well and with a sense of practicality and flair. Archetypes were updated, like the mustard trench coats, draped trousers and fringed skirts that floated with every step, billowing ponchos with V-necks and tiger-print shirts and dresses (maybe it's a trend). "Our inspirations are fundamental, perhaps even simple, because they speak the soul," explained the show notes. Again, clothes for seeing in-person, details to be relished by the eye— not just a camera lens. Sometimes that's all it takes.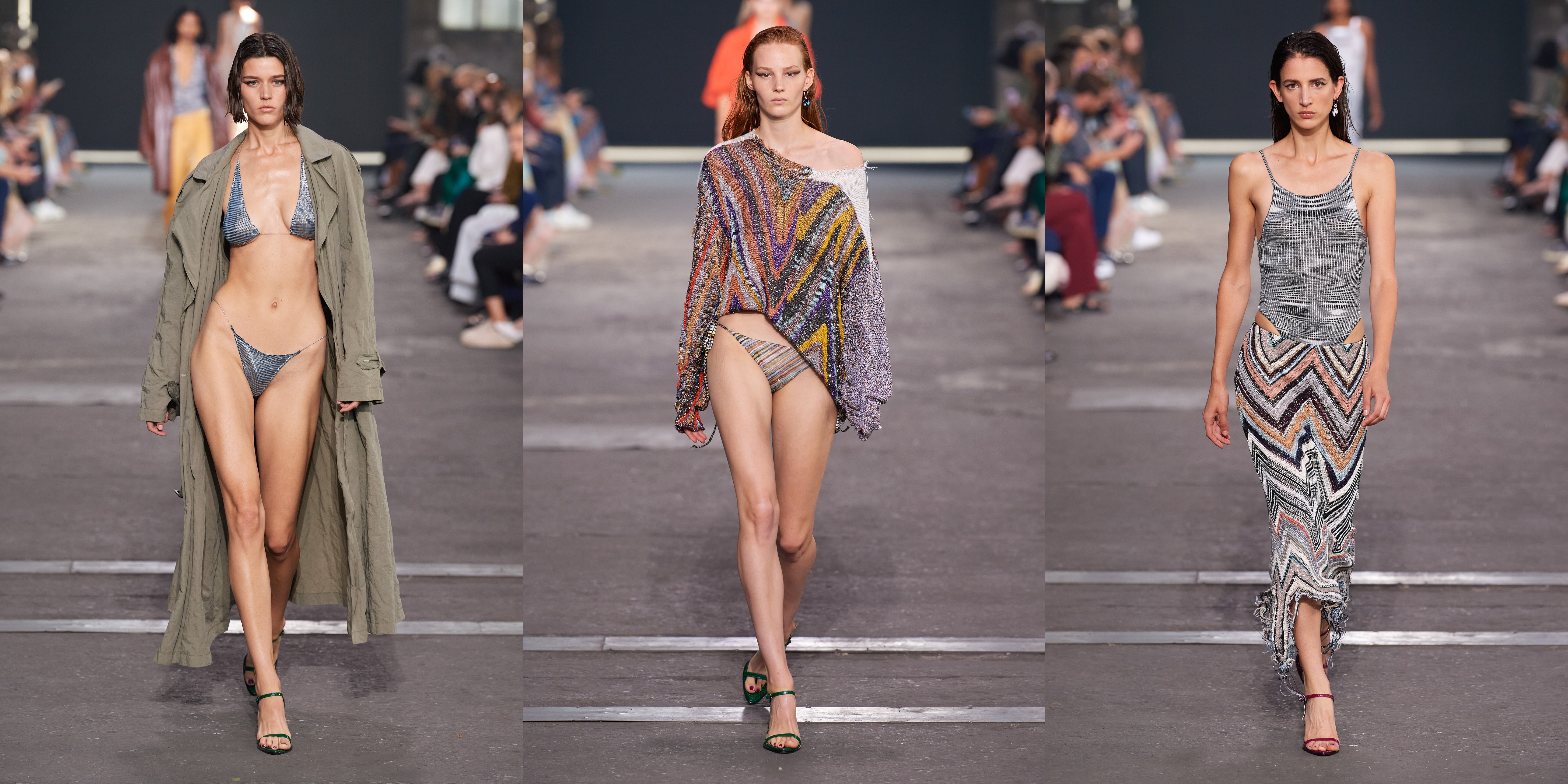 It's not always easy for traditional Italian houses to get the balance of modernity and respect right. Missoni also has a new designer, Alberto Caliri, the longtime right-hand of Angela Missoni, who was among the four generations of Missonis looking on as their name was turned into a logo on thin bandeaus, micro skirts, and bikinis worn under trench coats. It was a bold departure from the delightfully colourful knits of the past, many of which were shredded and patched together, an apt metaphor for Alberto's approach. Gowns came with huge cut-outs revealing bikinis worn underneath. Yet there were more elegant looks, too, like a beaded zig-zag halter neck dress and skirt-and-tank that had a very late 90s uptown look that's ripe for a revival.
If you thought the tiger prints at Jil Sander and Ferragamo were something, then brace yourself for the return of Roberto Cavalli. A week after Bretman Rock wore Aaliyah's fur-trimmed tiger Cavalli gown from the 2000 VMAs, Fausto Puglisi staged his first show as creative director of the house known for its exuberant animal prints and toss up of good-bad taste. The point is that there's already an interest, and kids are tapping into Y2K-era Cavalli. It feels right for right now. His collection featured actual tiger prints, whiskers and all, as well as cutaway gowns and feathered minidresses. Bombastic going-out clothes, to quote Stanley Tucci in The Devil Wears Prada, for the modern woman to unleash the animal within to take on the big city.
PHYSICAL VS. DIGITAL
Now more than ever, there is a sense of confusion about what fashion shows are supposed to be now, and who they're for. We've spent the last year and a half watching them online, which has given everyone — insiders and outsiders alike — a front row seat in New York, Milan, London and Paris. Now, going back to in-real-life feels like a petri dish for the future. It's a little bit physical, a little bit digital.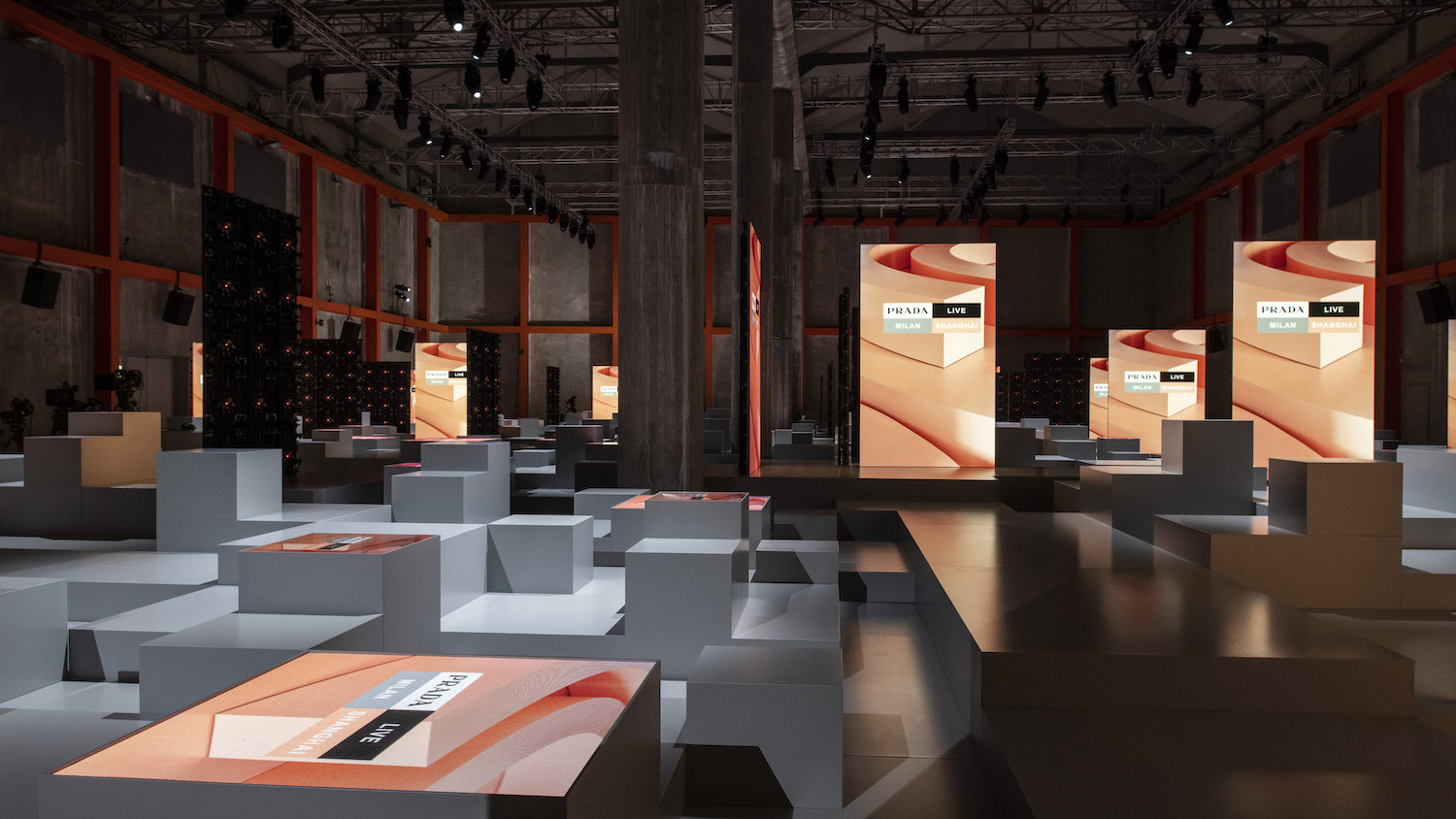 At Prada, which was held in the vast Deposito at the Fondazione Prada, the seats were formed from a Tetris block of grey cubes with screens dotted around. On them were scenes from Shanghai, where a duplicate show with an all-Asian cast was held at exactly the same time. Moncler Genius was also a 'hybrid' show with Alicia Keys hosting a live-streamed launch of videos for the brand's collaborations with the likes of JW Anderson, Craig Green, Dinyung Zhang and 1017 Alyx 9SM. Yes, she was in the room, but she spoke to the camera, and most of the physical audience watched her through screens, alongside short films from the likes of Luca Guadagnino and Solange. It was difficult to get a sense of the collections, but perhaps that's not the point.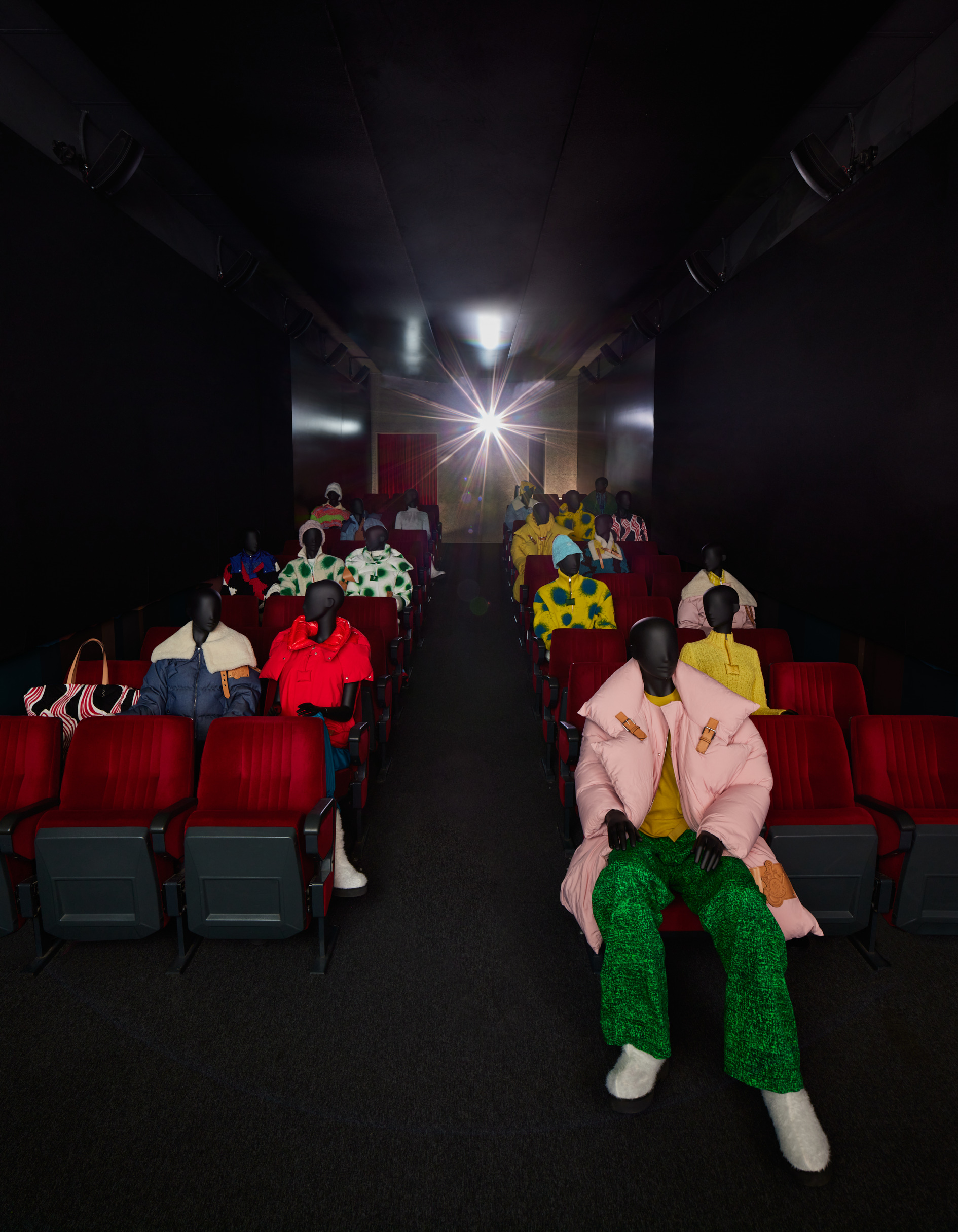 Other shows have also felt flatter, which is little wonder considering that for the past year and a half we've viewed clothes through the screen of a laptop or phone. As the models emerged at Prada, their images displayed on the great big shards of tech throughout the set, it felt strangely eerie. Isn't this supposed to be an IRL show? Haven't we spent enough time looking at screens? Where does it look better, onscreen or right in front of me? But then, perhaps that's the new global digital reality we're living in, forever plugged-in to the worldwide web, just in time for the release of the fourth Matrix film.
SOMETHING OLD, SOMETHING NEW, SOMETHING GUCCI
Though Gucci is absent from the official schedule — these days it marches to the beat of its own drum — Alessandro Michele was in town to launch his new 'Vault' initiative. The tousled-haired designer hand-picked archival and vintage Gucci pieces, as well as 13 designers, such as Collina Strada, Bianca Saunders, Stefan Cooke, Boramy Viguier and Ahluwalia to simultaneously celebrate the pre-loved pieces and the new work of young creators. It's quite genius when you think about it, especially considering that the Italian house turns 100 this year, and is therefore focusing on its legacy — past, present and future.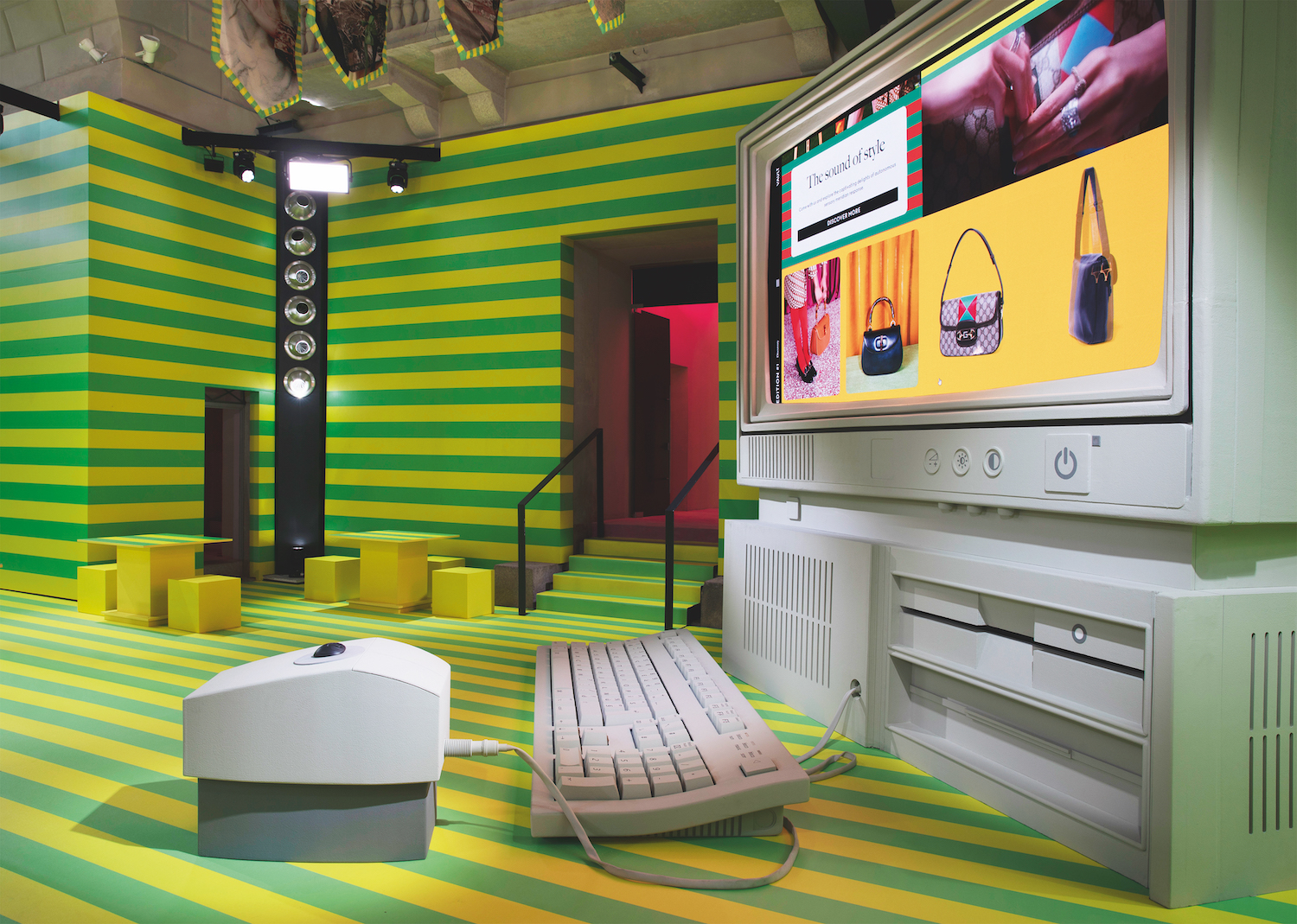 Alessandro has always loved old things, his aesthetic is based on taking objects from the past and irreverently breathing new life into them. But whereas most houses, including Gucci, simply re-edition items from their archives, this taps into the booming secondhand market and its sustainability benefits. It makes sense, considering Gucci has gone seasonless, and to be honest, Alessandro's sense of time could well be considered esoteric to even the most advanced philosophy professors. To summarise, you can now buy the vintage Jackie handbags from Gucci, alongside its contemporary redux, both at the same value. It's a bold move, essentially challenging the idea that one is better or more valuable than the other. "I always bought contemporary things and I didn't find any contradiction," Alessandro explained at a press conference. "I can go see an exhibition of antiques, but I also like going to a party with new people."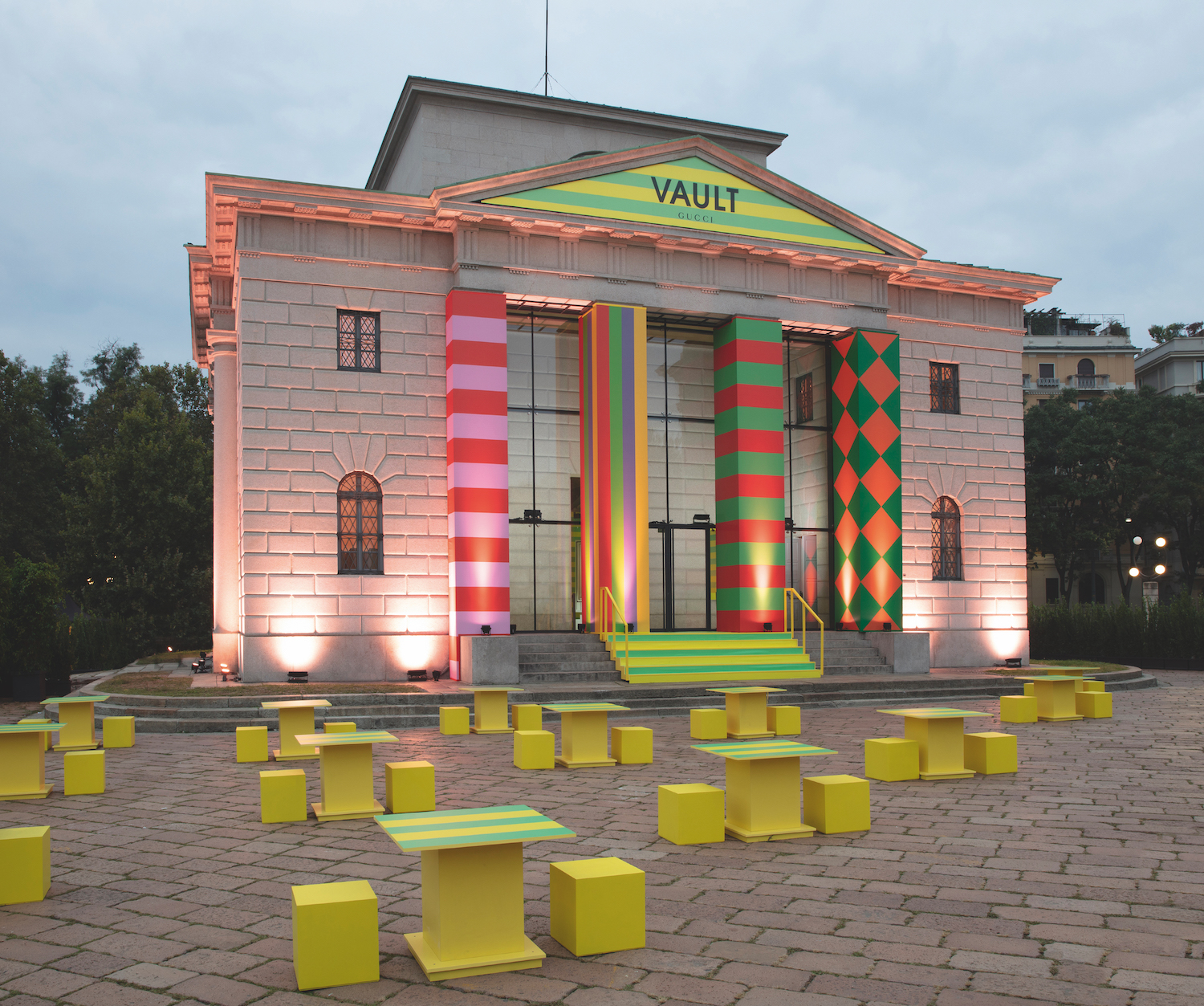 The new people he's alluding to happen to be some of the most talented (and sustainably-minded) designers working around the world today. Alessandro said that he wanted the space, be it digital or the physical pop-up, to feel like a concept store. "In real life, stores like these are difficult to find," he added. "The ones we used to visit are no longer there — like Colette — and there are no new ones. But they are shrines of research, rather than shopping." The items are temporarily available to purchase at the pop-up space in Milan, which is covered in graphic neon stripes and features a giant retro desktop computer displaying the website. What could be more 2021?
WHAT HAS CHANGED?
During the height of the pandemic, there was a lot of talk about how fashion would emerge after it, hopefully with less waste and new values. For the most part, things have remained the same at Milan Fashion Week — plus ça change... but in Italian. People go in for air kisses, albeit with masks (which are mandatory indoors and at shows), the traffic still moves at snail's pace, and everything runs late. Perhaps most notable is what hasn't changed, which is the attitudes and atmosphere of fashion. Sure, it's nice to be back and see familiar faces, but it's pretty shocking to see how little the last year has affected any real change beyond optics and how insular the week can feel at times, almost like a village fair.
The front row at most shows is still, for the most part, the same as it was a decade ago — by that, I mean old, white and miserable. Publicists and fashion houses seem not to want to embrace real change by giving a new generation of creatives a seat at their table — or even just creating more space for them. It begs the question: even with a reduced capacity, how can fashion brands really start to foster relationships with people of colour within the industry? They need to actively work harder to invite them in, rather than excluding them in favour of the status quo. It takes a village, after all.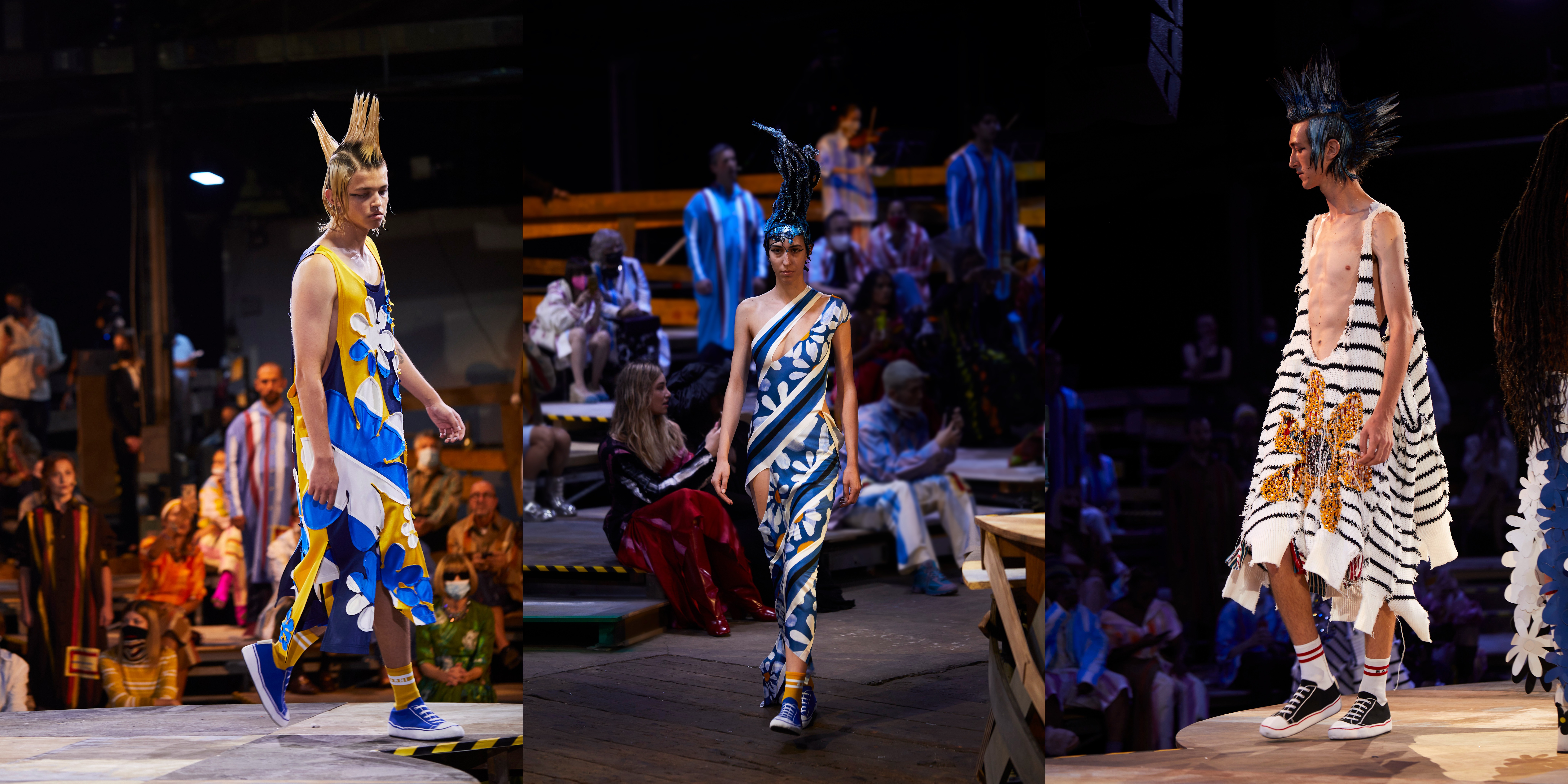 Which is exactly what Marni's Francesco Risso did. He invited every one of his 400 guests into the Marni ateliers to be fitted for a look to wear to his immersive show. When I arrived, I was surprised to see Francesco and uber-stylist Camilla Nickerson in the middle of castings, the legendary Julien d'Ys working on the magical sculpted wigs, almost as if it was completely normal. It is why Marni feels truly open and inviting, almost radical in a city where so many designers are fiercely guarded behind the velvet rope. The idea was, Francesco explained, to create one big family for his show after being apart during lockdown. We all complied (even the big wigs) and arrived with intrigue. Once there, I was offered a selection of hand-painted garments, upcycled from previous collections, that felt hippie-dippy at first, but eventually incredibly uplifting almost as if the tropical colours raised my vibrations. Ajmal, a member of the studio team who helped me during the fitting, told me I could have anything chopped up and re-worked. "It's Marni — we're all about that," he pointed out.
The show itself was the last one of the week, and whereas usually we'd be exhausted — there was genuine excitement in the air and a sense of camaraderie upon arriving and seeing a rainbow of stripes throughout the rotunda-like catwalk. What happened next was a real fashion moment, something that felt unprecedented in Milan. Here was a show that heeded the last year-and-a-half and turned it into a powerful expression of community and renewal, that actually charged forward rather than painstakingly trying to recreate the past. Francesco invited several people of colour to work on the show — Dev Hynes on music, Mykki Blanco performed a poem, Zsela was joined by an ethereal choir, Babak Radboy (right-hand to Telfar Clemens) shared the creative direction of the show. Many more were invited to watch it and model in it, like Richie Shazam and Paloma Elsesser.
The collection was far from Milan's typical chocolate-box perfection. It was centred around a simple concept: stripes and daisies. Now, imagine taking magic mushrooms, and seeing those two things unfold in myriad ways, on almost every kind of garment in primary colours, in the most surreal environment. Stripes, Francesco explained, represented giving direction and connecting. Daisies, on the other hand, symbolised rebirth and resilience. The clothes were desirable — but most telling is the truly diverse casting of the show and how personal it felt. Francesco himself even walked in the show, taking a seat to enjoy it from our view. There's an element of trust involved in that. For everyone in that room, whether it's the audience, models or performers, he's the through line, participating in it rather than imposing it.
Milan needs more of this. Here was a designer celebrating a creative community, pushing the boundaries of what a real-life show can be, throwing away the rulebook, going against the grain, and making everyone in the audience feel something. Sure, it's cult-like — but then again, all good fashion is. It was a jolt of unbridled joy at the end of a discombobulating week, a reminder of the magic of real-life fashion shows.