Photography courtesy of Burberry
Burberry put a cheeky spin on SS22
This season, Riccardo Tisci explored the endless realities and fantasies we have at our fingertips each day.
|
27 September 2021, 6:56pm
Photography courtesy of Burberry
Riccardo Tisci titled this Burberry collection — shown off schedule, in between Milan and Paris Fashion Week — Animal Instinct, and dedicated it to his late mother, who passed away earlier this year.
There's been much made so far this SS22 season of the relevance of the return of the fashion show and all its accompanying spectacle, as if the last 18 months never happened. A desire to scale back and slow down still permeates — there's a need for thoughtfulness as well as the monumental.
But for all that, Burberry's absence was felt at LFW this season. Their star power and scale speak for themselves, but also for London's fashion, too. There is, however, a confidence implicit in stepping back and doing your own thing; in sticking to your own rhythm when everyone is speeding up. Here, Riccardo proved that it was a decision well made. The film they released to launch the collection felt very visceral. It was intimate, stripped back, sensual, performative.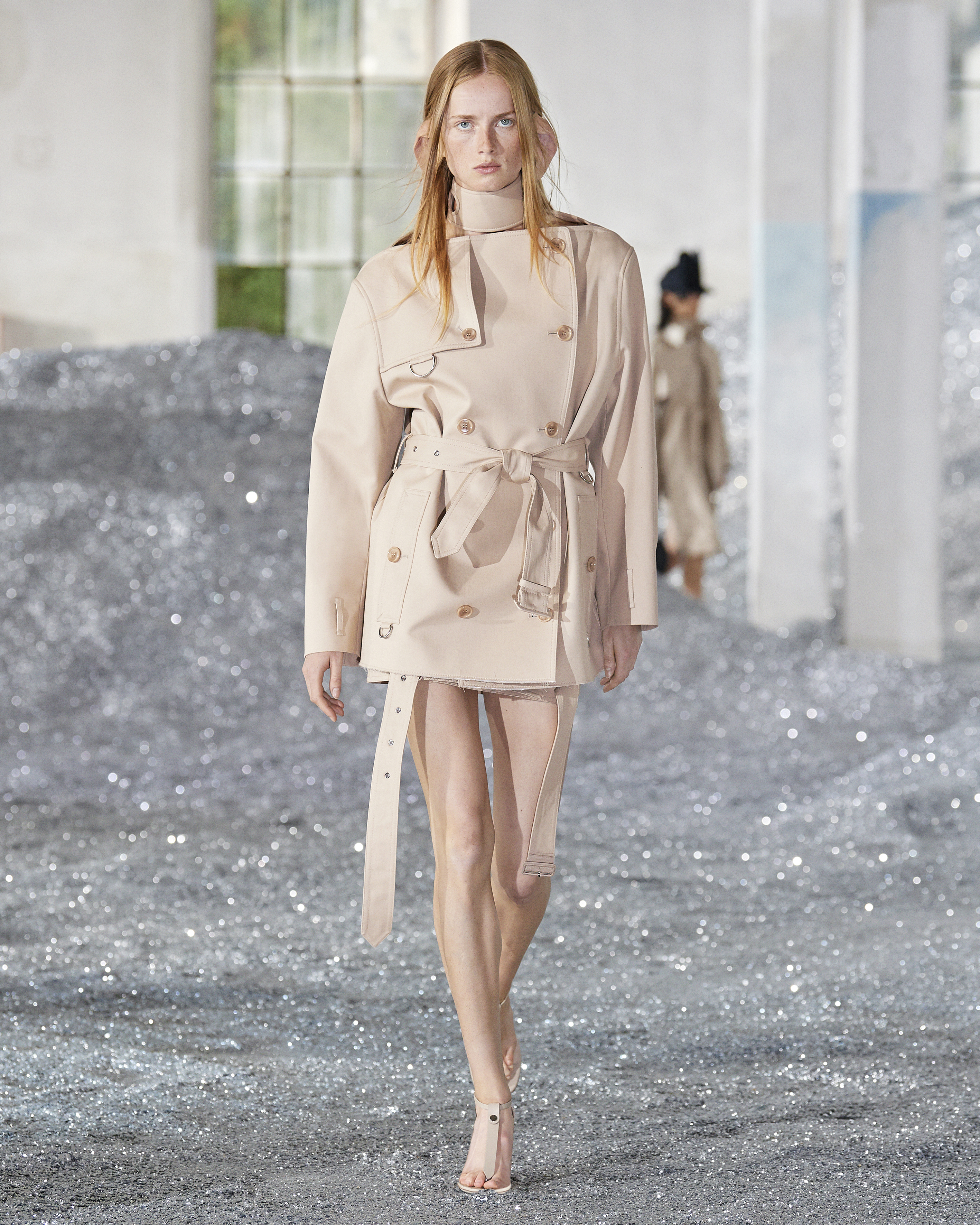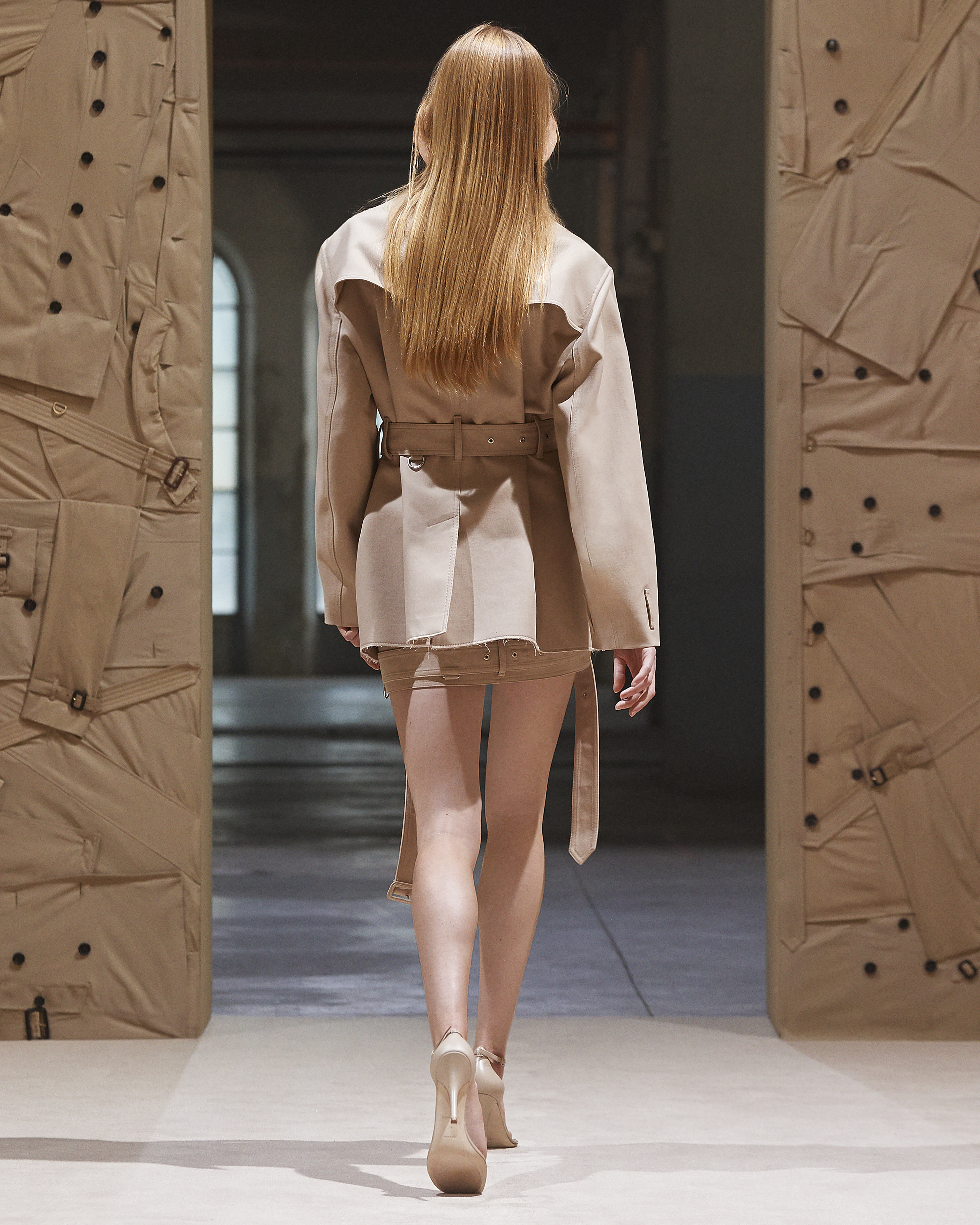 Models walked through a series of environments — mirrored corridors lined with speakers; a room with walls constructed from Burberry trenches squashed flat; an empty warehouse space; a room full of crystalline gravel; a club full of people dancing. The show was soundtracked by the whir of the wind, a rumble of dance music, the click-clack tempo of high heels striding across hard floors.
"I wanted to move through a series of immersive spaces," Riccardo explained, "each of them unique and unexpected in their sound, texture and experience. It's that idea of flicking between the endless realities and fantasies we have at our fingertips each day." Each room seemed to represent a different facet of the Burberry DNA seen by Riccardo, the realities and fantasies of his working life, and Animal Instinct as a summation of his approach to remixing and reimagining it. There was a playfulness to it, too, demonstrative of an ever increasing comfort and confidence in his role.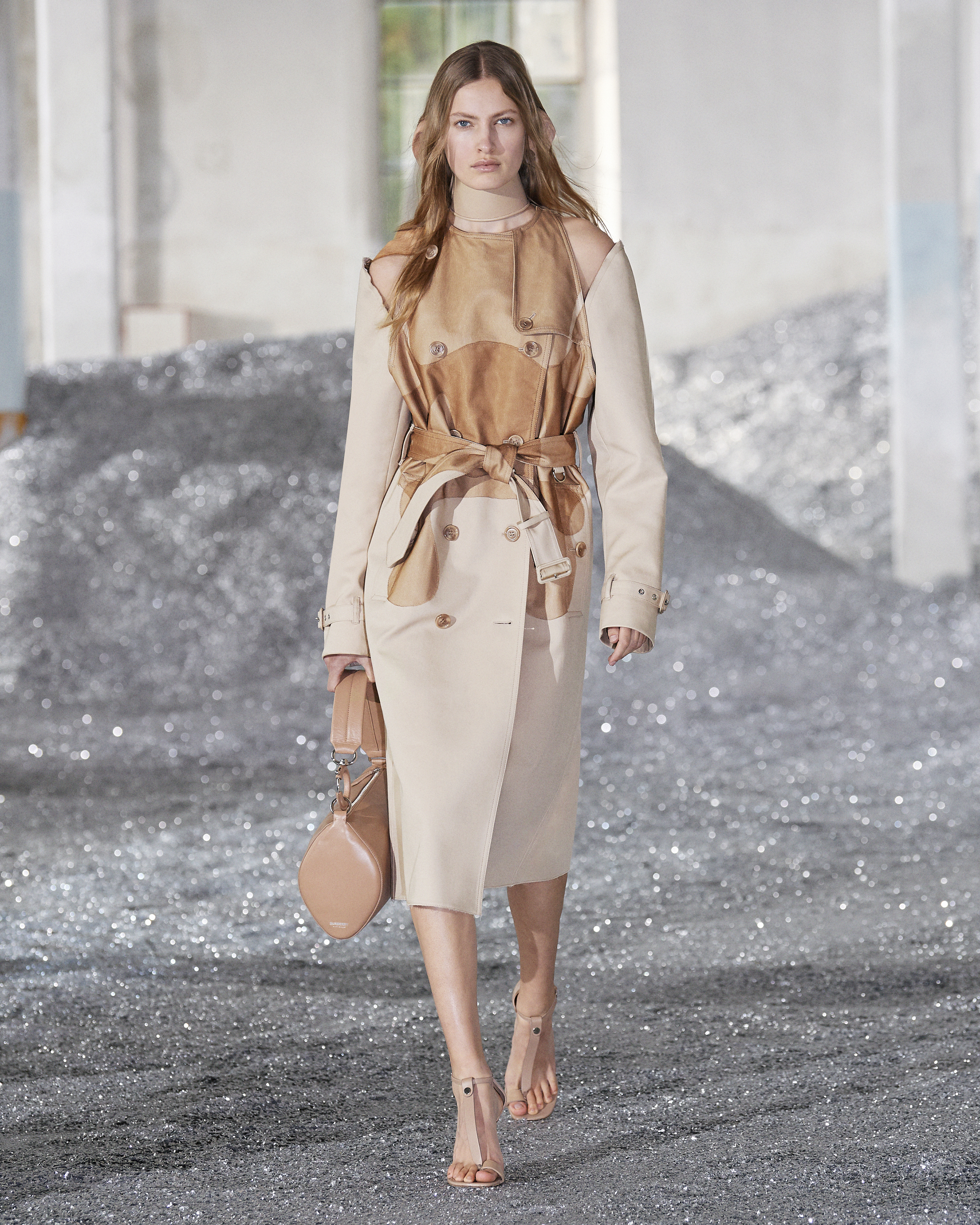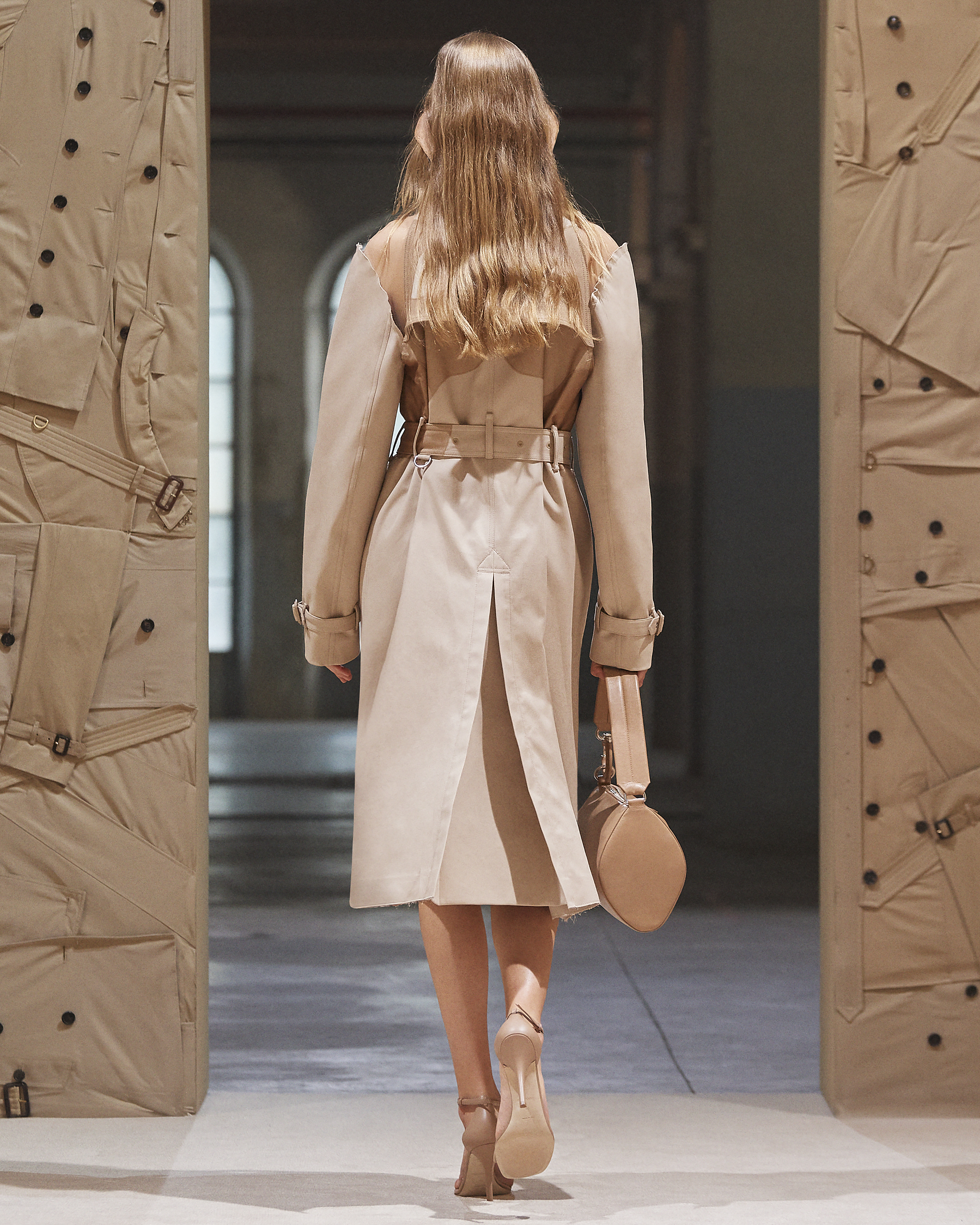 An idea of the multiplicity and malleability of the heritage of Burberry is also something that Riccardo's been exploring since the very beginning of his tenure at the house. Thinking back to his AW19 show, Tempest, which was staged at the Tate Britain, that directly explored two contrasting sides of Burberry by staging it across two different spaces, one that represented the classical and the aristocratic side of Burberry, and the other representing the label's adoption by subcultures, the street and the urban environment.
Those juxtapositions were in evidence here, but there's a real adeptness in the way Riccardo is deconstructing that heritage now, and adding in plenty of himself, too. These two halves now feel whole in his vision.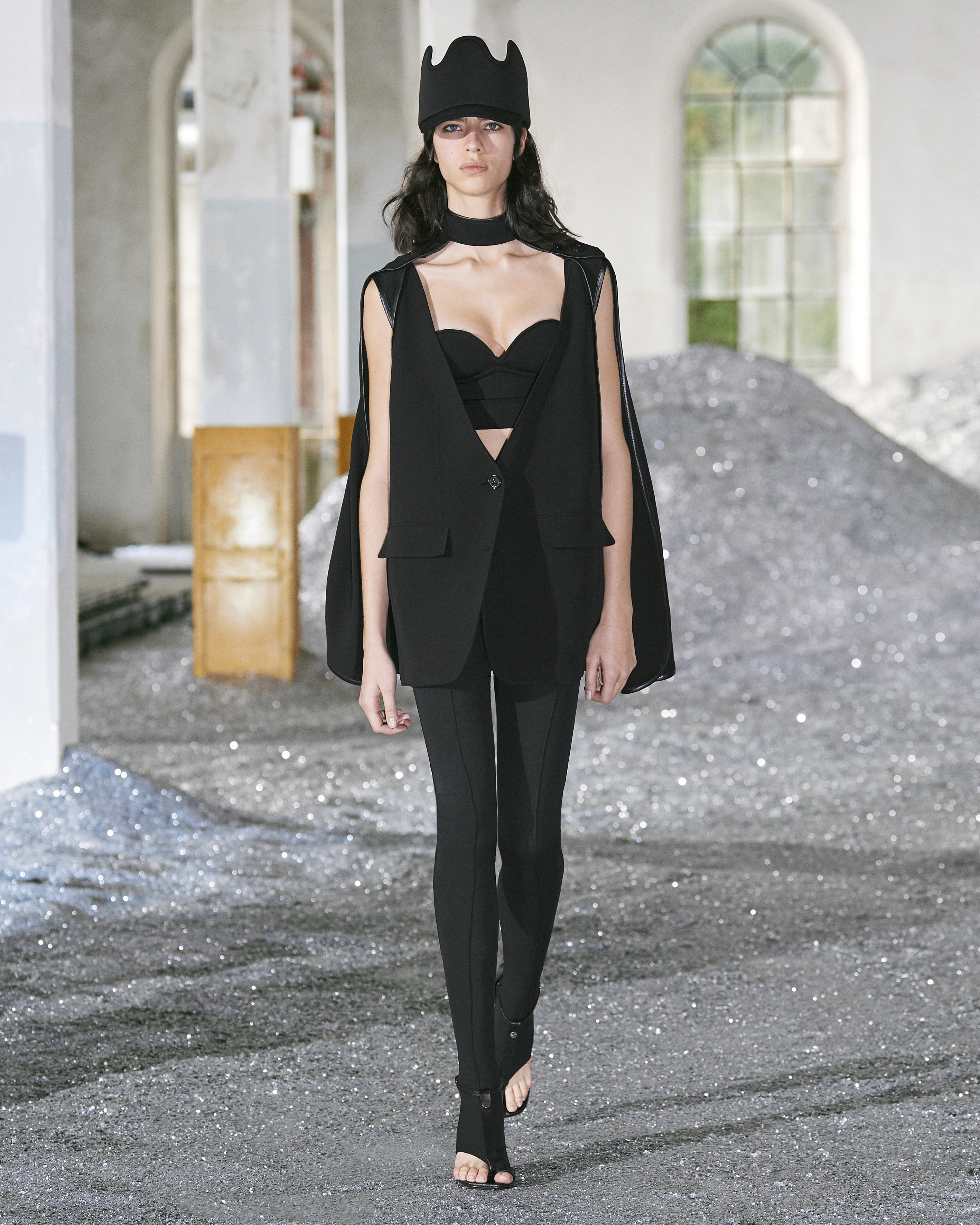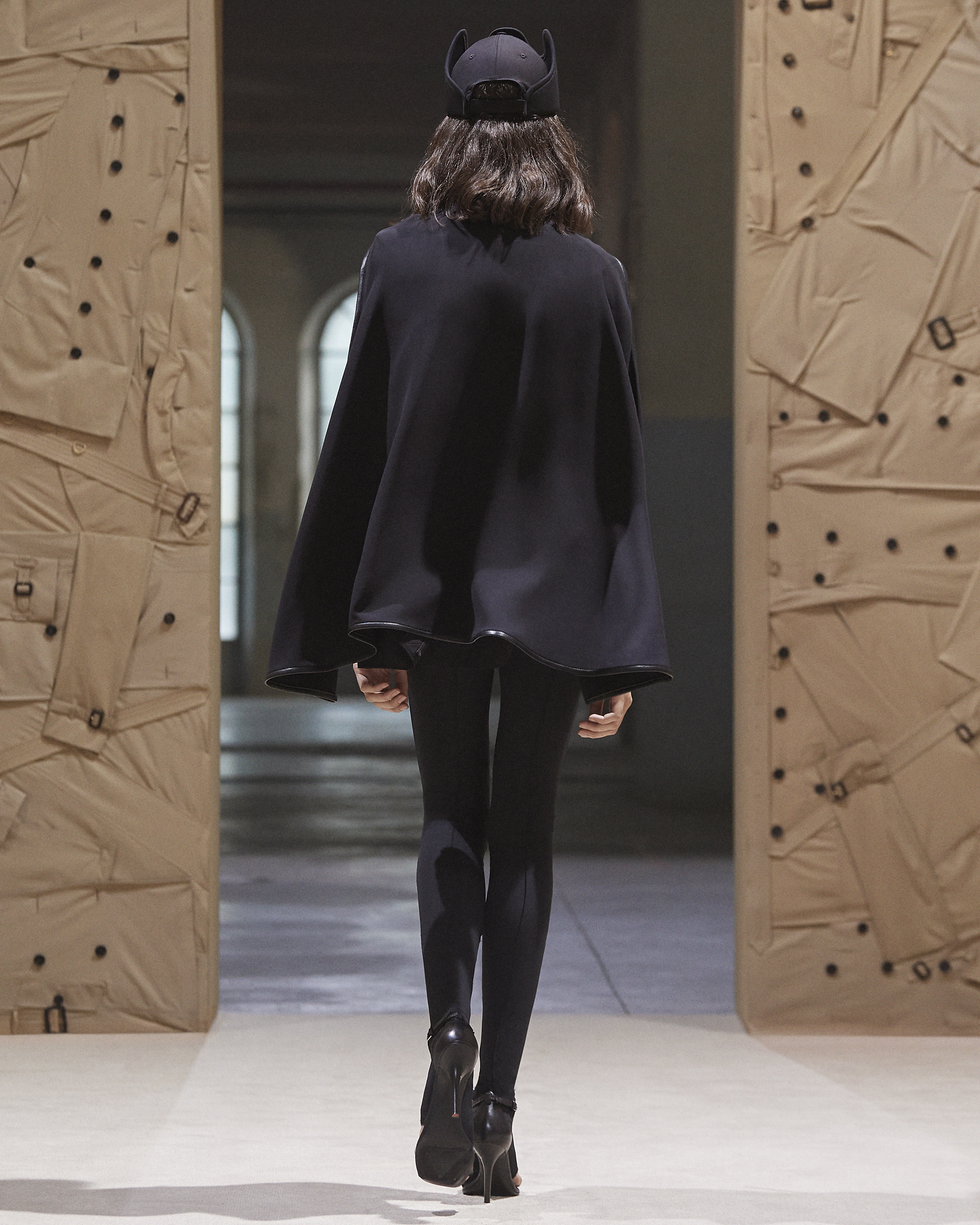 There was quite a literal cheekiness, too, in the exploration of these two halves: with some trench coats cut off at the waist on the back, revealing a flash of the butt. Elsewhere this dichotomy was revealed in a revealing black waistcoat at the front that flowed into a very bourgeois cape; or an armour-like corset top at the front become strappy and exposed when seen from behind. It was a neat play, too, on the current flattened fashion world, which only shows you one straight-on angle via the catwalk, never allowing you to see the back of the garment.
This tension between revealing and concealing was at the heart of it all, it even ran through to something more conceptual, like the heritage of the brand itself, and Riccardo's desire to show it off but also subsume it and make it his own.
"To me, this presentation really represents the freedom of our imaginations: how we dream to come alive," Riccardo said, which sums it up nicely.