Living legend Jennifer Coolidge is checking back in to The White Lotus
*raises glass of champagne*
|
16 October 2021, 12:02pm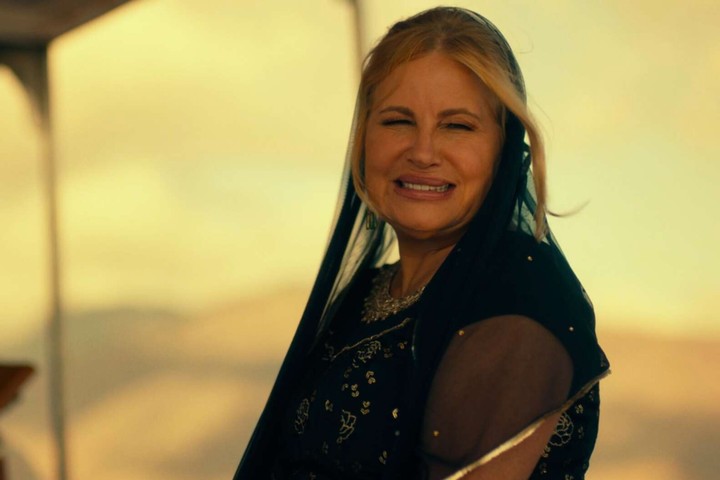 Image courtesy of HBO
She's taking [the role], dumbass! Living Legend Jennifer Coolidge will be checking into The White Lotus for its second season, reprising her role from the critically-acclaimed satire.
While the debut season of HBO's lauded dark comedy told a complete story in and of itself - dissecting the lives of the guests and workers at a luxury Hawaiian hotel - subsequent seasons will visit different destinations but still retain some original cast members, a la American Horror Story.
Sources close to the show told Deadline that despite the sophomore episodes of the comedy-drama welcoming a largely new cast, Jennifer will return to the series as the troubled Tanya McQuoid, a middle-aged woman struggling with loneliness and still stuck in the shadow of her dead mother.
She ended the first run of the show gaining a possible love interest (Jon Gries) but her newfound joy-de-vivre came at the expense of the lovely Belinda (Insecure's Natasha Rothwell), a White Lotus employee who was strung along by the promise of Tanya funding a new business project, before decidedly being left in the past.
Season one also starred Murray Bartlett as the put-upon hotel manager and Euphoria's Sydney Sweeney as the privileged daughter of Connie Britton's search-engine CFO.
The first season, written and directed by Mike White, was a brilliantly barbed look into the lives of the haves and the have-nots. Among its many skewerings of upper-class existence, it was particularly interested in the emergence of highly sensitive persons (HSPs) and how little empathy the privileged seem to have for problems that don't directly affect them or their social standing.
Season two - confirmed by HBO following the show's rave reviews and popularity on social media - will travel to a different property in the White Lotus hotel chain, rumoured this time to be somewhere in Europe. A release date for the new season has not been announced yet. Given the series' propensity for beautiful, sun-drenched locales, it's also fair to not expect filming for the new episodes to start until 2022.
Here's hoping on the second time around that Belinda tracks Tanya down to exact some revenge? Scream meets Call Me By Your Name style? Or maybe she's still looking for the perfect place to dispose of the rest of her mother's ashes.
Tagged: