The Y2K style is staging a gender-bending comeback, courtesy of designers like Ludovic de Saint Sernin and Burberry's Riccardo Tisci.
Photo via Getty Images, Instagram, courtesy of Ludovic de Saint Sernin and Instagram
As we recover from men's fashion week — processing everything from Balenciaga's foray into couture to BTS joining the LV family — we can't help but think that himbo halters may soon be our next kink. Though you might not see men rocking up to recently reopened bars and pubs in halter tops just yet, biceps everywhere will be busting out of the 1970s staple in due time. After all, tank tops and crop tops have become the go-to garment for a hedonistic summer, and if we look to the runways, halters are next.
For SS22, Burberry's Riccardo Tisci created warrior-like menswear halters and Parisian designer Ludovic de Saint Sernin — a longtime fan of the revealing garment — has presented sleek glam rock versions of the halter the last few seasons. Then there's Spanish label Palomo Spain's glitzy sequinned numbers, and Australian designer Dion Lee's soft-but-sexy knit halters. Whether a subtle nod to the neck-hugging, backless style like Rick Owens' SS21 raglan-lined muscle tanks or a full-on, Studio 54-inspired fit, the halter top is bringing refined elegance and loads of sensuality to the male form, just in time for summer.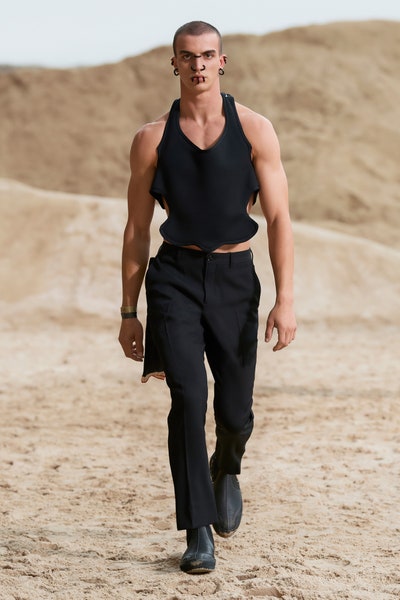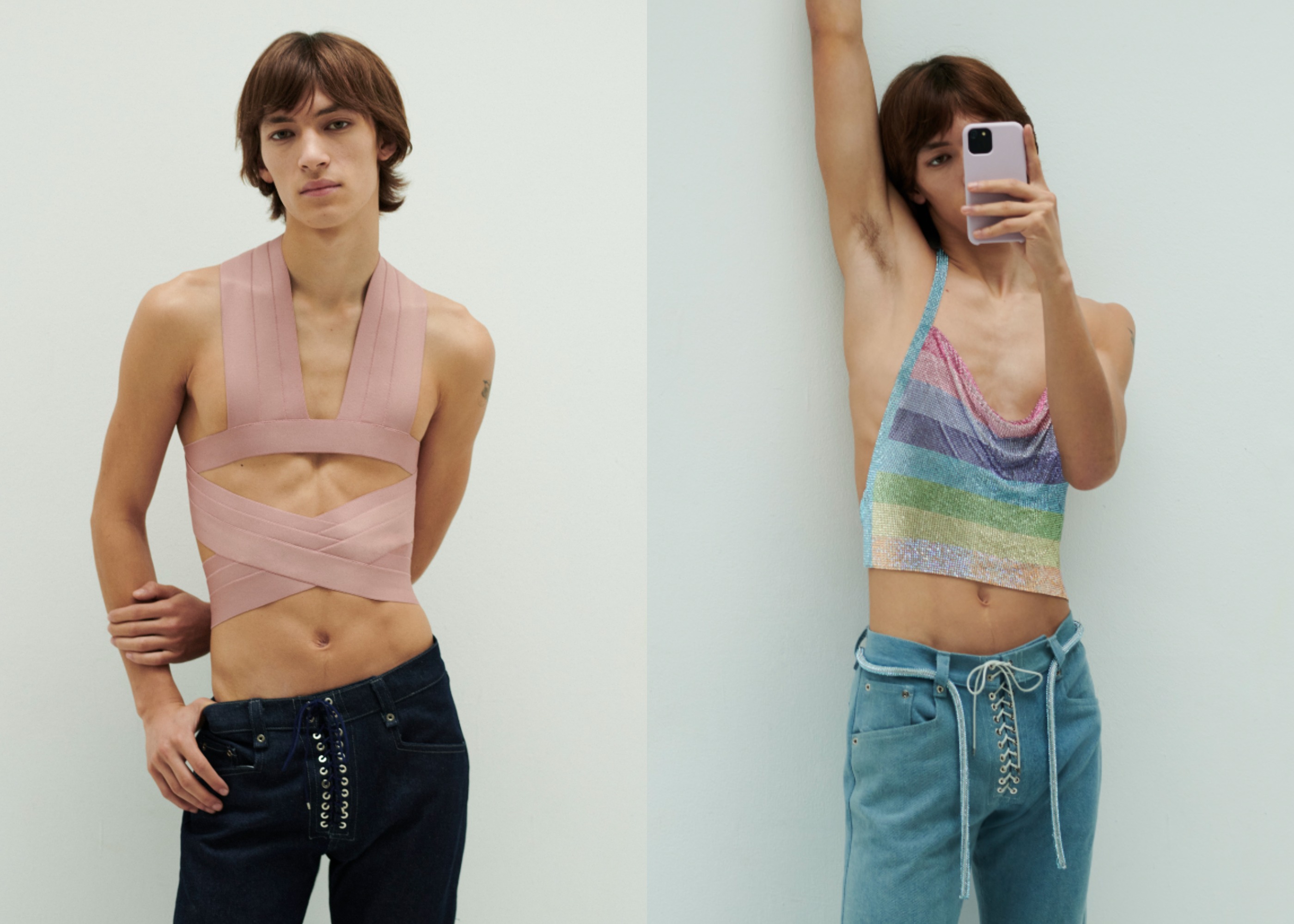 "I love it because it reminds me of the 2000s," Parisian designer Ludovic de Saint Sernin says of the halter. "I looked up to so many girls like Lindsay Lohan, Paris Hilton, the Olsen twins and they all had these amazing looks. I always felt like only they could wear halters, and as a man I couldn't have access to it. We didn't have that option back then. So when I started my own brand, I wanted to make sure to create a safe space where I could express that and have guys wear these looks influenced by the 2000s and feel confident."
Historically associated with womenswear, specifically Halston, it wasn't until recently that the halter top starting crossing over into menswear. Exposing the shoulders and back, the garment was worn primarily as eveningwear in the 30s and morphed into sexy daywear by the time the 70s rolled around. Its deep cut and freedom of mobility, though, make the halter ideal for a menswear crossover moment that plays into the ongoing Y2K revival (think less Magic Mike and more like Tybalt in Baz Luhrmann's Romeo + Juliet). Plus, it's 2021: anyone and everyone can wear a halter if they'd like.
"Menswear has been increasingly embracing what was generally considered to be women's garb — high heels, jewellery, frills, gloves, capes — and I think this is due in part to changing perceptions and greater acceptance of different forms of masculinity," Kati Chitrakorn, Retail Editor of Vogue Business, told The Guardian last August.
When asked if the breakdown of toxic masculinity has played a role in his designs, Ludovic emphatically agrees. "To be honest I wasn't really thinking about [gender-fluid fashion] when I first started. All I wanted to do was to create a brand that I felt represented me. I didn't want to conform to male or female standards for garments for my line," he says. "Garments are garments and anyone that feels like they can relate should be able to wear them. Today, more than ever, it's crucial to have these safe places where we can express ourselves and feel great wearing whatever we feel represents us best."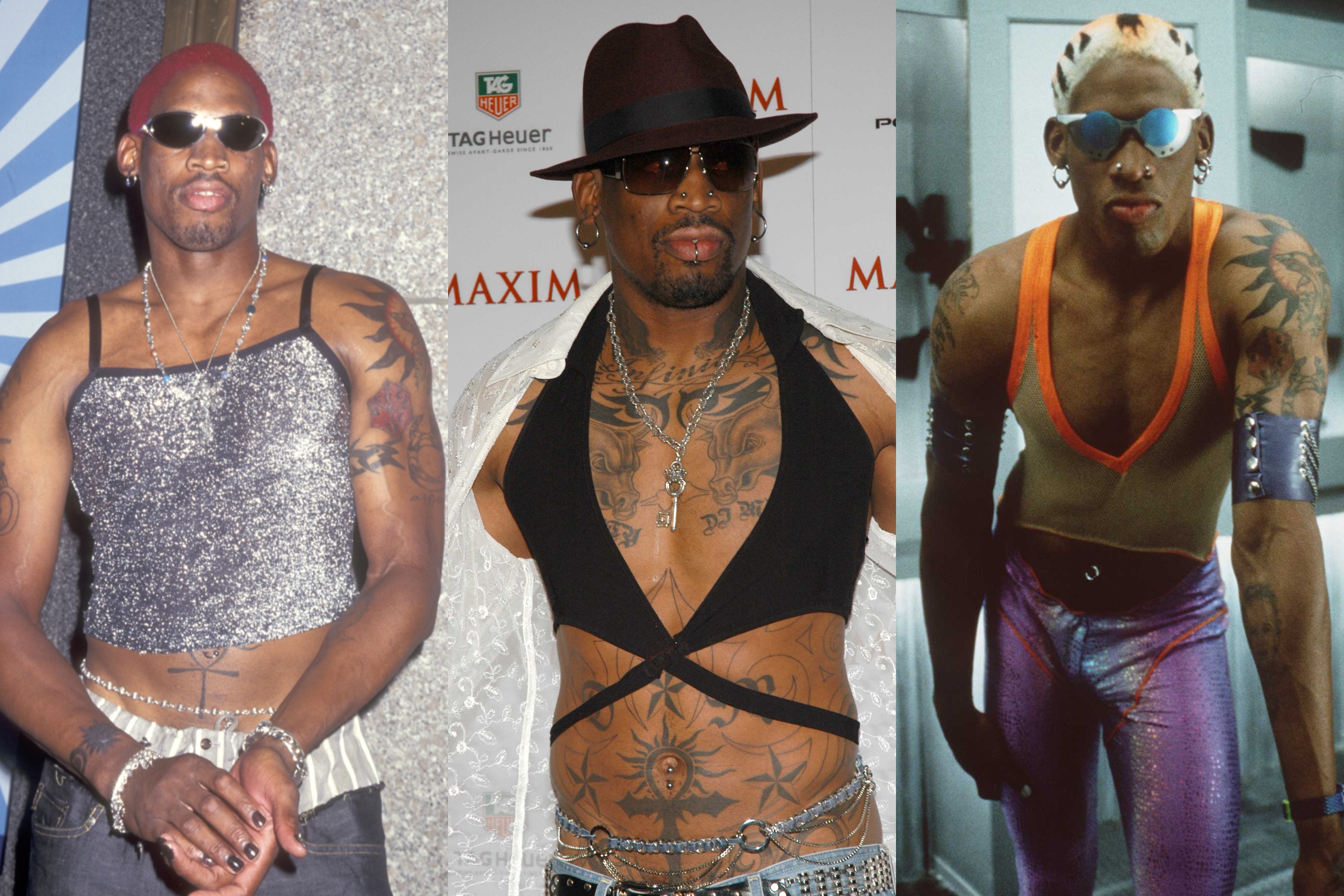 The more recent halter top trend could be traced back to a few fashion pioneers who were ahead of their time and seen sporting the garment as early as the 80s. A young Jackie Chan was photographed wearing not one, but two, different plunging white halter tops. But it wasn't until 2018 that his sculpted chest and tasteful side boob got the viral meme treatment, with the caption reading: "You can dress how you want when no one can whoop ya ass". Then there was the gender-blurring style icon that was basketball star Dennis Rodman, who shocked the 1995 VMA red carpet in his sparkly halter-style tank top. Later, he debuted on the silver screen in a very low-cut neon-raver-meets-steampunk halter for the 1997 movie Double Team.
Two months ago, Filipino-American beauty influencer Bretman Rock took to Instagram to post a photo of himself in a minimal white halter with lingerie-inspired straps next to the photo of his inspiration — Jackie Chan, of course. American actor and comedian Rickey Thompson has also been seen in halter-inspired tanks, not dissimilar to the effortless knits of Dion Lee. And last February, Japanese singer Takayan Gorizal, known as Hentai Gorilla, danced for his nearly half a million TikTok followers in a cable knit grey halter dress with his massive muscles out for the internet.
With men everywhere stepping out in crop tops and thigh-grazing booty shorts, watch this space — the himbo halter is next. After more than a year inside we need all the arm candy we can get.