The new Chucky is gay, actually
A trailer just dropped for the TV series reboot of the horror classic 'Child's Play', and its protagonist is queer.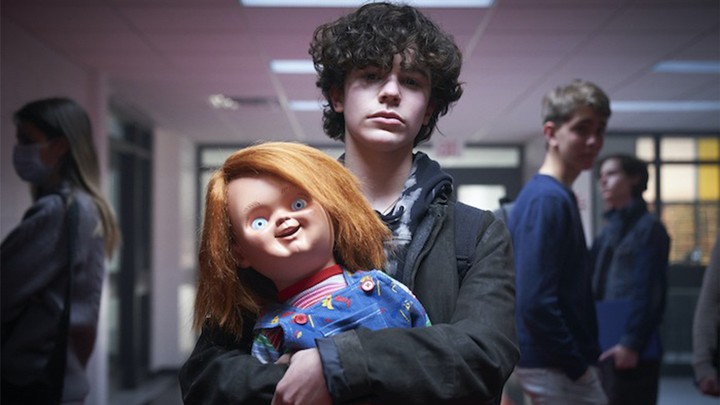 There have been more reboots and movie sequels starring everybody's favourite, fucked up horror doll Chucky than most of us can feasibly recall. But because this is 2021, and IP is really hot right now — do you fancy another one? Yep, a new project based around the character of Chucky is set to launch in October, according to a trailer launched today. But there's two things that have piqued our interest: one, it's his first TV series, and two, it's got a gay subtext.

There is nothing more camp than slasher movies, so it makes perfect sense that we'd get our first queer lead in a Chucky franchise entry. Simply called Chucky (the original 1988 movie and its following two sequels were called Child's Play), this story is set in American suburbia. The central character is Jake Webber (played by Transparent's Zackary Arthur), a 14-year-old gay high schooler who spends his free time making strange sculptures out of doll parts.

At a yard sale, he discovers a flame-haired doll in dungarees (these children need to watch more horror movies ISTG) which he buys and takes home, only to discover (shock!) that it's a sentient, knife-wielding maniac possessed by the spirit of a serial killer. Cue a blood-soaked descent into violence in Jake's home town.

This has promise, mainly because of the team behind it. Don Mancini, the series showrunner, was one of the original writers of the Child's Play trilogy; and the main voice behind Chucky back in the day, Brad Dourif, is back to reprise his role. Horror usually relies on a standard movie story arc to work, so it'll be interesting to see how scares will work in a TV show format. The trailer does a good job of illustrating Jake's backstory as a bullied school kid, and how he's trying to cope following the death of his mother, so maybe it'll be a more mellow affair compared to the movies, with only hints of gore in between things. But this is Chucky we're talking about, so perhaps that's wishful thinking.

Fans of the original movie series have "been waiting for the really dark feel and some really gruesome, gory deaths, and this show is chock full of those," the show's star — and original franchise actor Alex Vincent said at San Diego Comic Con @ Home. "And for newer fans, it's a little more developed in why he is the way he is. It's really shown in a creative way. Still as dark as ever, but we get to kind of see Chucky in a different light and what he gets out of interacting with people."

Watch the trailer for Chucky below and prepare for its Syfy debut on 12 October 2021.