Photos courtesy of Kim Shui, Colin Locascio, Theophilio and SC103
12 designers to watch at New York Fashion Week
Finally, fashion week is back! From Colin Locascio to Theophilio, here's your beyond-the-big-names guide to this season's most exciting shows.
|
07 September 2021, 3:25pm
Photos courtesy of Kim Shui, Colin Locascio, Theophilio and SC103
You've heard us bang on about it enough times, but finally, it's here — fashion week is BACK! And rebooting fashion's travelling circus for SS22 is America's undisputed fashion hub, New York City. This is, however, not a New York Fashion Week like any other. And that's not just due to the long-awaited return of a full slate of physical shows — the IRL comebacks of hometown heroes like Coach, Collina Strada, Eckhaus Latta, Vaquera and Maryam Nassir Zadeh. This season also sees some of the city's most buzzed-about names — like Thom Browne, Rodarte and Telfar, who in the seasons prior to the pandemic had opted to show elsewhere — come home to roost. We'll also be seeing a suite of hotly-tipped catwalk debuts from the likes of Peter Do and Maisie Wilen, AND the Met Gala we've all so desperately craved. What a FEAST.
As with any fashion week, though, some of the tastiest tidbits on the menu are to be found beyond the main courses, so to speak. In recent years, New York has established itself as a crucible of game-changing emerging and independent fashion talent, and this season's schedule justifies that reputation. Here, we run you through some of the names you need to keep your eyes peeled for over the coming week at NYFW, and give you a tease of the très chic, très magnifique surprises they have in store.
Batsheva
We may be returning to the runways this season and closing out the final days of post-vax summer, but with the return of a bustling social calendar, settling into our apartments for cooler autumn days ahead doesn't sound so bad either. That's where Batsheva comes in. Designer Batsheva Hay, who's cultish feminine dresses were prescient to the ever-enduring cottagecore moment, constructed her SS22 collection around the idea that you can be at home anywhere. Sounds quite nice, doesn't it? "The clothing is based on how we dress up to feel excited when we are in front of our bedroom mirror trying on crazy things," she says. "The idea of costumes at home, and taking those costumes and wearing them outside." ND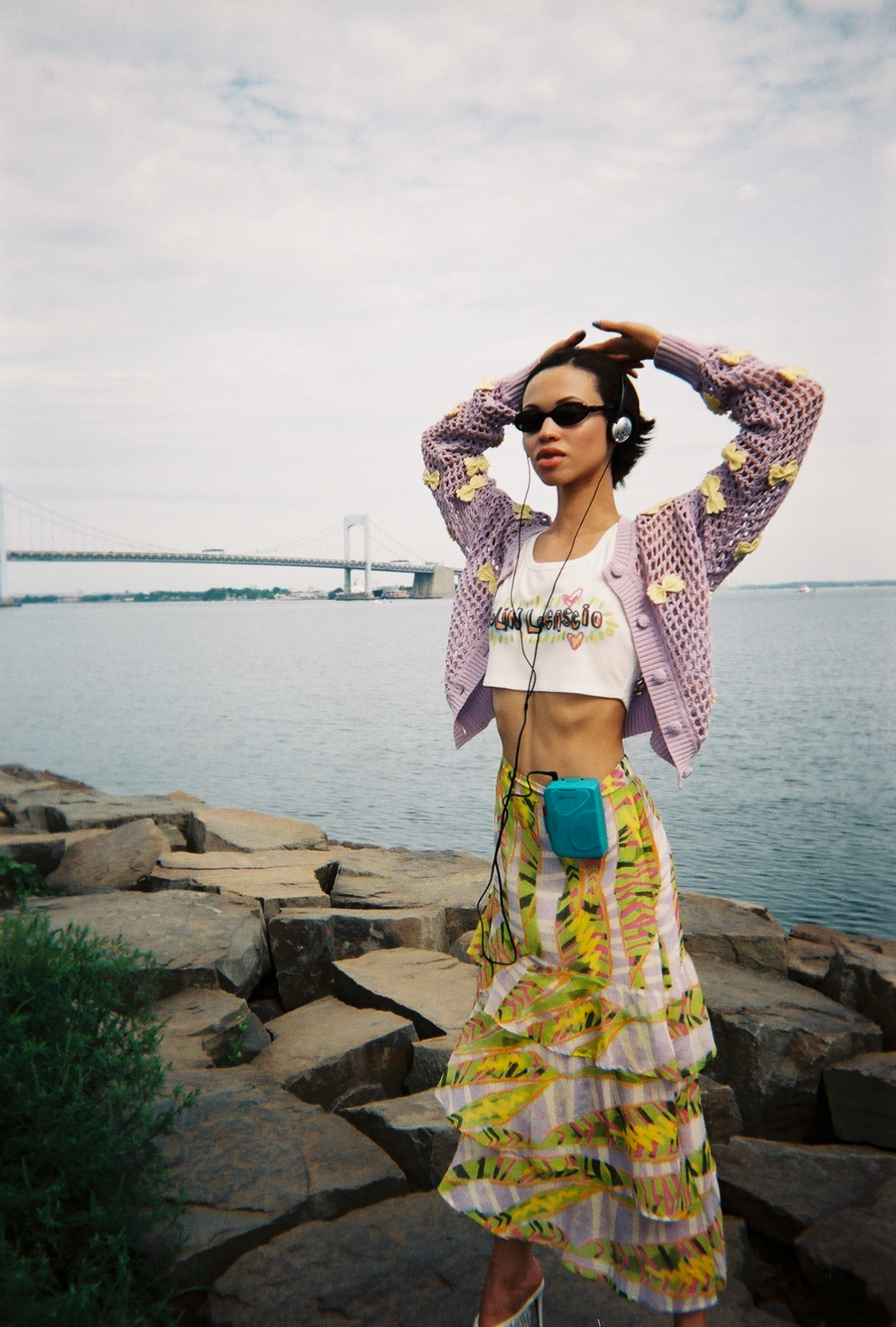 Colin Locascio
Like many of us, New York born-and-raised designer Colin Locascio has always longed for a simpler time — the bygone era of Motorola flip phones, Y2K tooth gems, peak slime Nickelodeon and The Nanny. Combining an NYC edge with 90s and 00s influences of his youth, Colin designs radically fun pieces that not only transport us in time, but remind us that dressing up — or down! — can and should still be fun. For SS22, the designer looks to children's refrigerator artwork, messy finger paintings, crunchy pasta necklaces, faded construction paper and unruly coloring book illustrations to explore naïveté and the playfulness of youth through color, texture and prints. This comes through this season in a picnic-inspired jacquard knit, the hand-crocheted Pasta Bow-Tie Cardigan and skirt set, and a Dear Diary doodle print, all upgraded for 'the modern it-girl', of course. ND
Chromat
If any label can fairly be called a standard-bearer for many of the values that are now being championed in fashion, it's Chromat. Founded in 2010 by Becca McCharen-Tran, the label has been an active champion of inclusivity, creating optimistically hued sports and swimwear for bodies of all and any shape, size, gender identity and race. For the collection they'll be showing on Sunday, NYFW's closing day, they'll be presenting Chromat x Tourmaline, "a swimwear collaboration embracing Collective Opulence". While there's no official confirmation as of yet, there's good reason to believe that with Becca joining forces with director, artist and activist Tourmaline for the collection — after all, they paired up last year for Joy Run, a film celebrating and showcasing the label's AW20 collection. Well worth a watch while you count down to SS22! MS
Elena Velez
You probably know that conversations around American fashion focus on themes of utility, commerciality and sportswear, but one thing that often gets omitted is the nation's noble craft heritage. One designer looking to draw due attention to this unsung history is Elena Velez, the Milwaukee-born Parsons and CSM alum who focuses her practice on the historic craftsmanship and manufacturing legacy of her rustbelt hometown. For Year 0, the 20-look collection she'll be presenting on Wednesday in an exhibition at Shin Gallery, the designer has drawn inspiration from "the decline of great civilizations", and focussed "on re-contextualising the hierarchy between body and sculpture while democratizing resources and recognition for artists outside of traditional creative capitals." Knotty as that may sound, Elena has demonstrated a unique ability to marry bold themes with a deeply poetic, sculptural knack. Here, "one stand out look obstructs the concept of traditional construction while still preserving the beauty of its drapery, shape and ultimately its referential femininity," resulting in "an affectionate and feminine interruption of midwestern masculine might". A must-see for any fashion thinkers out there! MS
Head of State
After a summer entirely devoid of them, this summer has seen the proud return of the festival, with attendees trooping in their droves to muddy fields to shill their pennies on expensive pints and listen to big performances on sub-par sound systems. Stunning! This season, Taofeek Abijako of Head of State's mind was also on festivals, albeit one of rather more epic proportions than whichever city park weekender you and your mates headed down to this weekend. "Growing up in Lagos, I've heard endless stories about this festival called Festac '77, which took place in my neighboring town in 1977," he shares, describing it as "a major, month-long event that celebrated Black arts and culture — equivalent to the Olympics." We're sold! A curiosity as to what the event would look like if it were to take place again today has culminated in the young designer's SS22 collection, which he describes as "a re-conceptualized, modern interpretation of the event, with looks inspired by the diverse guests who attended and performed" almost 45 years ago. All eyes here for next summer's Glasto looks! MS
Kim Shui
American-born and raised in Rome by Chinese parents, Kim Shui is not afraid to experiment with vibrant prints, fabrics and a range of textures across sexy silhouettes and inspired 'going out' attire that's outfitted NYC's club kids since her label's debut in 2016. This year, one in which we've seen unprecedented violence against Asian Americans in the US, Kim will champion and celebrate her community by featuring an all-Asian cast and challenging performative notions of visibility, inclusivity and diversity in the fashion industry today. The designer's SS22 collection will also play with ideas of Western kitsch and fantasy, the same way Westerners often do with Asian elements, and rewrite the narrative by co-opting these tropes. There's a focus on jade in the accessories, crystal embellishments and prints and texture. "The West has fetishized Asia for eons and now Kim's putting a light twist on what that looks like in reverse," Fiona Luo explains. ND
Puppets & Puppets
Over the past three seasons, Puppets and Puppets have transformed themselves from an artfully-minded downtown upstart known for their theatrical runway shows and endearing but kind of unwearable accessories — egg crate shoes and layer cake-topped hats, for example — to a fully-fledged fashion label whose coveted designs are now available for purchase on cult e-tailer SSENSE. There's a reason that designer Carly Mark is often credited with breathing new life into New York's fashion scene and so, a commitment to boundary-pushing designs remain at the core of Puppets and Puppets. The stakes are undoubtedly higher this season as we return to the runways for the first time in over a year, and so we expect the Puppets ethos to be on full display as the label returns to the Ukrainian National Home to present their SS22 collection this week. The clothes are inspired by two ideas: "How the pandemic affected us mentally, and the twenties in America," Carly teases. "The intersection point between the two is a type of haunted pleasure. While we are still not currently out of the pandemic, we want to feel celebratory and free. We are teetering the line between hauntedness and hopefulness." Spooky! You heard it here first, folks. ND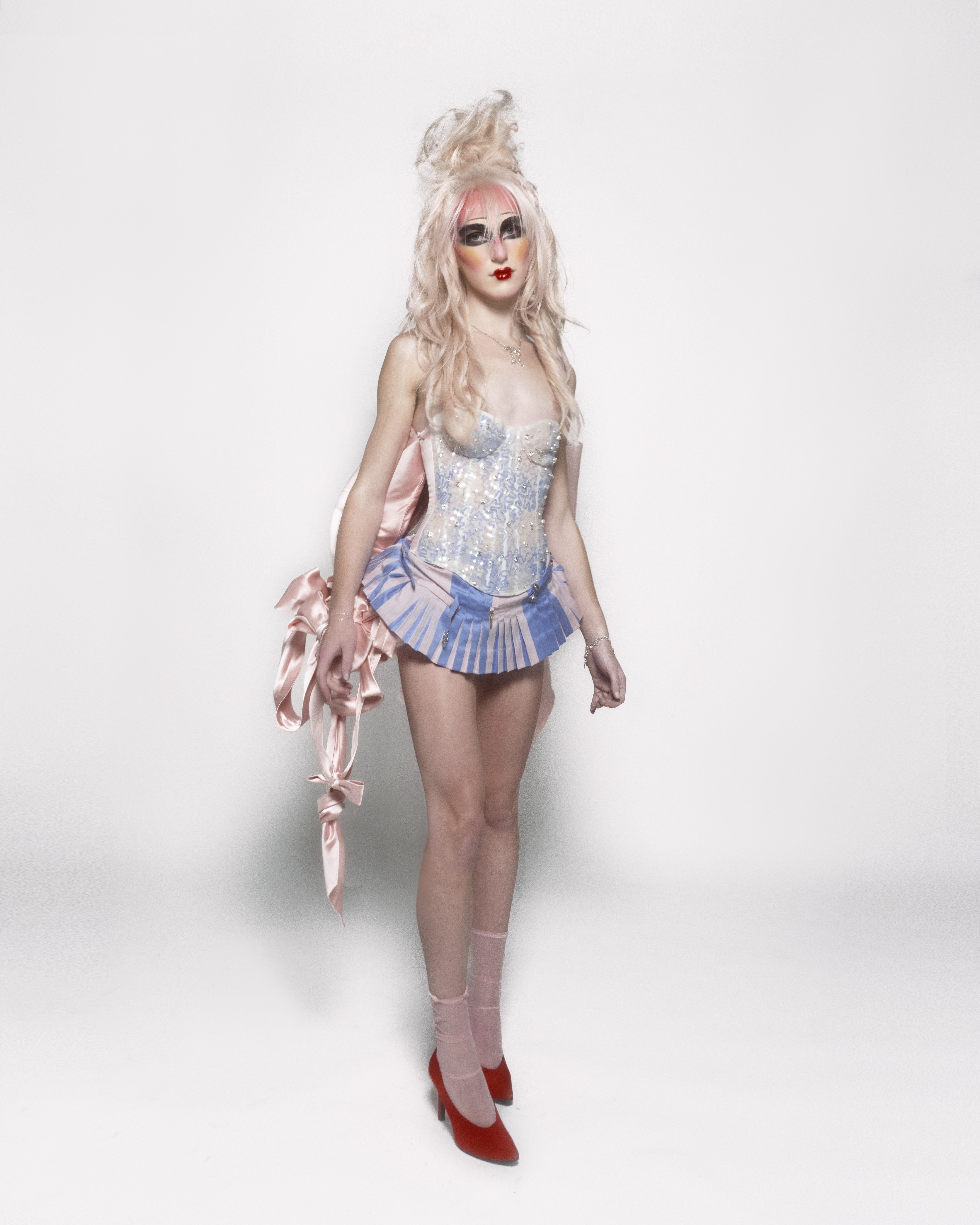 Saint Sintra
While you might not be familiar with Saint Sintra, the namesake label founded by Parsons grad Sintra Martins in 2020, chances are you've seen her playful designs on your Instagram feed, worn by some of our favorite girls of the moment. Both Kim Petras and Olivia Rodrigo (and her girl gang) — outfitted in the label's Y2K miniskirts and mesh tops in the Petra Collins-directed "Brutal" video — have chosen to front the young label for their buzzy new music releases. To garner such attention and have only released a single collection… need we say more? Saint Sintra is one to watch this season. For SS22 the designer will present "a technicolor hyperpop dystopia," exploring "the post-analogue world through a frivolous, hedonistic lens that captures the spirit of youth". ND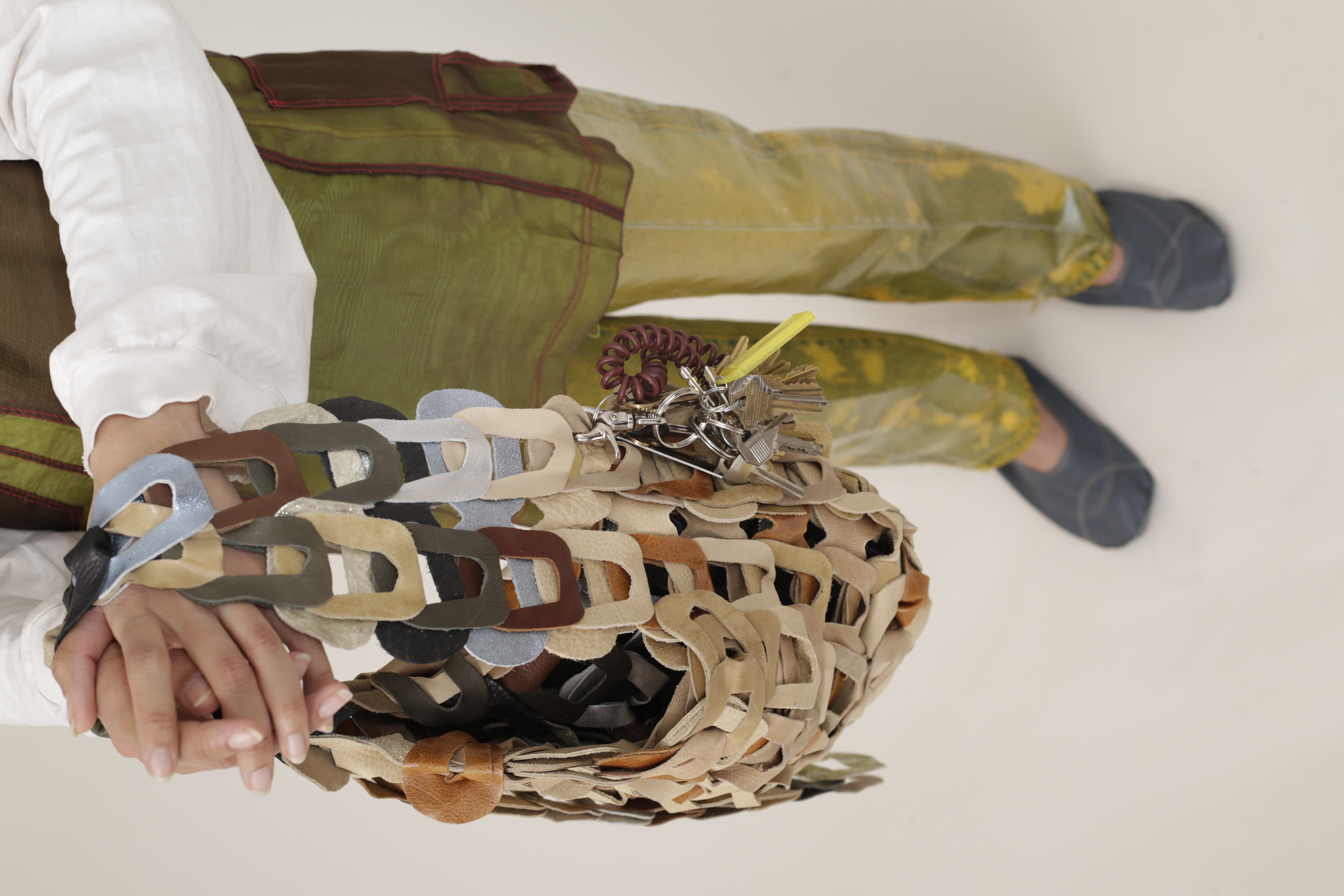 SC103
A collaboration between designers Sophie Andes-Gascon and Claire McKinney, SC103 straddles practicality and absurdity. Most known for their buzzy leather loop bags spotted around downtown, the emerging design duo create primarily made to order and one-of-a kind (read: hard to get your hands on but highly-coveted) pieces that "explore the instinctive artistry and nuance behind tailor-made garment and accessory creation". Presented visually via lookbook, SC103's SS22 collection is "an introspection on personal nostalgias and an embracing of the future." Expect to see eroding decal gym T-shirts, leather eyelet bras and ruffled lace floret dresses that elude to a past, present and future. Oh and best give them a follow, turn on post notifications and snag this season's hottest looks while you can xo. ND
Theophilio
Since launching in 2016, Edvin Theophlius Thompson's Brooklyn-based label Theophilio has established itself as one of the most forward thinking voices in New York's fashion community. Long before these conversations were en vogue, themes of representation, ecological responsibility and community were firmly at the brand's core. More than that, though, Edvin's managed to maintain his integrity while presenting a singular, red-hot aesthetic. Drawing inspiration in equal measure from the culture of Jamaica, the designer's home island, and the electric energy of his adopted hometown, Theophilio marries a sensual flirtatiousness with an uncompromising sense of rigour when it comes to the make. Highlights from previous collections include stretch slips and beaded string dresses that exude party-ready flair. It's an energy that we hope carries over into Air Jamaica, a collection that the designer describes as a "celebration of the heroes and icons of my home country". MS
The Stolen Garment
The story behind Seoul-based label The Stolen Garment starts with just that. Back in 2017, Woo Park was showing his graduate collection in London when tragedy struck, and one of his looks was stolen by a quick-handed trespasser. A viral hunt for the pilfered piece resulted in pictures of an unidentified person seen wearing the garment around the city being uploaded all around the internet. While the piece was never found, Woo adopted a poetic perspective on the situation, choosing to see it as an itinerant extension of that fateful fashion show. He's since gone on to produce more collections in that garment's honour, with his latest presentation pegged for September 8. Building on the label's signatures of clean-lined, subtly quirky menswear, this season, you can expect to see Nobuyoshi Araki-inspired hammered silk pieces, and sweat-drop prints which "refer to the imagery of sweaty bodies engaged in BDSM acts" -- Hot Boy Summer carries on strong! MS
Willy Chavarria
New York, New York, it's a hell of a "glorious shit hole"! OK, that's not quite how the song goes, but that's just what it is to Willy Chavarria, and he's "here to celebrate what emerges". Titled "CUT DEEP", this season marks the designer's return to the NYFW schedule under his own name since landing a pretty-big-deal of a gig as SVP of menswear design at Calvin Klein. For his show on Wednesday, he'll be taking to one of lower Manhattan's most iconic barber shops, presenting a collection that revels in the simultaneous grit and glamour of life in the Big Apple. While he's keeping schtum on what exactly we can expect, the designer's previous work gives us good reason to expect voluminously proportioned menswear imbued with cocksure sexiness and swagger. MS