Why there are so many apologies about a pop song you forgot about in 2014
Ariana definitely had to be reminded what "Bang Bang" even was.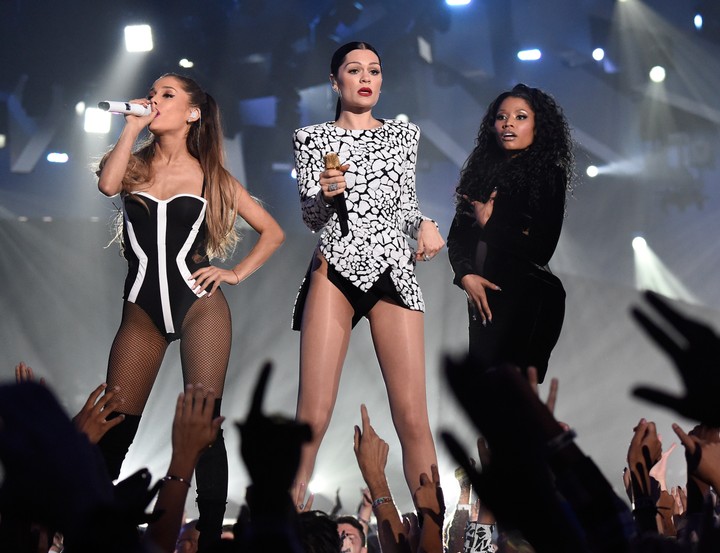 Image via Getty
Given that it was a sizeable hit on both sides of the Atlantic, featured two superstars and was written and produced by the greatest modern-day pop hitmaker, it's actually quite funny that Jessie J, Ariana Grande and Nicki Minaj's "Bang Bang" might as well have disappeared after 2014.
Let's be honest, you definitely listened to it when it first dropped and seemed to be played at every straight nightclub going for 6-12 months, but you haven't thought about it since.
Well, that was until yesterday when for some reason, Jessie J kept apologising to Nicki Minaj and Ariana Grande. Not about the song itself - it's not that bad! Just a bit loud - but about the stories surrounding its genesis.
It all kickstarted earlier in the week when the "Price Tag" (remember that song? What a time) singer gave an interview to Glamour, where she spoke about some of her biggest hits.
Nicki seemed to take umbrage with this chat, posting a screenshot (!) on her Twitter and calling out Jessie for, amongst other things, insinuating that she asked to be featured on the track after it was played for Jessie and Ariana by Max Martin.
Apparently, just the thought that she willingly partook in the recording of Bang Bang was enough to send Nicki over the edge and she clarified that, actually, Jessie's label (Republic, to whom Ari is also signed) asked her to jump on the track, and paid her for her troubles. You don't come for the Queen, etc. etc.
If that wasn't embarrassing enough (imagine being Jessie J and opening your phone notifications to see that! No thank you), Jessie then took to Instagram herself to first apologise to Nicki for the confusion and to also reveal that Ariana herself had even got in touch with her own fact-checking.
Jessie then had to apologise for making it sound like Max Martin was the song's sole composer when Ariana had also written it too. (According to the song's credits, Ariana co-wrote Bang Bang alongside Martin, Savan Kotecha, Rickard Goransson and Nicki, which tracks with the song originally being a discarded cut from Ari's My Everything that was then re-purposed).
Overall, we're just very obsessed with the fact that this is probably the most contact all three women have had with each other since their series of increasingly awkward and ambivalent performances of the song for promo.
As for "Bang Bang" itself? It seemed like a happy accident at the time (Jessie's memory of feeling "like the winner of a contest" sounds about right, tbh) that became a decent-sized hit for all three artists.
For Ari, it continued the narrative that she was the next big pop girl following the success of 'Problem' and 'Break Free,' it was a handy commercial lift-up for Nicki going into the release of 'Anaconda' later that year and peaking at Number 3 on the Billboard Hot 100, it was Jessie J's most successful single in the US, as well as her third UK Number 1 too.
A Top 10 Nicki verse for certain too, and you're simply lying to yourself if you don't agree. "You know what girls? Let me show you how to do it."
Let's just hope we don't have to think about "Bang Bang" anymore for the rest of time, thank you.