Everything we know so far about the Sex and the City revival
The reboot might be coming your way sooner than you think...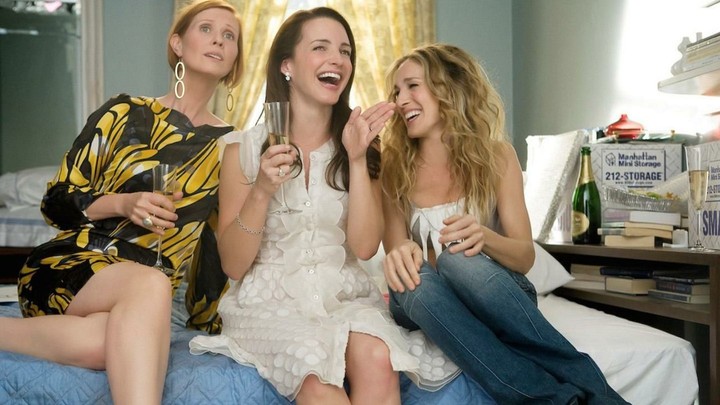 Cosmos at the ready, gals!! Everyone's favourite (and occasionally problematic) show about the trials and tribulations of dating culture in 90s/00s is back.
Back in January, HBO Max announced that it would be reviving Sex and the City with a series called And Just Like That, returning to NYC to find out what happened to the cast in the over a decade and a half since the last episode of the series aired in 2004.
A lot has changed in those seventeen years and we couldn't help but wonder how all the characters would have fared in the raging bin fire of the modern world…
Would Carrie have penned a hit column giving her thoughts on ghosting or breadcrumbing or whatever it is they're calling dating BS these days? Would Charlotte have become an unexpected influencer, filling her feed with a pastel aesthetic and #SPON ads for the latest recipe box subscription, only to later get caught out in some sort of scandal? Or would Miranda have taken social distancing rules extremely seriously and started live-tweeting the location of every rule-breaker and under-nose mask wearer she came across?
With production of the new series just launched, here's everything we know about the upcoming reboot so far…
Not all of the original cast are returning for the show's revival
And Just Like That and will follow three out of the original four women as they navigate love and friendships in New York City, only this time the characters will be in their 50s.
Carrie Bradshaw (Sarah Jessica Parker), Miranda Hobbs (Cynthia Nixon) and Charlotte York (Kristin Davis) will be returning for the show, but without Samantha (Kim Cattrall's character was arguably the most entertaining of the four, but hey, we digress…) this time, which is sure to bring a different dynamic to the group.
Also expected to return are basically all of the guys: John Corbett as Carrie's ex-fiancé Aidan, David Eigenberg as Miranda's husband Steve, Evan Handler as Charlotte's husband Harry and Chris Noth as Carrie's Mr. Big.
Production on the series is very much happening right now…
While there's no official release date for the series yet, we do know that production on the series is well underway. Yesterday (12th June) Sarah Jessica Parker posted a reunion photo of the three returning main characters, stating that they were doing read throughs of the script together, writing: "Together again. Read through our first episodes. Alongside all the fellas and our newest cast members. Like an ice cream sundae." The day before that, she posted another post saying her "Nerves [were] all a wonderful jumble" ahead of the first table read for the show.
There are new characters, including a non-binary podcast host
Grey's Anatomy's Sara Ramirez is set to play a character called Che Diaz, a non-binary stand-up comic and podcast host, in the series. Che uses they/them pronouns and will feature in all ten episodes of the upcoming series, meaning we could expect them to play a fairly big role in the show. Carrie, meanwhile, apparently features on Che's podcast as a regular guest, which also could potentially offer an interesting insight into how Carrie's career has progressed. Are $4 a word articles for Vogue out and appearing on podcasts for 'exposure' in? Only time will tell…
The series aims to feature a more diverse cast and crew than the original…
The original show has received criticism for showing a very narrow, very white depiction of New York life, something that the new series hopes to address. This time around, half of the writer's room for the series is made up of women of colour, including comedian and author Samantha Irby, former Fresh Off the Boat co-executive producer Rachna Fruchbom and Black Lightning writer Keli Goff.
HBO Max haven't yet confirmed the full list of new characters, but we're hoping it features a more diverse cast. The network's Casey Bloys previously said of the first series: "It's not reflective of New York. So they are being very, very conscious about understanding that New York has to reflect the way New York looks today."
It will address the pandemic…
Although you probably never want to hear the word 'pandemic' again (sorry), it will inevitably feature in the Sex and the City revival.
Although production on the series had to be halted due to Covid lockdowns, Sarah Jessica Parker confirmed at the end of January that it would feature, at least in part, in the new series, explaining that it "will obviously be part of the storyline because that's the city [the characters] live in. And how has that changed relationships once friends disappear? I have great faith that the writers are going to examine it all."
Tagged: