Photography Saskia Lawaks and Harley Weir
Winona for Marc Jacobs and the 2022 LVMH Prize: What's in Fashion?
Your one-stop-shop for the week's fashion news to know.
Photography Saskia Lawaks and Harley Weir
Hello, my fashion queens! For a short week (well, if you're reading this from the UK, anyway), we're bringing you a fittingly short, but oh-so-sweet edit of the past seven days' fashion news. What lacks in quantity, however, is more than made up for in quality. From new it-bags from Maison Margiela and Marc Jacobs to the announcements of the winner of this year's LVMH Prize, consider a select buffet of style snippets fit for the king/queen/gender-neutral monarch you are. Happy Jubilee! And here's what's in fashion.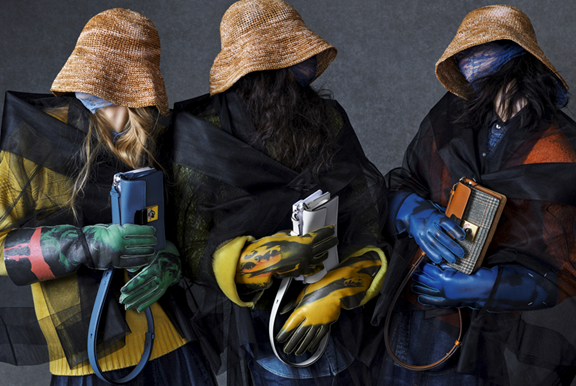 If you're going to secure the bag, make it Margiela
We all know how important it is to secure the bag by any means necessary, but sometimes the stress of deciding just which bag to secure can be all too much to bear. For those dazed by the vast array of choices, our hot tip is Maison Margiela's brand new New Lock. The cute, boxy crossbody debuted as part of John Galliano's Avant-Première SS22 collection (Cruise in Margiela-speak, basically), and comes in a variety of textiles and colourways, from bright orange calfskin to a staple all-black and plummy tweed. What really sets it apart, though, is its signature motif — a turnlock that you'll recognise from all a manner of doors that you pass through day-to-day. All the more reason to lock in that purchase, my dears! MS
… or Marc Jacobs!
Ok, sorry to break it to your bank balance, but there isn't just one bag that we're compelling you to cop this week… before (or after, route depending) you stop by Margiela, you just MUST make a stop by Marc Jacobs. Why? Well, because Mother Marc has just dropped what is a surefire contender for the it-bag of the summer. Available in a range of poppy and classic hues, the J Marc bag — named for its interlocking J closure — represents a bold addition to the brand's canon of iconic accessories. Taking inspiration from the equally iconic Stam bag for its chunky chain strap, the oblong piece can be worn as a crossbody, a shoulder bag or a clutch — it's giving versatility! The only thing (or person, rather) more versatile is the star of the bag's recently launched campaign — none other than Winona Ryder! Shot by Harley Weir in LA, it marks just the most recent chapter in the decades-long collaborative history between the legendary actress and house muse and Marc. Convinced? Shop the bag here. MS
BIMBA Y LOLA are bringing some love to the seaside
The weather may not have realised it's June yet, but that's not going to stop us putting on our skimpiest swimwear, lathering ourselves in sunscreen and plonking ourselves in a paddling pool in our garden with a prosecco and a Solero. BIMBA Y LOLA has that aesthetic down to a T, and has just released a new beachwear capsule collection fit for frolicking in the sand. Featuring bikini tops and cropped vests, maxi dresses and chunky flip flops along with wide-brimmed hats and towels, and tote bags to carry them all in, what's special is that each piece is adorned with the cute doodles of Tokyo-based artist Kentaro Okawara. Cute kissing faces, smiley fruit and colourful animals are all made into prints that are inspired by the drawings Kentaro would do when he was five years old and send to his grandmother (we're not crying, it's hayfever!). The theme for this collection is "more love" and is a reflection of the way art can work as an expression of love in all its forms. Queue Nicki Minaj's "Starships" on Spotify and check out the collection on BIMBA Y LOLA now. TG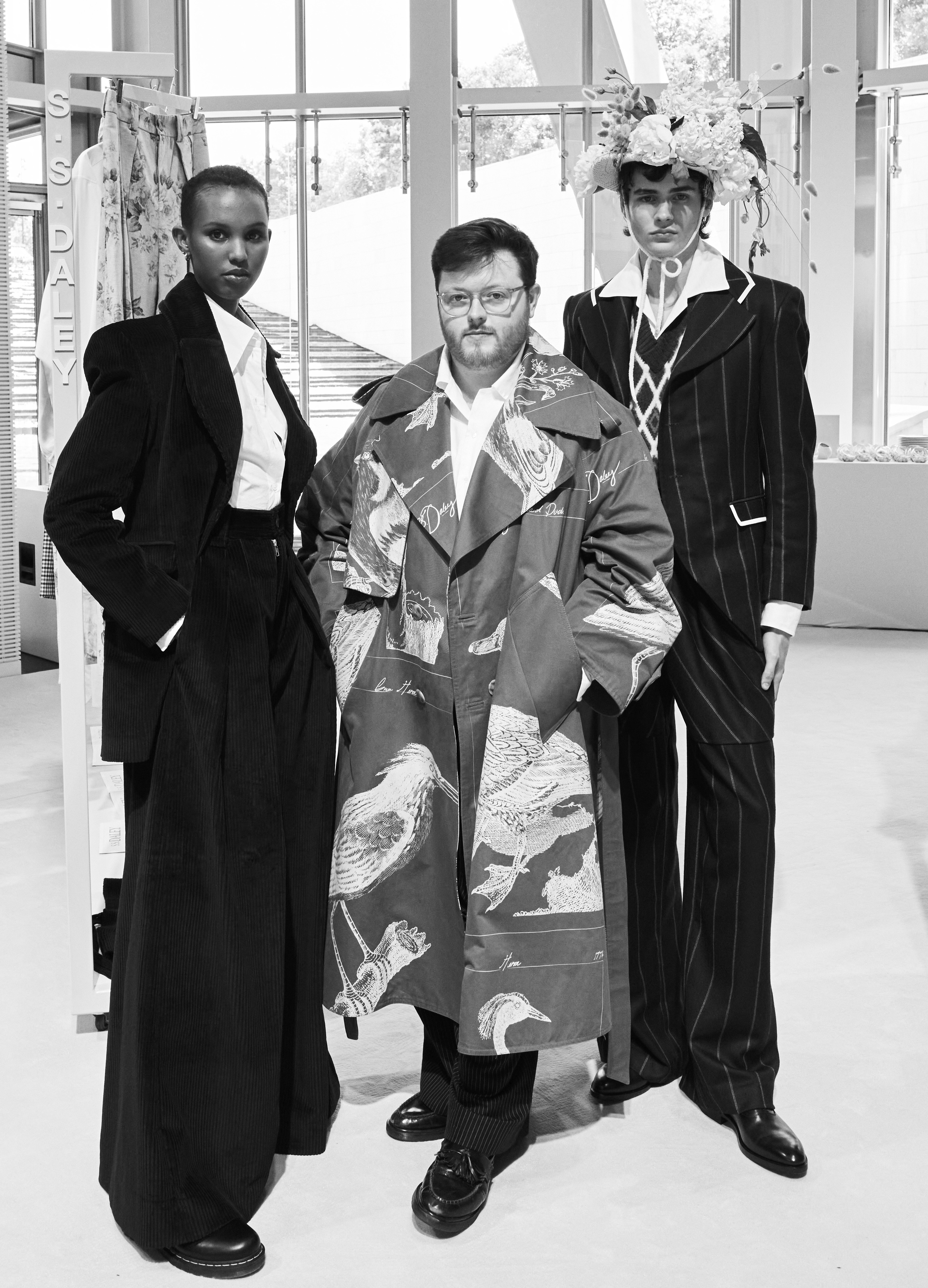 S.S. Daley wins the 2022 LVMH Prize for Young Fashion Designers
It's been a massive couple years for Steven Stokey-Daley, the Liverpool-born designer behind vintage-inspired label S.S. Daley, who's crocheted boating hats, whimsical linen shirts and billowing wide-legged trousers in corduroys and floral patterns offer a playful, effusively queer take on old English upper class uniforms. Fresh out of University of Westminster's Fashion BA programme, the young designer's styles slowly began selling out online, he found a star-making fan in one Mr. Harry Styles (The dreamy "Golden" video? Steven practically outfitted it), landed his fabulous SS22 collection on SSENSE and now S.S. Daley's taken home the LVMH Prize for Young Fashion Designers.
On June 2, at the Louis Vuitton Foundation in Paris, members of the grand jury including Kim Jones, Nigo, Maria Grazia Chiuri, Jonathan Anderson and more rather unanimously agreed that the level of world-building S.S. Daley had undergone in two years alone made the young designer more than worthy of the fancy award: €300,000 cash prize to further develop the brand and a year of mentoring from LVMH. "This is like an Oscar," Steven told Cate Blanchett while accepting the award. Well, he's not wrong, but given Steven's stellar performance thus far we can't say we're surprised. ND
Cyndia Harvey's T.H.O.M is reinventing the beauty space for Black hair
From the minds of renowned fashion hairstylist Cyndia Harvey and artist Reno Ahani comes T.H.O.M, a space that offers elevated beauty rituals crafted with Black hair in mind. For decades, both brands and pop culture have co-opted POC fashion and beauty expressions, all while failing to both uplift these communities and to create products specifically for them. T.H.O.M, which stands for This Hair Of Mine, aims to change that, offering luxurious hair therapies that empower and celebrate Black beauty. Their nourishing treatments are created with plant based ingredients and formulated by world-class chemists, and their first exciting drop is a scalp serum — the first essential step in any hair care routine. We spoke to Cyndia about how the brand is revolutionising the beauty world, reclaiming the space for textured hairs, and what we can expect next from T.H.O.M. TG
How would you introduce T.H.O.M., and what makes it distinct from other haircare line on the market?
We're so much more than a beauty brand. While we pour our hearts and souls into the efficacy of our products, we want our audience to be part of something bigger. It's a space for visibility and freedom of expression, built to enliven the visceral connection between us, radical beings, and hair that's rich in both texture and heritage. Offering elevated beauty rituals reflective of our lifestyles and reinventing the outdated practices of today. Ours is a space for the supernatural.
After working so extensively in the industry, what prompted you to work on your own brand?
I didn't have the same positive experience as a consumer and, as a professional, with the hair care products I have as with my other beauty products. Working with high profile clients with textured hair, I'd ask them what they were using and they would often reference low-performing hair care brands, and don't speak of them with enthusiasm and passion. It was clear they had no emotional connection to the product or brands, they just made do with it.
T.H.O.M exists to connect the consumer to a brand that speaks to their lifestyle. Changing the psychology around the 'complicated' nature of texture-rich hair. We know the consumer spends six times more on hair care products for texture-rich hair and that's because there is no brand they trust, they are always bouncing around and trying products. We are creating something for the community that they will feel a loyalty towards, that is also reciprocated from the brand.
What sort of conversations were you and Remi having while developing both the product, and the story behind it?
We want the entire journey to excite and delight from the moment you interact with the brand to the end result. We wanted to create products that rid the anxiety and disappointment consumers face in what is meant to be a moment of self-care. Our rituals are routine-reinventing and everything that we create, whether that be, products, tools or accessories, aims to elevate the hair care experience for those with texture-rich hair. We're cultivating a universe [that celebrates] Blackness and Black hair.
Who do you envisage as T.H.O.M's audience, and what do you hope T.H.O.M will be able to offer them?
T.H.O.M's audience are radical souls, innately creative and masters of their own reality. Anyone living beyond societal expectations.
What's in the pipeline for T.H.O.M?
Our debut product, Scalp Serum was built around a firm belief in respecting the source as the cradle for good growth. And this speaks to hair as well as personal growth. Our next two launches will be a hair cleanser in an unexpected format which I'm super excited about. Then, followed by the most divine and softening hair mask that I've ever used. These won't be on wholesale until 2023 likely. There is no brand offering a luxurious experience and elevated rituals and we want to communicate directly with our community every step of the way.