'Regulators claim we're numb to violence, I don't buy it': David Cronenberg on his new horror
'Crimes of the Future' was rumoured to cause mass walk outs. Here, the provocateur tells us how he's handling the hysteria.
He might be one of cinema's most depraved masters, but the director David Cronenberg is not really a night person. In fact, when we meet on the upper terrace of a hotel in Cannes, the morning after the world premiere of his new body horror, Crimes of the Future, and its subsequent afterparty, he's trying his best to stay attentive. "The main thing is that I haven't collapsed from a lack of sleep," he says, having gone to bed at 3:30am and getting back up at 7:30am to now do interviews. "I'm usually very lazy and I like to sleep, so this was difficult," he says, reminding us that an espresso is on the way. "I accept the suffering as the nature of the game, but it's definitely not my preference."
Suffering: one way you could construe the escapades through which David Cronenberg places his characters. In Videodrome, viewers tune into a broadcast frequency that shows snuff films. The controversial Crash, based on the J.G. Ballard novel, followed a group of symphorophiliacs — people who experience sexual arousal from car accidents. In Dead Ringers, a gynaecologist spirals into a deep and delusional mental illness, where they envision mutant genitalia. And yet, in conversation, there's a deep disparity between the chilly take on death, violence and romance crafted by the director, and the man himself.
Crimes of the Future — a film 20 years in the making — has its own strange take on suffering too. It follows Saul (Viggo Mortensen) and Caprice (Léa Seydoux), two performance artists who indulge in proclivities bizarre even by Cronenberg standards: the growth and removal of organs before a live audience, a practise scrutinised by the National Organ Registry. As Kristen Stewart's librarian-like archiver of organs says, "surgery is the new sex".
Here, at Cannes, David Cronenberg digs deep into how the passing decades since the story's inception have grown ever more prescient, what makes him uncomfortable, and the idea of returning to the fully-formed world of Crimes of the Future.
Do you like festival audiences?
I do, I know they're slightly anomalous, you know? They're not the usual kind of audience, and now I'm noticing your shoes and I'm saying, Those are not the normal shoes, but I like them! Yeah so, it's a very unpredictable audience, if any audience is, in fact, predictable. But it's a mixture of people who are there for the thrill of being on the red carpet and seeing the stars who might not know my films or what this film is. Some are locals who just got tickets -- they could be shocked, drop dead. Heart attack, I dunno… so it's fun.
This has been framed as your return to body horror for the first time in nearly 25 years, after a series of films that were more psychologically driven. Does it feel like that to you?
I'm totally the same person, you know? It doesn't indicate a personality regression, it's just happenstance. 20 years ago, when we started to put this movie together, at a certain point I thought 'This isn't the movie I want to make now', but I didn't know what the movie I wanted to make was. So it's fortuitous that I made this movie now. It's not a statement or a deliberate reconnection with the past — of course, I know there are some connections between this movie and some of my earlier movies, but those connections don't help me creatively. The focus is totally on the movie and thinking about references to past work is not in my head.
Do you think audiences will react differently now as opposed to how they might have 20 years ago?
Absolutely. Some of the things in the movie are not as fantastic as when they were then. We weren't talking about microplastics back then and now everybody does: they're in your blood and flesh and the ocean. Sooner or later, they'll be a normal part of our bodies. This alternate universe… it's closer to us now than it was then. It might have been considered 'out there', but less so now.
Have audiences become more bloodthirsty in that time?
I mean, certainly, because of streaming, you're seeing a lot more blood, violence, sex than ever before — but to me that's fine. It means there are fewer controls on artistic expression. Whether you want that or not, well you can switch it off! You have control, it's not forced on you.
It's convenient for regulators to claim we're numb to violence, but I honestly don't buy it. People are interested in being comfortable with their entertainment, but they're also interested in being pushed to the edges of their perception and understanding. Both of those things have always been there.
When was the last time you felt uncomfortable?
I really am sensitive to violence against children. There are a lot of stories, nowadays, of people coming forward about child abuse and how they were affected by it, and then movies and streaming services [make content from it]. It's just because, I assume, I'm a father and grandfather. It's not like I would want to ban that from discussion — on the contrary, I think it should be discussed — but I don't want to watch it. It hurts.
The shocking centrepiece of this film involves the autopsy of a child. It's interesting you say that it's your trigger.
Yes, and you're right about that — but at least he's not alive at that point!
The early buzz around this film involved hearsay of people fainting and running out of the cinema. Based on everything so far, do you feel like it's a mission accomplished?
That has not happened! I mean, out of 2,400 people, the capacity of the theatre last night, one person left, and it was me because I was going to pee.
Kristen Stewart said earlier at the press conference that she'd come home at the end of each day and say 'What the fuck are we doing?'. How inquisitive were people about the material, and the script?
They wouldn't dare, I had them completely intimidated! No — that's not true. Nobody asked me anything beyond the specifics of a scene. Nobody asked 'What the fuck am I doing?'. You know, I've heard that from many actors many times, 'I have no clue what I'm doing', and the answer from me always is: Yes you do.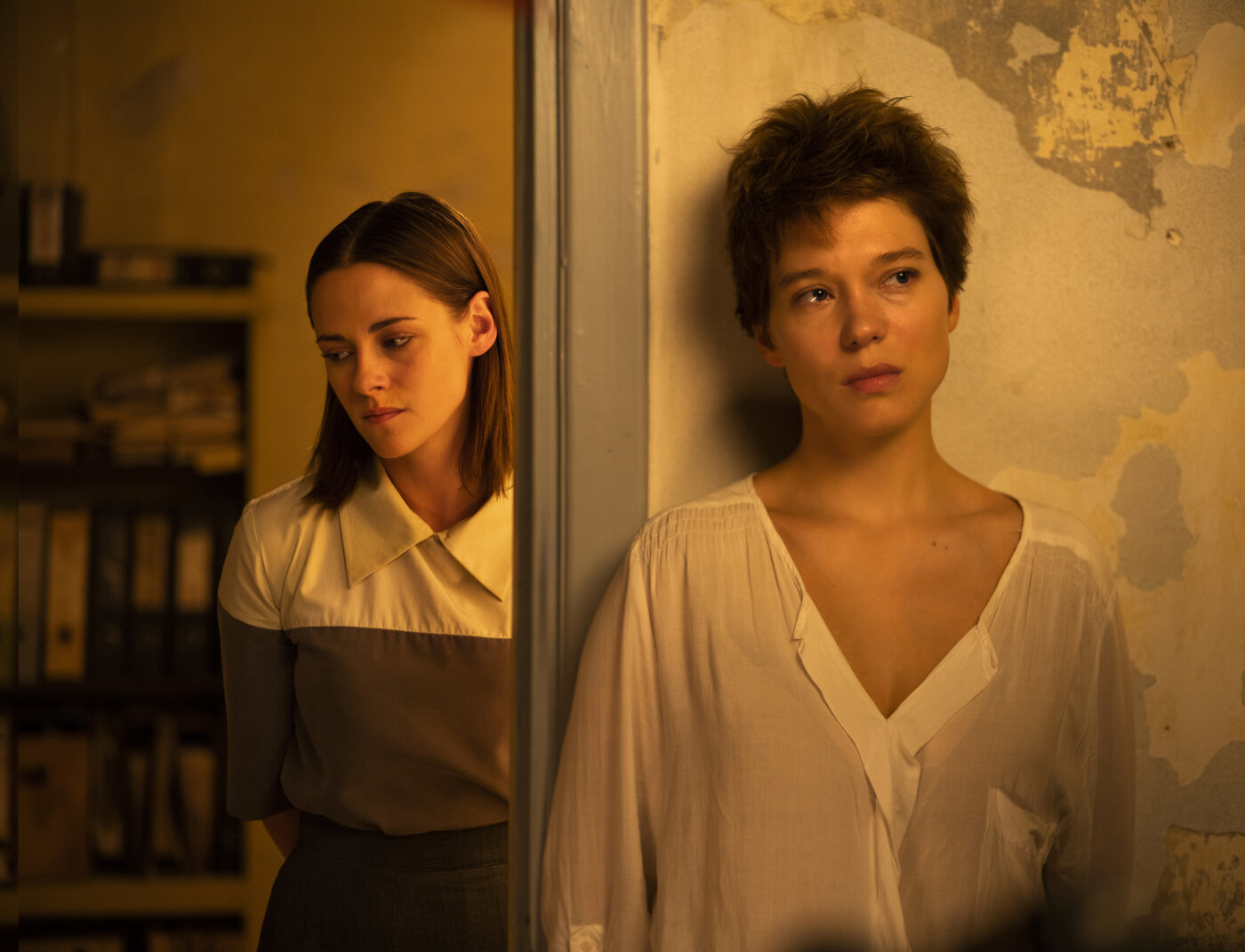 Your reputation must be intimidating to some people, though.
Now, I totally think I'm not intimidating, but many who, in themselves, are quite powerful and intimidating, have told me that I can be. I can't imagine it myself.
Did the film materialise in the way you originally envisioned it?
I refrain from envisioning. There's a feeling among people who have never made a film that you have a really clear idea of what a film will be, and then you make the film and compare the two: Is it the same film I thought it was going to make? I don't do that at all. Making a movie is an organic, evolving thing that keeps surprising you. It's an accumulation of details.
The world building in this is so gargantuan, though. Would you ever consider making another film with these characters, in this setting?
This [movie] is very specific to this subject matter. I'm not planning a series of spin-offs. If someone wants to pay me a lot of money for the rights, I might consider that, but if they want me to direct it? Forget it.
'Crimes of the Future' will be released by Neon in the US on 3 June. It premiered at the Cannes Film Festival 2022.
Tagged: