How Glenn Martens became 2022's most intriguing designer
Between Y/Project, Diesel and Jean Paul Gaultier, the designer has become one of the most distinctive voices in fashion right now. Here's how.
|
15 February 2022, 12:39pm
Barely two months into 2022, Glenn Martens has already established himself as the breakout designer of the year. The unofficial designer of FoxYe (RIP) – with Ye pulling Glenn's SS22 Diesel designs for his beau on their infamous second date, he has also put out two of the most recent show season's most memorable collections: the first, at Y/Project, the label he's built his reputation at over the past nine years; the second, for Jean Paul Gaultier, authoring his first-ever haute couture collection as a guest designer for the fabled Parisian house.
The latter took place during Paris Couture Week at the end of January. Often a staid affair — a parade of impeccably crafted, though often aesthetically conservative collections created in line with the strict expectations of the Chambre Syndicale de la Haute Couture – Glenn's 36-look offering invigorated fashion's stuffiest tier with a jolt of fresh energy. It marked a full-circle moment for the Belgian designer, returning to the brand that launched his career – JPG was his first job after graduating from Antwerp's Royal Academy of Fine Arts. A renaissance, if you will; a culmination 14 years in the making.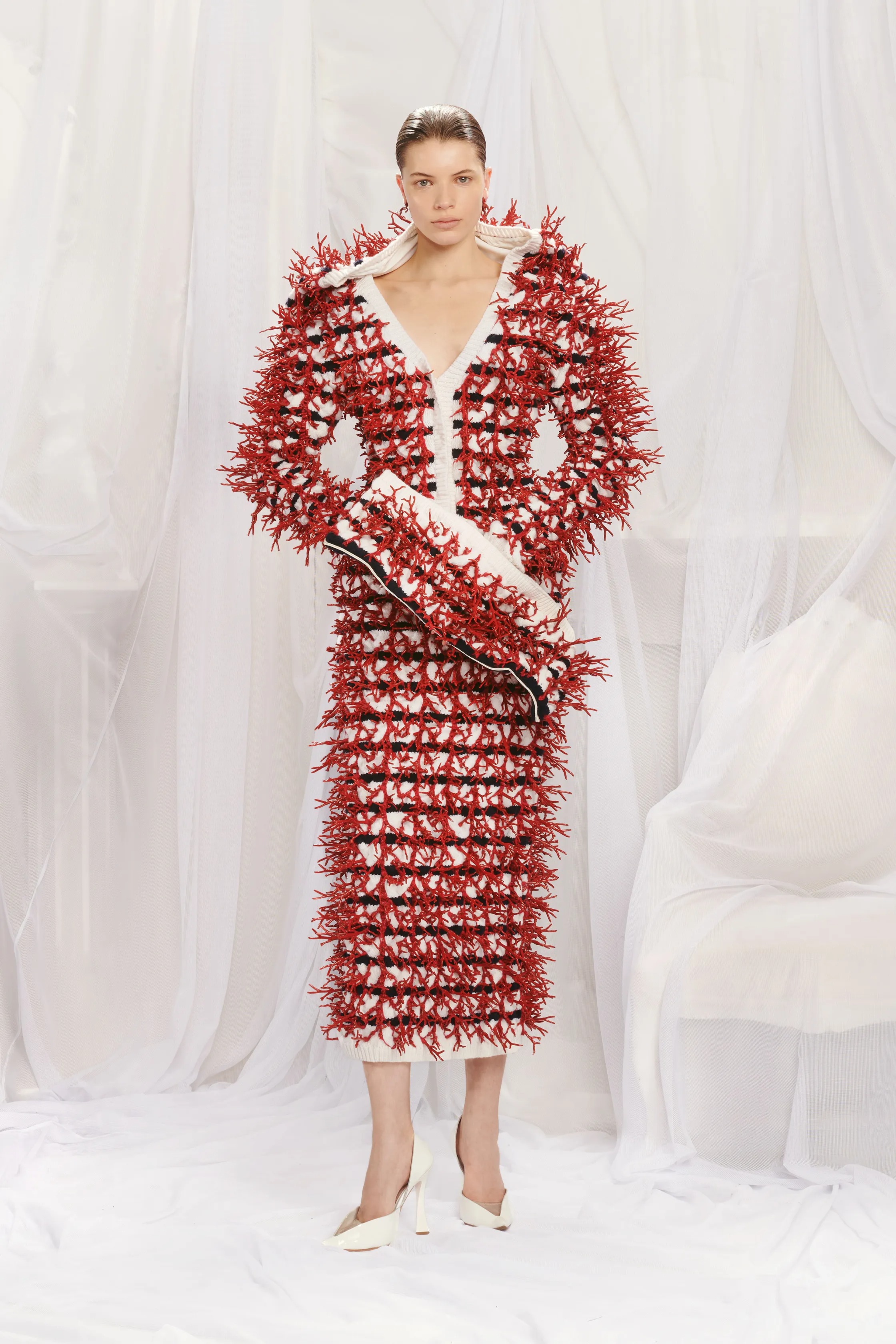 Figure-enveloping gowns looked like the most sophisticated explosion at a taffeta factory while the iconic Breton marinière was transformed into a knit dress that sprouted spiky coral. Elsewhere, Gaultier's iconic 90s mesh was reimagined, recreated in delicately layered tulle. A devastating one-time affair, his offering was Glenn at his peak – recognisably Gaultier, while maintaining everything that we love about the designer himself. "Gaultier was one of the greatest inventors in fashion history, and I took the things that touched me and tried to reinvent them in a Y/Project way," he explained.
If the brilliant couture outing was the entrée, the designer's AW22 co-ed collection for his bailiwick brand was the appetiser. Staged in a gigantic warehouse on the outskirts of Paris that took models almost five minutes to traverse, it was arguably his best collection to date. The show featured brand signatures – skewed tailoring, braided knitwear showing flashes of skin, and mouth-watering accessories: sculptural oversized jewellery and big toe-exposing shoes – while also giving us a taste of JPG. The technicolour trompe-l'oeil looks from the house's fabled SS96 collection were revived, and reinterpreted with a cheeky lilt that's inimitably Glenn – kaleidoscopic prints of breasts appeared on men's tops, barely-there dickprints on miniskirts and jeans. "Why not have fun?" read the show notes, almost punctuated by the designer's winking face.
While he's now getting the flowers he deserves for his haute couture slam dunk, it's over the course of his tenure at Y/Project that the full extent of his vision has really made itself felt. It's difficult to remember a time when the label wasn't synonymous with him, but started off from humble beginnings as a dystopian menswear brand founded by the late Yohan Serfaty in 2010. Since taking over the reins from the founder after his untimely death in 2013, Glenn has transformed the brand into one of the most anticipated shows at Paris Fashion Week, battling for the spotlight against heavyweights like Balenciaga and Louis Vuitton.
Without doubt, a key reason for that is the fact that he creates with the intention of encouraging individual expression. Whether it's pieces fitted with pliable wire seams — or tops with multiple neckholes and sleeveheads, Glenn's clothes feel like they were made to be paraded on the street; to be seen in. For proof, look no further than the divisive 'janties' from SS19 – alarmingly high cut jean shorts that could be mistaken for denim pants. And remember those somewhat impractical but highly coveted thigh-high Ugg boots that could only be pulled off by Rihanna? Glenn was the mastermind behind it all.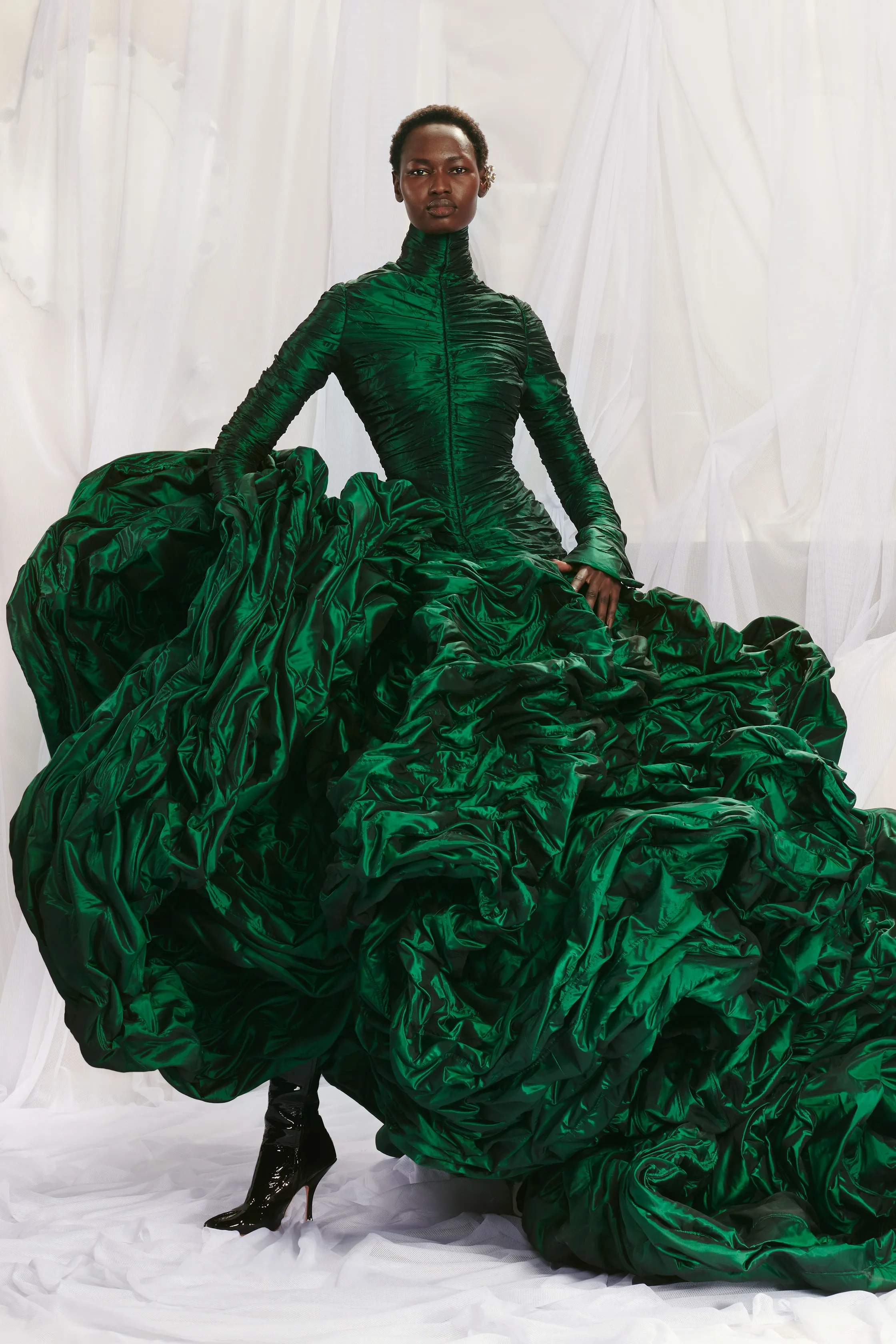 Still, while his designs may often go viral, that's not to say that he's interested in pushing the boundaries of "good taste" simply for the sake of meme-makers. If Miuccia Prada led the ugly chic revolution in the 90s, Glenn could be considered her spiritual descendant, creating the deliciously weird, yet undeniably chic classics we see today – his tailoring, knitwear, and denim curving and folding around the body as if you woke up in it the night after a fabulous party.
"Glenn's clothes give a special energy to the men and women wearing them and you can feel that as a photographer," shares Arnaud Lajeunie, a longtime collaborator of the designer. "There's a mixed feeling of consistency, but always a surprise too – you know it's Glenn's work, but you are always pushed by it. He has a clarity of voice with a desire to evolve and experiment."
In 2017, that spirit was formally recognised when Glenn snatched up the ANDAM Prize for his work at Y/Project, joining winners like Anthony Vaccarello, Iris Van Herpen, and Ami's Alexandre Mattiussi, and earning him €250,000 to invest into the brand. Others may have chosen to rest on their laurels at that point, but the award only spurred the designer on, leading to him beginning his relationship with Diesel the following year.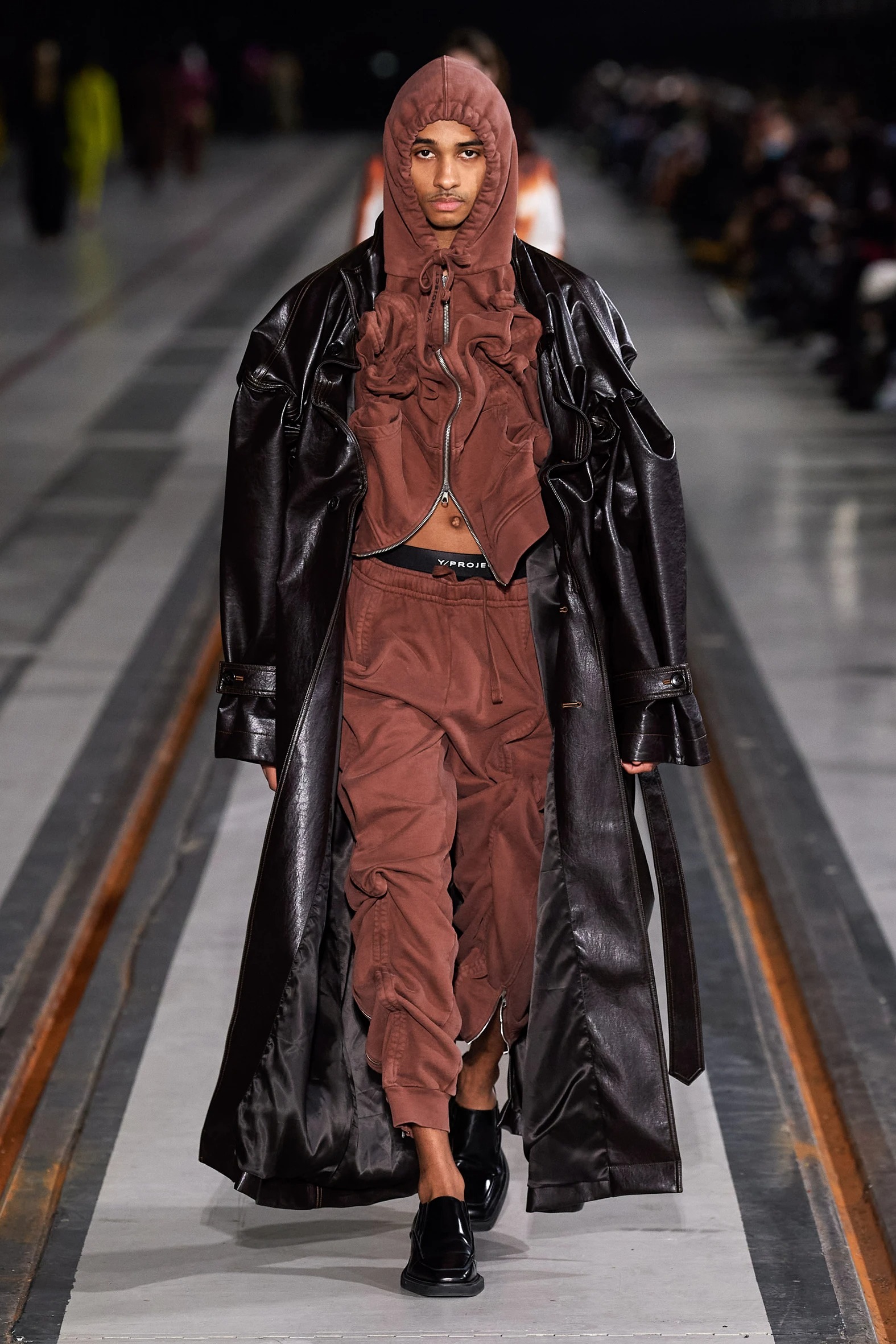 After an initial guest appearance for the brand's Red Label initiative – a two-part collaboration that saw his collection shot by Hans Eijkelboom and an inclusive size-less, genderless show – he was later enlisted in 2020 as the Italian lifestyle house's new artistic director. Breathing new life into a brand that had been without a leader since 2017, Martens brought his experimental eye to classics: jeans that are actually waist-length boots, teensy shrunken handbags, and, of course, more janties. "I didn't want to just be a nice creative director, making nice things," he joked after his debut. His impact at the brand is undeniable, bringing new meaning to 'streetwear' – a word that has now almost became taboo – by creating elevated clothes that have broad appeal, with everyone from A-list celebs to Y2K-revivalist teenagers already vocal fans.
With his name on everybody's lips right now, you begin to wonder: 'Is there anything the designer can't do?' After trying — and proving —his hand at haute couture, it appears the answer is no. A big win for JPG, heralded as the highlight of the couture season, it was a win for Glenn, too. Sure, it provided him the opportunity to bring a sense of glamour and petites-mains handcraft to his vision, but it also allowed him to remind us that couture can have a point of view beyond in-your-face luxury, or simply a competition to use the most tulle in a single garment.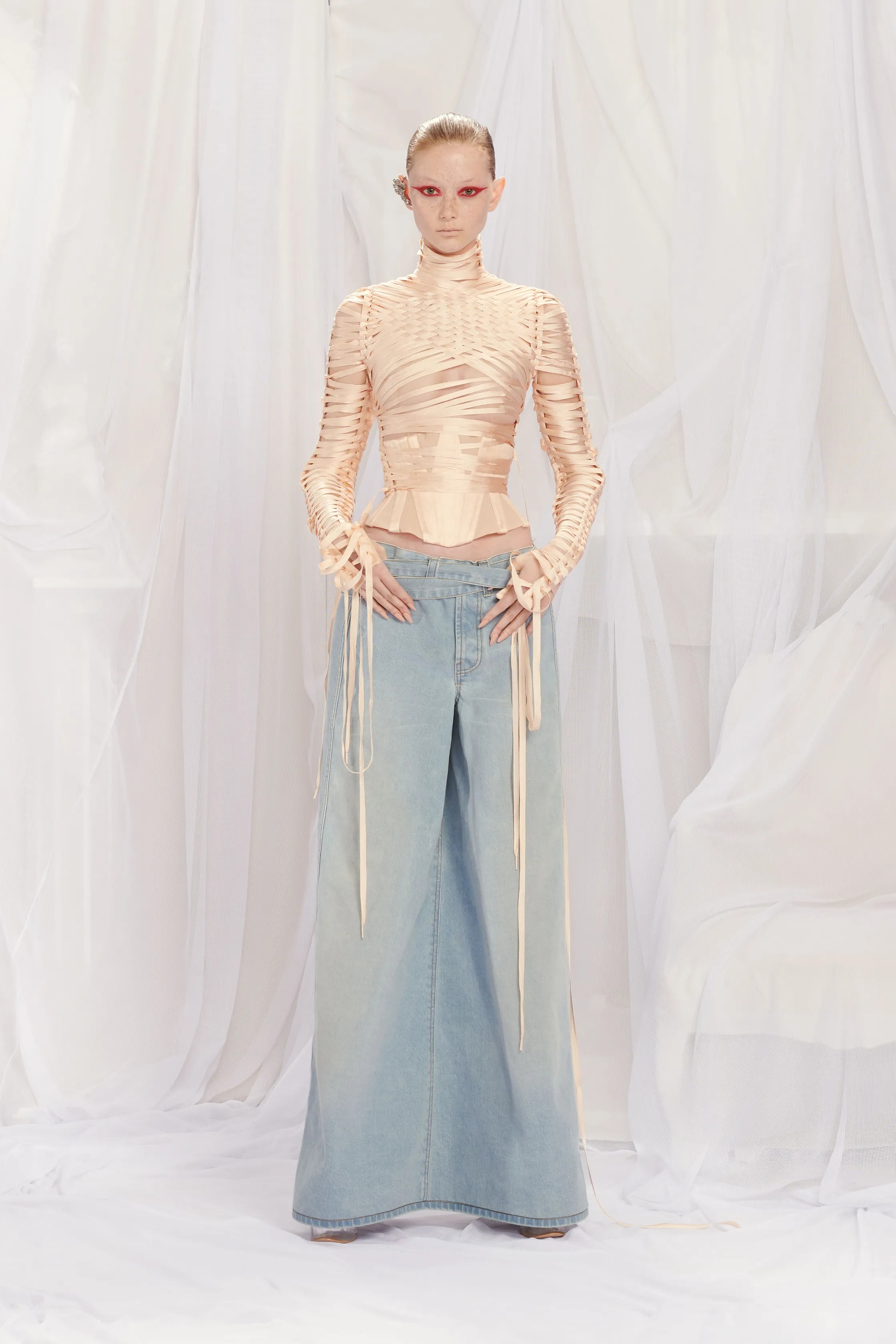 Though simple in their composition, the looks bring an instant sense of drama and intrigue to the collection's images – shot by Arnaud. "Glenn's process [for creating] is a really interesting mix of precise concepts and visceral adaptation," the photographer explains on their collaborative process. "He gives a very precise framework from which you should always start and keep in mind, but also has the elasticity to redirect the route when he feels something is not working. It always evolves."
Hitting a haute couture home run on his first attempt is no small feat and after a taste of opulence from his guest designer outing, fashion has no doubt developed a taste for Martens 2.0. With the rest of 2022 ahead of us, we're far from the only ones with a healthy appetite for whatever Glenn Martens is serving up next.