Watch the full trailer for Netflix's series on fraud icon Anna Delvey
Here's everything we know so far about Shonda Rhimes's hotly anticipated true crime adaptation, 'Inventing Anna'.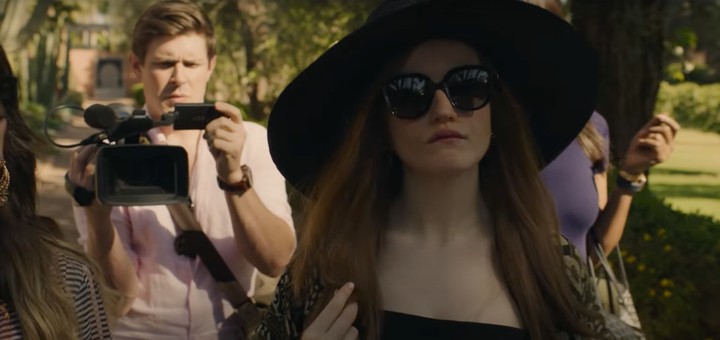 It feels as though the Shonda Rhimes-produced true crime series on our favourite socialite scammer, Anna Delvey, has been in the works forever — possibly because we've just been overexcited to watch it since the very second it was announced — but Netflix have finally given us a sneak preview of her glitzy hotel life and the designer wardrobe she copped with dud checks and credit cards in the first full trailer. And thank goodness for that, because we've been obsessed with the Moscow-born fashion intern who posed as a fake German heiress and stole from Manhattan's elite since the story broke back in 2018.
While the real Anna was released from prison early last year, and now faces deportation back to Germany (where we can only hope she will become an influencer and release her own beauty brand), there has been a host of new content around her story. From the Emma Corrin-starring seminal West End play Anna X, to a BBC dramatised podcast, now Inventing Anna is the latest addition to the Delvey canon, and will follow the stories of those within Anna's inner circle, as well as the journalist investigating the mysterious socialite. Before the show becomes available to stream next month, here's everything you need to know about Inventing Anna.
What is the plot of Inventing Anna?
Inventing Anna will follow the glamorous but fraudulent life of Anna Delvey as she poses as a New York socialite and tricks fashion insiders, art world party people, wealthy investors and bouji hoteliers into believing her glitzy ruse. It's not the only Anna Delvey show in production though. While a Lena Dunham-written series for HBO will be based on the tell-all book of one of Anna's ex-friends, Inventing Anna is based on the New York magazine article "How Anna Delvey Tricked New York's Party People" by journalist Jessica Pressler. As a result, the story will be told through the perspective of Vivian, a journalist piecing together the accounts of everyone in Anna's world.
It seems as though the series will also deal with Anna's eventual arrest in 2017 and her sentencing in 2019, with Shonda writing the series as the trial was happening. "It was this very crazy experience," she told Variety in 2018. "We literally are pausing and waiting for the verdict so that we can write the end of the show."
Who is in the cast?
Taking on the lead role as the fraudulent fake heiress herself is the Emmy-winning star of Ozark, Julia Garner, who stepped into the role after Orange Is the New Black and Cam star Madeline Brewer dropped out due to scheduling conflicts. Playing Anna's group of duped NYC besties is Laverne Cox as personal trainer Kacy, Alexis Floyd (The Bold Type) as Neff, a hotel concierge and aspiring filmmaker, and Katie Lowes (Scandal) as Rachel, Anna's ride or die whose career and credit score is almost destroyed by their friendship. Vivian, who is based on the New York Magazine article writer, will be played by Anna Chlumsky (who you may remember from that Macaulay Culkin-starring 90s movie My Girl).
Who is behind the camera?
Inventing Anna is the second show from Shonda Rhimes and her production company Shondaland since they signed an exclusive contract with Netflix in 2017 (the first being everyone's favourite horny period drama Bridgerton). Shonda has also brought in her Grey's Anatomy partner Betsy Beers and The Devil Wears Prada director David Frankel to produce the show alongside writer Jessica Pressler. This isn't the first time one of Jessica's stories has been given the cinematic treatment either: her acclaimed 2015 article, "The Hustlers At Scores" was turned into the J-Lo starring 2019 movie Hustlers.
Is there a trailer?
Netflix have just dropped the full trailer of what we can expect from the new show. Soundtracked to Megan Thee Stallion's "Do it on the Tip", Inventing Anna promises chic runway shows, champagne-filled business meetings and dreamy holiday escapes as Anna, in her oversized black-out sunglasses, deceives her way to the top of New York's social scene. That's before those around her start to realise the reality behind the facade though, with the trailer suggesting the series will also cover that infamous Marrakech visit that left her friends unexpectedly paying Anna's tens of thousands of dollars hotel bill.
When will Inventing Anna be released?
Inventing Anna will be available to stream on Netflix from 11 February 2022. We can't wait!