Photography Elisa Sue Young Park
The Linda Lindas are growing up
The LA punk school kids behind 'Racist, Sexist Boy' prove they're more than a one-hit viral moment.
|
03 February 2022, 10:22am
Photography Elisa Sue Young Park
Four girls wearing surgical masks appear on Zoom. The Linda Lindas have gathered at the home of two of their members, having just got haircuts together ahead of a big week: the announcement of their debut album Growing Up, an appearance on The Late Late Show, and a string of interviews. A number of sideways glances and mumbled replies from off-camera quickly make it clear that there are a few parents roving about to assess the conversation and advise on certain points.
However, given that their youngest member, drummer Mila de la Garza, is only 11, this only seems fair. The other members are not much older, either. Mila's sister Lucia is 14, their cousin Eloise Wong 13, family friend Bela Salazar, their eldest and most forthcoming member, is 17. Bela is in her senior year of high school and had her finals before Christmas. "I don't really pay much attention at school so that may have reflected in my exams, but they went pretty good considering," she says. "Sometimes I feel like I'd rather be focusing on the band because it feels like something cool or new is happening every day." Their success has been strange for Bela's classmates but doesn't phase her much. "It's weird because so many of them are so insistent on calling me famous and I say I'm not."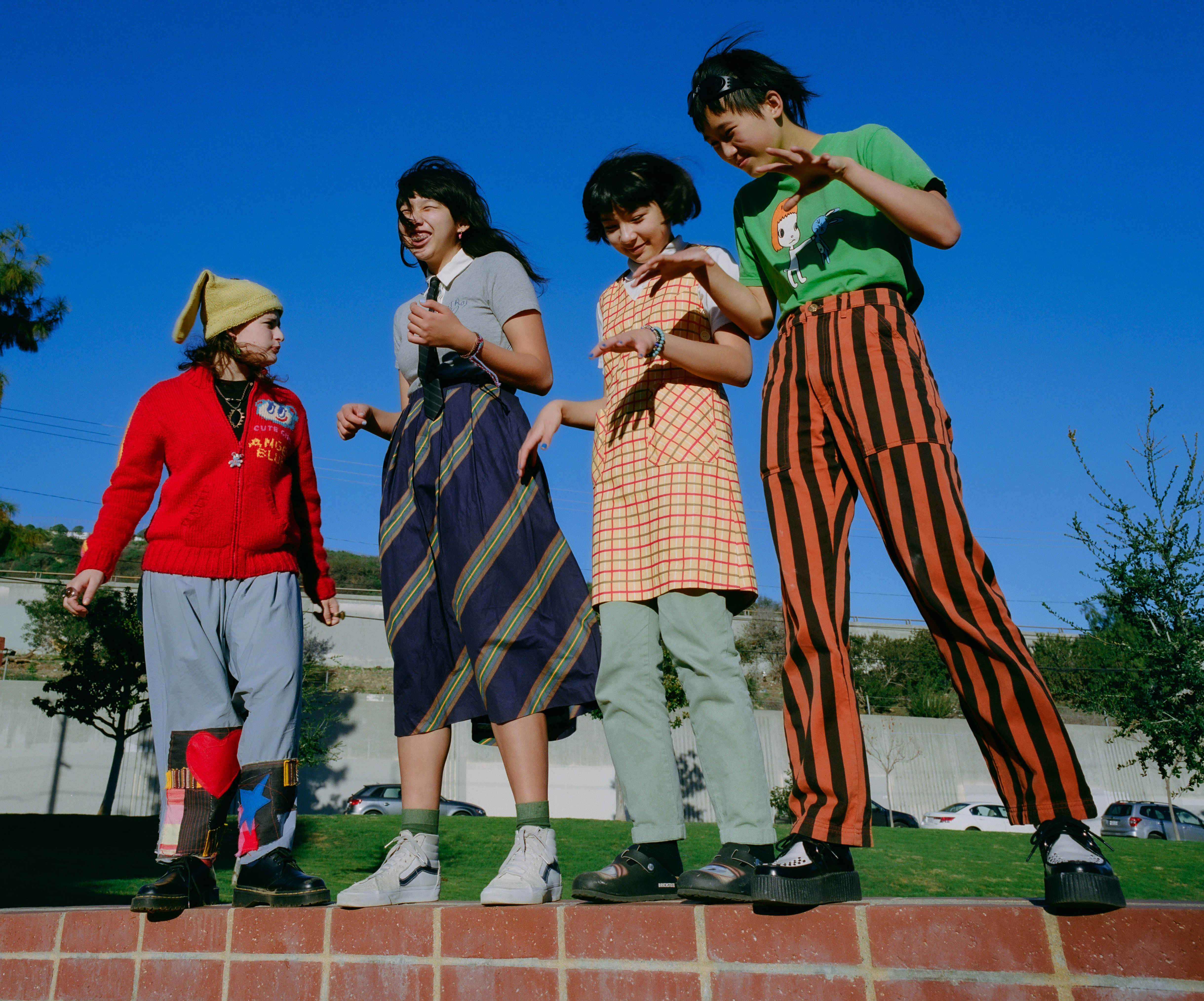 On the contrary, their next most verbose member, the confident Lucia, started at a new school in August and no one has realised she's in the band yet. "I'll tell them all eventually, it's not like I'm hiding it per se, it's just nice to get away from it all sometimes," Lucia says. "If you want to write about something that happened at school, it's nice to have that outlet. I don't have that pressure of people at school going 'What are you going to do? What's going to happen?! Can I come over?' And all that kind of stuff."
It's odd that classmates haven't made the connection between her and the 2021 viral video she starred in with her band for "Racist, Sexist Boy". It's the final song on their new album and they had no idea that anyone beyond their circles would watch the live performance, filmed in a library.
Bela was in class when the video went viral during the school day. "I got in trouble because my phone was buzzing, buzzing, buzzing and just going off too much, and then I looked at my Instagram, and our whole feed was just the video of us at the library," she remembers. Meanwhile, Lucia and Mila were at home doing Zoom classes. Their Grammy-award winning producer and mixer dad, who has worked with the likes of Paramore and Best Coast, kept coming in from his studio in the garden to tell the girls, "You guys are going viral!". "It was so weird, I didn't even know what viral meant," says Lucia.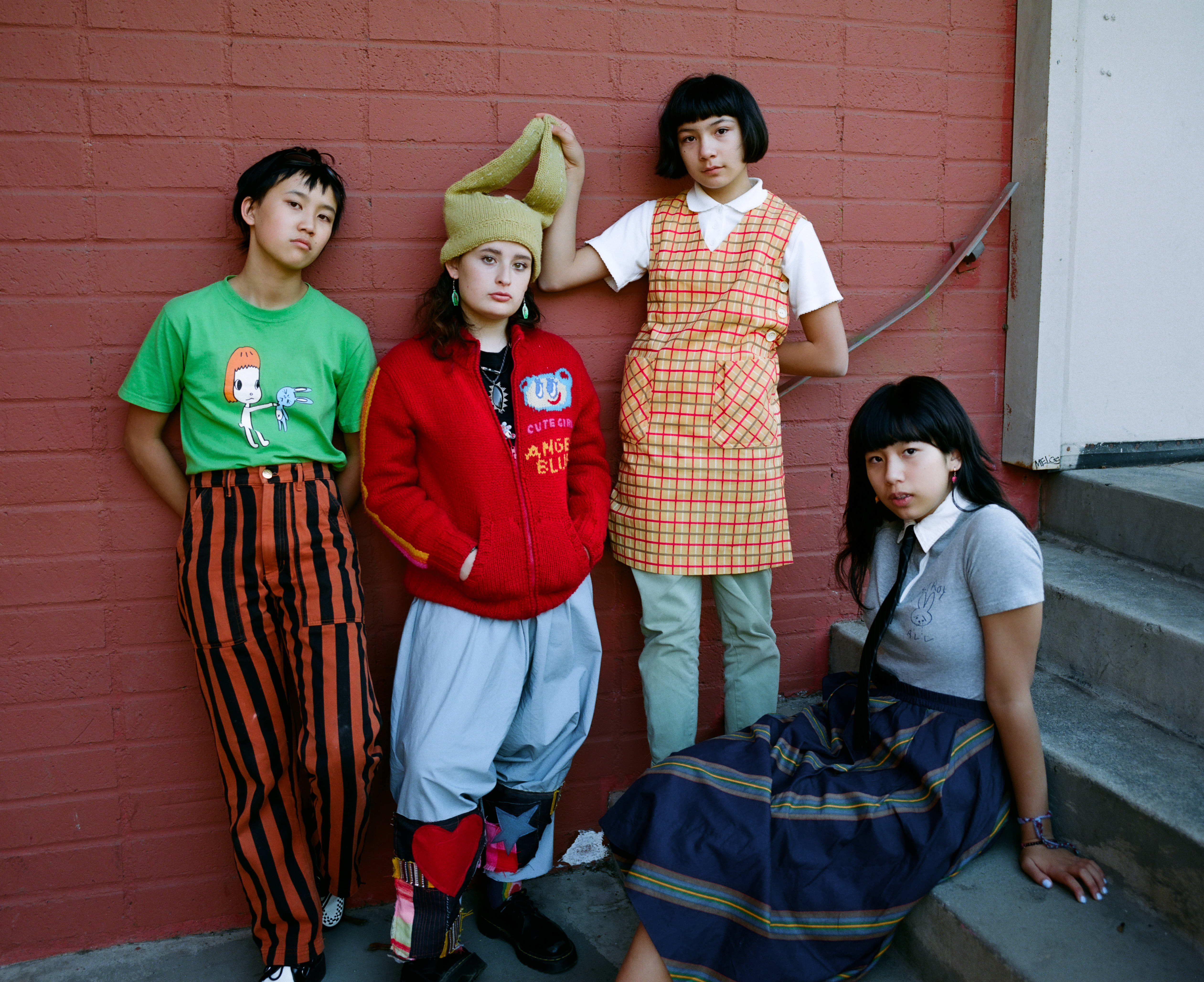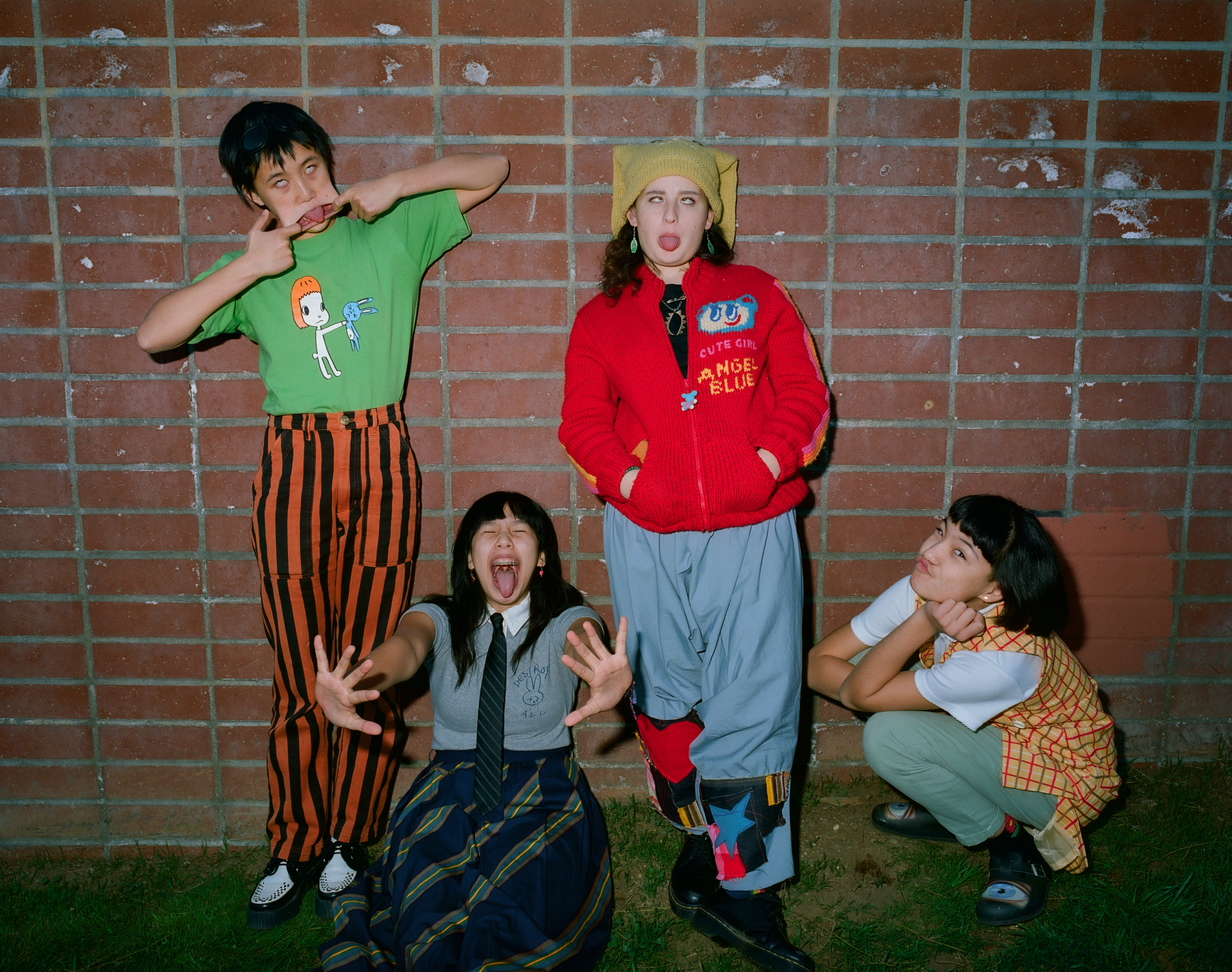 Messages of praise and support came in from new admirers across the world. Here was a group of young women of colour taking a racist incident — in March 2020 a 10-year-old Mila was told by a child in class that his dad had warned him away from Chinese people — and turning it into a song that channelled the punk spirit of riot grrrl. "Getting the emails about 'Racist, Sexist Boy' showed us that even though it started as an angry song, it became an empowerment song," says Lucia proudly.
Besides Bela, who spent years learning guitar, the other girls didn't have experience on drums, guitar and bass prior to forming the band. That didn't matter though, they learned quickly. "You can always play an easy version of any song but still have energy and have fun doing it," Eloise says, "and that's what matters." And with their parents' involvement in the music industry — Mila and Lucia's father produced the album — they grew up with a better understanding of the music world than most.
"I just knew there was this place in the backyard that had instruments that looked like a control room," Lucia says. "We'd go in there but we never really knew what anything did. You'd probably expect us to be like 'No, we don't wanna work with my dad!', but he's taught all four of us a lot of what he's learnt through his years in the industry and what we need to know." Bela adds of their friend's father: "It would be harder to be ourselves around someone we don't know very well. He treats us like we're professionals and doesn't diss us because we're kids."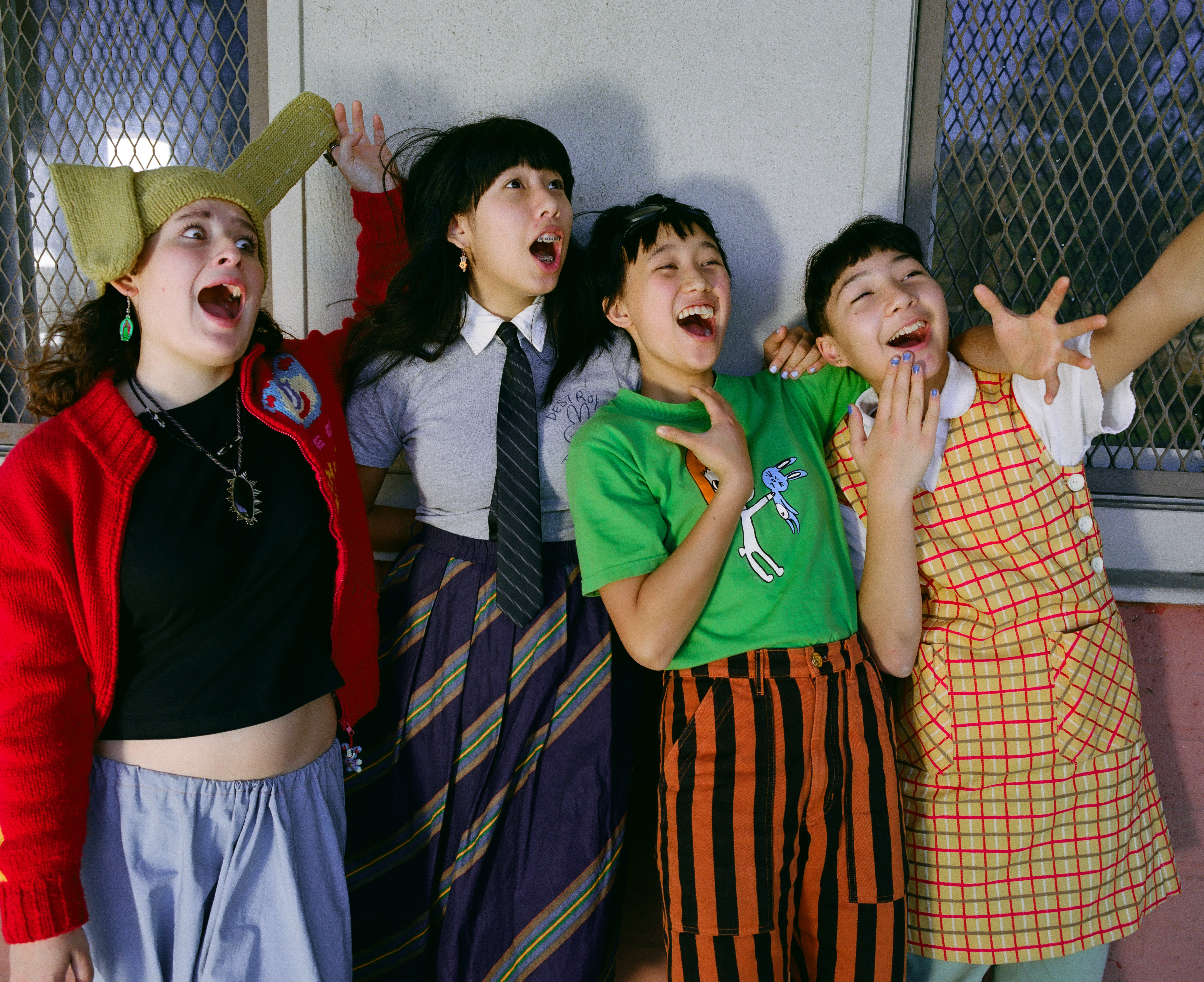 Most will expect a riot grrrl sound on this new album, but the band play with different rock subgenres and vocal styles that reflect each of their tastes. Bela has a song called "Cuantas Veces" that she wrote in Spanish. "Something that's really important to me is my Latin culture," she says. "I grew up on rock and Spanish music and Bossanova and all the different types of Latin music, so I really wanted to bring that into the record." Lucia enjoys Blondie, Snail Mail and Wolf Alice, while her little sister loves Sleater-Kinney, Bikini Kill, Le Tigre, Julie Ruin and The Go Gos. Eloise is a big LA punk fan, and cites Alice Bag, The Clash, and Public Enemy as favourite artists. "And Jawbreaker!" she exclaims, holding her T-shirt emblazoned with their name out towards the camera. The band will join Jawbreaker for the LA and New York dates of their tour later this year.
Besides a fun song about a cat, the record is themed around the pandemic and their experience of growing up during it. "We're supposed to be figuring out who we want to be, but I found it really difficult doing that while we were in the pandemic," Lucia says, who wrote the teen movie soundtrack-worthy pop rock title track. "I couldn't even be around the people who were most important to me, so how was I supposed to grow up. But then I got to thinking, you can't stop it from happening: you always have to be growing up."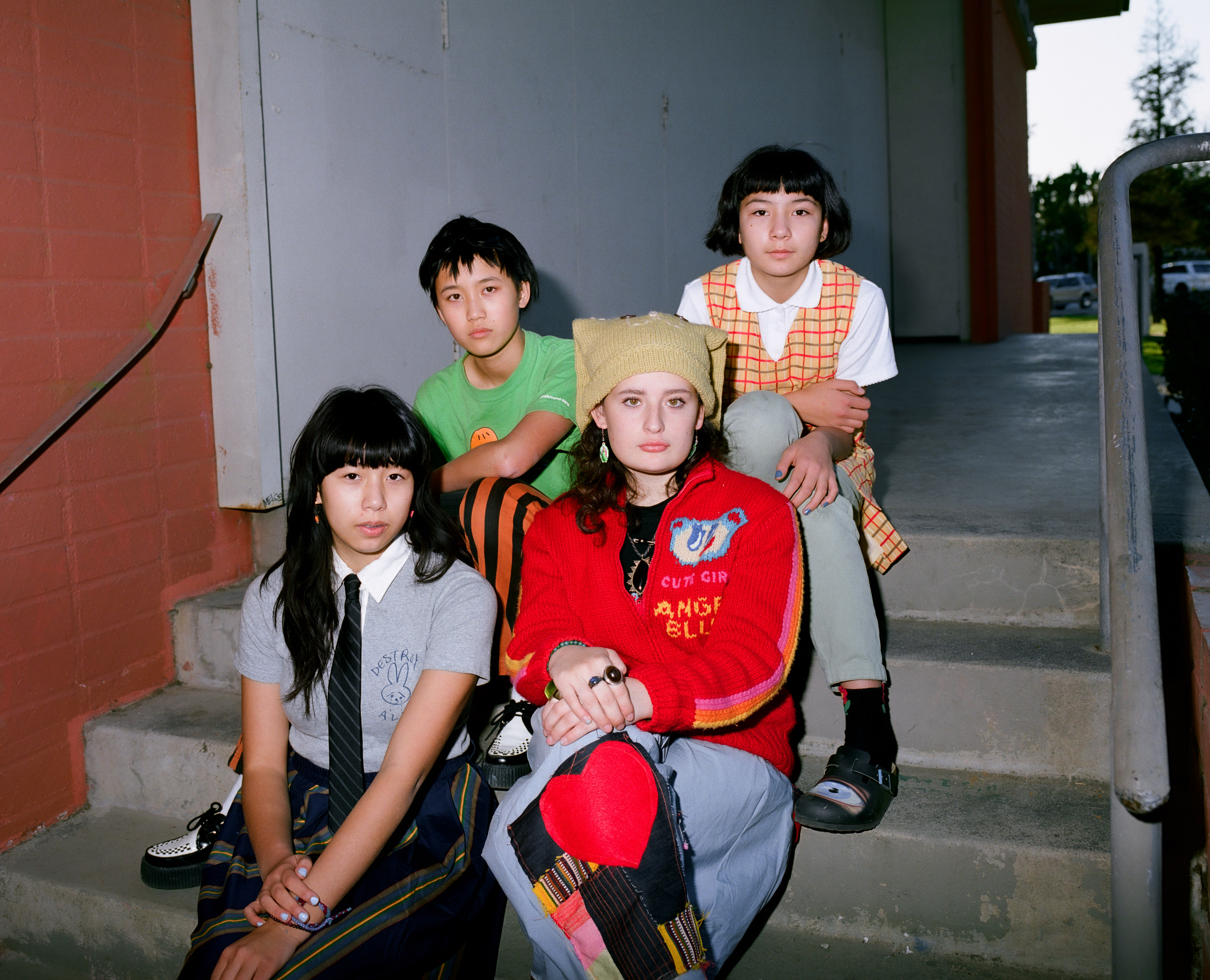 All of them did learn valuable lessons about themselves during two years of intermittent lockdowns, though. Bela learnt to value relationships more and Eloise realised that she had taken the budding band and her participation in what they were doing for granted. Lucia couldn't stop wondering what she and her friends were going to be like at the end of the pandemic. It fed directly into their record. "But the thing is, I don't know if there is an 'after'. You can't tell yourself, 'Oh I'm going to be myself after the pandemic'. You have to be yourself now, and do what's important to you, and for me that's these people and our music. We're going to get through it together, and I'm really glad I have these guys."
As for Mila, she struggles for words to voice how she has changed, looking over to her bandmates and the adults for guidance. "I was just very different at the beginning of the pandemic," she says, trailing off. Bela jokes that "you definitely got a lot taller," and in the supportive, fun-loving spirit of The Linda Lindas, they all laugh with their youngest member.
The Linda Lindas' debut album 'Growing Up' is out 8 April on Epitaph Records and available for pre-order now.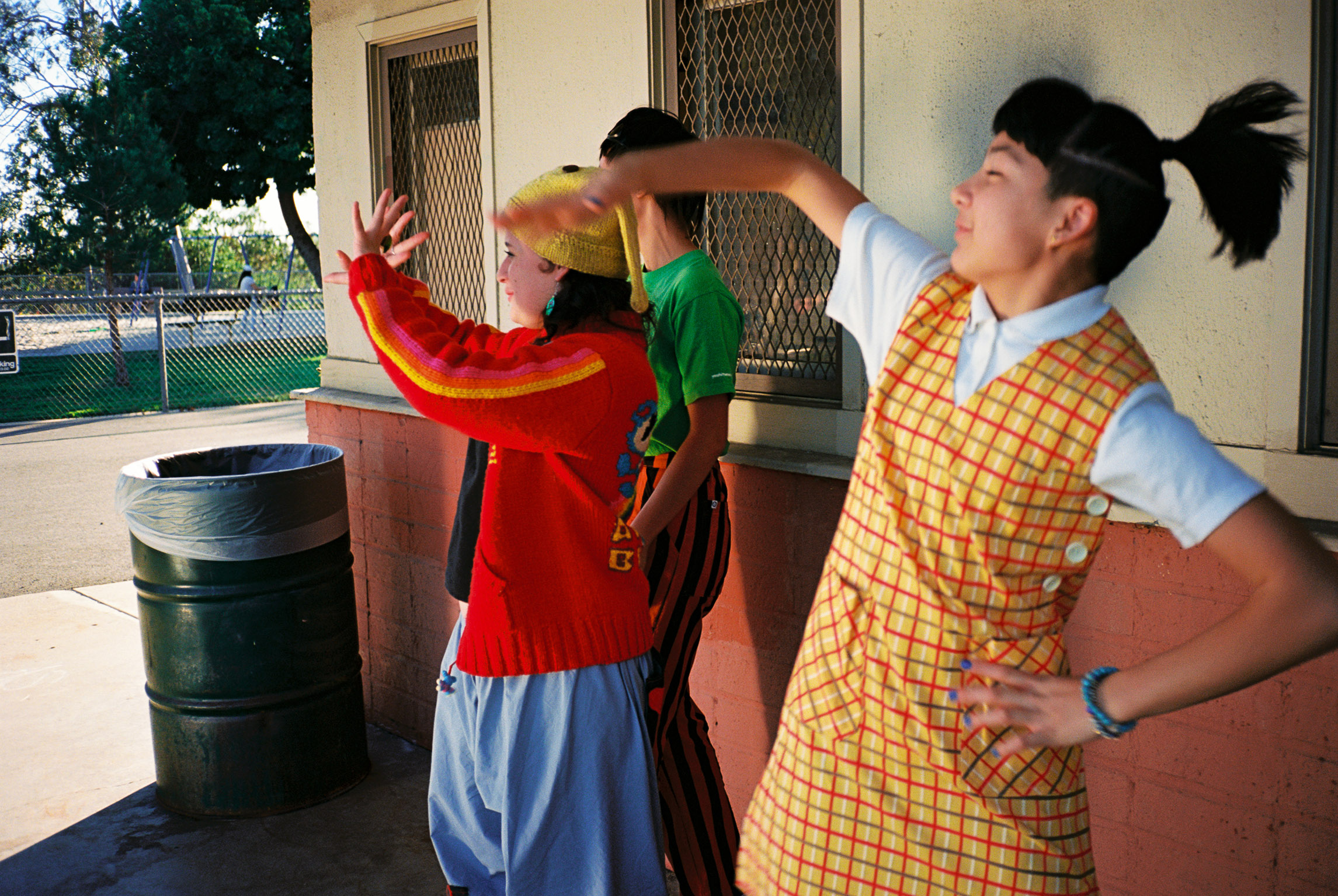 Credits
---
Photography and styling Elisa Sue Young Park