All images courtesy of Bottega Veneta
Matthieu Blazy makes his debut for Bottega Veneta
The French-Belgian designer's AW22 collection for the house was his first since — and it was all about "craft in motion".
|
27 February 2022, 10:45am
All images courtesy of Bottega Veneta
Who is Matthieu Blazy, the new creative director of Bottega Veneta? The 37-year-old French-born, Brussels-educated designer cut his teeth working for Raf Simons — at both his own label and at Calvin Klein — as well as Phoebe Philo at Celine and Maison Martin Margiela, where he designed the crystal-laden masks that pop-culture bellwether Kanye wore on tour in 2013. As far as CVs go, he's basically a presidential candidate. For the last couple of years, Matthieu has been quietly heading up the design studio at Bottega Veneta, where he helped Daniel Lee reboot the house as a fashion destination with an emphasis on viral accessories. Like his partner Pieter Mulier, the creative director at Alaïa, he is a designer who has been a powerhouse behind-the-scenes for years, but press-shy and anonymous to most consumers. But his time has come. Stepping into the spotlight, he explained after his debut show at the company's Milan headquarters: "I really feel it was the right time and I feel secure enough for this now. I know how to do my job, which is a job."
Bottega Veneta is one the jewels in Kering's crown, so that job is a big one. Matthieu started work on the collection late last year and set upon thoughtfully developing Bottega's offering, which must have been hard considering he's been involved with it for quite some time. Nevertheless, he found a way, mainly by making it all cleaner, lighter and more focused on a broader sense of individualism, rather than any given concept or specific reference. In many ways, it felt more approachable — even if the extraordinary levels of workmanship elevated it even further into the fashion stratosphere. "The idea was to bring back energy, a silhouette that really expressed motion, because Bottega is a bag company, so you go somewhere, you don't stay home," he offered by way of explaining the collection. "Luxury in motion."
Essentially, this was a collection about craft — and before you zone out in fear of me telling you about how the thigh-high boots and bags were all woven in one piece without seams (they were), or how the colourful Leavers lace dresses were woven on eighteenth century looms from twenty-first century synthetic jersey (they were), bear with me. Sure, the word 'craft', like the word 'luxury', has become ubiquitous as an antidote to fashion's reputation as the original sin of unsustainability. However, the genius of Matthieu's collection was that it explored it in macro and micro proportions. Inevitably, there was a lot of leather — but not as you know it. The ostensibly simple tank top and jeans that opened the show were actually printed nubuck leather, transforming the most rudimentary wardrobe staples into something extraordinary. Even the striped cotton shirts were actually leather, although you would never be able to tell from the pictures. It brought to mind that famous John Keats line about seeing the world in a grain of sand.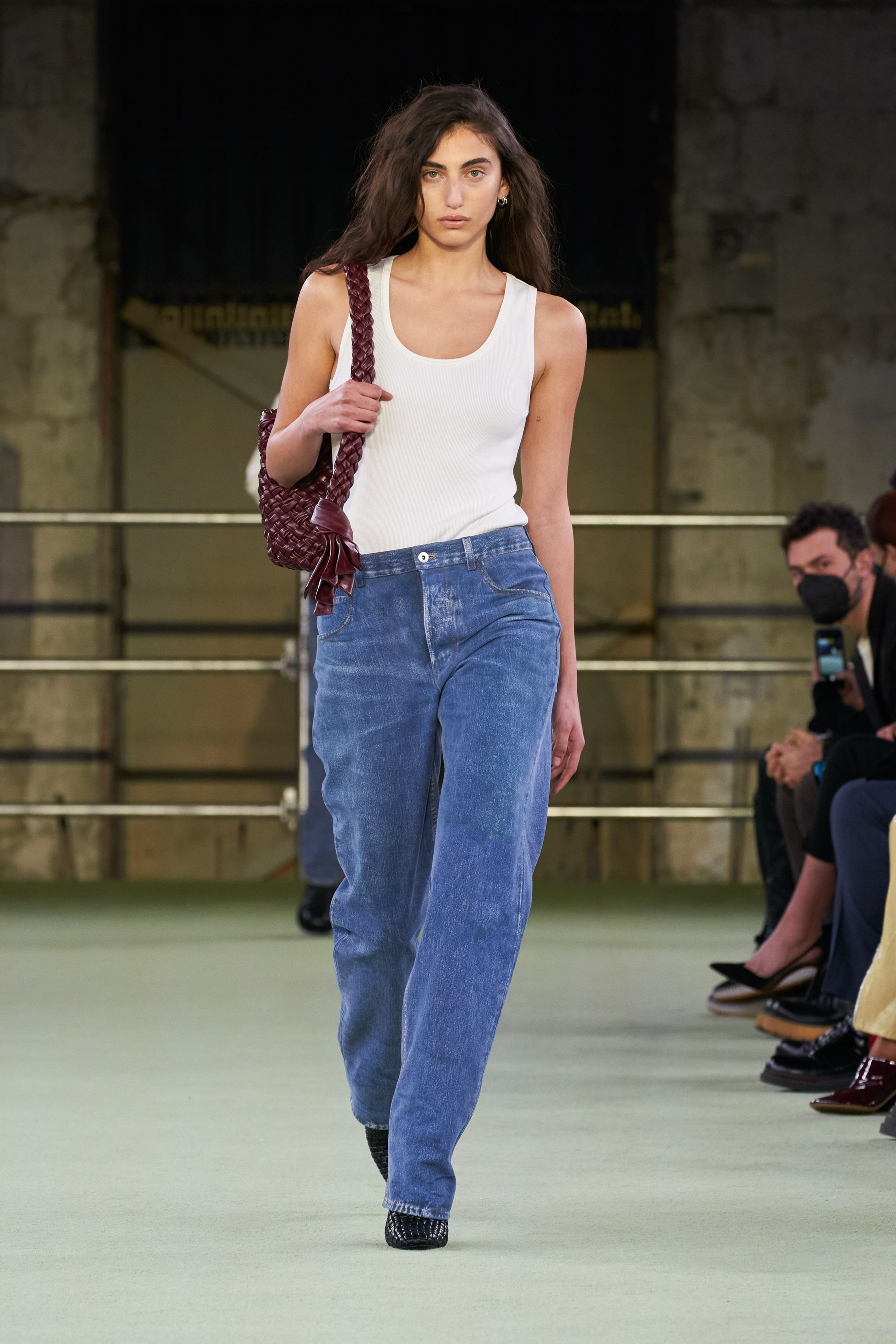 However, if craft represents a means to an end, a delicate and beautiful process that requires expertise, fashion is all about the immediacy of shape, silhouette and surface — and this was most certainly a Fashion Moment. Matthieu is French-Belgian, which you can sense from the distinctly Parisian sense of silhouette, borrowed from his time working at French houses and celebrated in three-dimensional glory. Cashmere peacoats, striped cotton shirts and even leather jackets came with perfectly curved backs, inspired by Umberto Boccioni's 1913 futurist sculpture, 'Unique Forms of Continuity in Space', of a bronze man walking in flaming motion. I'm not sure quite how Matthieu did it, but the volumes on display were masterful — the kind of thing that makes an archetypal garment feel spectacular, and therefore timeless. Given the way that fashion shows are now primarily experienced through forward-facing catwalk imagery, the choice to emphasise the profile also felt poignant.
It all came back to that sense of motion, of charging forward in a rush, which was conveyed by those spectacularly curved backs, but also the way that the trousers were cut higher at the front and lower at the back to reiterate the idea of stepping forward, and the en tremblant leather fringing that bounced from beneath trapeze skirts and the shoulders of leather dresses. "This collection basically is a journey," Mathieu explained. "There's many characters, they all have places to go, they feel quite free."
Many of those characters were borrowed from the canon of Italian cinema, and the most striking ones were the women, who Matthieu said are always empowered by sexuality — "even in their nudity". So, for all the talk about practicality and craft — there was glamour and sensuality on display, too. Thank god. Paired with metallic boots and velvet opera gloves, there were sequined slip dresses with chiffon feathers and even a pair of embroidered nipples on the lingerie-style bustiers — the kind of extravagant dresses that come to life when danced in. Pillowy bags suggested she might be sleeping over. And come to think of it, the shirts and thigh-high boots suggest she already did.
Though he won't say it, Matthieu loves fashion, and his collection of vintage pieces and encyclopaedic knowledge of clothes and textiles (at Margiela, one collection riffed on prom dresses from the 50s, chopped-up Poiret exotics, costumes from the Beijing Opera, Art Nouveau curtains, Frank Lloyd Wright textiles, Bauhaus tapestries) is there, even if you can't see it. Sometimes you can, in the case of bright orange faux fur shoes and colourful, textured knits. Really, though, it all goes back to that opening look of a tank top worn with jeans, the tabula rasa of Matthieu's new New Bottega. True fashion is about the cultural meaning of clothes, and what can be done with silhouette and surfaces. Here was the most effortless that dreaded word 'craft' — and indeed 'luxury' — has looked in a long time.