Paul Thomas Anderson directed the music video for Haim's latest banger
The sisters become 50s socialites in the new short film, which was first screened at select showings of 'Licorice Pizza'.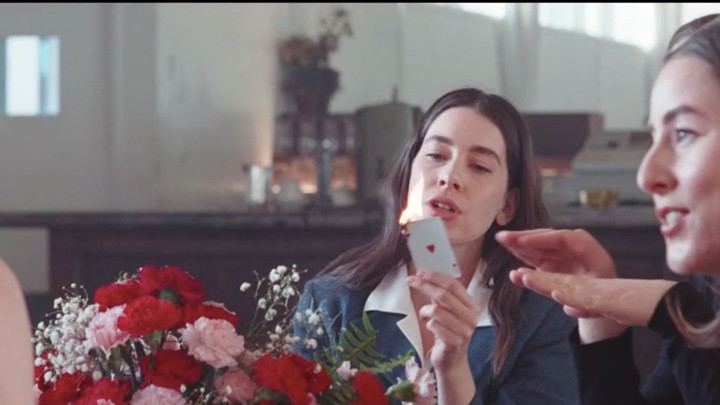 As we know well by now, Paul Thomas Anderson loves a California period piece. This time, the Licorice Pizza auteur has traded in his preferred 70s setting and made a 50s vignette set in a fictional banquet club, once again teaming up with a few of his favourite creative collaborators — sisters Alana, Este and Danielle Haim.
Once a student in their mother's elementary school art class, Paul's connection with the Haim sisters has been fruitful and full of kismet: the music videos for "Little of Your Love", "Night So Long" and "Right Now" all bear the director's fingerprints, as well as the band's 2018 short film Valentine and the artwork and visuals for 2020's Women In Music Pt. III.
The "Lost Track" video was reportedly filmed during Alana's cover shoot for W magazine, which — like her starring role in Licorice Pizza — was directed and photographed by PTA. "An opportunity arose to do a quick music component while shooting the story," reads an explanatory post on the rock trio's official Instagram. "Paul mentioned having the book Appointment in Samarra as a possible direction. So we did some digging around the book and were inspired by the scene where the main character throws a drink in someone's face at a country club. We were inspired by the idea of someone doing something so drastic to get out of a situation they felt uncomfortable in — just to feel something."
Danielle takes centre stage as this desperate character — serving lesbian chic in a sharp, blue-grey suit, in stark contrast to the floating dresses around her — straight-up not having a good time at the Annual Balboa Gold Rush and Fashion Bazaar. Este and Alana's personas, on the other hand, seem to fit right in at The Balboa Ladies Society, model-walking in their parade and making pleasant conversation with the other members while their black-sheep sister bumps into them and burns a playing card out of boredom. We've been there.
Before the video's impromptu conception, "Lost Track" apparently started as the once-forgotten lyric: "I'll never get back what I lost track of." The band "could never figure out what to do with it," adding that they "kept writing it down, not knowing where it should live." Clearly it's found its perfect, arthouse-cool home — have a look for yourself at the link below.
Tagged: