See Kristen Stewart in her new gay bodybuilder movie
Here's everything we know about A24's 'Love Lies Bleeding', a new romantic thriller from 'Saint Maud' director Rose Glass.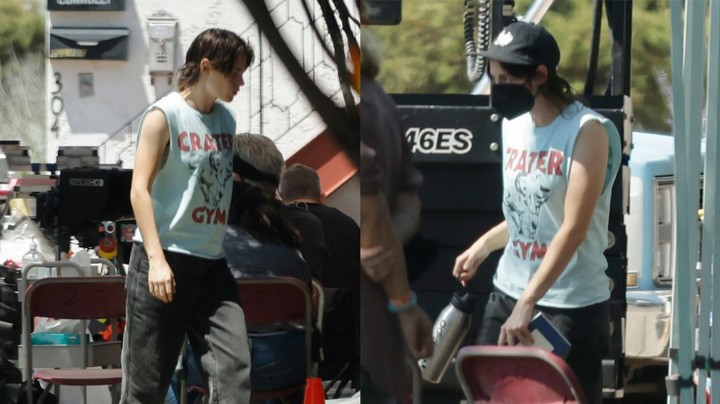 Twitter @everydayrobsten
With the sting of her recent Best Actress Oscar snub still smarting (we all know that her turn in Spencer was more than worthy), it feels good to see Kristen Stewart booked and busy. New photos from the set of her latest movie show Kristen's next character is quite the 180 from playing the people's princess.
From Rose Glass, the director and twisted mind behind Saint Maud — a 2019 Christian psycho-horror — comes Love Lies Bleeding, a new thriller set in the ultra-competitive world of bodybuilding. Kristen will play one of the new A24 film's two co-leads, who are love interests, serving butch in a short brown mullet and a gym-ready vest top.
While K-Stew has dabbled in thrillers previously, the actor's chosen projects seem to be getting progressively darker, not counting queer Christmas romcom Happiest Season, but definitely counting David Cronenberg's controversial Crimes of the Future. So what else do we know about the film? More pertinently, who will play Kristen's gay bodybuilding lover? Here are the facts so far.
What is the plot of Love Lies Bleeding?
The story will focus on "the extreme qualities it takes to succeed in the competitive world of bodybuilding" and its central romance will be one "fuelled by ego, desire and the American dream". It's a premise that sounds like we will be in for lots of gay, sweaty, eroticism with some existentialism thrown in for good measure.
So what do we know about Kristen Stewart's character?
All we know about K-Stew's character in Love Lies Bleeding at this stage is that she won't be playing a muscle woman herself; instead appearing as "the protective lover of a female bodybuilder".
Who else is in the cast?
On June 28, Deadline announced that Dave Franco (If Beale Street Could Talk, 21 Jump Street, the man has range), Jena Malone (Sucker Punch, a couple of Hunger Games movies), Ed Harris (The Truman Show) and Katy O'Brian have joined the cast of the film, which previously comprised of just Kristen and Dickinson actress Anna Baryshnikov.
Who is behind the camera?
The script was co-written by Rose Glass and Weronika Tofilska, and will be produced and globally released by A24.
When is the release date?
We'll be keeping this one on our long-lead watch list, as it's too early for information on this front yet. For now, we at least have a new mental image of Kristen Stewart, probably surrounded by Muscle Milk.
Follow i-D on Instagram and TikTok for more on Kristen Stewart and movies.