Balenciaga's AW22 show captured a country in crisis
Drawing from his own history, Demna made a powerful statement on war and refugees with a show that will be remembered decades down the line.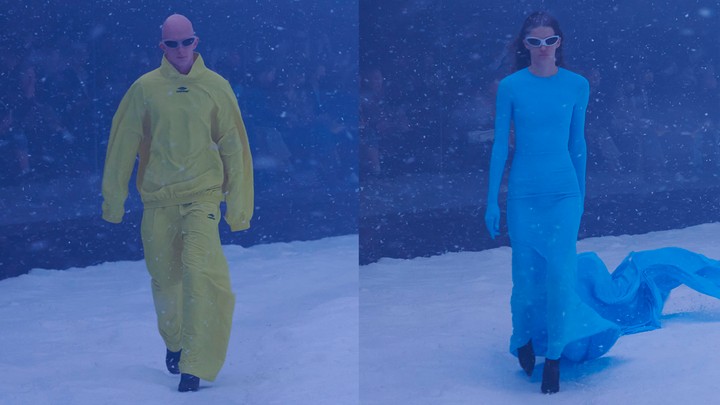 Images courtesy of Balenciaga.
There has been an elephant on the runway at most shows in Paris this season. The world may be watching a war unfold in Ukraine, but fashion has charged forward. It has been, for most, business as usual. The industry is in a strange predicament, struggling to both celebrate beauty and acknowledge suffering. In most cases, a statement of solidarity or a donation has been made — but, ultimately, due to how swiftly the conflict unfolded, there is little that we see on or off the catwalk that fully articulates the situation. Designers have spent months working on their collections, only for the context in which their work is presented to shift from a "post-pandemic" joy to violence on the continent in just 10 days. 1.5 million people have fled Ukraine in the fastest-growing refugee crisis in Europe since World War II. The fashion industry (many of the conglomerates have shut down stores and blocked trade with Russia) can play only a minor part in a much more complex geopolitical issue.

There is only so much that clothes can tell us about the world, but sometimes a fashion show can capture specific moments, even if only accidentally. Yesterday morning, on the outskirts of Paris, in a giant purpose-built snowglobe, Demna staged a Balenciaga show that will go down in history as one of the most powerful — and political — statements ever seen on the runway. The kind of show that will be talked about in decades to come, in the same way we reflect upon the pivotal McQueen, Galliano and Margiela shows today.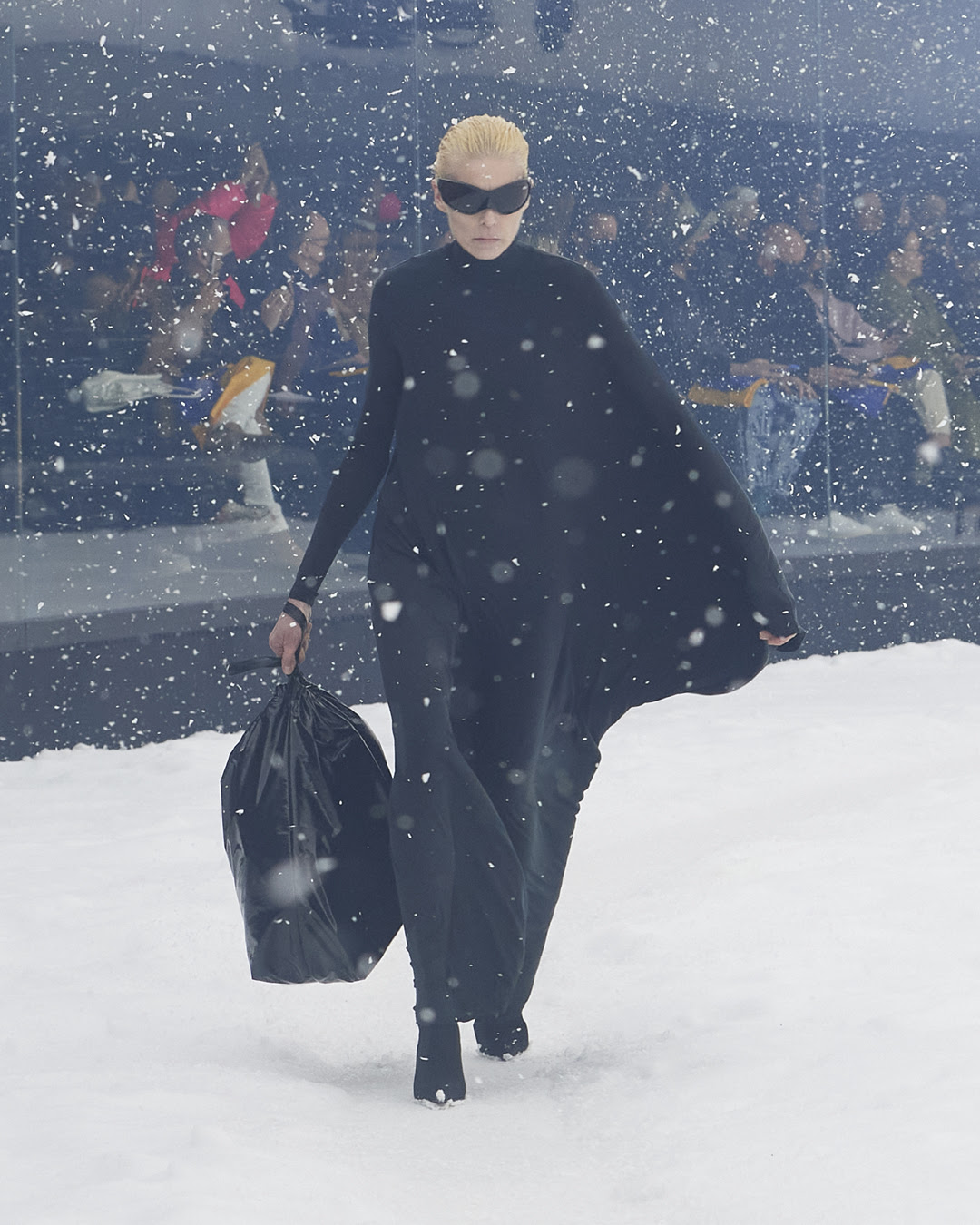 On every seat was a yellow-and-blue T-shirt, the colours of the Ukrainian flag, with a note from Demna: "The war in Ukraine has triggered the pain of a past trauma I have carried in me since 1993, when the same thing happened in my home country [Georgia], and I became a forever refugee."
It continued: "In a time like this, fashion loses its relevance and its actual right to exist. Fashion week feels like some kind of an absurdity. I thought for a moment about cancelling the show that I and my team worked hard on and we were all looking forward to. But then I realised that cancelling this show would mean giving in, surrendering to the evil that has already hurt me so much for almost 30 years."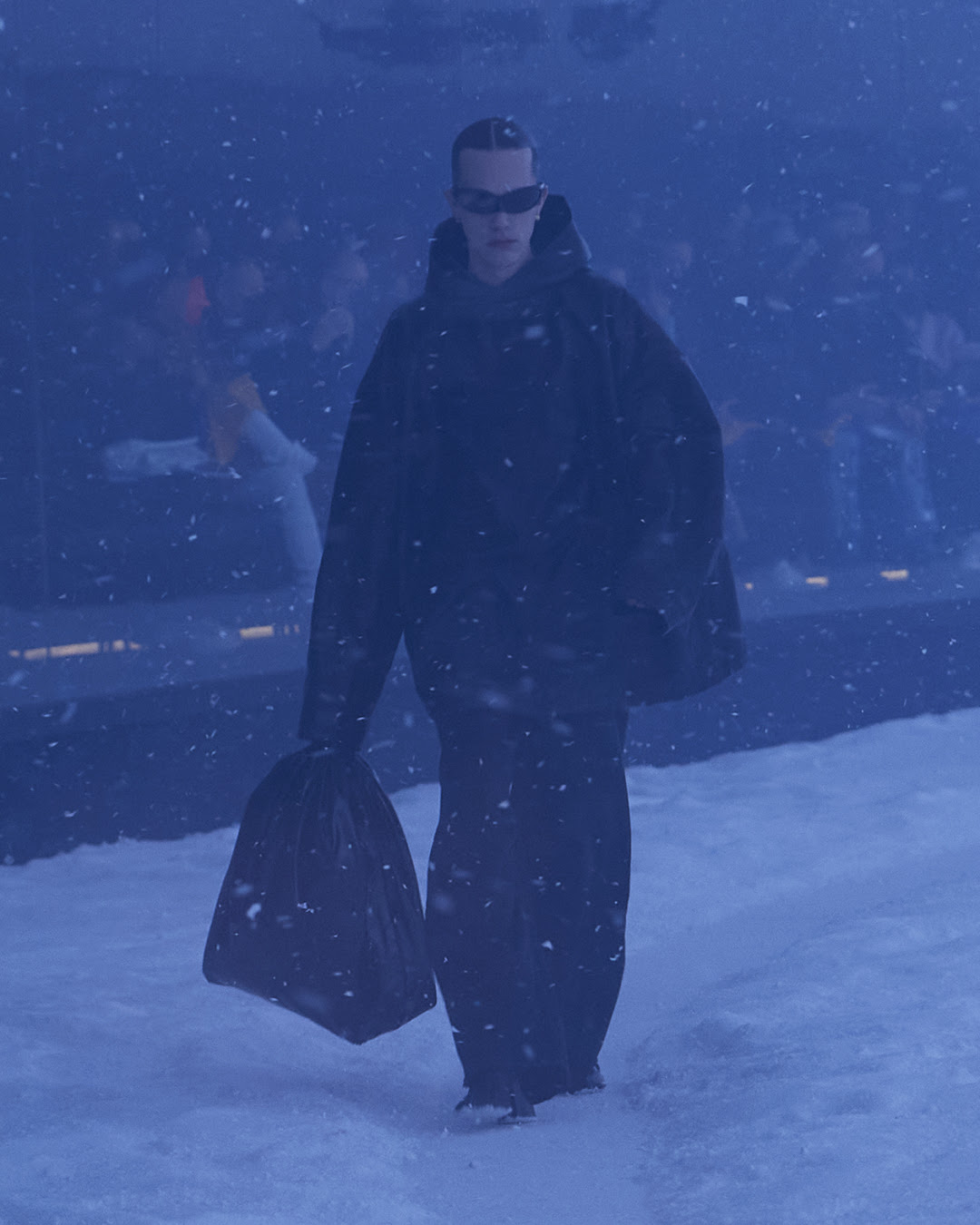 In a huge purpose-built rotunda, models trekked through gale force wind in a dramatic snowstorm. Shivering in skimpy layers taped together by gaffer tape, they carried their only belongings in bin bags, trekking in pointed stilettos. Some were in giant puffers and hoodies, others were in little more than underwear and a Balenciaga towel. The show opened with Demna reading a dedication to resistance by the Ukrainian poet Oleksandr Oles, who died on the run from Nazis in 1944. It came without a translation; it was for the people who needed to hear it, he said, and it was followed by soft piano music that set the tone for an equally poetic depiction of people moving through the wilderness with only the clothes on their backs. Disturbing and uncomfortable at times — it provoked what no other show has done so far: empathy. Not the magpie distraction of sequins and feathers of every other show. Watching this, you felt empathy for the people who have lost everything, including their homeland.

Demna is one of the few designers who can relate to horrors of war firsthand. As a child, he and his family trekked across the Caucasus mountains as some of the 250,000 Georgians forced from their homes by Abkhazian separatists during his country's civil war. He knows the terror and brutality currently being inflicted upon Ukraine by Vladimir Putin. One of his displaced family's first refuges was in Odessa, the city in southern Ukraine that is currently under threat. "Doing this show was about my past and how I could visually express that," Demna said backstage, emotional. "It was about walking through the past from 30 years ago when I was in the shelter, like some of the 10-year-old Ukrainian boys and girls now with their parents, not knowing when the ceiling will fall on our head."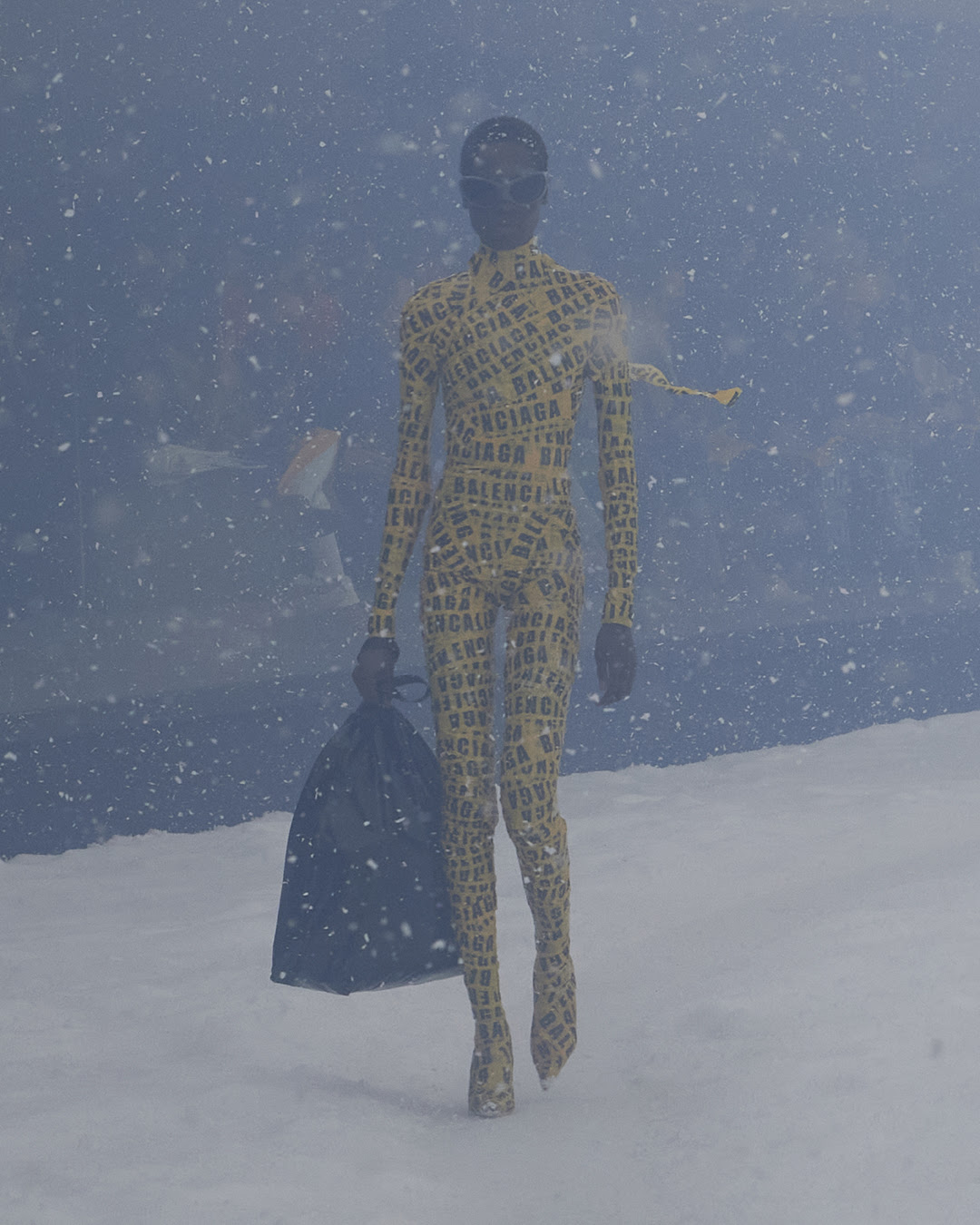 His initial reason for the life size snowglobe set-up was because some time in the not-so-distant future snow will feel exotic. It was intended as a comment on the climate crisis, and the increasingly important role of virtual reality — Metaverse and all — in the future of experiencing nature. "Maybe in 50 years, we will have to go to places like this to have an artificial experience of certain weather conditions that we take for granted," he explained. Of course, the climate crisis comes with its own migration crisis — and re-prompts the debate about whether we need any new clothes at all. Which is why it was fitting that the clothes don't matter — in fact, you probably already have most of them in your wardrobe already. Instead, many of the looks featured Balenciaga crime scene tape – Kim Kardashian showed up to the front row wrapped head-to-toe in it, and come autumn, Balenciaga will be selling roles of tape for the fashion-savvy to do their own versions of it.

For a while now, Demna has been leading the fashion industry with his unique approach to running a truly modern megabrand, from haute couture to gaffer tape and video games. No one else comes close, and in the case of this show, no other designer could. That's because more than just political, this was personal — and by reaching into his own traumatic experiences as a refugee, Demna did what so few can do: sincerely use fashion as a way of shining a light on the plight of others.
"It's only innocent people who die in a war and I've experienced that," he said after the show. "I actually blocked it in myself for 30 years until I started to read the news last week, and it brought all this pain back." When asked what he wanted the message of the show to be, Demna simply replied: "The message is love, always."
The final looks couldn't have said it better: A yellow tracksuit and a blue gown with a train blowing in the wind came down the runway consecutively, the unmistakable colours of the Ukrainian flag. They offered a glimmer of optimism — that an industry often dismissed as ignorant has people, artists, who are listening. Beyond the windy mountains and treacherous path ahead, there is hope for peace and a better future.