Photography Danny Lim. Images coutesy of Elena Vele.
Elena Velez is the designer bridging Milwaukee and NYC through craft
After her runway debut last night, one of NYFW's most exciting names discusses the dichotomies that culminate in her "aggressively delicate" clothes.
|
13 February 2022, 8:37am
Photography Danny Lim. Images coutesy of Elena Vele.
'Authenticity' and 'community' are two of fashion's favourite buzzwords right now, with brands eager to foster a sense of togetherness among their customers – even when all they have in common is owning the same handbag. An exception to this hollow trend, however, is Elena Velez. Rather than sell fashion to a community, the New York (and Wisconsin) based designer is more interested in presenting fashion created by one.
"To create authentic fashion you have to be able to pull from an authentic subculture of people," she tells me in her Brooklyn studio, located in the industrial end of Greenpoint. "I never found that, so I've had to build it on my own based on the identifiers that make me unique." Elena was raised in Milwaukee, Wisconsin, by a single mother who works as a ship captain in the Great Lakes. A Parsons and Central Saint Martins graduate, she established her brand in 2018, citing the craftsmanship and manufacturing of the American rustbelt as a main source of inspiration. "Growing up in industrial, gritty, heavy metal spaces like shipyards informed my creative identity from a young age," she says, walking us through the materials she explores in her new collection: upcycled ship sails, laminated military canvas, knitted cotton, repurposed parachutes, leather, linen. Some of these are presented as they are; others are treated and dyed with tea bags or covered in sand, gravel, or rust, to resemble "the context in which this girl exists," she explains.
While with many brands, the 'community' they present their work as a token of can feel fictive, for Elena it is deeply rooted in the makers she works with. "They're people who don't necessarily consider themselves designers or creatives," she says, showing us the jewellery that one of her collaborators, Carolin Dieler, handcrafted from metal and ship rope. "They're makers, and introducing them to resources and fellowship feels exciting, and a really important thing to build fashion off of."
"The whole brand is paradoxical about my relationship with my mother and my understanding of beauty and femininity," she continues, her mother walking into the studio as if right on cue. "When I was young, I wanted her to be pretty and wear high heels and fit this image of femininity that I craved, and now with maturity and experience, her brand of femininity I think is the most luxurious and the most beautiful, it's the most connected to authenticity.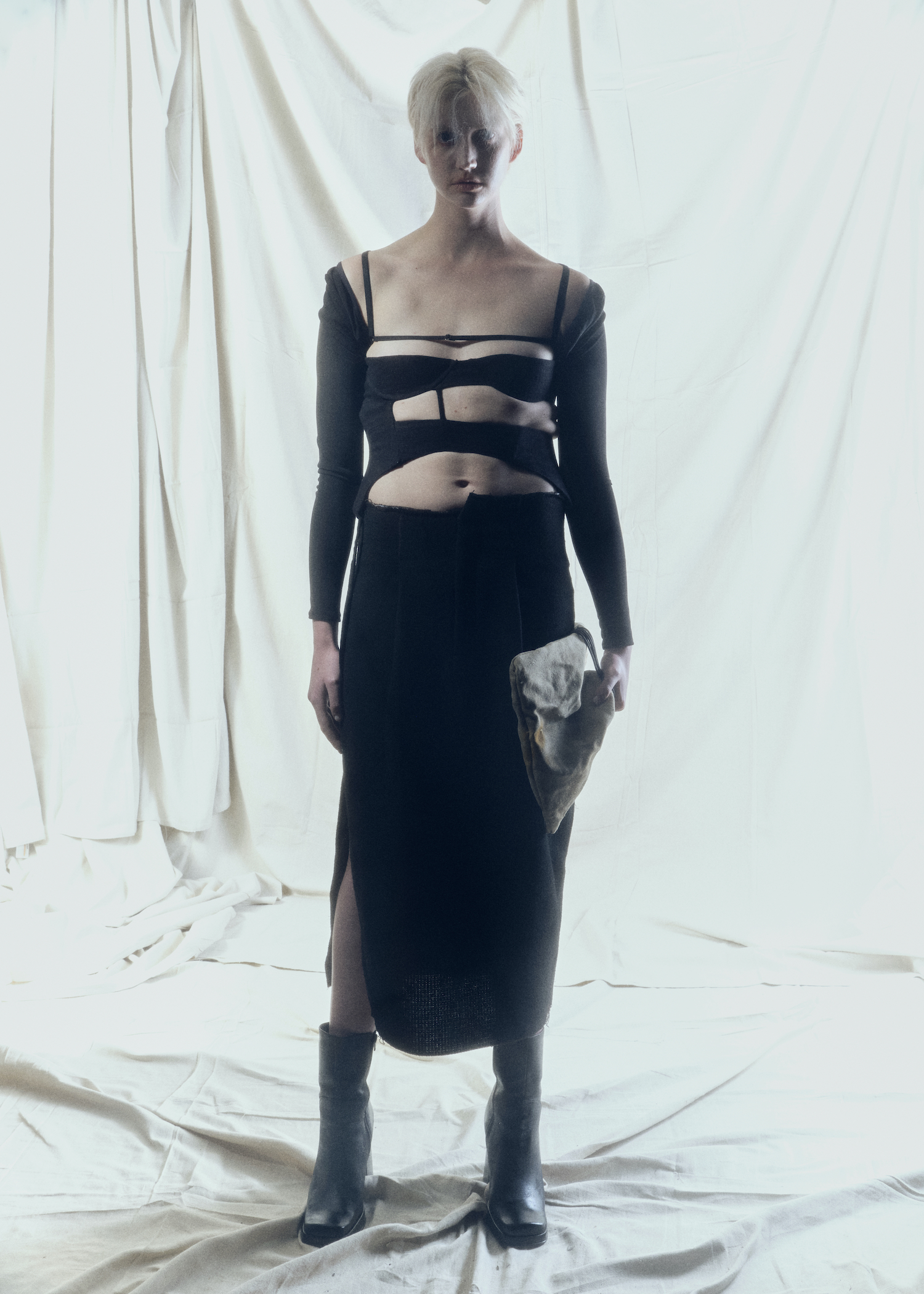 Her latest collection – titled Year 1: Maidenhood and Its Labors, and presented last night in her New York Fashion Week runway debut – builds on this notion. A character study on her quintessential woman, it's a rigorous treatise on "the obligations of womanhood, industry, and aphrodisia exploring the conflicting and symbiotic tensions of womanhood," she says – tensions that have taken on a personal significance in recent years – she's a new mother, a burgeoning designer and entrepreneur, and a partner, all roles she performs at once.
The more you talk to Elena, the more pressingly autobiographical her work feels. She designs with an urgency to create, which she attributes to the anxiety and pressure she felt to keep designing through what felt like a "societal collapse" during the pandemic, captured in her NYFW on-calendar debut last season. "After that collection, it just made sense to keep this as the essence of the brand," this gritty, industrial, and distressed aesthetic she projects onto deftly cut tailoring, beautifully draped dresses, and sculptural body-con looks. Pieces caught in the balance between a light, pretty, and youthful femininity, and a durable, empowered conception of womanhood.
It's a tension that she refers to as "aggressively delicate," a perfect example of this aesthetic ethos being a breathtaking white dress – that drew out audible gasps from the crowd when it appeared from – cut and pieced together so meticulously that it pours over the contours of the body while appearing to be on the brink of falling apart. Or perhaps is the patchworked laminated military canvas dress, draped organically on the body and sewn inside out, resulting in aggressively protruding seams.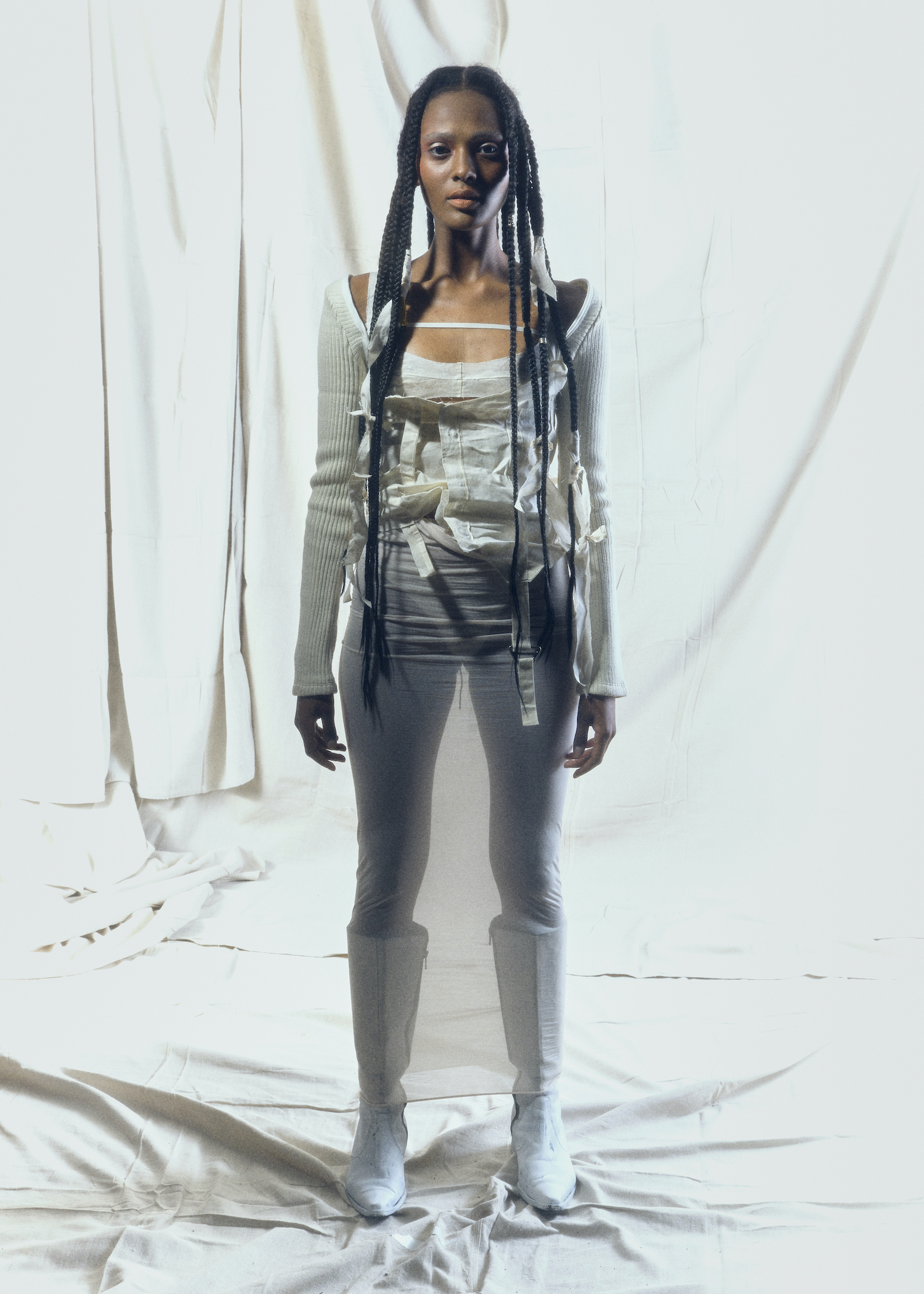 Looking at a board of sketches for the collection back in the studio, she mentions the work she's been doing with colour, which elicits a giggle from a member of her team. That's because the board is comprised of whites, off-whites, greys, blacks, and a few browns, which, Elena firmly but jokily retorts, are colourways – Martin Margiela would no doubt agree. "Colour is not that interesting to me, it's about shape and texture and materiality," facets that come to life through almost-overworked layering and interrupted silhouettes on the runway: a stiff cable-knit cotton corset is paired with a bouncy knit skirt; a fishing-net-like sweater with tailored trousers; and a corset belt covered with gravel is placed over a softly draped skirt.
As she and her stylist Joe Van O. start to fit a new piece –a seductively cut and deliciously odd fitting dress made out of brown suiting wool – he pulls out a black thong and asks the model to wiggle their torso through it, he then moves one of the dress' spaghetti straps over their head, uncovering the thong as a half bra. "We like to recontextualise things," Joe says, describing this as a cornerstone of their collaborative process. They then fit a perfectly pretty white baby-doll waist dress, which Elena instinctively reacts to: "it needs to get disgusting," she says. When the dress opened her runway show last night, the armhole had been torn, the neckline distressed, the ties at the bust removed, and the waistline refitted – disgusting it was not, but it certainly felt like a relic of Elena's world.
Where that world exists, exactly, is a good question. Like the designer herself, the brand is a living, breathing dichotomy – the product of a push and pull between New York and Milwaukee. She's adamant that "this isn't a New York brand, it's a Wisconsin brand," noting how passé the American fashion industry's near-exclusive focus on talent coming out of New York and Los Angeles feels. "Geographical condescension has been something that has limited my opportunities in fashion up to this point," she says, mentioning that she hosted her first runway show in Milwaukee in 2019, but for all intents and purposes, the industry will consider her runway debut in NYFW this season as her true first. "We need to decentralise resources away from these typical creative capitals to diversify the American fashion narrative," she says. Still, she concedes that showing in New York is essentially a prerequisite for the growth of her brand. "I have to have a foot in NYC to be able to uphold what I'm trying to do for both," she says, in a tone most matter-of-fact. "They have to exist in tandem right now until things radically change."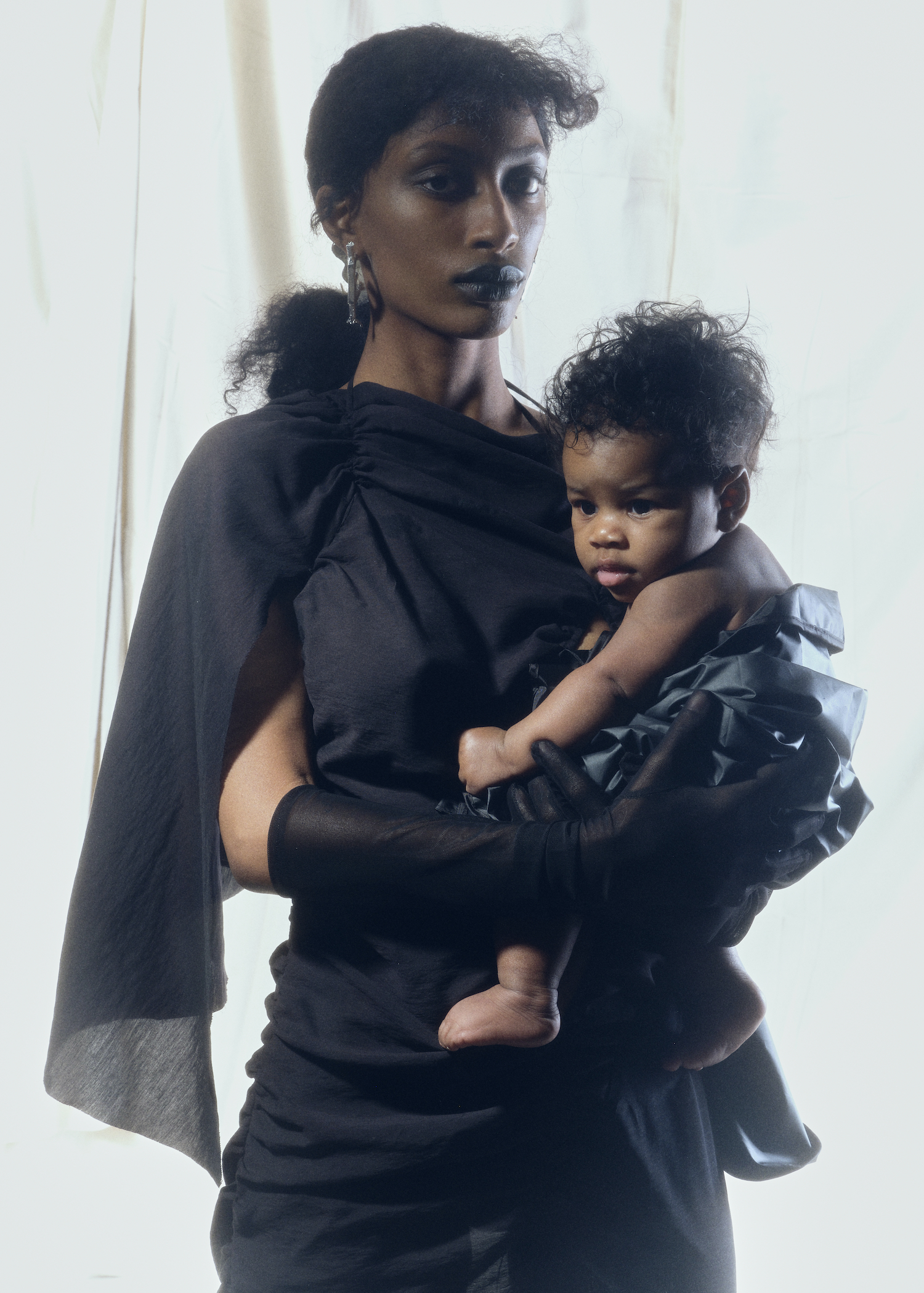 Elena is refreshingly conscious of how the fashion system works – and yet more refreshing is the clear, profound knowledge of fashion that her work demonstrates. Unlike many designers working today, though, her focus isn't on archives, but rather on understanding the fundamentals of dressing. In her clothes this season you'll find antique lingerie, "horse girl" fashion, and a variety of other references recontextualised to paint her singular vision of Americana. This is where the value of her vision lies, too – in her ability to take vapid buzzwords like 'craftsmanship', 'authenticity', and 'community' and reinvigorate them with meaning. "I don't have any other identity, this is all I have, I can't make authentic fashion without embracing all the unglamorous parts of myself," she stops before adding, "but why do they have to be unglamorous?"