Watch the trailer for Netflix's new Korean thriller series Hellbound
The series follows hellish creatures and a creepy religious cult as they take over Seoul.
|
08 November 2021, 12:24pm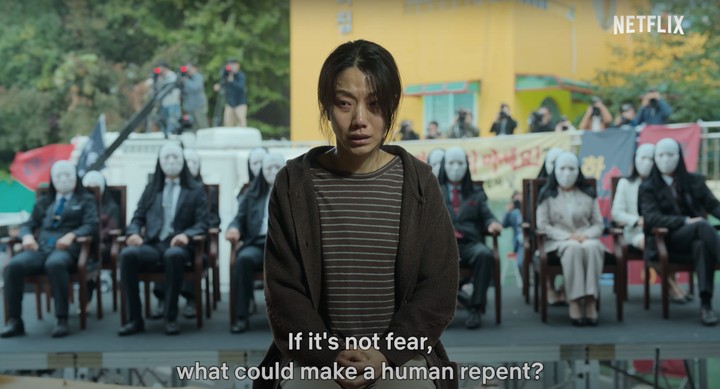 Still from Hellbound trailer
Netflix just dropped the trailer for their new South Korean thriller Hellbound, and it looks like the tense supernatural series — all about malicious demonic forces and sinister religious groups — will be another big show for the streaming platform. It comes from Yeon Sang-ho, the director behind the record-breaking 2016 zombie apocalypse movie Train to Busan and it's 2020 sequel Peninsula. After the first three episodes of the six-part series received high-praise when they premiered at the Toronto Film Festival and London's BFI Film Festival, the entire show will now be available to stream when it drops on Netflix later this month.
Based on an 11-minute short animation Yeon Sang-ho made all the way back in 2002, the new Korean-language series is set in Seoul, and tells a story of supernatural forces who begin appearing around the city, dragging people down to the underworld. As you might expect, all hell breaks loose. Cue hysterical mobs, riots and murders, before, amidst the chaos a menacingly-calm, mysterious religious cult arrives, known only as The New Truth Society. Their identities hidden by masks Squid Game style (except way creepier), the New Truth Society, promise to save the souls of the city's most repentant inhabitants as arbiters of a twisted form of divine justice.
The plot follows the journeys of an attorney, a broadcaster and a detective, played by Kim Hyun-joo, Park Jeong-min and Chase Yi respectively, as they try to solve the mystery of the hellish creatures. Playing the powerful cult leader, Jeong Jin-soo, is the highly awarded Yoo Ah-in who was named one of the best actors of 2018 by the New York Times for his leading role in the Palme D'Or nominated psychological thriller, Burning. Other actors in the series include Won Jin-ah as the broadcaster's wife, Lee Re as the detective's daughter, Ryu Kyung-soo as a priest, Im Hyeong-guk as a sociology professor. Kim Do-yoon and Kim Shin-rok will appear in as yet undisclosed roles, with Park Sang-hoon playing the cult leader in flashbacks of his early life.
The new trailer certainly promises a lot of chaos, thrills and jump-scares, so we can't wait to binge-watch in its entirety when it drops on 19 November.