All imagery courtesy of BUTT Ma
11 NSFW moments from the BUTT archives
From Rick Owens to Jeremy Scott, the seminal 2000s fag mag featured all our favourites and rallied against the preened era of gay culture with sleaze.
All imagery courtesy of BUTT Ma
When it launched in 2001, the blurb on the cover of the beautifully designed, instantly recognisable, pink and black magazine BUTT perfectly summarised its purpose: 'INTERNATIONAL FAGGOT MAGAZINE FOR INTERESTING HOMOSEXUALS AND THE MEN WHO LOVE THEM.'
A reaction against the commercial gay scene of the time — rife with cheesy music, bad drugs and body fascism — BUTT instead reflected a gritty, witty, alternative, subversive and free-spirited approach to contemporary homo life. Founded by Gert Jonkers and Jop van Bennekom, it quickly attracted an international fanbase, packed full of intimate, often humorous interviews with a wild mix of high-profile fashion designers, porn stars, fetishists, musicians, artists, writers and other random individuals. Readers' sex revelations were interspersed with portraits and raunchy imagery, shot by some of the most respected photographers around. Fans of the magazine could interact via BUTTHEADS, the dating section of BUTT's website. There were also BUTT T-shirts, parties and hook-ups galore. In fact, BUTT had so many 'best bits' that they were eventually compiled into two chunky books — BUTT and FOREVER BUTT — published by Taschen, in 2006 and 2014 respectively.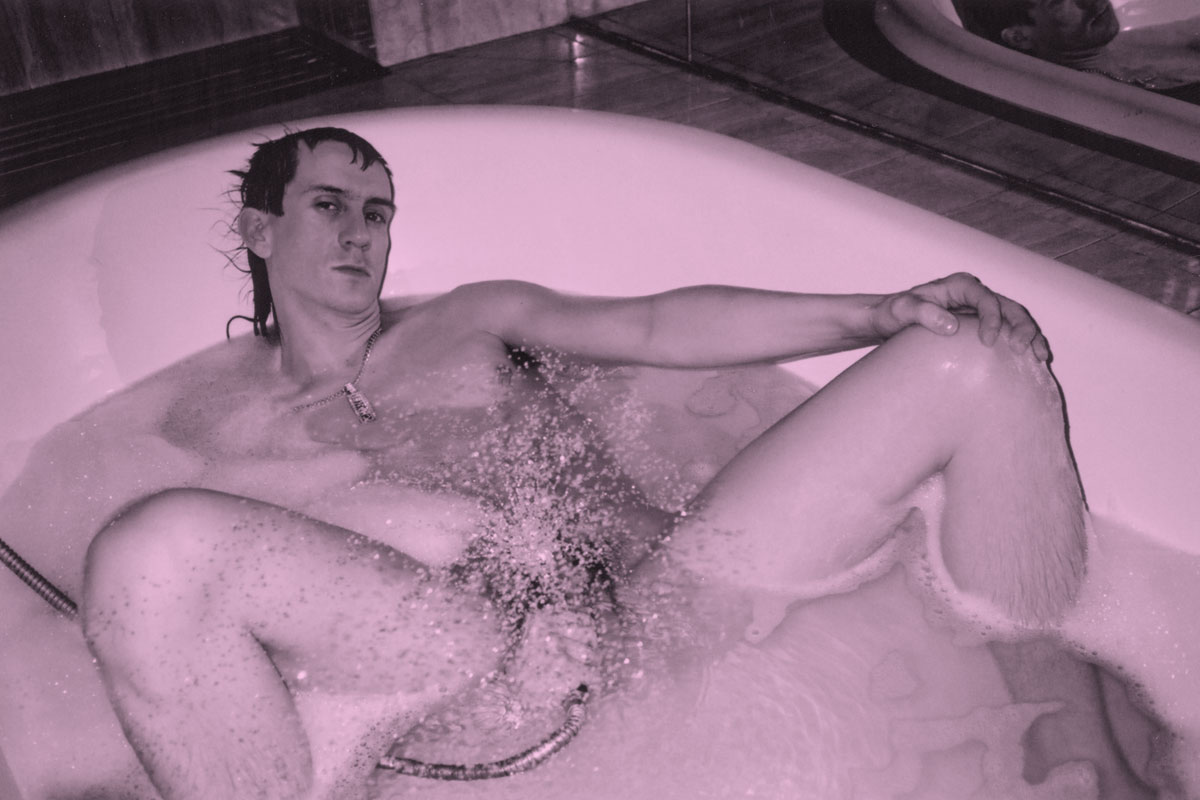 In 2011, BUTT abandoned its print format in favour of a purely online presence, as its founders' other fashion and culture publishing ventures, Fantastic Man and The Gentlewoman increased in popularity, taking up more of their time. By 2016, the BUTT website ceased to be updated, but has remained online as a fascinating time capsule.
Fast forward to Spring 2022, and BUTT has relaunched for a new generation, offering — as its founders describe it — "a new conversation focused on cross-community solidarity and sexual freedom". Backed by Bottega Veneta — the issue's exclusive advertiser — the new issue is notably more diverse than its previous incarnation, starring trans-male porn star Billy Vega, DJ Babynymph, actor Félix Maritaud, hair queen Holli Smith, artworks by and conversations with Sunil Gupta and Ajamu X, and photography from Clifford Prince King, as well as poetry, diaries and more.
To celebrate BUTT's long-awaited return, we look back at some of the quintessentially queer moments that defined the magazine's formative years.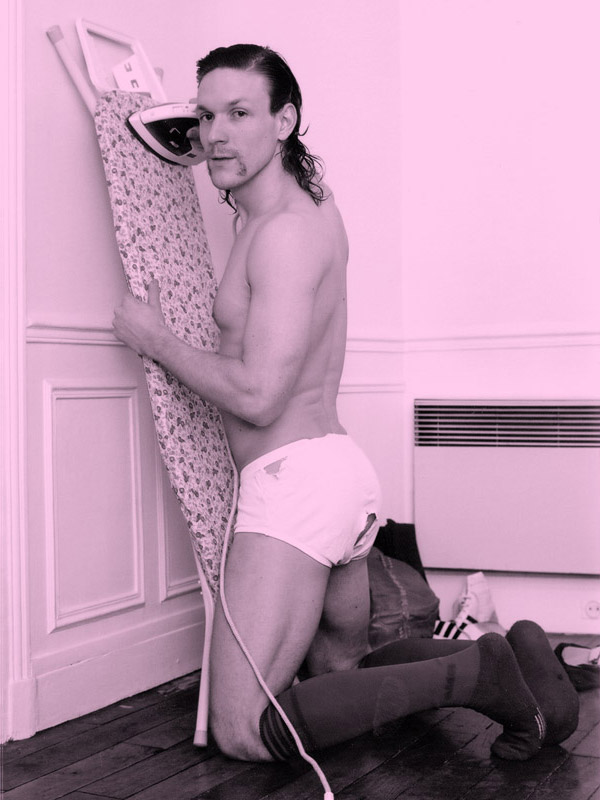 1. Fashionable raunch
The pages of BUTT played host to plenty of candid interviews with bona-fide fashion legends. The earliest of these was with one of Bjork's favourite fashion designers, Bernhard Willhelm, who stripped to his undies and beyond to pose for the cover in 2001. In the accompanying interview, he admitted that he likes to design with an erection.
Back in 2013 when he appeared in BUTT, Craig Green was not such a well-known designer as he is today. He cheekily covered topics ranging from his cock, to being nude on the beach and perving over wrestlers on TV when he was a kid. Marc Jacobs reminisced about his first ever boyfriend when he was 16 — a much older guy who was a nightclub promoter — as well as hanging out at some of New York's most debauched clubs back in the day, during an in-depth convo in 2003.
Rick Owens upped the ante when he made his BUTT debut in 2011, waxing lyrical about butt plugs and his favourite leather bars of the 80s. And Jeremy Scott really entered into the spirit of all-things BUTT, accompanying his wonderfully gossipy interview from 2002 with some fruity photos of him sprawled naked in the bath.
2. Giving good head… lines
Treading a fine line between irony and bluntness, innocence and filth, BUTT's headlines for the magazine's wide-ranging features were one of its many memorable traits. Take "Baron of Bad Taste From Baltimore Is Obsessed With Michael Jackson's Polka Dot Penis", for example, or perhaps "British Man Has A Stunning Pair Of Nipples That Fade In The Sun". Or, how about "Russian Homosexual Wants To Fuck Prince Harry Up The Fucking Arse"? Or "Transman Cowboy Grunts Like A Boar During Sex"? If these fail to shock you, the comparatively tame "Award Winning Director Is Turned On By Armpits And Thinks Nuns Are Heroes" may be more up your street.
3. One-handed reading
There was no shortage of nudity and homoerotica in BUTT, compounded by readers routinely sending in their own sexy recollections and smutty stories for publication. By way of acknowledging the inherent, er, spunkiness of its editorial content, the summer 2008 issue of BUTT came complete with a bonus transparent plastic cover, that could be wiped clean in case of any accidental 'spillages'.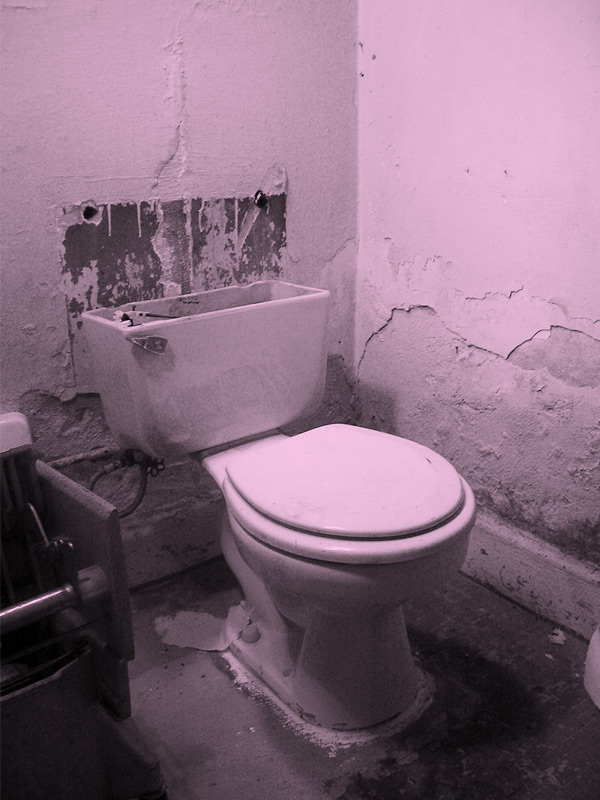 4. Niche sex
BUTT didn't judge anyone for their sexual proclivities or fetishes, however unconventional or specialist their tastes might seem. With that spirit of inclusivity in mind, readers were invited to hear first-hand from a self-described Human Trampoline about how and why he would get off by being jumped on repeatedly, by someone wearing either cowboy boots, shoes or simply barefoot. The Sock Fancier, who was massively turned on by socks, owned over 1000 pairs, and had made a special outfit from various sewn-together socks, was no less obsessive.
Meanwhile, the Anonymous Wheelchair Pretender discussed getting a boner when he saw amputees or anyone in a cast, on crutches or using a wheelchair, to the extent that — even though he didn't physically need to use one — he regularly cruised around in a wheelchair of his own. Most notoriously, the janitor nicknamed Asswipe was the subject of an in-depth exchange in which he described his sexual arousal caused by cleaning toilets. The interview was accompanied by a photo of his own loo, which, ironically, looked like it could benefit from a good scrub.
5. Trinagate
One of the staunchest advertisers and supporters of BUTT back in the day — along with Dior Homme and Tom Ford — was the then-reigning US high street fashion brand, American Apparel, currently enjoying a revival as part of today's Indie Sleaze trend. In 2009, American Apparel became embroiled in a high-profile media controversy when a mum named Trina Campbell — who had been shopping in the West Vancouver branch with her teenage daughter — leafed through a copy of BUTT that was on display and was shocked to see a Jeff Burton photograph of two men rimming! She subsequently conveyed her outrage to CBC News, and the publicity from this prompted the local authorities to get involved. A fine for $100 was issued to American Apparel, for breaching a bylaw which stated adult sexual materials must only be shown in opaque covers on store shelves above a certain height. The unrepentant media retort from an AA spokesman further confirmed the brand as queer allies: "BUTT is a wonderful fashion, culture and art magazine. It's particularly popular with metropolitan adults and fashion insiders who shop at American Apparel. We are proud to carry it. It's something that we feel is an important artistic statement."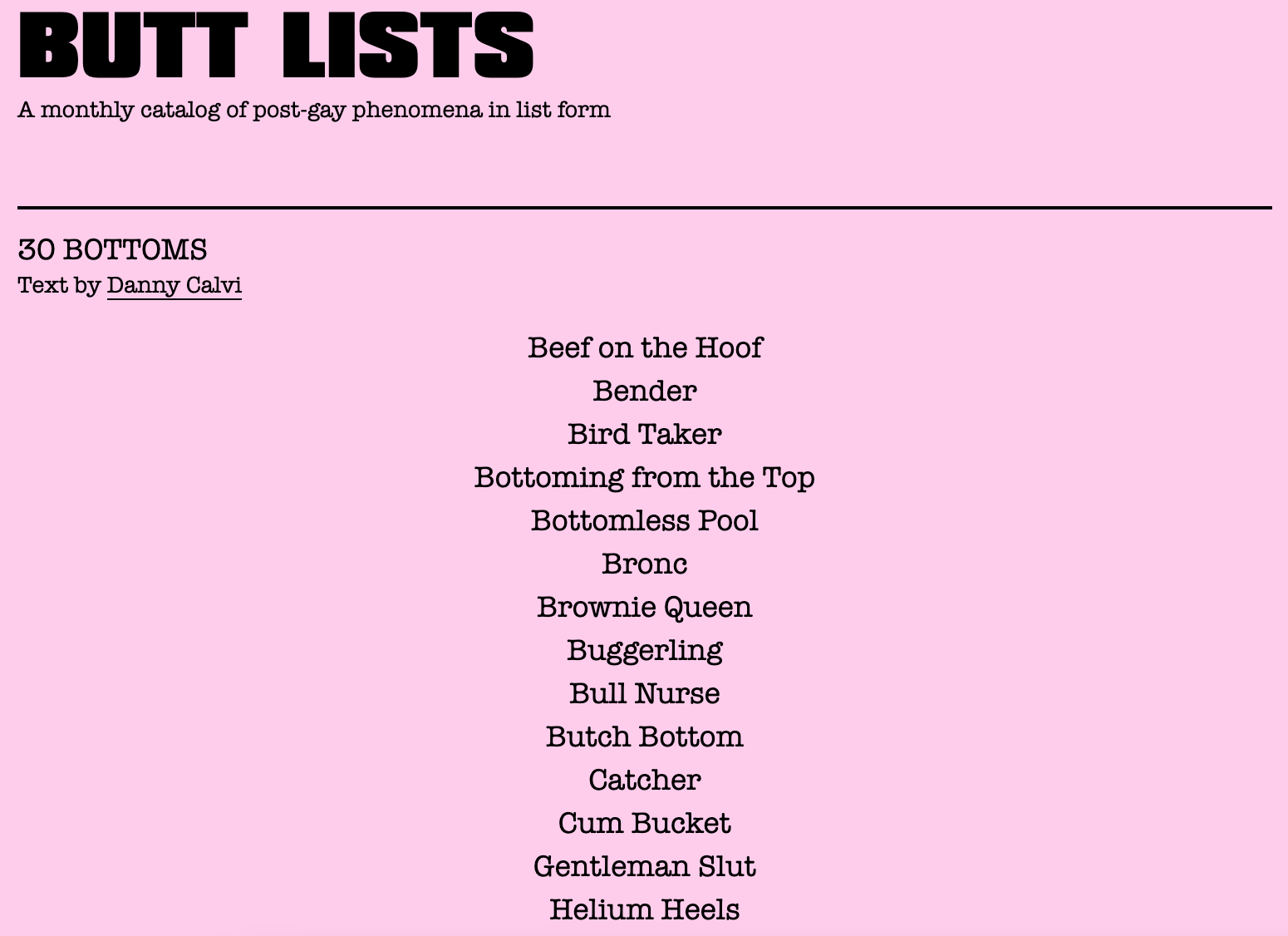 6. Homosexualists
When BUTT ceased to exist in its printed guise, it continued for a few more years online. One highlight of this was the regular lists by writer Danni Calvi, which collated all manner of homosexual curiosities, slang and info, such as: '50 TYPES OF QUEEN', '30 BOTTOMS' (see above) or '20 PORN STAR ANAGRAMS' and '35 ISLANDS WHERE IT'S OKAY TO HAVE BUTTSEX', as well as '15 CELEBRITY DILDOS'. There was also Danni's 2014 nifty rundown of '25 TERMS FOR ASSHOLE':
back door/Batcave/birdcage/booty/boy pussy/bunghole/butthole/Caboose/Cadbury cul-de-sac/camera obscura/cornhole/crapper/dirt box/fudge tunnel/Gary/Hershey highway/Hollywood uterus/manhole/poop chute/prison purse/ Rectum/road less travelled/shitter/wazoo/where the sun don't shine.
You can still read several of them here.
7. BUTT merch
Wearing one of BUTT's logo T-shirts in the early 00s wasn't just a fashion statement, it was an invitation to connect with potential new friends or lovers. The magazine's co-founder Gert Jonkers confirmed to us that he hoped BUTT's readers would "spot each other wearing a BUTT T-shirt and get into conversation… and we all know what can come from that!" This intention was pushed even further in 2010, when BUTT collaborated with American Apparel to launch a limited-edition range of pink and black beach towels, the proceeds of which went to a homeless LGBTQ+ youth charity. These were adorned with almost life-size images of the magazine's various scantily-clad cover stars, shot by the photographer Marcelo Krasilcic. Needless to say, the titillating towels became highly collectable and commanded a lot of attention on far-flung beaches from Skegness to Skiathos.
8. Hairy hotness
Beards, body hair and beer bellies seemed like they were practically illegal on the commercial gay scene of the late-90s — when horrifically narrow definitions of male beauty still favoured smooth complexions, chest waxing and gym-honed bods. BUTT heralded a 21st Century vibe shift, however, by putting bears, cubs and otters, plus beards, proto-dad bods and hirsute-hunks firmly on the agenda; in the ensuing years everything from hairy chests and moustaches, to hipster beards and man buns would crossover into the male style-mainstream. "Yes, I think we were the coming out platform for hair," Gert Jonkers said a 2014 i-D interview. "We'll always be remembered as the magazine for bears, beards, hairiness and pot bellies."
9. The Madonna connection
Pop icon and long-time LGBTQ advocate Madonna never actually appeared in BUTT, but some of those close to her did. Her younger brother, Christopher, for example, discussed everything from his love of photographing friends' butts, to his ideal kind of boyfriend during a 2005 interview. Later, in 2009, Madonna's ex-BF, the model-actor-photographer Tony Ward was interviewed by Jeremy Scott, and reminisced about his up-for-it days as a model in 80s LA: "I was hustling for older guys, photographers, who would shoot me in clothes," he said. "Then they'd pay me 70 bucks and I'd let them shoot me naked, and sometimes even suck my dick… that's how I put together my first portfolios."
10. Art stars
A who's-who of influential queer artists, photographers and filmmakers have graced the pages of BUTT along the way, many of whom have also routinely appeared in or contributed to i-D. These include Wolfgang Tillmans, Jack Pierson, Ryan McGinley and Walter Pfeiffer. Not to mention filmmakers such as Gus Van Sant (responsible for the 1991 Keanu Reeves-starring My Own Private Idaho), as well as John Waters and Bruce LaBruce.
11. BUTT the movie
In 2018, BUTT became the subject of a thoughtful 34-minute film, titled After BUTT, made by the artist Ian Giles, with support from Arts Council England. Ian's concept for the film involved him initially interviewing both of BUTT's founders, as well some of its former contributors and readers. He then used the transcripts of these interviews as the basis for a series of re-enacted and filmed conversations, among a group of younger gay men, in order to capture intergenerational storytelling and explore the ongoing cultural impact of BUTT.
Follow i-D on Instagram and TikTok for more on queer culture.
Credits
---
All imagery courtesy of BUTT Magazine
Tagged: