Jeff Goldblum and Kyle MacLachlan just walked Prada's AW22 menswear show
Casting Hollywood actors on the catwalk, Miuccia Prada and Raf Simons just won Milan Fashion Week with their workwear-inspired show.
Images courtesy of Prada
What do you wear to work? Chances are, if you're reading this, you are probably one of the many individualistically-minded young people who have never quite subscribed to professional dress codes, instead looking to clothes as a vehicle for self-expression in the workplace. Freshly-pressed suits and ties? Ha! That was our parents' generation, now ripe for exec-realness satire. Overalls, chore jackets, utility vests and carpenter pants, however? Well, there's a high likelihood that you might just wear all of those things in everyday life. Workwear is, after all, now worn by plenty of people who don't really require it for work.
What were once the sartorial ciphers of social standing and industrial professions, quite literally distinguishing the socio-economic hierarchy between blue-collar and white-collar workers, have since become the backbone of men's wardrobes. Denim, after all, was once the preserve of manual labourers; today, it's as ubiquitous as Coca-Cola.
Prada's AW22 menswear show, which was held in the bowels of the Fondazione Prada in Milan this afternoon, was all about fusing traditional notions of workwear with the formality and construction of tailoring. Or, at least, what the workwear of the future might look like, as the Rem Koolhaas-designed sci-fi vortex set suggested. Factory-setting overalls, albeit in pastel tech-satins and damask silks, set the tone for a celebration of the everyman. Supple leather boiler suits could well be luxe versions of a mechanic's uniform, or a scientist's hazmat suit. Trapezoid parkas and leather trenches worn with gloves and boots insisted on a sense of military-like purpose, while puffy doctors' bags and rucksacks insinuated some kind of commute — even if most of the corporate world are working from home right now.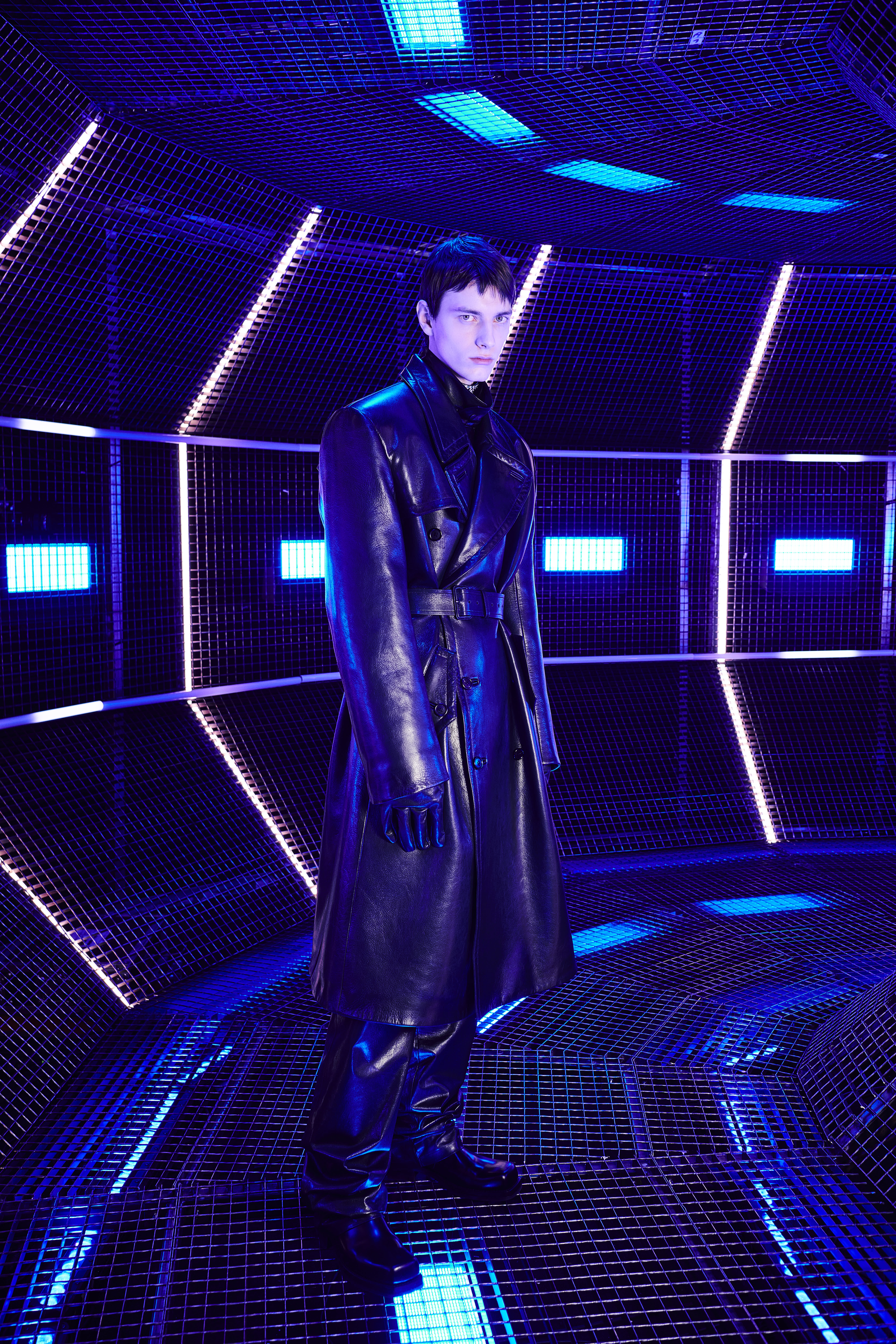 In a world of drone-delivered packages and zero-hour contracts in Amazon pick'n'pack warehouses, industrial jobs have become increasingly mechanised, functional clothes designed for physical labour seem romantic — and perhaps even quaint. They're symbols of something that once was — like Rust Belt America or Northern English mining towns — a distant memory of simpler times, a relic of a more deferential past.
'Reality' was the word liberally peppered throughout the show notes, and the fourth-wall of the fashion show was broken by the presence of 10 starry Hollywood actors, of varying ages: Thomas Brodie-Sangster, Asa Butterfield, Jeff Goldblum, Damson Idris, Kyle MacLachlan, Tom Mercier, Jaden Michael, Louis Partridge, Ashton Sanders and Filippo Scotti. You could say that in the world of red-carpet premieres and brand ambassadorships, uber-luxurious clothes are a part of an actor's job, and therefore their workwear. But ultimately, they were in the show to shift the focus from anonymous models to a more purposeful sense of character, because they depict "real men'" — whatever that means — in their roles. The show notes described them as "interpreters of reality, employed to echo truth through their portrayals …. Real men, recognized figures, they bring a new facet of reality."
You would think within millennial professional life, there would hardly be a need for such uniforms. More people work remotely on their laptops than ever before, or in the beanbag-strewn offices of tech start-ups, doing jobs that didn't exist five years ago. Yet, over the years, there have been clip-on ID badges at Prada, nurse's uniforms at Louis Vuitton, Raf's high-vis firefighter jackets at Calvin Klein, Martin Margiela's paint-splattered plimsolls, as well as that Vetements DHL T-shirt. Yohji Yamamoto has been making luxe-workwear for decades, and Junya Watanabe pioneered collaborations with workwear giants including Dickies, Carhartt, Hervier and The North Face.
In other words, workwear is an eternal font of inspiration for fashion designers. Though for some, it may be too austere, too strong a denominator of working-class life and a hard day's work (dress for the job you want, y'know), for others, it's the ultimate symbol of anti-fashion authenticity. It's anonymous enough to pass on the streets, but very much IYKYK for those in the loop, offering the kind of subcultural allure that so many streetwear labels have lost as they've mutated into global brands.
If ever there was an illustration of the power of sartorial context, and just how much it can shift the perceptions of cost and worth, let it be the hard-wearing Red Wing #3094 work boots that Kanye West has been sporting during his splashy romance with Julia Fox. The Minnesota-manufactured workwear boots were sold online for a measly $66 back in November. Four days ago, eBay user mjean80 sold a pair of size 13 Red Wing #3094 boots identical to the ones worn by Ye — who once wore a $43 Dickies workwear jacket to the Met Gala — for a staggering $3,050.
So, what makes the overalls and crunchy nylon trousers we saw today feel like Prada, to quote the house's recent advertising campaigns? After all, these aren't just any cotton overalls or carpenter trousers. These are clothes with structured silhouettes, exaggerated shoulders and sculpted waists, which come in fabrics that could hardly be mass-produced for blue-collar employees. Rather than introduce any kind of blingy embellishment (well, there were lots of shearling armbands and hems), Miuccia and Raf kept the silhouettes sparingly bold. The exaggerated silhouettes — the bulbous shoulders of a cashmere sweater, for instance, or the sweeping proportions of a nylon MA1 bomber — were achieved through an interior sense of richness.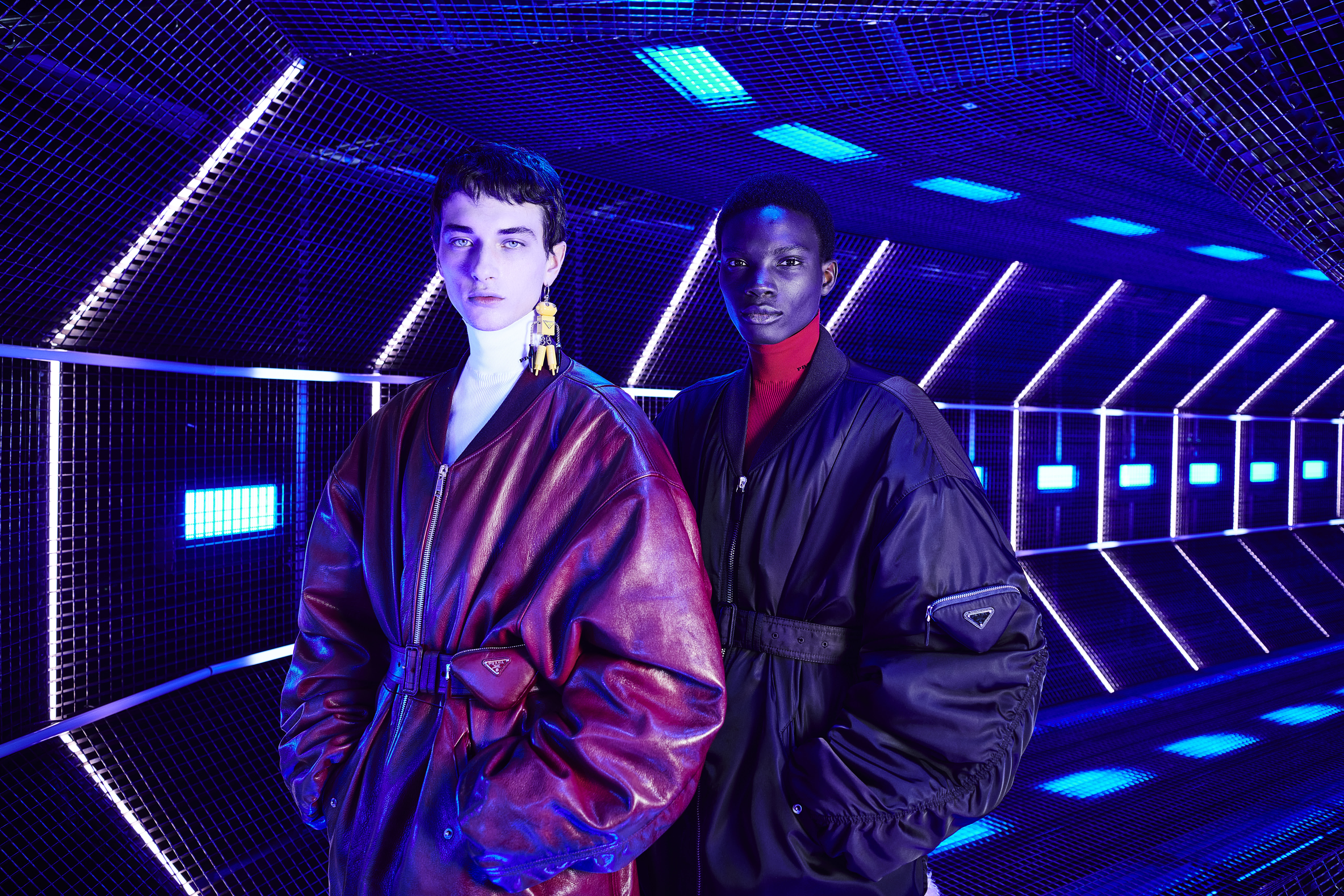 They drew on the savoir-faire of tailoring to instil a dramatism into straightforward pieces, making them simple yet strikingly. Beneath the sculpted wool coats and the occasional two-piece suits, you could see the tech-silk overalls peeping out beneath the hems, hinting at an inner duality — ever-so-slightly American Psycho. "Everyday reality is valorized, its signs and signifiers exchanged with those of elegance and sophistications," said the show notes.
"The approach is to make all garments equally important," explained Raf Simons. "Lightweight material overalls, deux-pieces, referring to the idea of work, movement, activity and leisure … are rematerialized, to give a different importance … they replace the traditional historical shirt/tie/bow tie and give a new energy and reality, a younger attitude."
Interestingly, in our WFH-era, tailoring has never disappeared from the catwalk, instead being used more than ever as a hopeful symbol of society returning to normality (although, who really wants to return to an office that demands you to wear a suit?). Ultimately, it's only a small proportion of men who still need to wear shirts and ties and suits to their workplaces. A younger generation of corporate staffers have rejected them in favour of casual sportswear — and for the really successful ones: cashmere tracksuits, goose-down puffas, and perfect-fit tees.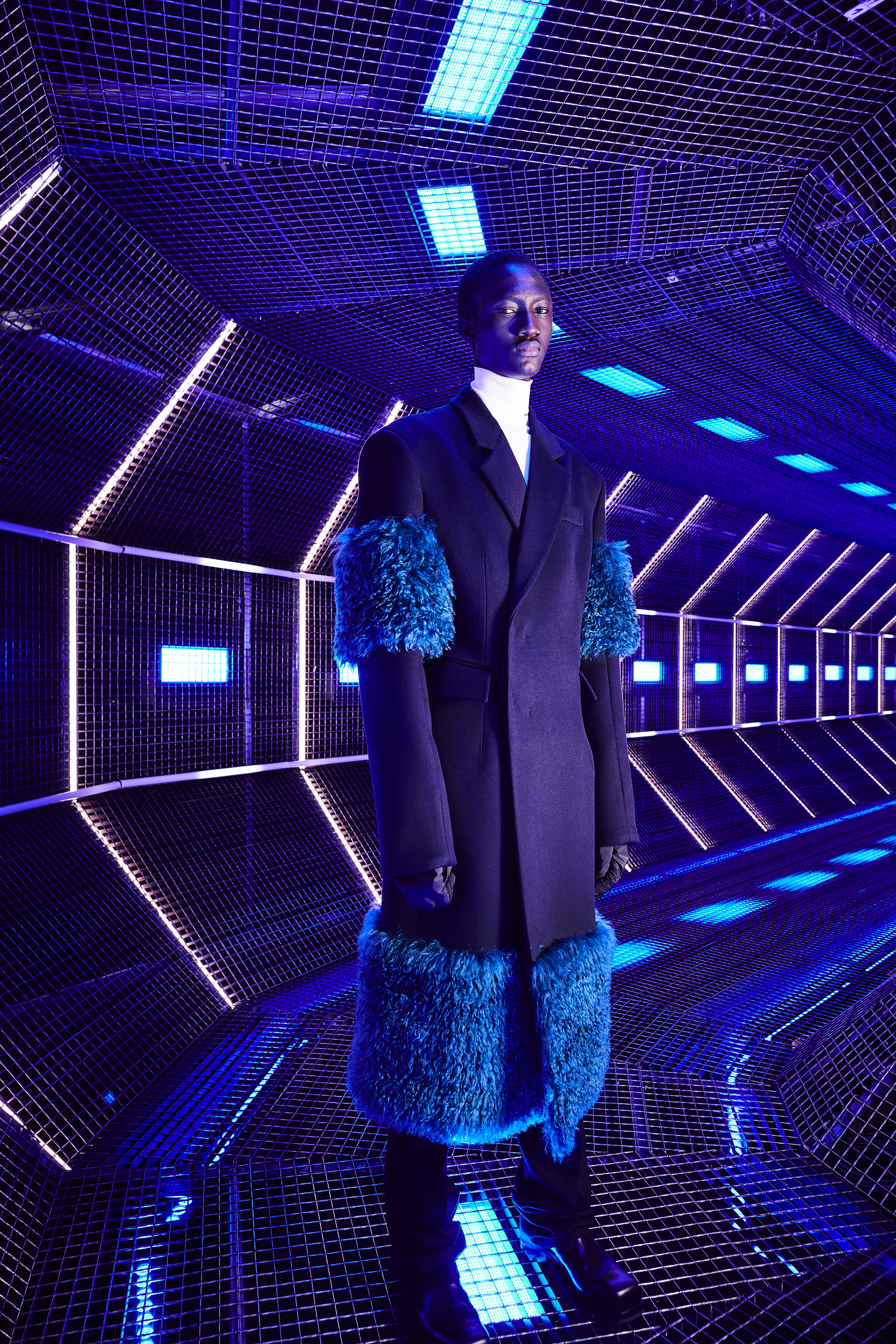 But an array of other professions still do require uniforms. Think of the blue-collar workers, the nurses and lab researchers, who we applauded as lockdown heroes. While they may not aspire to dress in more expensive versions of their work clothes, here was a collection that attempted to celebrate their heroism as something to aspire to.
"The collection celebrates the idea of working — in all different spheres and meanings," Miuccia continues. "It is a practical, everyday thing. But here, you are formally important. You are not casual. And through these clothes, we emphasise that everything a human being does is important. Every aspect of reality can be elegant and dignified. Elevated, and celebrated."
Maybe what Mrs P and Raf were trying to convey, albeit with Hollywood actors and a whole lotta pricey leather and shearling, is that perhaps we have a lot more to learn from these hardworking people than how to dress — instead, we can look to them as paragons of compassion, essential in order for society to thrive. After all, not all heroes wear capes.