Puma's design team share the creative process behind the Suede Mayu
Neli Ernst and Lois Ash discuss how they reimagined an archive classic into Dua Lipa's go-to shoe.
If you head down into the basement of the Puma headquarters, located just outside the Bavarian city of Nuremberg, you'll discover a vast physical catalogue of all the iconic shoe styles that the brand has put out over the seven decades it's been around. "It's such a great source of inspiration for us," remarks Neli Ernst, the Senior Designer Sportstyle Footwear at the German sportswear titans. Of all the shoes that fill this extensive archive, though, few are quite as iconic as the Puma Suede.
A timeless classic dating back to the 1970s, the sneaker has won over one generation after another for its hardwearing, easygoing flair. Universally adored by all the team at Puma as it may be, this season they decided it was high time to give the archival icon a high fashion makeover. The result? The Puma Suede Mayu, a bold, irreverent take on the classic Suede.
An instant hit with global pop star Dua Lipa, the new shoe maintains the original's sleek suede upper while pumping up the proportions of the platform, creating a silhouette that chimes perfectly with all of the extroverted styles we've seen on this season's runways. Eager to learn more about the process of creating this contemporary classic, we sat down with Neli and Lois Ash, Puma's Product Line Manager Sportstyle Footwear, to hear all about the creative process.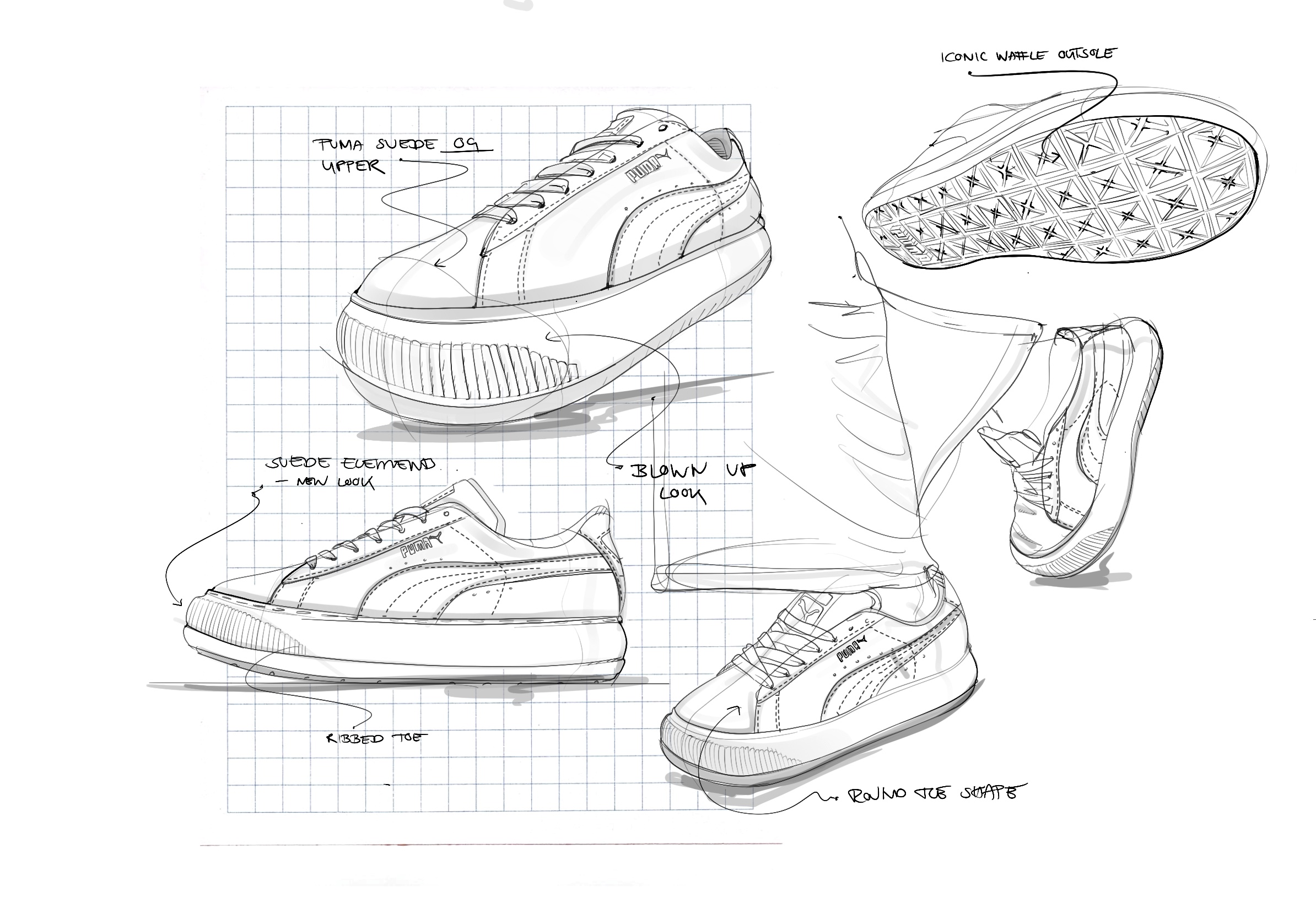 With the Puma Suede Mayu, you've created a new iteration of the classic Puma Suede. Why did you want to reinterpret such a beloved icon of the brand?

Lois Ash: As you say, I think the Suede is one of our greatest icons; it's one of the things that we're probably best known for globally, and it has such a rich history, going back as far as the 1970s. When you see it, you instantly think of Puma. So when Neli came up with this idea of playing with proportions and exaggeration, we knew that we wanted to work with a silhouette that really speaks to Puma; something that you look at and know straight away that it's a play on the Puma Suede.
What sort of conversations were you having on the design team when you were developing the concept for the Puma Suede Mayu?

Neli Ernst: Well, I would say that platform has always been something that Puma does really well -- and not with just one shoe, but across the whole market. So that was really our starting point. We were thinking about how we could reinterpret the archive, playing with proportions and making it a bit less serious. With the upper, we wanted it to have a classic archival feel: a really nice suede material with a nylon tongue, and an open edge… but then we were also looking at 90s Japanese streetwear trends, which I think comes through in the tooling. That was where we were really able to goof around a bit.
Lois: It was really one of these projects that we had to sit with for a while -- at first, we were all a bit cautious about touching the archive, playing with a classic silhouette. We asked ourselves: Are we going too far? Is this still quintessentially Puma? But then after a while of looking at it and thinking it was really cool, now just feels like the right time for it.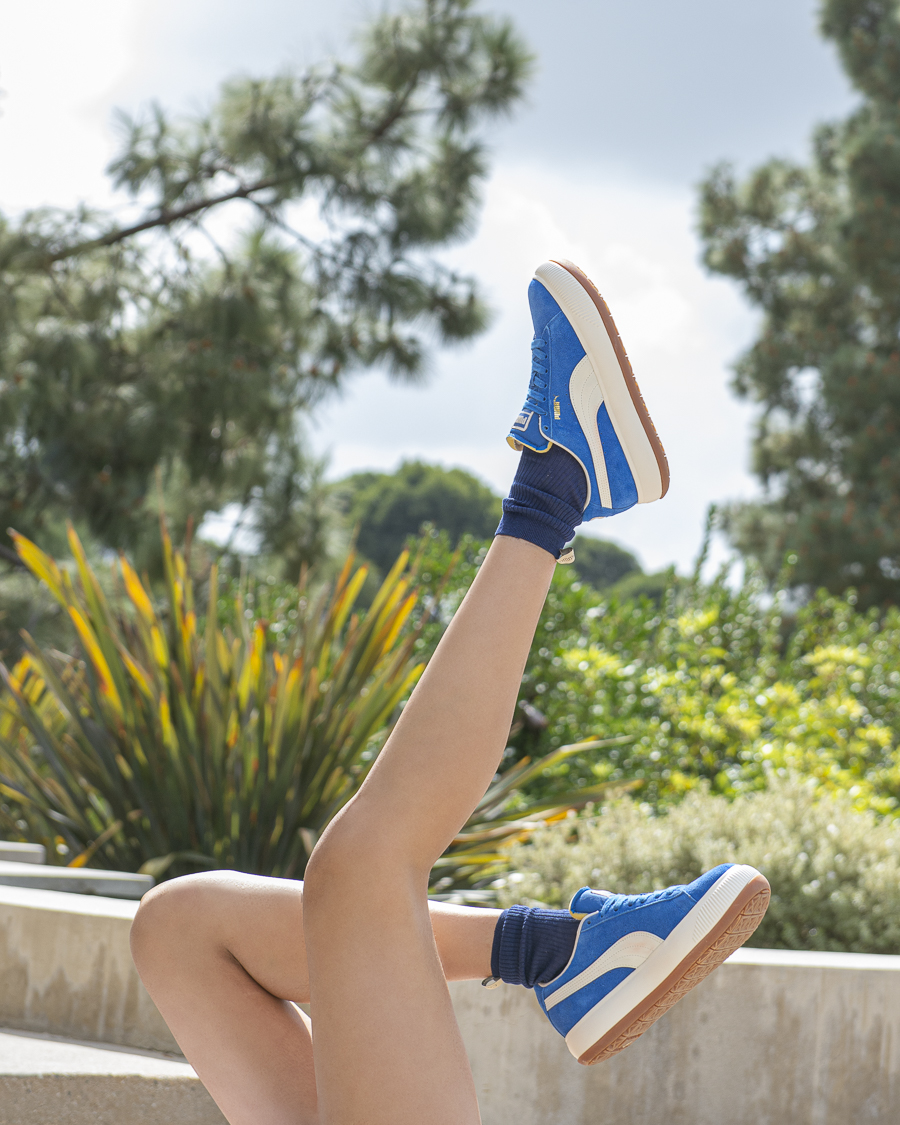 For the shoe's April drop, you're releasing two poppy colourways. Why have you chosen to launch with such bold, bright hues?

Neli: Throughout the design process, we've always said that the Suede Mayu is all about looking at 90s street style through a 70s lens. In the 70s, it was quite poppy -- there were bright blues, mustard yellows, and reds. And if you connect it back to the original Suede, red and blue are really two of its most iconic colours. We do also have the classic black and white colourways dropping later on, but we really wanted to make a bold statement with the launch, tapping into the playfulness of the Suede Mayu's silhouette.
That sense of playfulness is also embodied by the star of the Puma Suede Mayu campaign: Dua Lipa. What made her such a perfect fit?

Lois: Well, I think that the silhouette is so bold and fresh, it's a combination of fashion edge and a street style aesthetic. We needed someone with a bold style that embodies the Suede Mayu's authentic attitude. Dua Lipa's personality and sense of style really speaks to that. She's very fashion-driven, but with a streetwear edge. She's exactly who we have in mind when we think of who's wearing the shoe.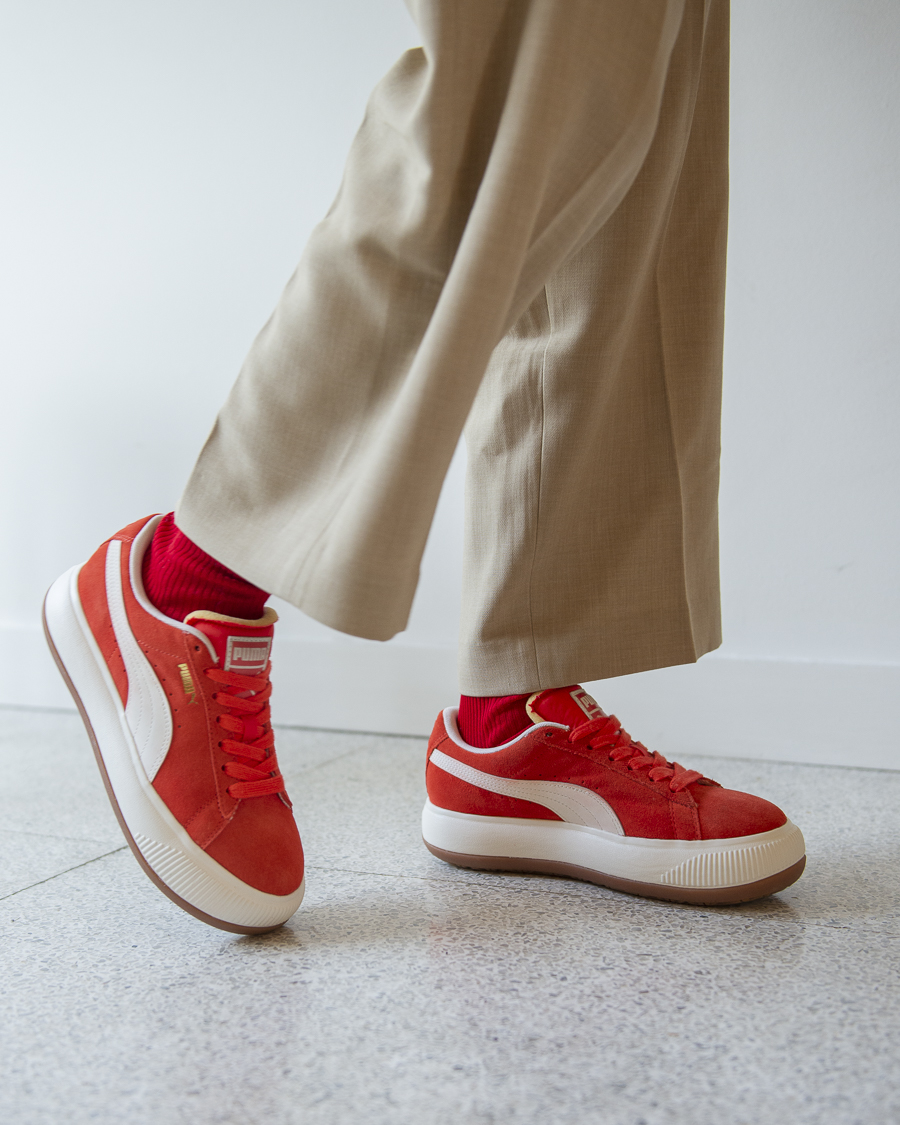 What do you hope Puma fans will see in the new shoe that they've not yet seen from the brand?

Lois: I think it will give them a fresh perspective on street style, and push things that are already familiar to them. Platform isn't something new for Puma, and neither is the Suede. But as a brand, we're always trying to do the unexpected, to do things you wouldn't necessarily relate with a sports brand. Our consumer isn't someone who's super safe; she likes to make a statement, and has a bit of a rebellious spirit.
Neli: At the same time, though, the consumer can really be anyone -- like someone who wants to wear a really classic outfit, and make a bit of a statement with their sneakers. Like the original Suede, the Suede Mayu isn't a niche product -- it's something that anyone can easily see themselves in.
The Puma Suede Mayu will be available to purchase from 22nd April.
Credits
---
Creative Direction & Styling: Sydney Engelhart
Photography: Tyler Ferguson
Hair & Makeup: Kasha Lassien
Models: Lindsay Conway & Kira Shipway

Tagged: