Fashion collaboration dreams are made of Supreme x Yohji Yamamoto
Both fuelled by a defiant punk mentality, the New York streetwear brand and Tokyo tailoring legend join forces to create a graphic new unisex capsule.
|
01 December 2020, 8:15am
Photography Drew Vickers
You don't need telling that fashion collaborations are everywhere these days. Over the past two or so decades, they've gone from being obscure, experimental one-offs to being one of the most common ways for designers to work and create. Their rise in popularity doesn't require much explaining. The promise of two industry titans pooling their creative resources and ingenuity is a challenge for anyone to resist. Often, though, that promise isn't quite fulfilled, with the end result more closely resembling underwhelming merch than the meeting of two masters.
Well, praise be to the deity of your choosing, because the union of Yohji Yamamoto and Supreme lives up to the hype. That's no surprise, though, given how easily collaboration seems to come to both parties. Lest we forget, Supreme effectively ushered in a new era of haute streetwear with its 2017 partnership with Kim Jones at Louis Vuitton. That home run aside, inviting fresh minds and voices to put their spin on the brand is a vital aspect of its DNA. Yohji's collaborative credentials hardly require much backing up either, he's headed up one of the most iconic, longest-running partnerships there is, working with Adidas on Y-3 since 2003, blazing new trails at the intersection of luxury fashion and sportswear.
The pairing, though, isn't exactly what you'd call expected. Supreme's breezy New York cool and Yohji's Paris/Tokyo virtuoso tailoring and drapework don't typically inhabit the same milieu. The common ground that the two stand on, however, is extensive — both are fuelled by a defiant punk mentality.
Since first appearing in Paris in 1981, Yohji Yamamoto has stood as a paragon of poetic radicalism, a renegade spirit steeped in dignity and poise. Offering a counterpoint to the high drama served up by Montana, Mugler, Gaultier, etc, his arrival in the city heralded the arrival of a more contemplative tone and perspective. Wilfully abstract yet imbued with an undeniably human sense of movement and proportion, these were clothes that supported and enhanced their wearers' lives as they wished to live them, rather than demanding that they step into a character, or live up to an imposed expectation or ideal. Daring as Yohji's proposal was then — and has remained over the nearly forty years since — there's always been a distinct practicality to his work. Its fabrication is invariably rigorous, leaning heavily on gabardines and weighty felted wools; textiles that are made to be used.
This owes much to the original motivation for his entry into fashion in the first place, a distaste for the imported feminine clothing that he grew up seeing Japanese women wear. His eye instead drawn to Japanese menswear and workwear, he set out with a single mission in mind: to translate its sense of sturdiness, protection and proportion into the luxury fashion context of womenswear.
It's exactly that signature that he's brought to his collaboration with Supreme, issuing a unisex capsule of clothes that cast the vision he's refined over four decades in the business in a fresh new light. An oversized black wool suit with drawstring trousers harmonises the Japanese designer's pattern-cutting maitrise with the at-ease air of Supreme. And then there's the referencing of Yohji's use of faintly haunting graphics across his body of work, translating to a squiggled face airbrushed on the back of a leather jacket, or a flower rendered in 8-bit on a knit pullover.
It's a notably more accessible offering compared to what we're used to seeing from Yohji — his at-times esoteric conceptualism has been softened here, with a price point brought a little closer to the ground. The creative ethics that fuel both Supreme and Yohji Yamamoto, though, remain wholly intact, combining to create a result that far exceeds the sum of its parts. If ever you were wondering what fashion collaboration dreams are made of, it's this.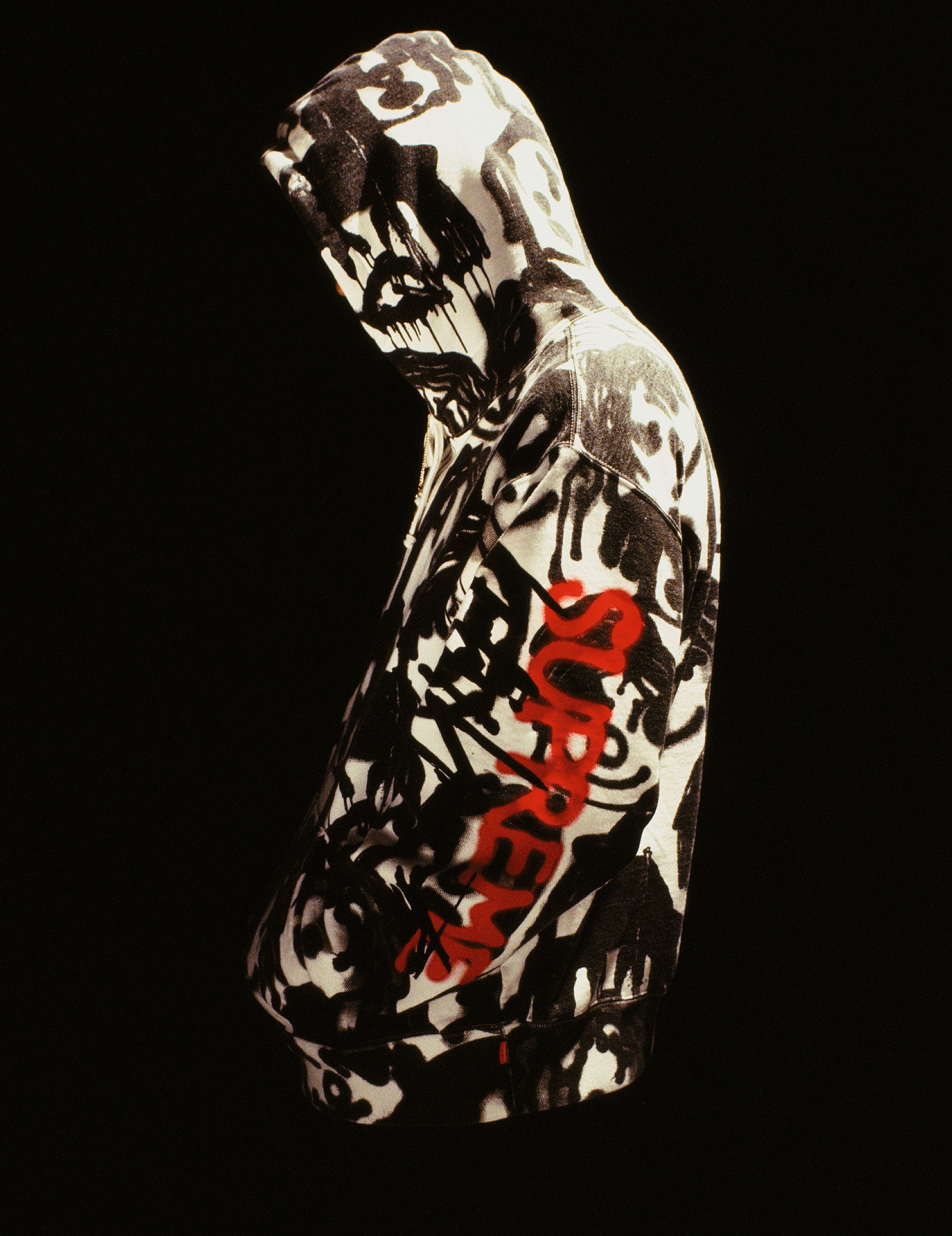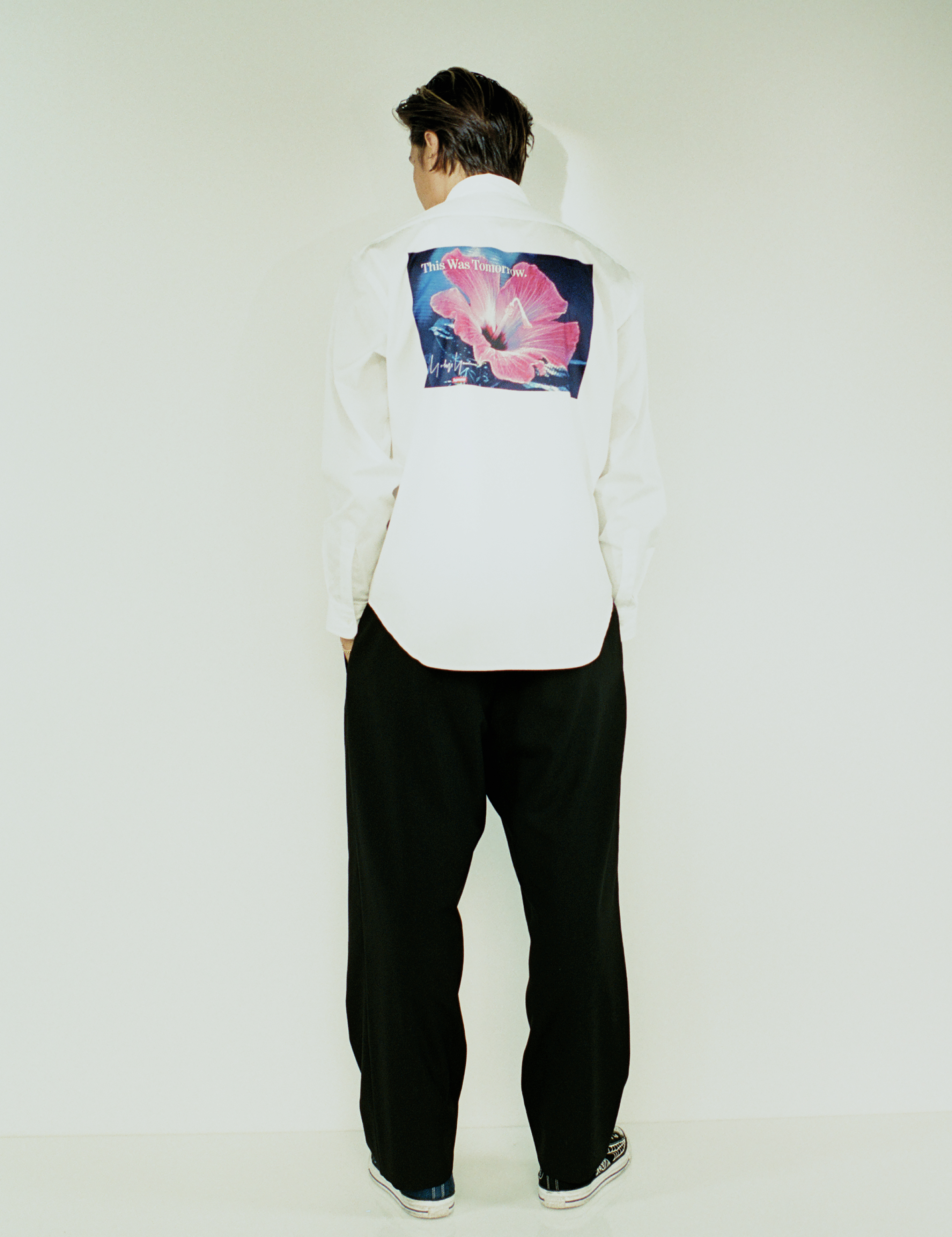 Credits
---
photography Drew Vickers
styling Alastair McKimm
Hair Nero using Bumble and Bumble.
Set design Nicholas Des Jardins.
Photography assistance Jared Christianson, Christian Robinson and Andy Harrington.
Styling assistance Madison Matusich.
Hair assistance Sena Murahashi.
Thanks to Supreme.
Models Genesis Evans and Sean Pablo.