7 of Nicole Richie's most iconic outfits
We have Paris to thank for pink Juicy tracksuits, but proto-influencer Nicole gave us flower crowns, Von Dutch caps and skull scarves. Thanks Nicole!
It's 2021, and we have time on our hands. Stuck in an endless comfort-seeking nostalgia loop, there has never been a better moment to reclaim the overlooked icons of the past. Whether we're defending Keira Knightley's acting prowess or recontexualising the power of The OC's Marissa Cooper, we're finally realising that We Were Wrong About the women of the 00s, that perhaps we judged them too harshly, and that their influence is still very much felt today. Case in point (sartorially speaking, at least): Nicole Richie.

Often, Nicole is discussed in pop culture merely as a footnote to Paris Hilton, with whom she rose to reality TV stardom in MTV's The Simple Life. However, 14 years on from their small-screen debut, it's time to re-evaluate her as more than just a sidekick with a few one-liners. It goes without saying that we're going to do that through the most in-depth and scientific medium available known to us: fashion. Here we look back at Nicole' Richie's inimitable style through her most iconic outfits.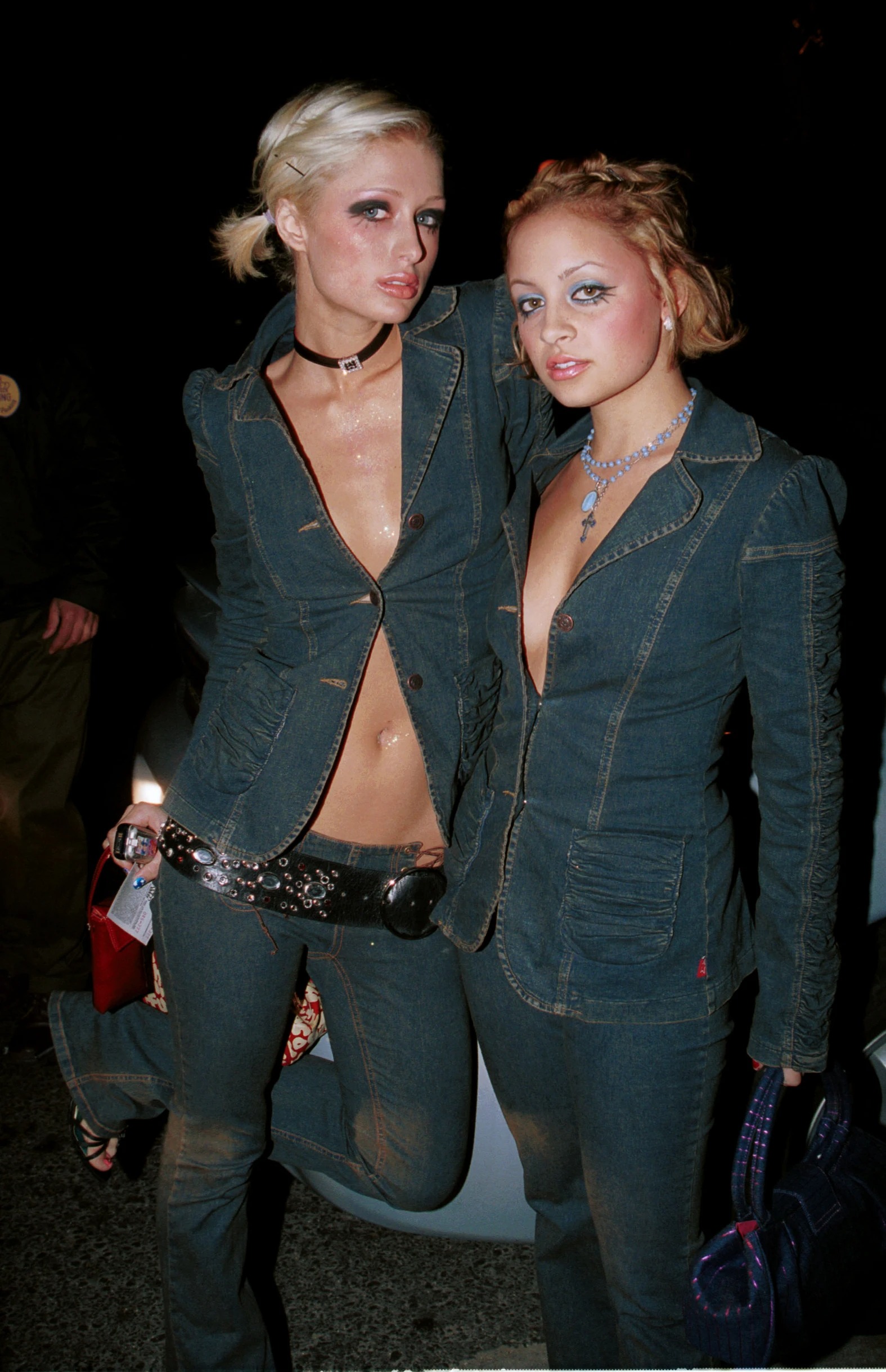 Matchy matchy in head-to-toe denim, 2001
OK, look, we know we said Nicole was more than just a sidekick, but let's not discount the fact that standing alongside Paris, even pre-The Simple Life, she had some truly iconic twinning looks. Observe this particular example from the heady days of 2001, two years before the show even debuted. Clad in head-to-toe denim with fitted blazers, flared jeans, strappy sandals, chokers and rosary beads and less-than-artfully smudged eye make up, the pair look the epitome of early-Noughties fashion, which reeked of more performative hedonism than an early Kesha video. When this photo was taken the childhood besties were on their way to the Lounge Club, a paparazzi fave and after-hours club in LA. You can just hear The Hills soundtrack playing in the background, right? Well this was pre-Hills. Nicole and Paris wrote the blueprint.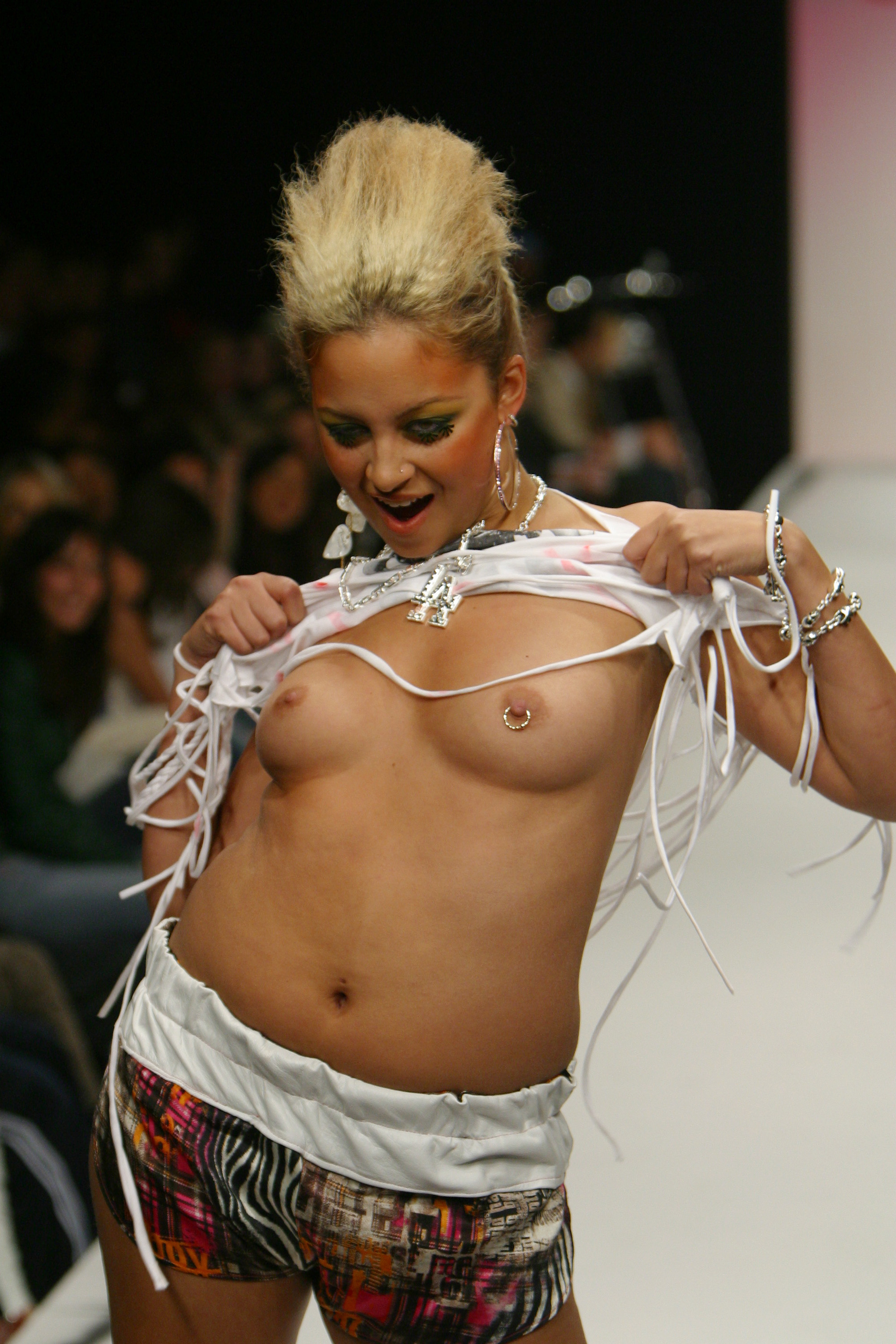 Joey and T runway show, 2003
Before she went all boho chic, crystals and flower crowns, Nicole was very much in her Girls Gone Wild era. And what better way to celebrate your GGW epoch -- one we believe everyone should enjoy, and we predict will arrive en-masse post-pandemic -- than by flashing the crowds at a runway show. When Nicole made her catwalk debut in November 2003, walking for Joey and T (Noughties label from stylists-turned-designers Joey Tierney and Tanya Tamburin) nobody was talking about the clothes, they were talking about Nicole.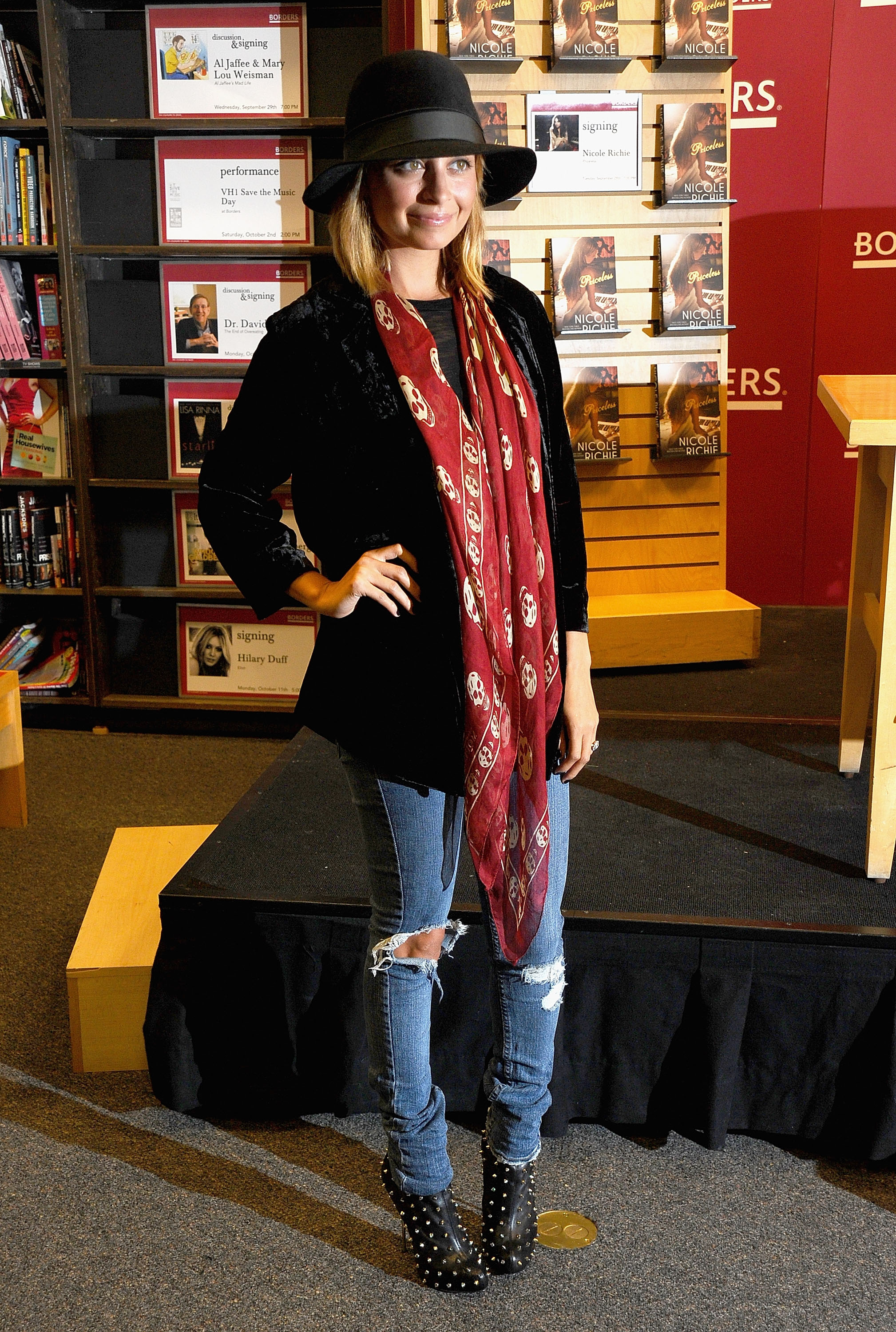 Priceless book launch, 2010
By 2010, our chameleonic star had ditched the flashing on the runway and the reality TV stardom for another career: literary sensation. This look, at the launch of her second book Priceless -- a tale of a girl who loses everything to "find out what really matters in life" -- marked a turning point in her sartorial choices. Gone was the dark tan and the smudged make-up, and in its place was… well, pretty much all the markers of 2010s style, as we would come to know it. Alexander McQueen skull scarf? Check. Floppy 'boho mom' hat? Check. Studded boots? Ripped jeans? Posing with your hand glued to your hip? Give this woman the props she deserves for influencing every single OOTD pic on Tumblr and Lookbook.nu for years to come.
Candidly Nicole, 2014
When people talk about great TV that was cancelled before it really hit its stride, it's always blah blah blah, Freaks and Geeks, blah blah blah, Ugly Betty. But where is the love for Candidly Nicole, the scripted faux-reality show which only ran for two seasons? WHERE? Anyway, this was Nicole, in a starring but also Executive Producer role, at her very best. Rather than just being the off-kilter sidekick, here she was both stylish but comedically confident. Around this time she also started experimenting with her look more and more, both in fashion but also in beauty. She ditched the blonde Calabasas-chic hair she'd always been known for, and embraced purple, pink and blue box dyes instead. Very pandemic-chic. Ahead of her time!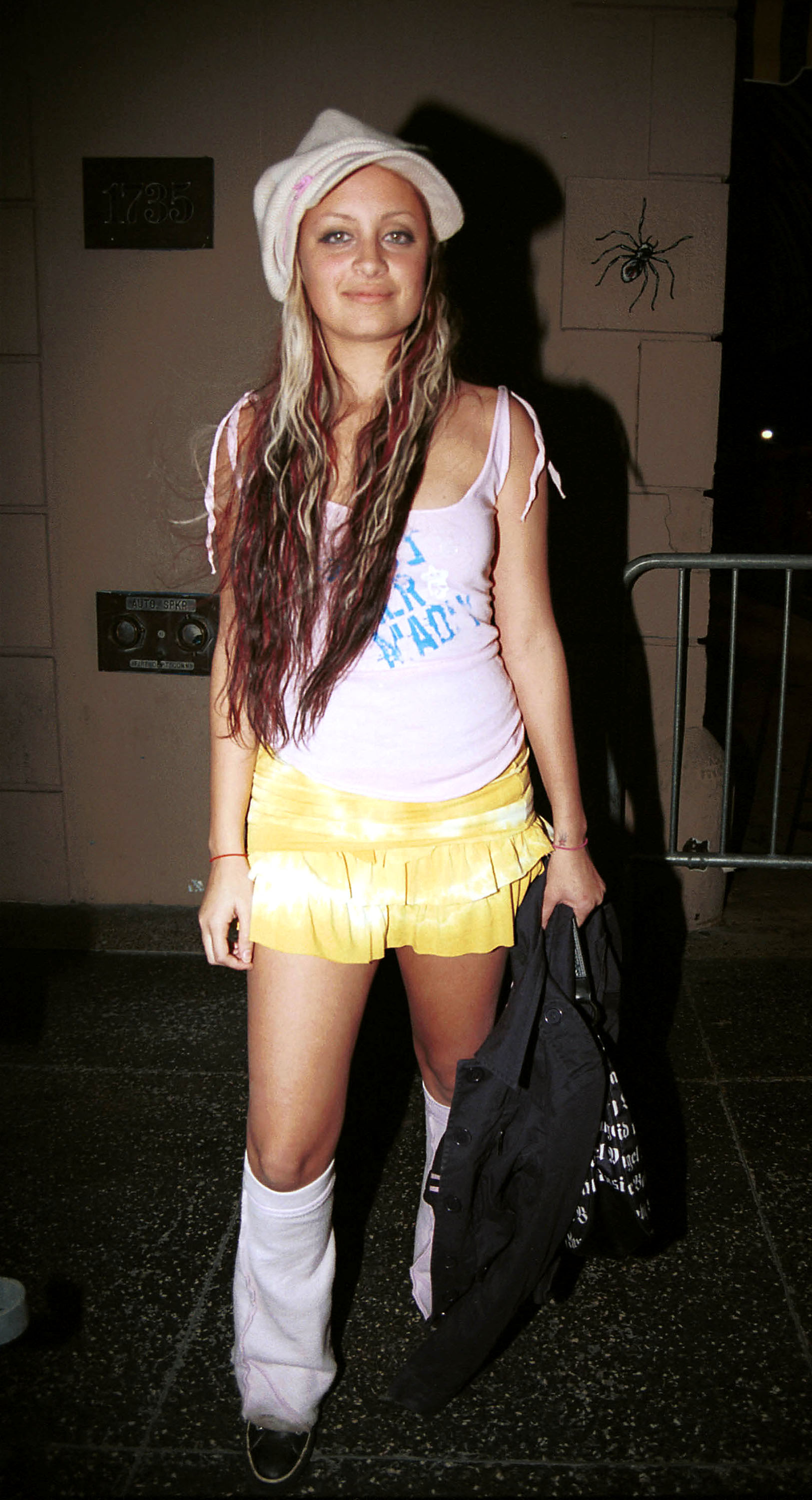 Encapsulating Y2K, 2003
Y2K fashion is truly having its TikTok renaissance moment right now, and we have only one person to thank for that. It's not Paris Hilton, nor is it any of the Bratz dolls. It's Nicole Richie. On and off The Simple Life, she embodied Y2K energy, and nowhere is it clearer than on the red carpets for the show, which ran for five seasons, but could honestly have done another 15. Some of the pieces proudly modelled by Nicole have found their way back to our FYPs and Depop baskets (ra-ra skirts, slogan tanks and, for a brief cursed moment, baker boy caps). Others, like the velour legwarmers and racoon tail extensions, are just around the corner. Get ready.
Boho mom vibes, 2009
When Nicole married Good Charlotte frontman Joel Madden in 2006, it coincided with the death-knell for her Simple Life era. She had fallen out with Paris in a big, mysterious way (they eventually reconciled in October of the same year, don't panic), and her bestie era became her boho mom era. By the time first child Harlow was born in 2008, the Paris era's slogan tees and Juicy tracksuits had been replaced with boho-chic and a jewellery line to match. When House of Harlow 1960 launched in 2009, Nicole became the champion for boho '00s moms, way before flower crowns, floaty maxi-dresses and gladiator sandals were associated with MLM marketers who believe in crystals, but not vaccines.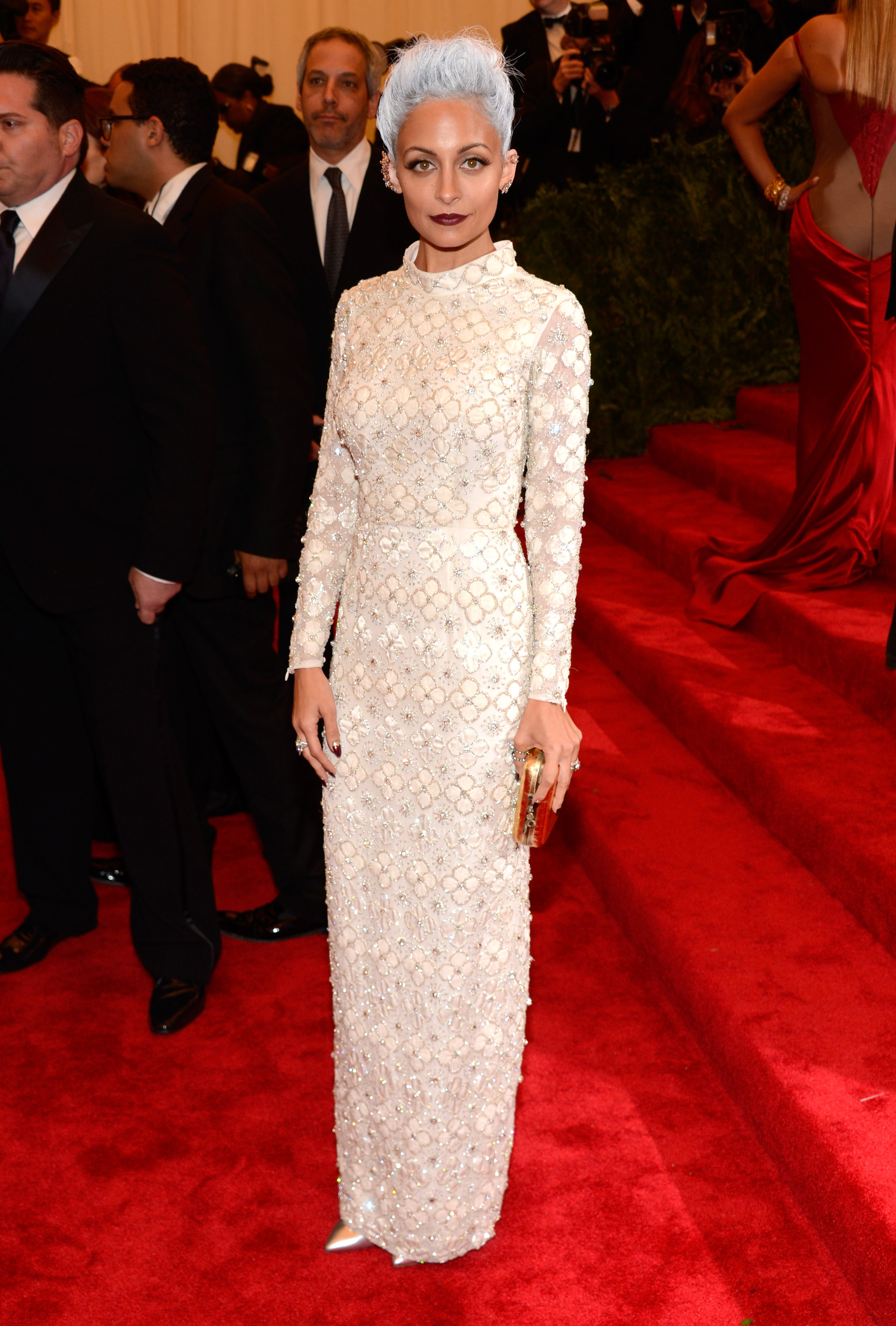 Met Gala, 2013
Although we might think of Nicole as one of the ultimate icons of 2000s fashion, her look has evolved and become more modern, refined and pared back over time. At the 2013 Met Gala, gone were the Von Dutch caps, flower crowns and skull scarves, and in their place was a shock of white hair, a darker and more brooding beauty look than we'd ever seen on the reality mogul, and a chic column dress which was admittedly, from Topshop. Topshop on the red carpet at the Met Ball is iconic in its own way, we guess, and perhaps in a rejection of the couture labels expected at the event, going for the brand which brought us Joni Jeans was fitting with the theme of the gala that year (Punk: From Chaos to Couture). But the look also re-introduced us to a more grown-up version of one of our most irreverent celebrities. Eight years on and several pastel hair colours later, Nicole 2.0 is still going strong. We love to see it.