Photo by The LIFE Picture Collection via Getty Images.
7 of Lisa Bonet's most iconic outfits
The actress crafted an inimitable boho-meets-streetwear look.
|
20 November 2020, 8:00am
Photo by The LIFE Picture Collection via Getty Images.
Lisa Bonet just oozes cool. From her days of 80s sitcom stardom to now, the actress has always marched to the beat of her own drum. In 1984, Lisa was catapulted to international fame — and stole the hearts of TV-watchers across America — as rebellious Denise Huxtable on The Cosby Show. Since, Lisa has maintained an elusive distance from Hollywood's spotlight, taking fewer — but no less iconic — movie roles to focus on what really matters to her: family, nature, activism. No doubt, the actresses' free-spirited, bohemian nature is (and has always been) apparent in her unmistakable personal style: circle glasses, gauzy maxi dresses and hats, hats, hats. On the event of her 53rd birthday, we chart the heyday of Lisa's career through some of her most recognizable looks.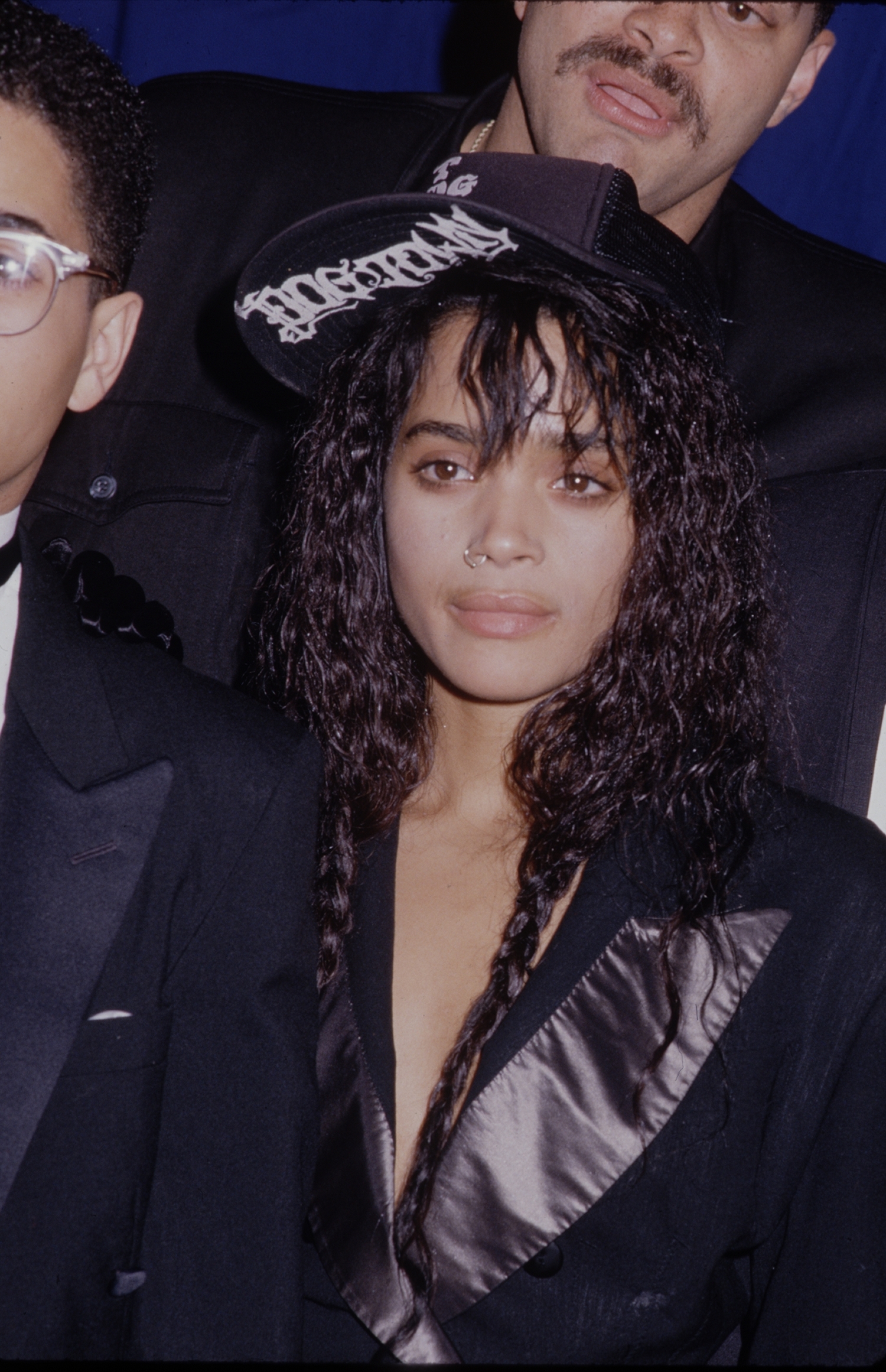 At the People's Choice Awards, 1988
Before we knew her as we know her now — for her ethereal red carpet gowns, gorgeous dreads and stylish daughter Zoë Kravitz — audiences knew Lisa Bonet as Denise Huxtable. In 1984, the actress shot to international acclaim with her role as the "wild child" daughter on the 80s' most popular sitcom, The Cosby Show. While the character of Denise wasn't based on Lisa, herself, the two do share some similarities: a free-spirited energy and eclectic wardrobes. Here, accepting the People's Choice award for Favorite New Television Comedy, Lisa pairs a tailored blazer mini dress with a mesh-panelled Dogtown Skateboards cap.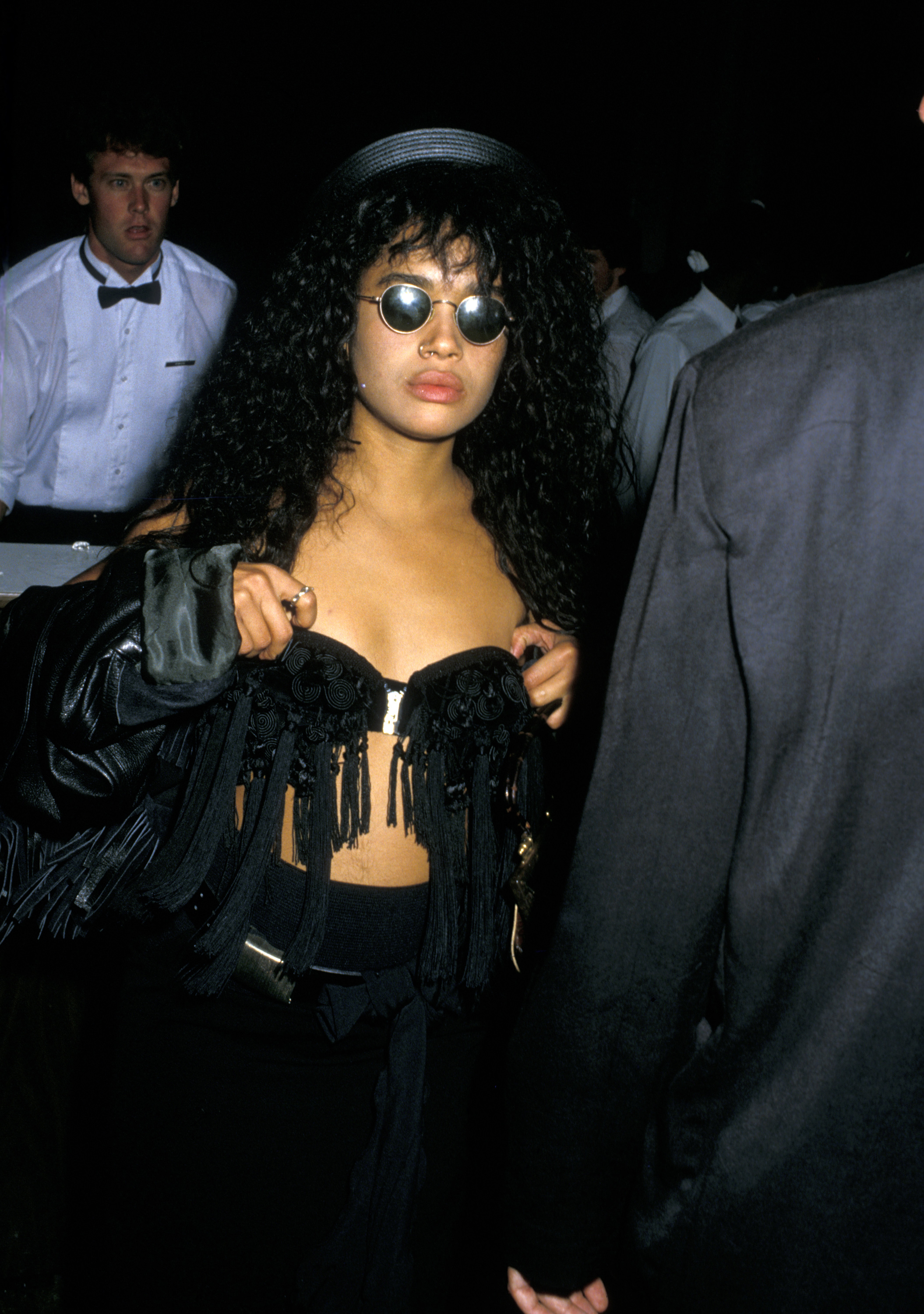 At the MTV Video Music Awards, 1987
In 1987, Lisa left The Cosby Show to reprise the role of Denise on the comedy's spin-off A Different World. With her character now college-aged and The Cosby Show behind her, Lisa's departure from the show also marked the ubiquitous transition from child star to bona fide actress. That same year, Lisa took on a risqué role in R-rated Robert De Niro flick, Angel Heart, and posed for a sultry shoot with Interview Magazine. She also wore this great — extremely 80s — fringed bustier to the MTV Video Music Awards. Accessorized, of course, in true Bonet fashion, with circle shades and an oversized coat.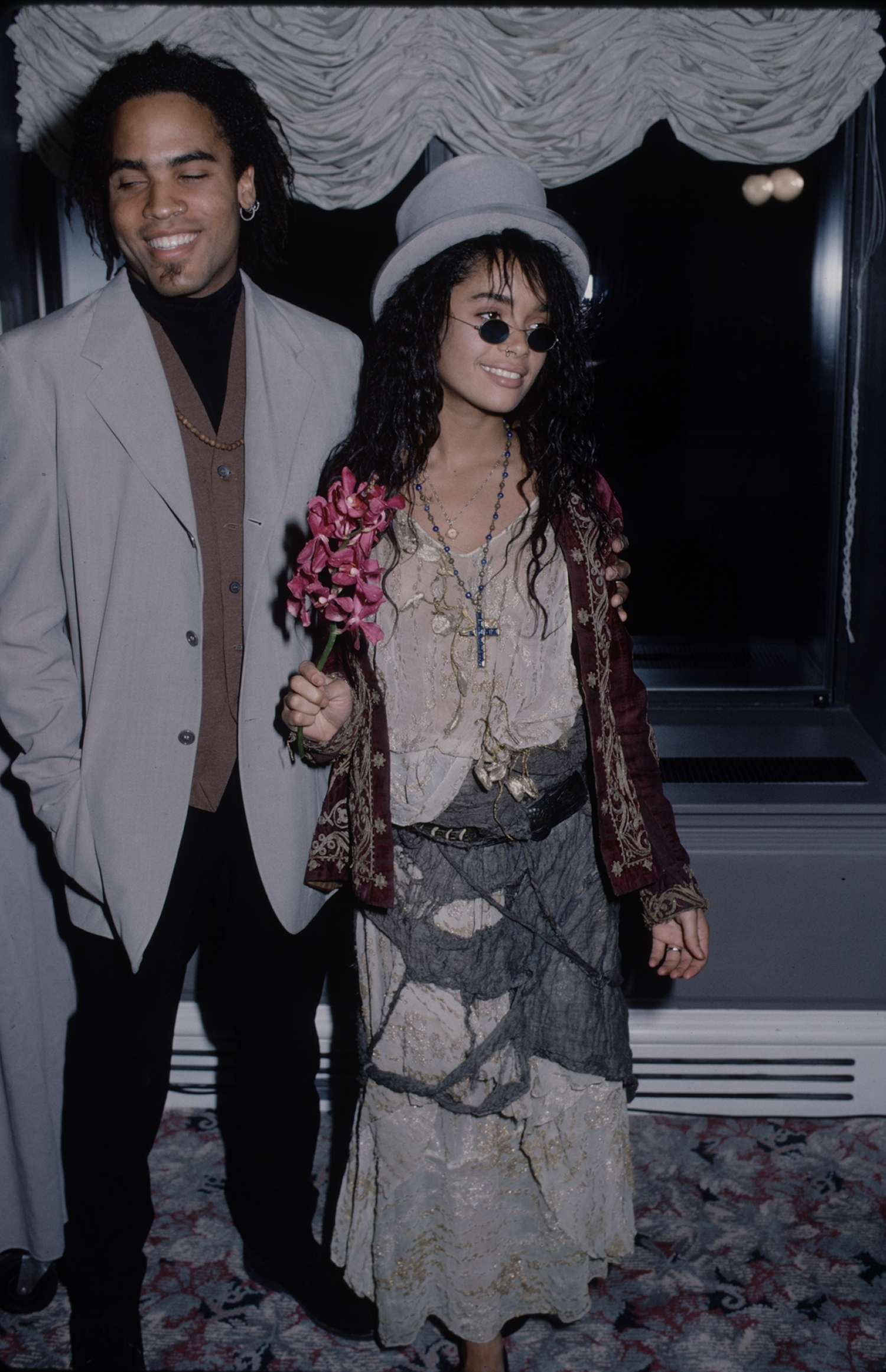 With Lenny Kravitz, 1990
This look is quintessential Lisa, all bohemian in a gauzy maxi dress, embroidered jacket, layered pendants, velvet top hat and — again — the hallmark circle glasses. Here, she poses with then-husband Lenny Kravitz. The duo eloped to Las Vegas in 1987. A year later, Lenny signed to a record label, with Lisa co-writing some of the songs on his 1989 debut Let Love Rule, and the duo had daughter. After six years of marriage, the two divorced in 1993.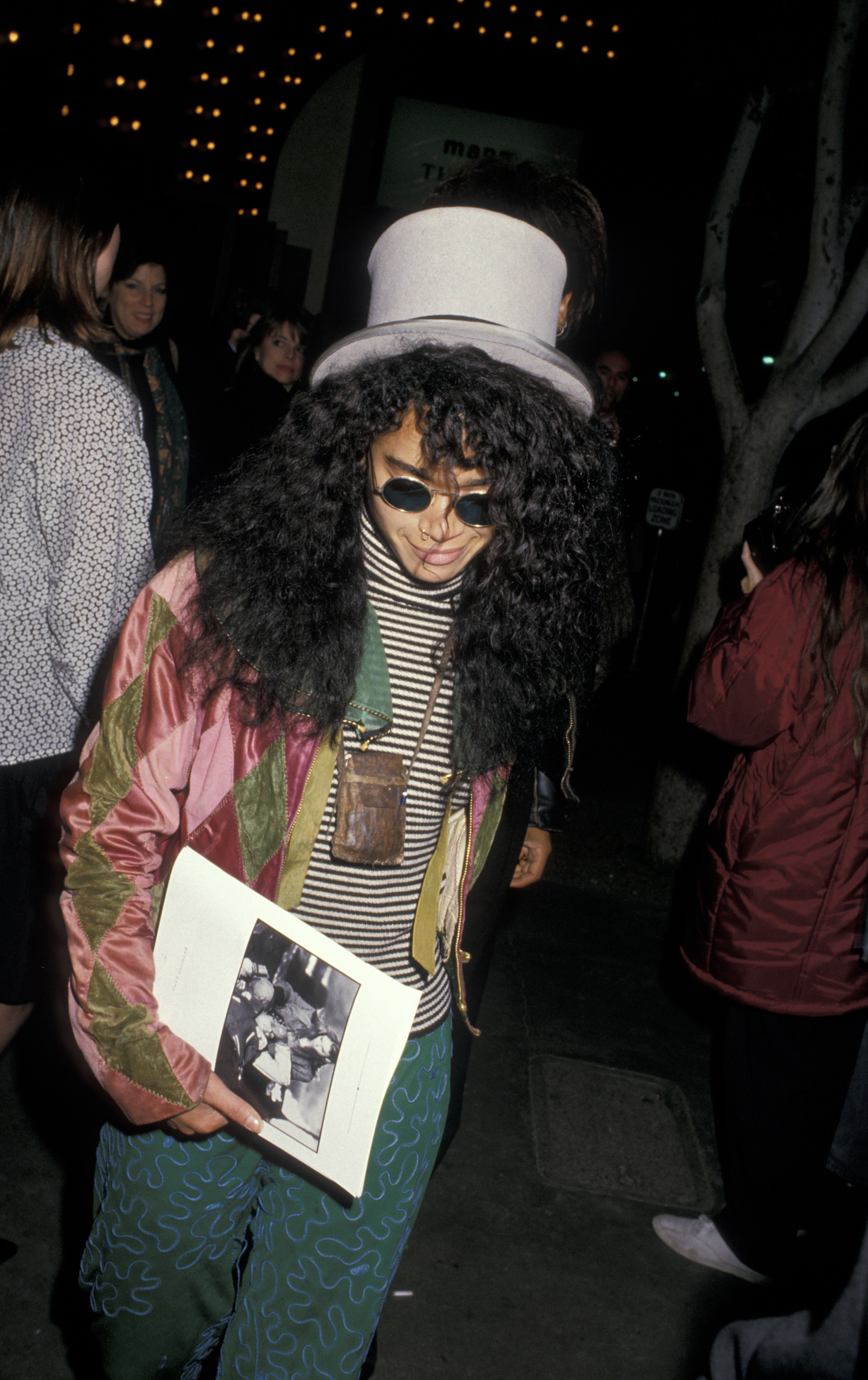 At the premiere of "Promised Land", 1988
A little less boho, a little more streetwear, this look is still signature Lisa, nonetheless. Here, she matches a presciently grunge-y striped turtleneck with very 80s velvet bomber and squiggle-embroidered trousers. Peep the ever-present baby blue top hat, circle shades and loose curls.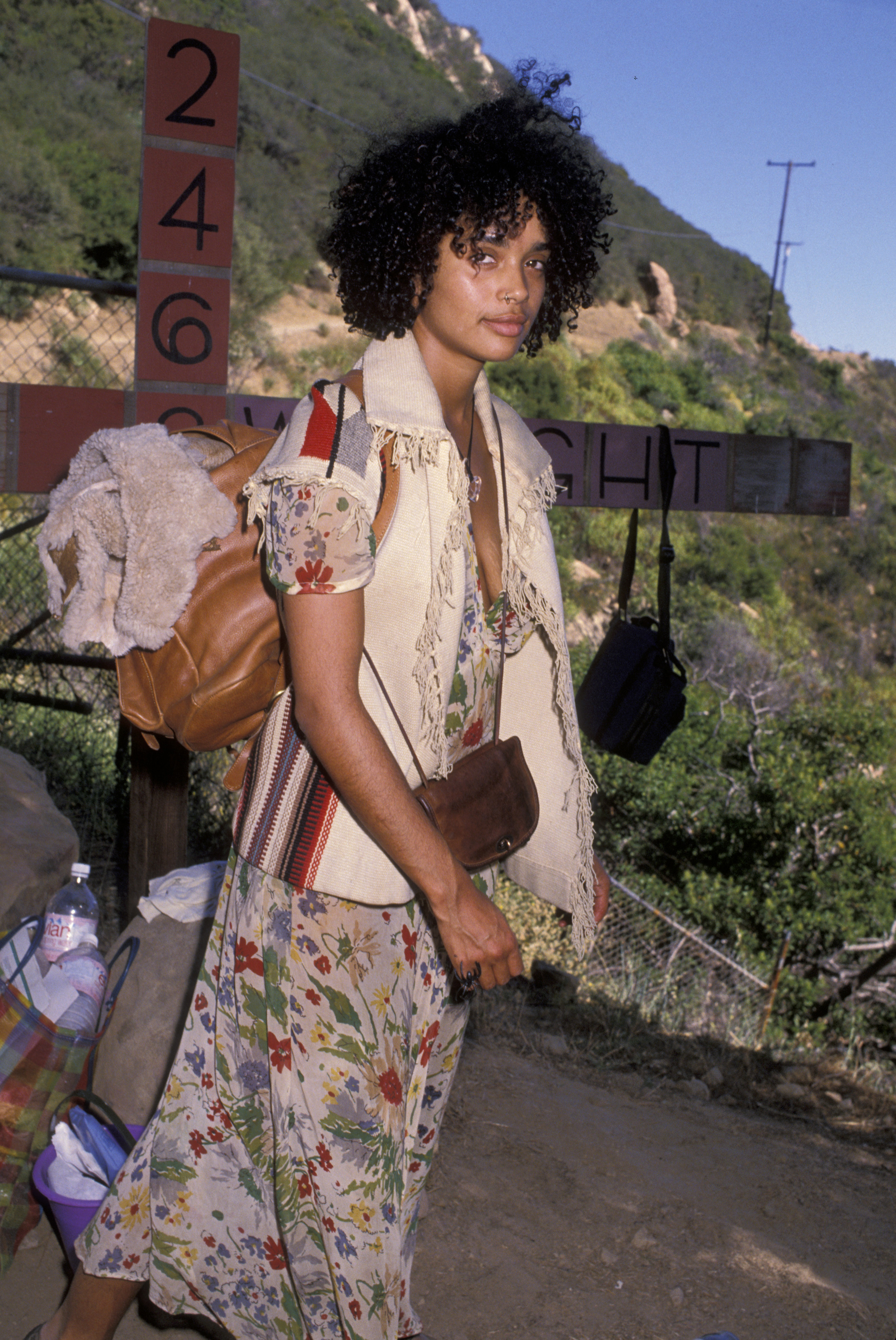 At the Earth Communication Conference, 1990
In June 1990, Lisa attended Malibu's Earth Communication Conference — a star-studded hike through the hills — wearing a very estival take on her preferred bohemian fare: bright floral sundress, fringed vest and tiny leather pouch. Just out of shot: three very chic carry-alls filled with water for thirsty hikers.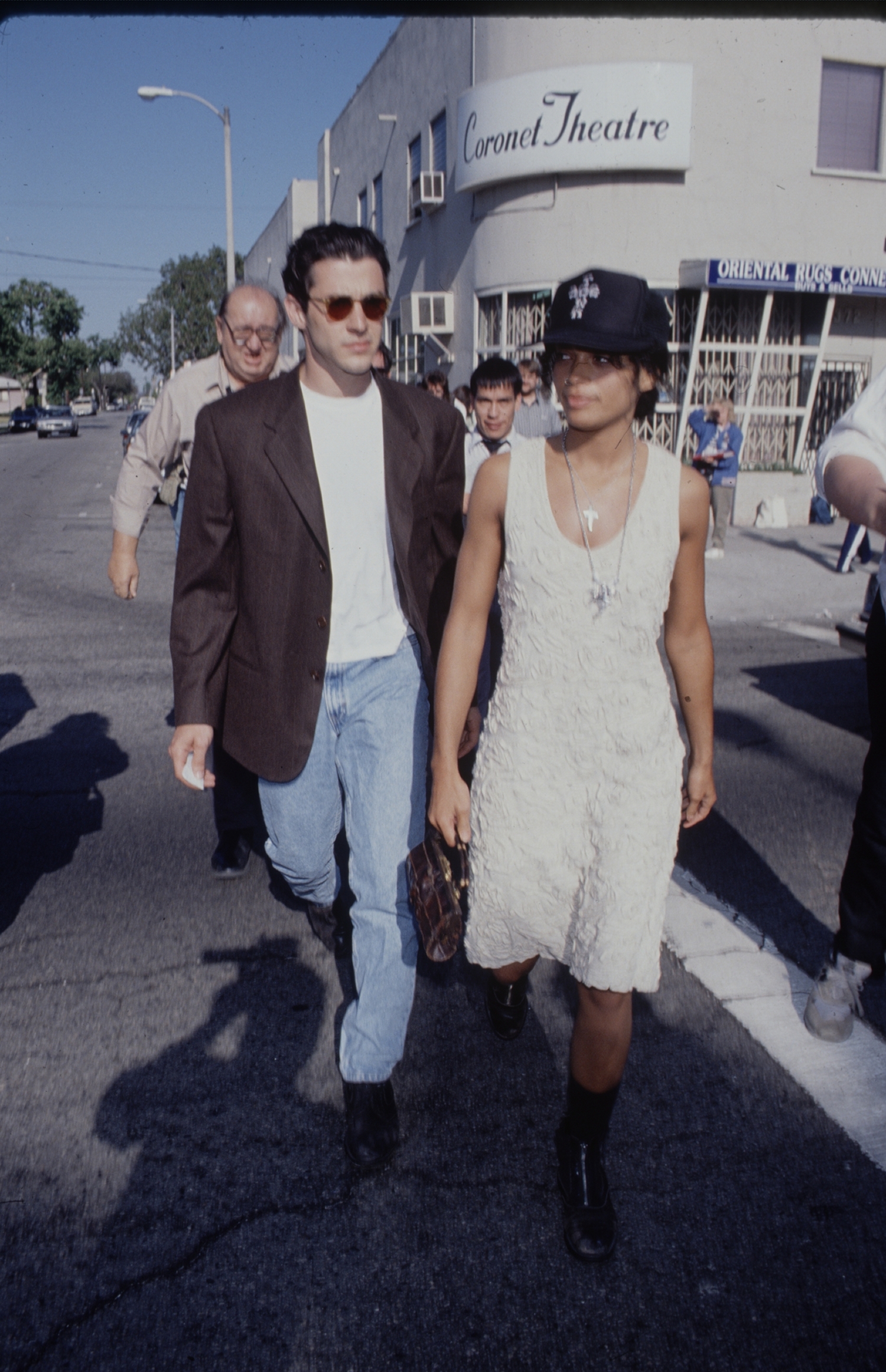 At the screening of Brooklyn Laundry, 1991
As we've seen, Lisa is all about signature accessories. Attending a film premiere with her new beau, the actress made this rather prim flared dress her own with some of her favourite accoutrements. Here, the Dogtown Skateboards snapback returns, along with the turquoise cross necklace. New — but no less Lisa — are the angel pendant and zip-front combat boots.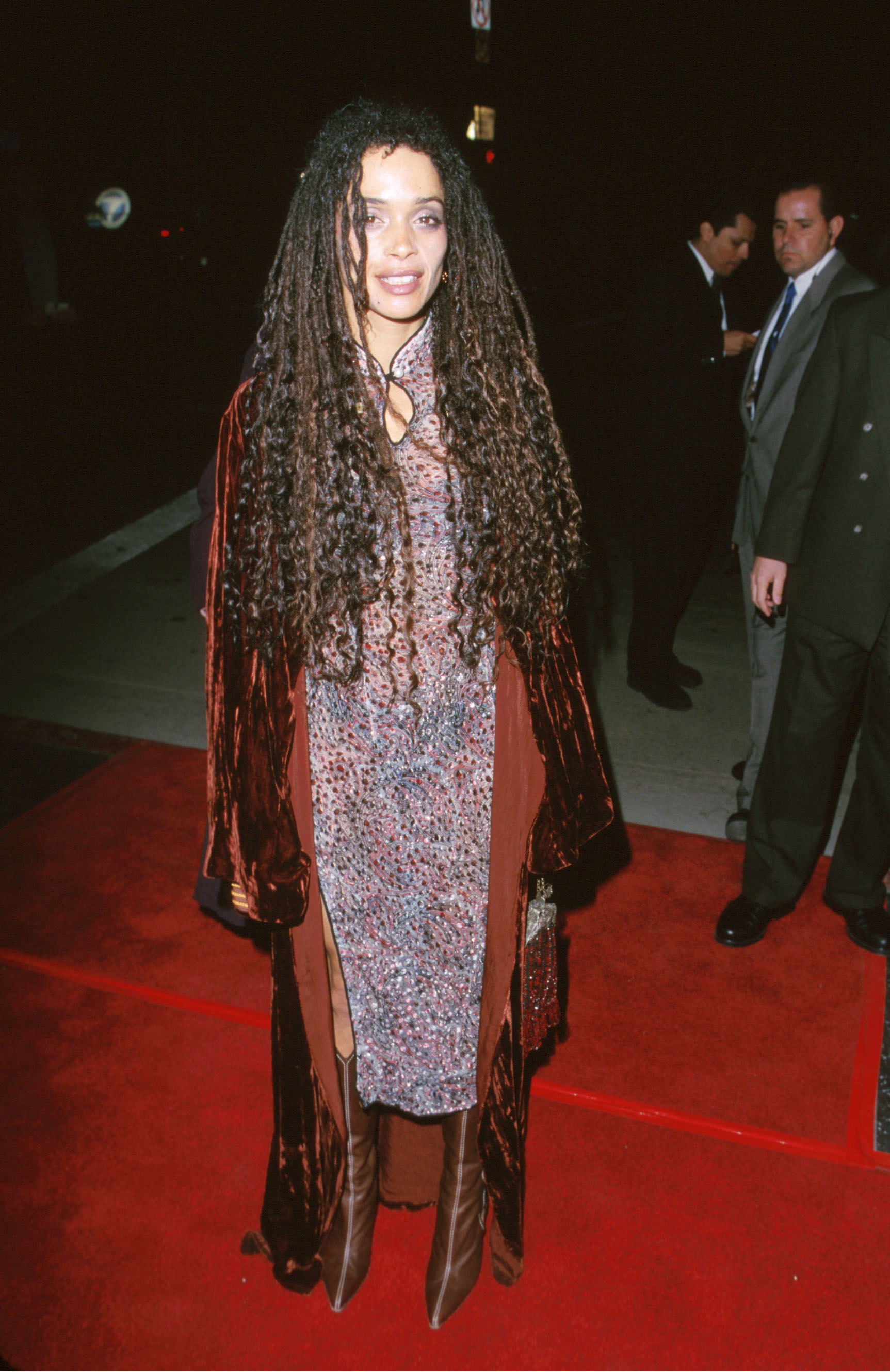 At the premiere of High Fidelity, 2000
After taking a break from the spotlight to raise Zoë, Lisa returned to film with 2000's High Fidelity, playing one of John Cusack's many love interests. Things came full circle twenty years later, when Zoë starred in Hulu's TV remake of the iconic rom-com. To the original film's premiere, Lisa wore a more refined version of her hallmark hippie-leaning fare: a sweeping velvet duster, sheer beaded dress, pointed leather boots and long locs.
Tagged: