Courtesy of Martin Mougeot
Introducing Daquisiline Gomis, rising star of the Parisian creative scene
The designer tells i-D about joining Converse's new All Stars Program, which supports the creative community, and his new Beni Originals collection.
|
08 February 2021, 4:55pm
Courtesy of Martin Mougeot
Following the success of his two vegan restaurants, Le Tricycle and Jah Jah Kitchen, in the heart of the tenth arrondissement of Paris, Daquisiline Gomis is making news again with his sustainable brand exploring uniforms and hand-made suits. His brand Beni Originals (Beni meaning blissful) pays homage to the African elegance of the 1970s, specifically to the Senegalese culture of his parents. His first lookbook paid homage to the unique style and uniforms of the men he grew up around.
Today his second collection, which is 100% eco responsible, pursues this theme while focusing on a workwear silhouette. By updating the elegant working clothes his parents proudly wore in his youth, Daquisiline celebrates their philosophy and the idea of a sustainable uniform, refined in order to embellish everyday life. This new Beni Originals collection pays homage to a heritage too often forgotten.
The Parisian based visionary and passionate creative is one of the community members of Converse's mentoring project, a programme which accompanies and promotes young talents whose work convey values such as activism, durability, inclusivity and diversity. This program, named All Stars after the iconic Converse shoes, funds projects and supports via mentorship during the process, aiming to break cultural barriers by creating more opportunity for individuals in their creative fields and to accelerate the individual impact of these All Star community members. As part of the ongoing Converse All Stars program, Converse's robust community-focused ecosystem of mentorship, commissions and funding; Converse is sponsoring "All Star Projects" in key cities, which are specifically focused on supporting the creative action of emerging creatives from underrepresented groups.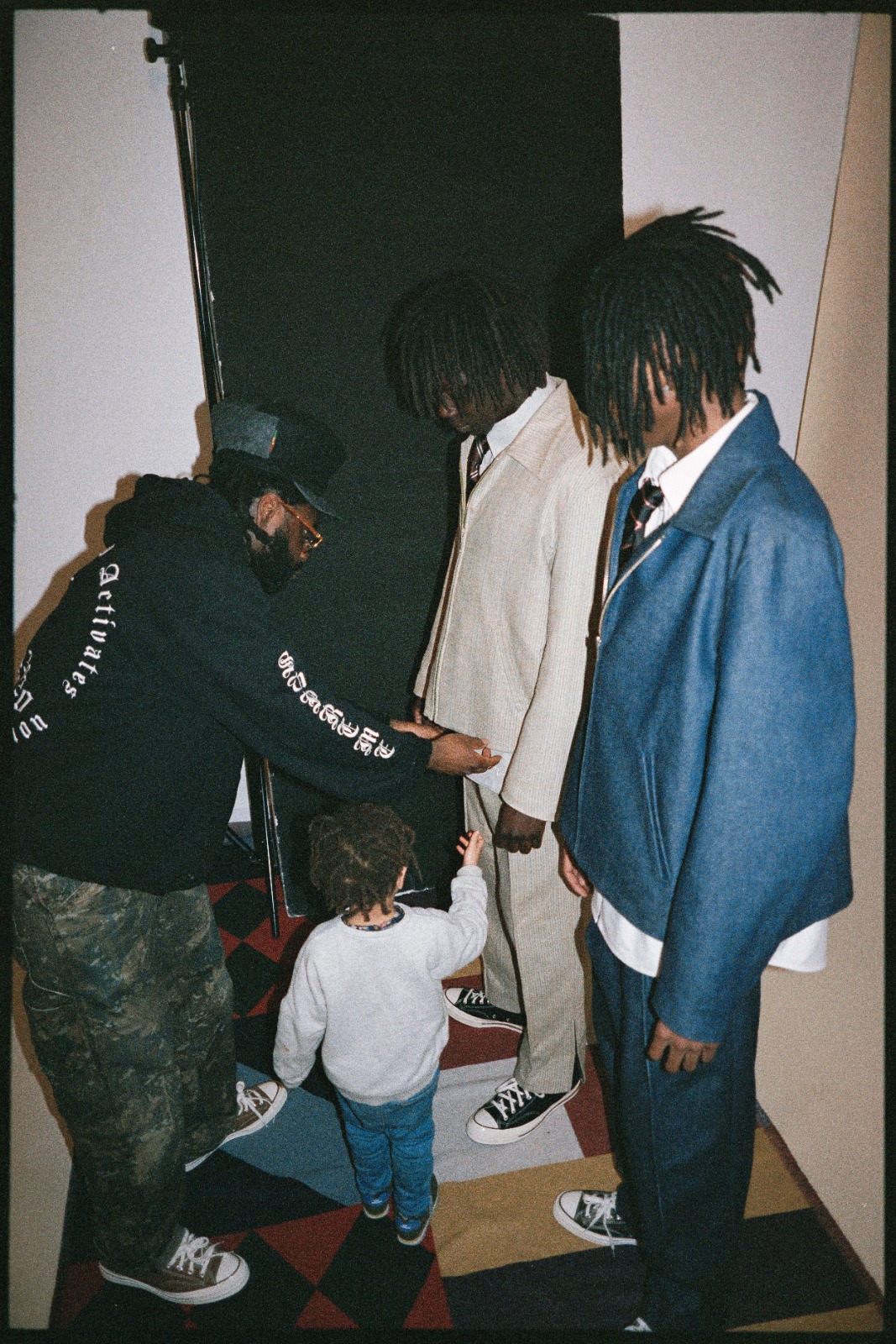 Figurehead of a creative and committed multi-hyphenate generation, Daquisiline embodies fashion's new horizon during this seismic year, when the entire industry is faced with new pandemic related challenges. By supporting the new creative generation and by amplifying progressive voices, Converse reveals their ambitions in creating tomorrow's creative scene, based on a bright and inclusive future. As part of the All Stars program, Daquisiline Gomis strives to create new possibilities in his community and provoke new conversations in sustainability, diversity, representation and youth development — areas where progress is critically needed today.
Below, Daquisiline talks to i-D France's Editorial Director Claire Thomson-Jonville and shares with us his inspirations for this latest collection, his vision for responsible and sustainable fashion as well as the art of collaborating with ones close creative community.
Claire Thomson-Jonville : Hello Daqui, congratulations on your new collection made with the help of Converse's mentoring program. We already knew you here in Paris for the vegan street-food concept you created with your wife Coralie Jouhier. We're now discovering your passion for fashion with your brand Beni Originals, established last June. How do you feel today about being part of Converse's All Star Program and how does the project work?
Daquisiline Gomis : A friend of mine introduced me to the Converse team. It is a classic brand that resonates strongly with my clothes. What I want to do with Beni Originals is to rewire classic garments. I appreciate Converse's originality and their forward-thinking attitude. We're also super aligned on sustainability philosophy and ethics. It was really organic to connect with Converse, really easy to communicate. Next to funding this collection, the All Star program opened me up to new possibilities, new people and even new clients, while always leaving me free in my own creative process. That was most important to me, being able to remain myself. It is a true honor being part of the All Star Program and be part of this program supporting young creatives.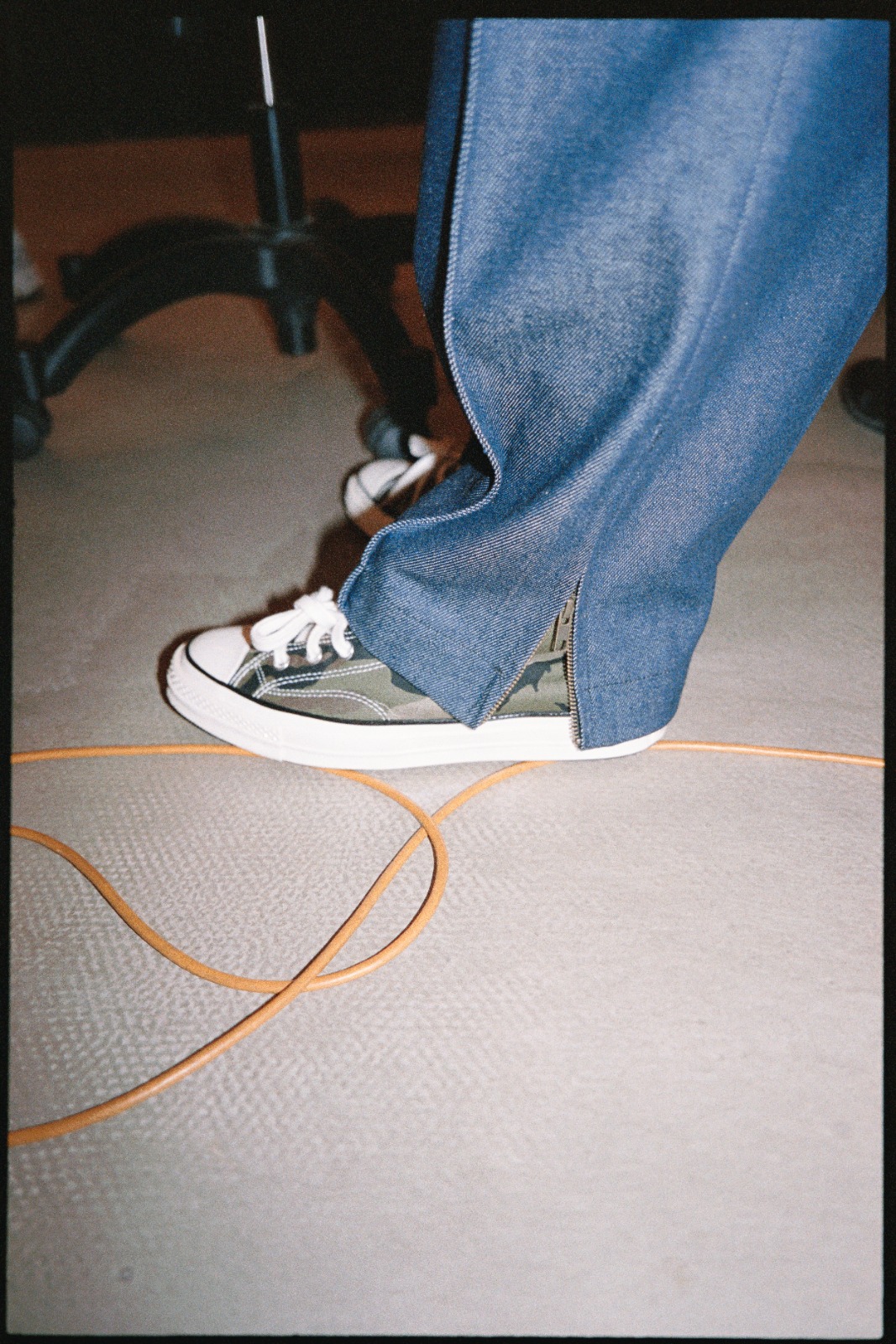 CTJ : In the 1970s, your parents left Senegal for France where you grew up. Your African origins really inform your collections, your first lookbook was shot in Senegal. Can you tell more about the way your cultural heritage is conveyed in your creations today?
DG : I moved to Paris ten years ago. I lived in the suburbs before, in Mantes-la-Jolie. For this collection, I was inspired by my parents who came to work in the Western world and who have sacrificed so much for us in order to make our everyday life better. I wanted to pay homage to them. I try to convey this in the clothes, by adding elegant details to working clothes for instance. When I saw them leave for work, I always found them so elegant, that's what I am trying to express. I really like the concept of the uniform and how people make it theirs.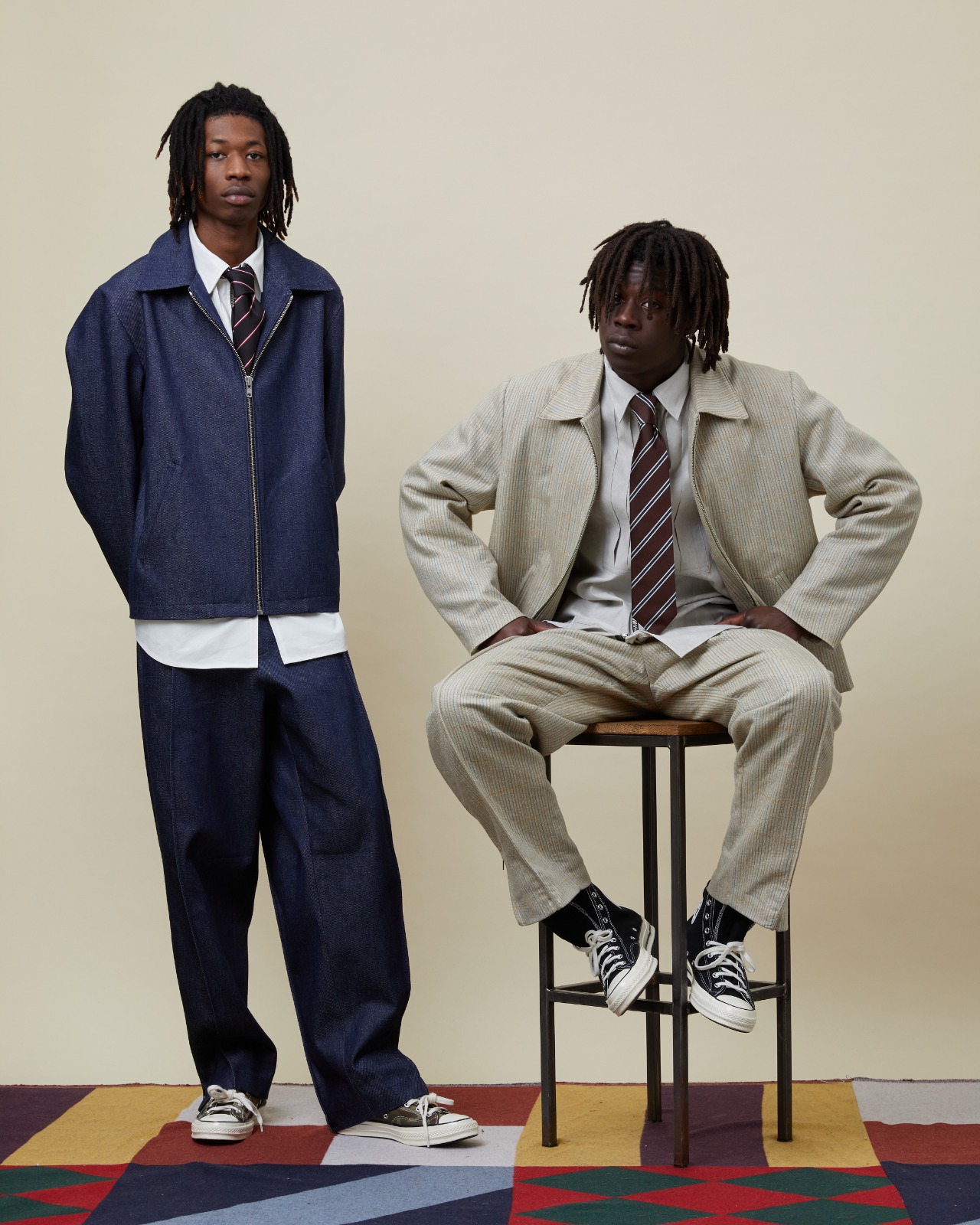 CTJ : It's funny because I hated wearing a uniform at school, and yet now as a fashion editor I wear one by choice.
DG : Yeah,I never wore a uniform at school. I would see them on American TV shows and I always thought they were so cool. I have always dreamed of having a uniform when I think about it, it was some sort of fantasy. My parents were so proud of having a job. It wasn't easy to find one. When they went off to work, it meant changing their everyday life, and their children's as well. The promise of moving forward with their dreams, their projects, that's why they were proud. My father was working in a garage and my mother was a cleaning lady, they each had their own uniform. When I went to Japan, I also discovered how each job had its own specific uniform. Some had short jackets, others had ties. This is when I started liking the concept of uniforms even more, when I understood its importance. Today, by imagining a series of suits, ties, and coats made from fabrics I repurposed from designers or maisons de couture, I wanted to pursue this vision of a sustainable and elegant suit.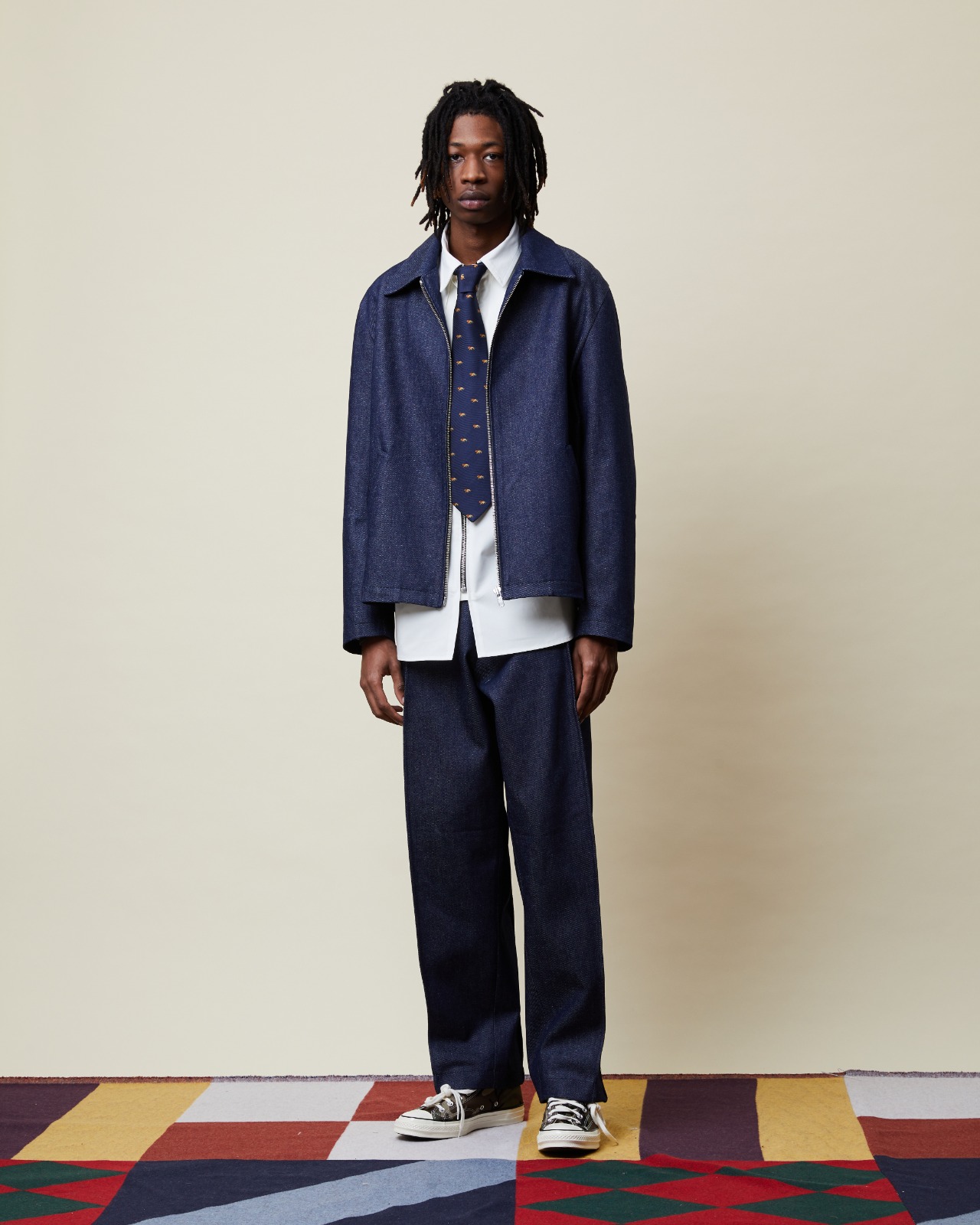 CTJ : This collection is based on eco responsibility, how important was it for you to follow that path? Was it a challenge or more of an inspiration?
DG : We opened a vegan restaurant with my wife six years ago. It has always been our way of life. We don't want to throw anything away, we don't want to waste anything. For me, it is crucial to consume and produce in a responsible way. It's a new way of doing things and for me, it seems to make a lot of sense in the world we live in. There is so much waste in this industry, we have to be mindful every step of the way. This path will become the norm in the years to come. In 2019, I had taken part in Converse's Renew Walk in Paris where we cleaned the streets of the city from cigarette buds, plastic bottles and other litter. Converse's commitment with eco responsibility is also part of Beni Originals' DNA. That's why I decided to position myself in that direction.
CTJ : I wanted to talk to you about your creative family, the way you use fashion to collaborate in a different way. How important are the people you work with?
DG : It is very important to have people close to you who don't necessarily have the exact same vision but who share the same love for the same things. I opened my restaurant with my wife. We work with my little brother Warren, my model, and photographer Djiby Kebe, both members of the All Stars project. Djiby shot my last lookbook and I consider him to be family. When you are an entrepreneur, you create a family around you quite naturally. We work in a very organic way. Everybody brings something to the table. Since we are all self-taught, we know there is not only one way of doing things. The All Star Program also allows me to open up new horizons, new people and even new clients. I am quite an open person. I work from my gut and am always ready to jump into new collaborations. With Converse, we shared ideas, visuals, an also a lot of energy. That's what matters more to me : sharing.
Collection is available now on https://www.benioriginal.com