Lady Gaga's inauguration dress designer rewrites the rules of haute couture
Fresh from dressing Lady Gaga for the inauguration, Schiaparelli's American designer Daniel Roseberry brings comic books and sportswear to couture.
|
29 January 2021, 11:16am
Courtesy of Schiaparelli
"It all happened at the very last minute," says Schiaparelli's Texan creative director Daniel Roseberry over a Zoom from the house's headquarters at 21 Place Vendome. "We had no time, so we dyed the fabric here in Paris, found the navy cashmere locally and we had no time for a fitting. It was, as always, an example of the gifts of the atelier. We would be on our knees without them." He's talking, of course, about the gown he made for Lady Gaga to perform the national anthem in, at the Biden-Harris inauguration last week. Such is the power of haute couture's inherent craftsmanship that it was magically dreamt up in a matter of days, entirely by hand. Just a week before the inauguration, Daniel was contacted by Gaga's team to present a concept for her inauguration dress — and he ended up doing 11 all-white looks at her behest. But it was Gaga who suggested the patriotic red and blue. "She wanted something Gaga-worthy but also appropriate for the moment and didn't distract from the purity of the moment, and the hope that people wanted to feel, galvanised by that performance."
The moment was arguably Daniel's biggest since he became Artistic Director almost two years ago. The couture house was founded in 1927 by the Italian-born Elsa Schiaparelli, who drew on her Surrealist circle of artists to create daring trompe l'œil embroideries and witty silhouettes that pointed out the funny side of fashion. Elsa was a provocateur, and a notorious rival of Coco Chanel, so it seems fitting that Daniel is continuing her streak of irreverence and creating clothes that are a world away from more traditional couture houses, such as Chanel and Dior. His new SS21 haute couture collection, for instance, is inspired by pop stars, comic books and 80s sportswear. Jeans are reimagined in stone-washed duchess silk, muscular 'Incredible Hulk' physiques are turned into sculpted corset-like bodysuits (Kim Kardashian is already a fan), dresses have the touch and fit of a swimsuit (albeit in stretch silk velvet bonded to a tissue-light neoprene) and dazzling Lesage embroideries riff on teeth and toes. There's also ginormous satin hoodies and puffers, and sweater dresses woven with thousands of shimmering crystals.
"It was about reimagining what a woman in couture looks like," explained Daniel, who is one of the youngest designers presenting on the couture schedule, previously working at Thom Browne in New York. "As an outsider, the last thing I wanted to do was come in and make a European's idea of couture — that would be the kiss of death. It would be performative in many ways. This collection is a treasure trove of things I'm gagged for. There are things that wouldn't normally go in a couture collection, but I want Schiaparelli to be an alternative couture house."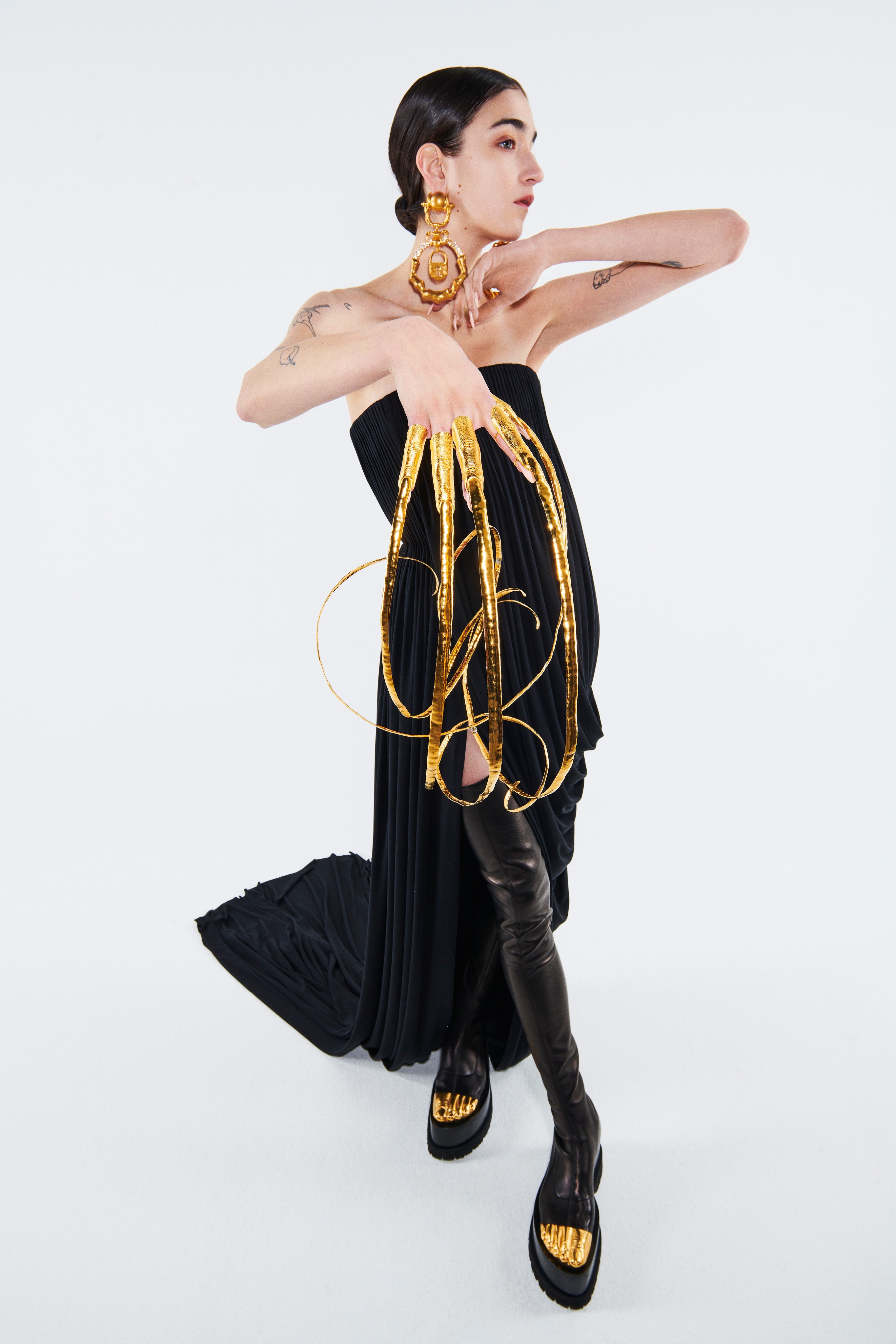 On his mood board were images of Missy Elliott and TLC, Gwen Stefani and Sigourney Weaver in Alien. As he puts it: "Those super strong female cultural figures, who were solely responsible for creating the iconography around themselves." The result is a playfulness that is certainly unique in the Elysian Fields of haute couture, which tend to be more conventionally feminine and delicately ornate. "I feel like this collection is also a reaction against the cynicism that I think is so persistent in fashion," Daniel continues. "There is a hardness and a coldness that feels tryhard, like it's trying to be cool. I prefer a heart- on-your-sleeve sensibility." So, there are literal gold heart-shaped padlocks that appear on many of his sleeves. "I was listening to this podcast about pop music and there's basically two kinds of vocals in pop music — the angelic vocals like Mariah and Ariana and Whitney — and then demonic vocals, which are easy to sing along to and are stripped back, like Dua. It's much less emotive and intentionally first-degree. This is an 'angelic vocal' couture collection."
In a world we're even the lucky few who can afford haute couture are experiencing the shows digitally, Daniel's collection also strikes a chord with the attention-grabbing imagery that instantly stops us in our endless scrolling. So much of his collection — whether it's a gold baby suckling at the breastplate of a zip-up hooded Madonna dress, or a pair of couture boxer shorts and sweatpants embellished in sequined Schiaparelli signature — is ripe for being reappropriated as fashion memes. "For me, there is always going to be a fraction of looks that are client-friendly, but a huge part of it is for VIP and keeping us at the forefront of the cultural conversation," he says. "Perhaps the Dior collection is made to be experienced in person, but for me, it was about creating something that was outrageously couture in its execution but also aggressively digital in its intention." So, there you go — haute couture for the age of Instagram. If it's good enough for Gaga…