Helena Manzano's highly-coveted, textural designs are inspired by botany
For spring/summer 21, the London-based designer is making clothes for lazy, surreal summers.
|
04 November 2020, 3:40pm
Photography Eloise Parry
Helena Manzano has been studying botany since she was a child. "I love flowers and I love plants," she tells me, over Zoom from her London studio, where she's preparing her hotly-anticipated autumn/winter 20 drop. "I do a lot of gardening and foraging." Of course, Helena's passion for botanics isn't surprising to anyone familiar with her work. The Andalucía-born designer's signature floral-printed sets have become Instagram Explore perennials, cropping up in seasonal SSENSE drops only to be plucked by a lucky few of her cult following, just as quickly. But Helena's love for plants speaks, too, to her singular creative process: "constantly evolving, very organic, very fluid," akin to the ever-forking branches of an old tree or a flower that twists towards the sun.
Contrary to convention, the seeds of Helena's namesake label, HELENAMANZANO, weren't planted during the designer's time at London College of Fashion, but afterwards, and completely by her own hand. A fresh graduate from the school's BA fashion design program and disappointed with the portfolio she'd developed during her degree, Helena decided to create a new collection, on her own terms, before pursuing her desired career as a researcher. After shooting the lookbook with friend and photographer Eloise Parry, and posting the images to Instagram — "for no purpose whatsoever," she notes — the designer was picked up by Opening Ceremony for the spring/summer 17 season. "It was quite accidental that I ended up having my own brand," Helena says. "I just really wanted to be quite anonymous, doing research for other people, for a big fashion brand. I never aimed to start my own."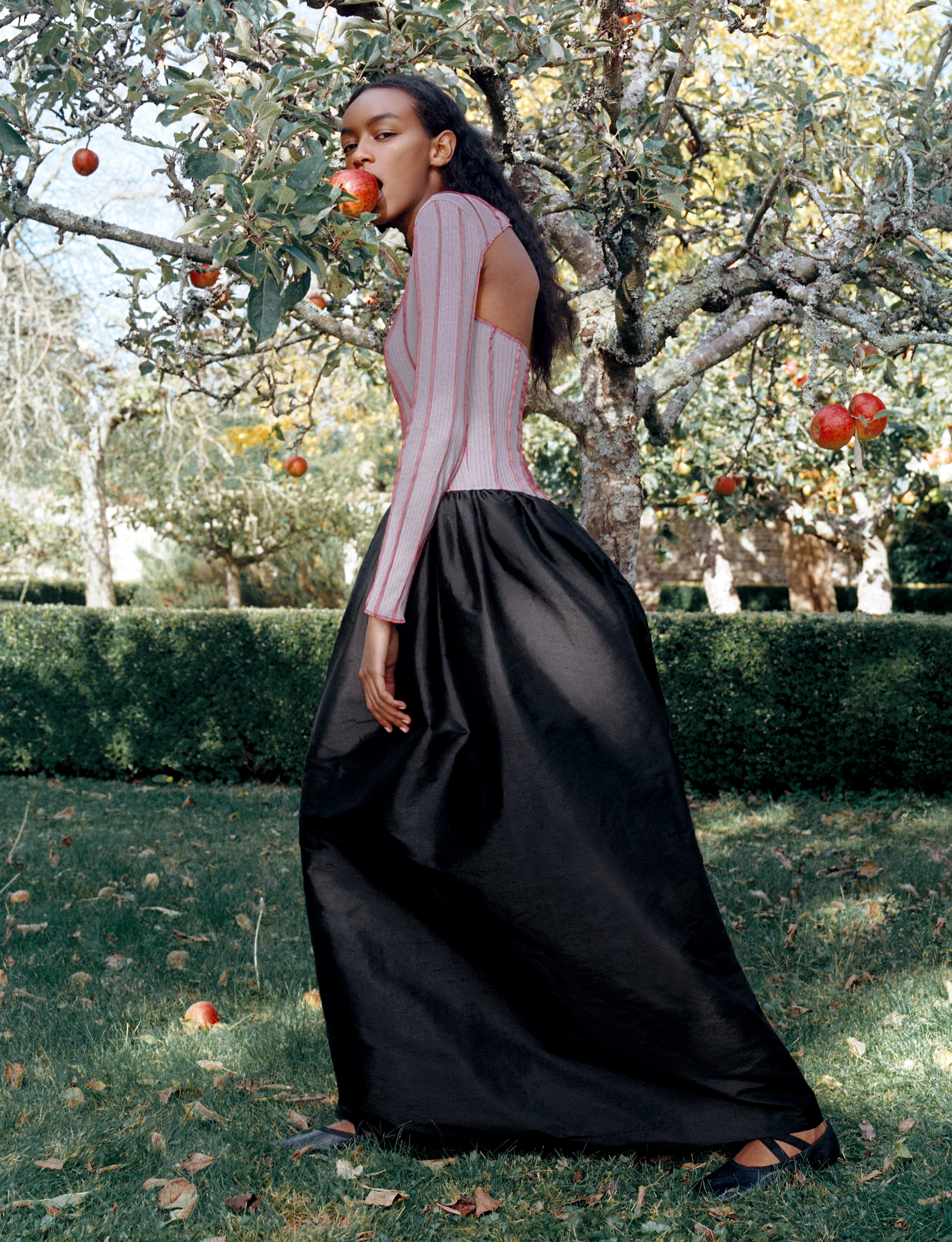 Helena's post-graduate collection laid the groundwork for what would become the designer's distinctive aesthetic, including her now-signature 3D stripe designs. The inspiration behind the look, the designer says, came from her penchant for pinstripe suiting. "I wanted to create an optical illusion to depict the dimensional shape of the suit, and I wanted it to look like a relief, for it to be 3D. I was trying to give a duality to the garment through texture so it would occupy more space," she explains. The branching, undulating raised seams, which appear across the designer's jersey sets and tailoring, alike, have become synonymous with the HELENAMANZANO label. And that was kind of the point. "I wanted to create a side to the brand that would always stay the same, but evolve through materials, shapes and colours," she says. Somewhat surprisingly, considering the label's cooly unconventional aesthetic, it's this concept of "the staple piece" that grounds and guides the designer. "When I create pieces, I want to make things that people will appreciate. They're not going to wear it just because it falls into a trend or into a desire that needs to be filled; they're not pieces that are going to be discarded in a year or a season," she says.
This sensibility towards sustainability flows into all other aspects of the brand, as well. For the label's first few collections, Helena sourced deadstock materials, "leftover rolls from very big fashion houses," from a warehouse outside Paris. But now that demand for her pieces has sky-rocketed and production has grown to match, she's begun working with a mill to craft her own fabrics. "We want to make sure we know where all our materials come from because we mainly use cotton, and there's a very big problem with where it comes from," she says. "The mill takes a lot of care in specifying the origin of the yarns. Most of the cottons we're using have certified origin and are organic." This attitude trickles down into the more mundane aspects of daily production, too: all of the label's packaging is compostable, "made from potato starch," the designer notes.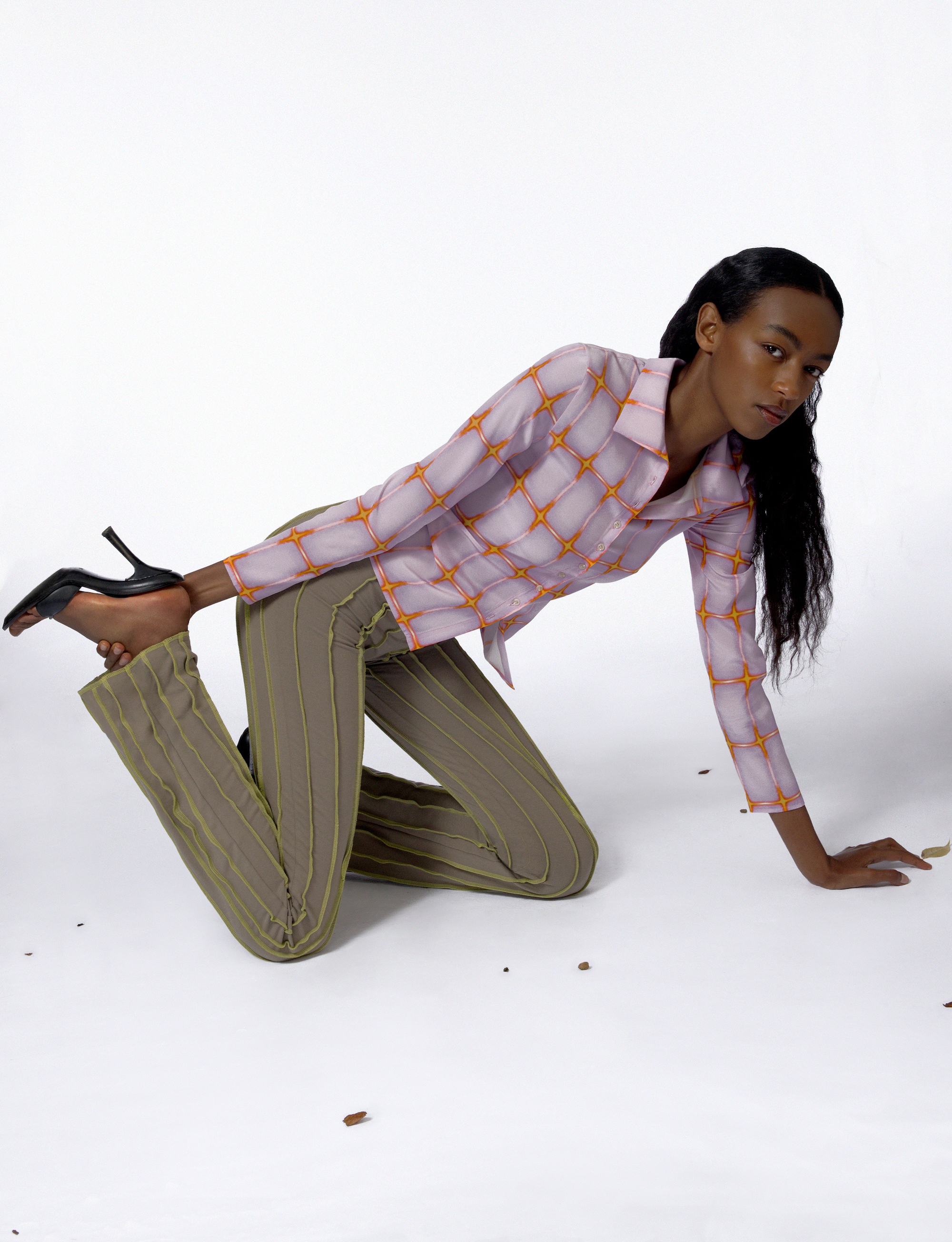 Helena's creative process is what you would call "organic", too. "Every season feeds the next: I have staple pieces that constantly evolve and through that, new pieces are born. It's very sensorial, so inspiration tends to come from things I've experienced," she says, before adding. "It's hard to explain, it's quite natural." The designer deals in moods rather than moodboards, finding inspiration from the ebb and flow of life, daily motions, interactions with friends and family, rather than archives.
The designer's spring/summer 21 was inspired by an estival homecoming to Alméria, Andalucía, during London's lockdown. "I went back home to see my family and I was just experiencing being at the beach all day. It's about the transition you go through during summer. Basically being undressed all day because you're in the sun and swimming. And then the feeling of having a shower, afterwards, and putting on a simple dress and feeling quite elevated. It's about the power you get from that, the confidence," she says of the mood surrounding the collection. "I was observing all the women around me going through the same thing. Whether they had a similar style or not. They were all wearing these very specific, staple-shaped dresses." These very dresses, all in breezy white and featuring Helena's 3D stripe twist, are the centrepieces of the designer's SS21 offering. These particular looks mark an aesthetic departure for the designer, whose colourful patterns have blown up on Instagram in the last few seasons. "I wanted the collection to be purist," she explains, of the monochromatic white gowns, a more refined look for the label. "I wanted to take a new step, cater a bit to the mom of my last customer."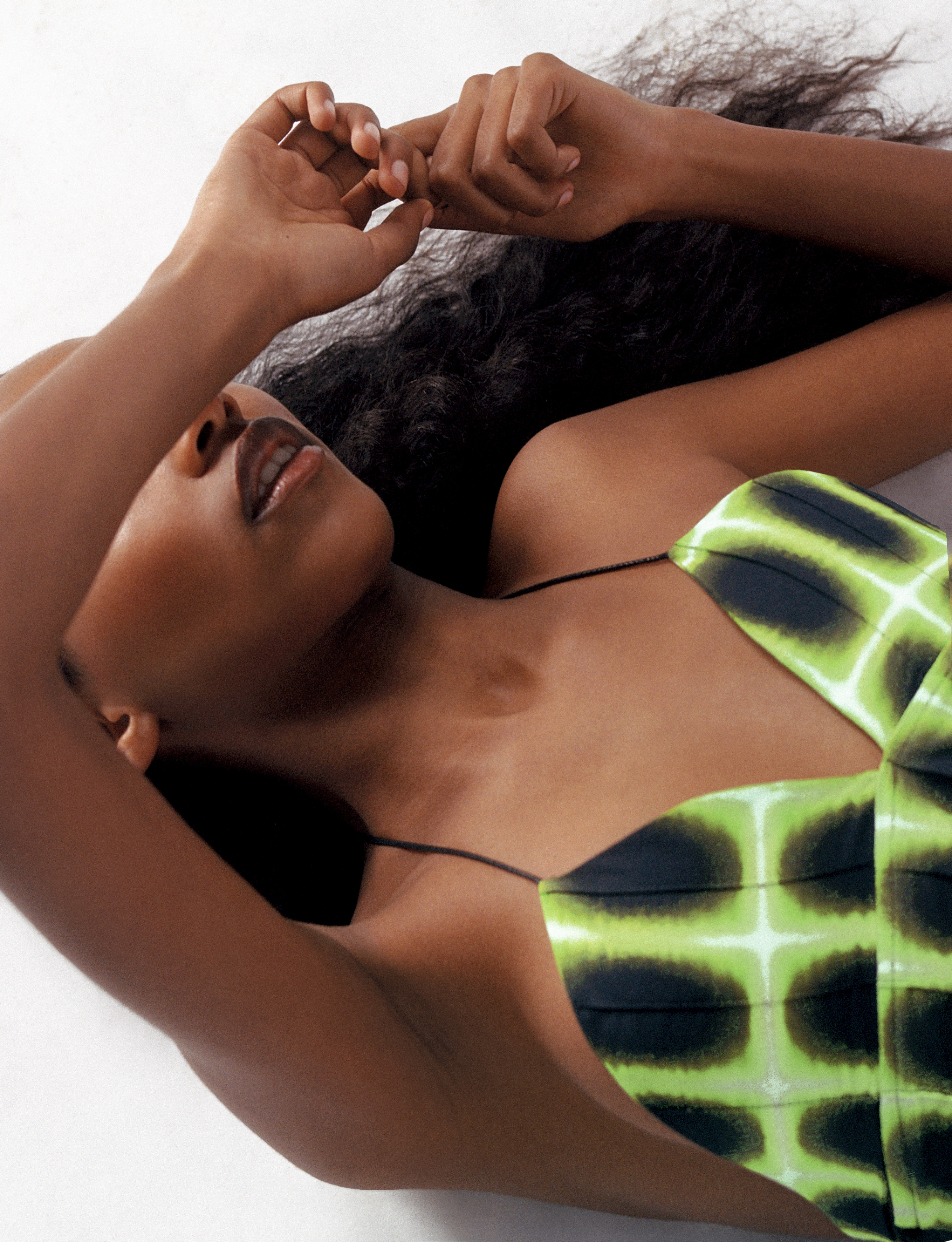 Splashes of electric, "summery" colour do, however, make an appearance. In lieu florals — including last season's pink flowers, inspired by those in her grandmother's garden — this season's digitally-rendered prints are inspired by mouldy pool tiles, spreading out in neon green and orange across jersey shirts and tube tops.
"It's inspired by that static, not-much-happening feeling in summer," Helena says, returning to the sentiments that inspired her latest collection. "There's something about summer in Italy and Spain, where you tend to go back home and it has a surreal touch to it. It was inspired by the women around me and how everyone goes through the same routine everyday."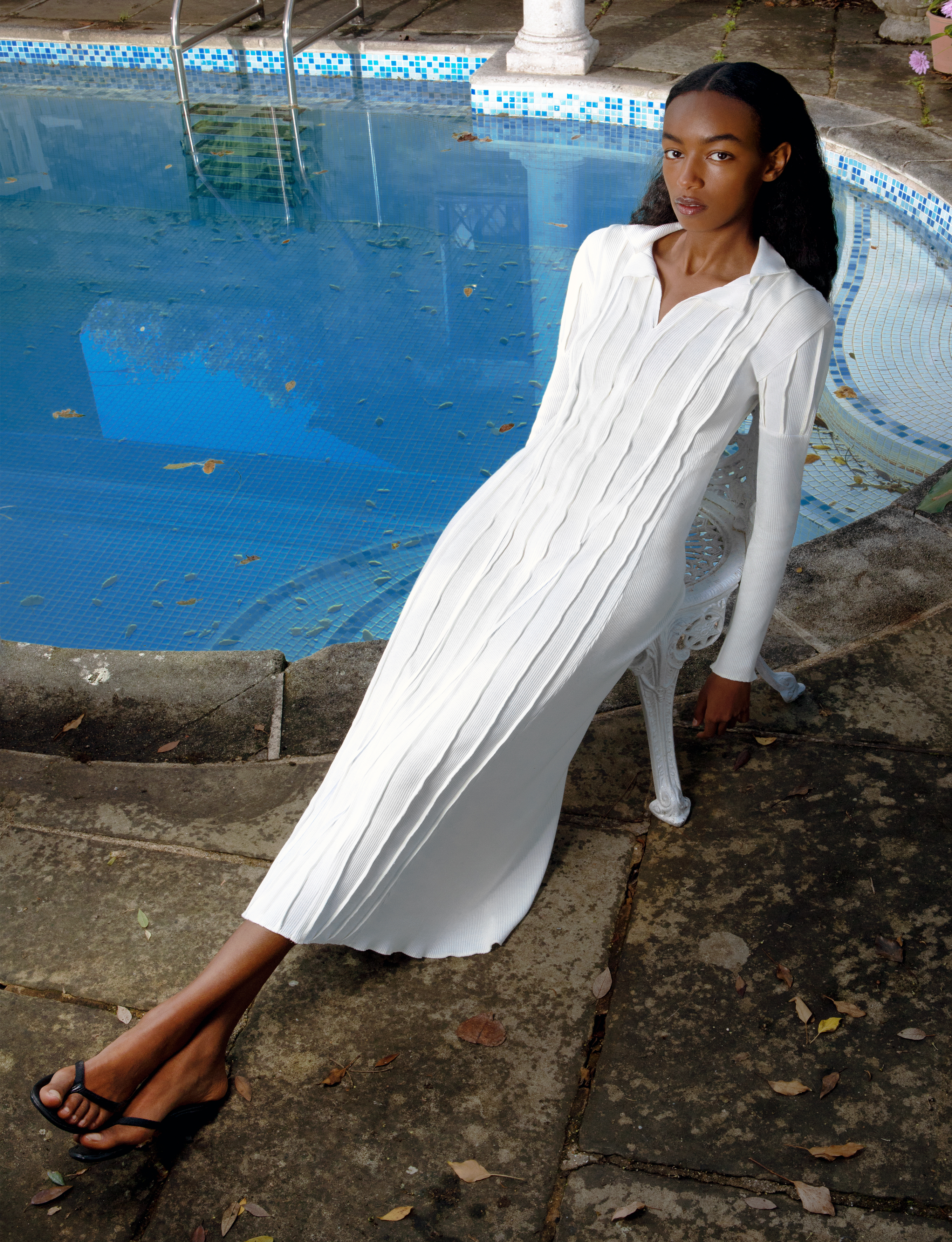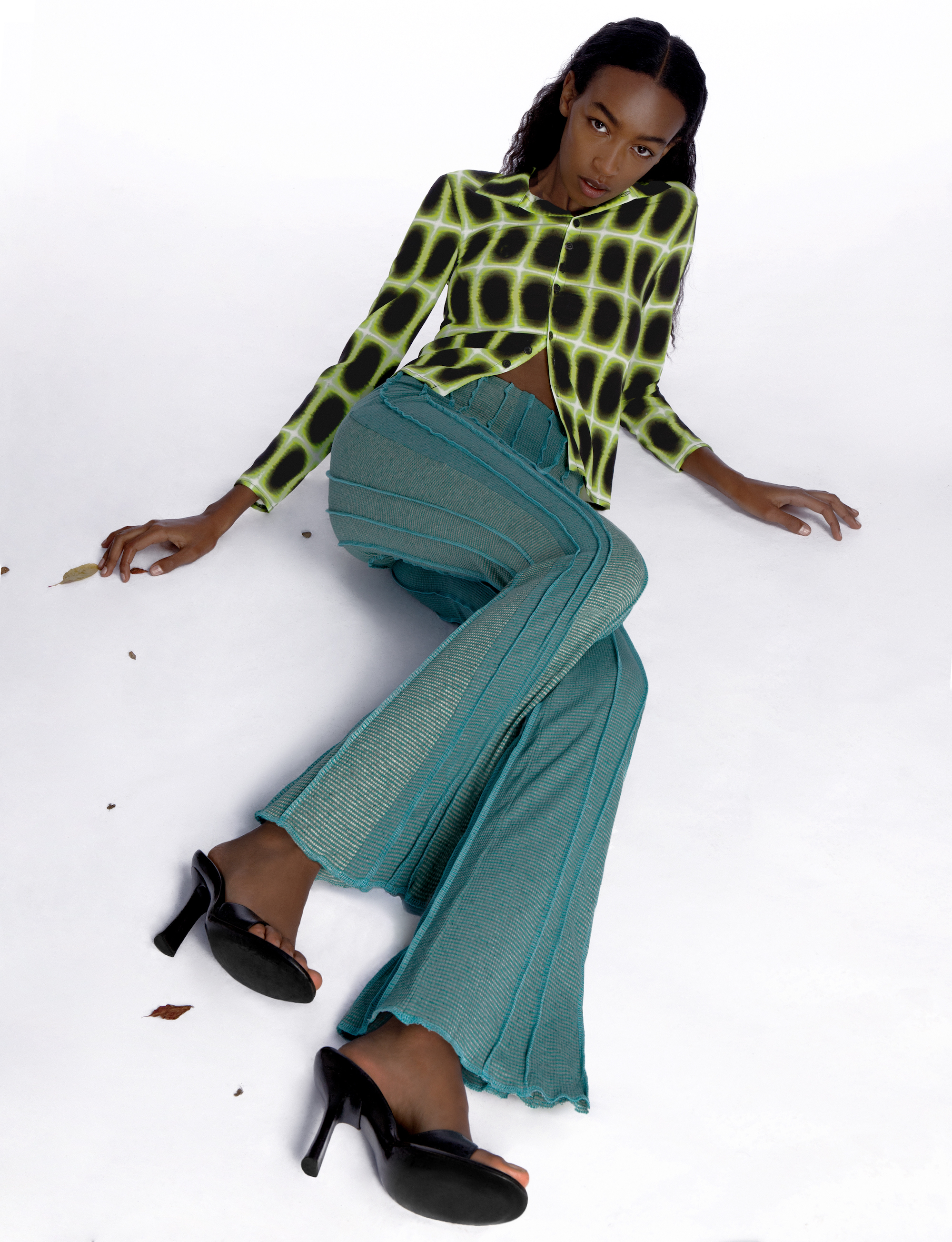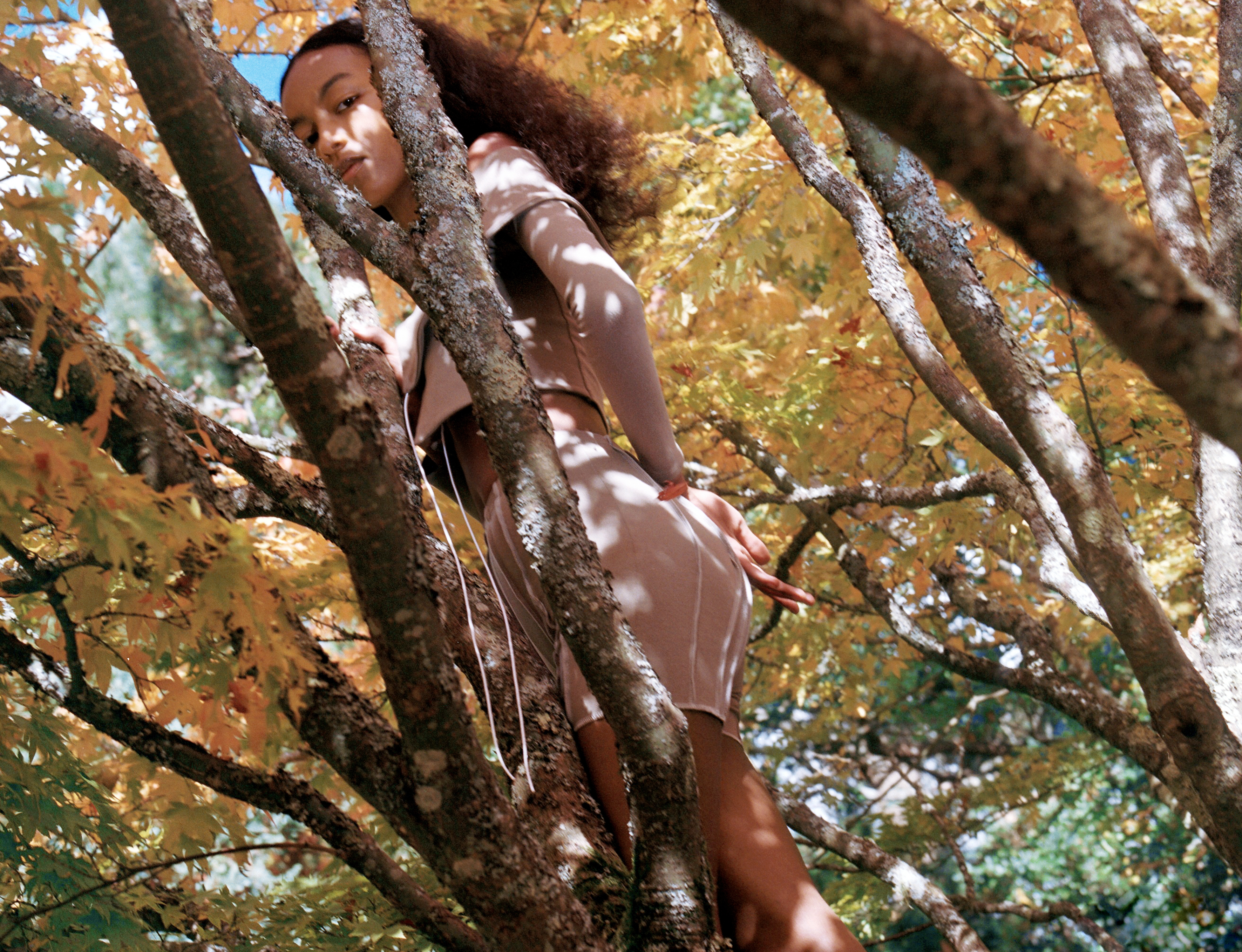 Tagged: