Listen to Ashnikko's messed up Halloween playlist
The London musician just made you a spooky soundtrack.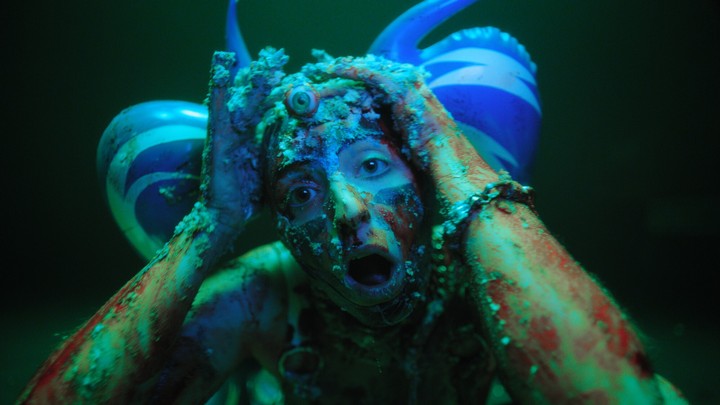 Photo courtesy of Ashnikko.
What are your plans for this Halloween weekend? Are you planning a binge watch of horrors: some vintage ones, Korean ones or maybe the scariest one ever on loop? Are you planning on switching the lights off and freaking out in the comfort of your own home to Kim Petras' "Turn off the Light"? Do you have no plans whatsoever? Well, Ashnikko is here to fix that.
Yep, our new favourite messed-up pop star, known for her bombastic and colourful brand of rap-pop has very kindly put together a whole playlist of songs to soundtrack your Halloween weekend. They segue from Grimes to Rob Zombie to Kesha to Lady Gaga, with a little shake of Shakira's "She Wolf" in there too.
It's all in preparation for her Halloweenie party, which is happening this Saturday over on Twitch. Read on to find out about her plans, how to get involved with her livestream, and check out that iconic playlist below too.
What are your costume plans for this year?
I made up my own character involving blue skin, blue body hair, eyeballs and pigtails. Like a beast from X-Men and I had a baby, with a dash of trypophobia.
And what's the greatest Halloween costume you remember from your childhood?
I went as a bearded garden gnome one year!!! Iconic behaviour on my part.
Who does your amazingly gross SFX makeup?
My sweet Georgia Olive!!! She's so talented I can't believe it. She doesn't even question why I want her to completely remove my eyes, or add teeth to the side of my face.
Why should people come to your Halloweenie party on Saturday?
The vibes!!!!!!!! Tune in on my Twitch channel! You'll be able to see my Halloween costume that my whole team has been working super hard on — shout out to my amazing stylist! There will be spooky Halloween mixes and dancing and me shoving fistfuls of Halloween candy into my mouth. We're still trying to turn up and dance on this blessed day regardless of the pandemic (safely and on Zoom of course).
Got any spooky holiday wishes for our readers?
If you're American and 18+ please go vote the orange fuckface out of office please!!! The world is haunted as hell right now!!!