Raf Simons AW03. Still via YouTube
From post-punk to hip-hop: how music fuels Raf Simons
We investigate the music references that pepper the Belgian designers' work, including his collaborative relation with Peter Saville and enduring love for David Bowie.
Raf Simons AW03. Still via YouTube
More than two decades into his career, Raf Simons' weird and wonderful creative universe has come to encompass far more than just clothes. With references spanning the worlds of art, film and music, he's fashion's very own pop-cultural encyclopaedia. Looking back across Raf's collections -- from his eponymous label, to Jil Sander, to Dior, to Calvin Klein, to his SS21 Prada debut -- it seems there isn't a corner of countercultural history he hasn't, at some point, funnelled into a fashion show. But where did it all begin? In this three-part series, we take a deep dive into the self-contained world of references Raf has developed and returned to again and again following his debut womenswear collection -- and how they shaped the designer he is today.
For the second instalment of the series, we're looking at one of Raf's earliest influences: music. Whether it's the punk records that defined his teenage years in Belgium, his enduring obsession with the record covers of Peter Saville, his multiple odes to hero David Bowie, or even the audience he's found more recently in the hip-hop world, here, you can find our one-stop guide to Raf's love for the music world -- and how it's grown to love him back.
Punk
While Raf Simons might have launched his eponymous label in 1995, it wasn't until he started staging shows in Paris three years later that he began to garner broader attention for the youthful energy of his avant-garde designs. Having initially studied furniture and industrial design at a college in the eastern Belgian town of Genk, he moved to Antwerp to intern for Walter van Beirendonck. Later, he was encouraged by Linda Loppa -- the fashion design professor who famously served as a mentor to the Antwerp Six -- to launch a menswear line, despite his lack of formal training.
In a notorious piece of fashion lore, it was during a visit to Paris assisting van Beirendonck that Raf attended Martin Margiela's infamous SS90 show, held in a derelict playground in an outer Parisian suburb. Margiela -- with whom Raf and his milieu were already fascinated -- opened the young designer's eyes to the possibility that fashion could speak to those outside of the industry's rarefied bubble. In an interview with The Gentlewoman, Raf noted that he "always thought fashion was a bit superficial, but this show changed everything for me."
So, for his second runway show -- the SS98 "Black Palms" collection -- he channelled the same guerilla spirit as Margiela, staging it in a disused car park near the Bastille to a soundtrack of Belgian New Beat, an underground fusion of techno and acid house. Waifish, street-cast models stormed the runway painted with the silhouettes of palm trees and the anarchist emblem, while others wore slashed tank tops and tees printed with the artwork of Sex Pistols's Never Mind the Bollocks. This invocation of the spirit of punk -- a moment in countercultural history Raf would return to repeatedly -- wasn't intended as anything nostalgic, but rather a statement of intent. With his expansive knowledge of pop culture and renegade instincts, Raf was here to break new ground.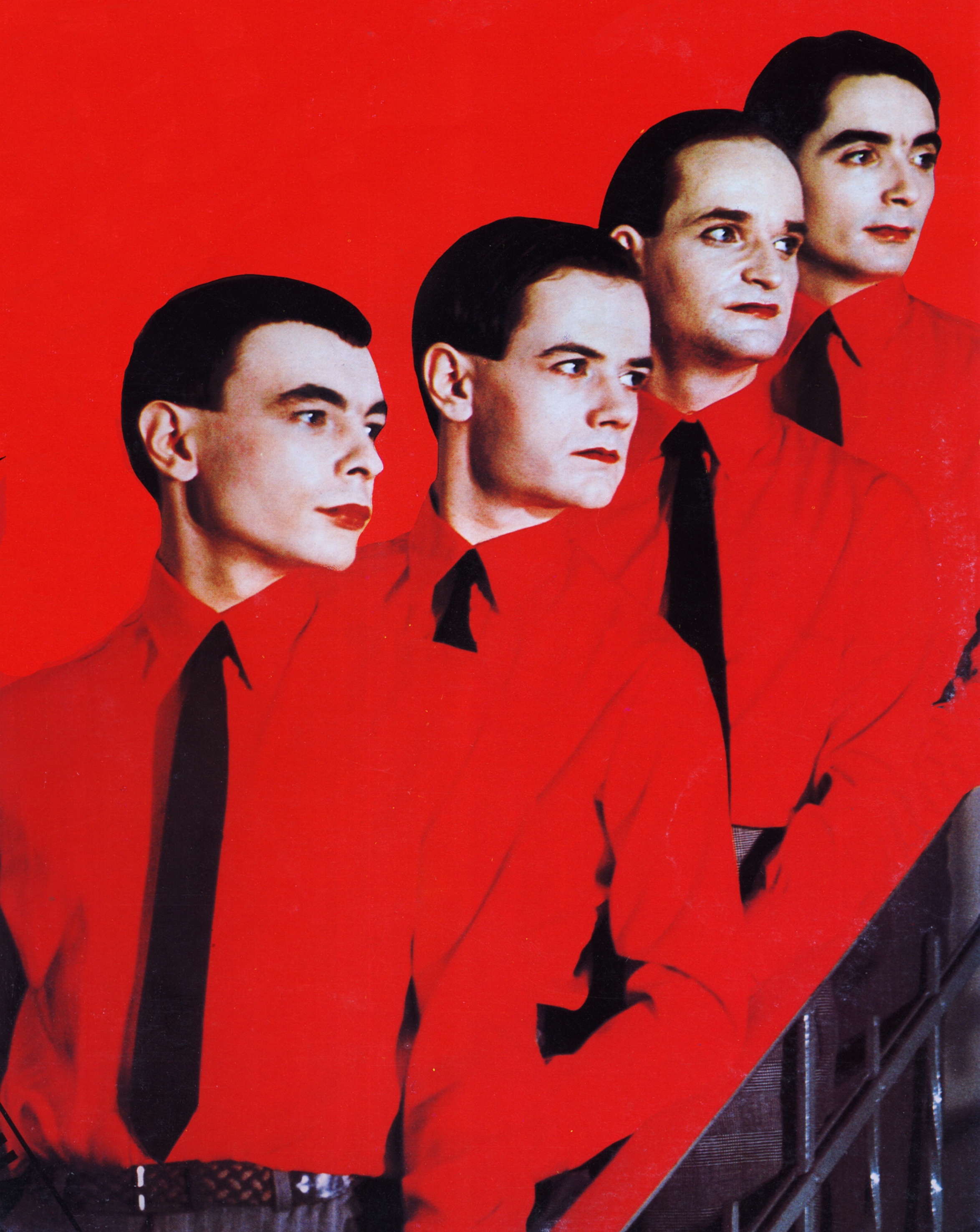 Kraftwerk
It only takes a glance back to the dominant trends of the time to understand just how seismic Raf's arrival in the world of fashion was. Tom Ford's high octane, sexed-up designs for Gucci were at the height of their popularity; but at the same time, the market for directional menswear was beginning to grow. Raf stepped in at just the right moment -- there was a sea change in how men wanted to dress, and a new generation of customers was looking for clothes that reflected their pick-and-mix approach to pop culture history.
As a follow-up to the grungy "Black Palms" collection, he made a complete pivot, with a slick show inspired by cult German electronic group Kraftwerk. This high-concept spectacle, staged at the Moulin Rouge, came in a simple palette of red and black, and was later described by the designer to T Magazine as "nothing to do with fashion, only with music." To the strains of Kraftwerk's "Autobahn", models travelled down escalators and moved with robotic precision, creating an eerily futuristic mise-en-scène. But it wasn't just this bold synthesis of music and fashion that marked a major step forward for Raf -- it was also the beginnings of his career-long obsession with innovative tailoring.
Where his previous work had been coloured by the youth culture of his native Belgium, for the Kraftwerk collection he delivered look after look of impeccably-cut skinny suits, coats and trousers, crafted with a precision that overcame any doubts that Raf's aesthetic was too unrefined or youth-driven to reach a broader audience (and also foreshadowing the runaway success of Hedi Slimane's rakish silhouettes at Dior Homme over a decade later). The final looks saw models step out in exact replicas of the outfits worn by Kraftwerk on the cover of their 1978 album, The Man-Machine, and featured a cameo from the band themselves.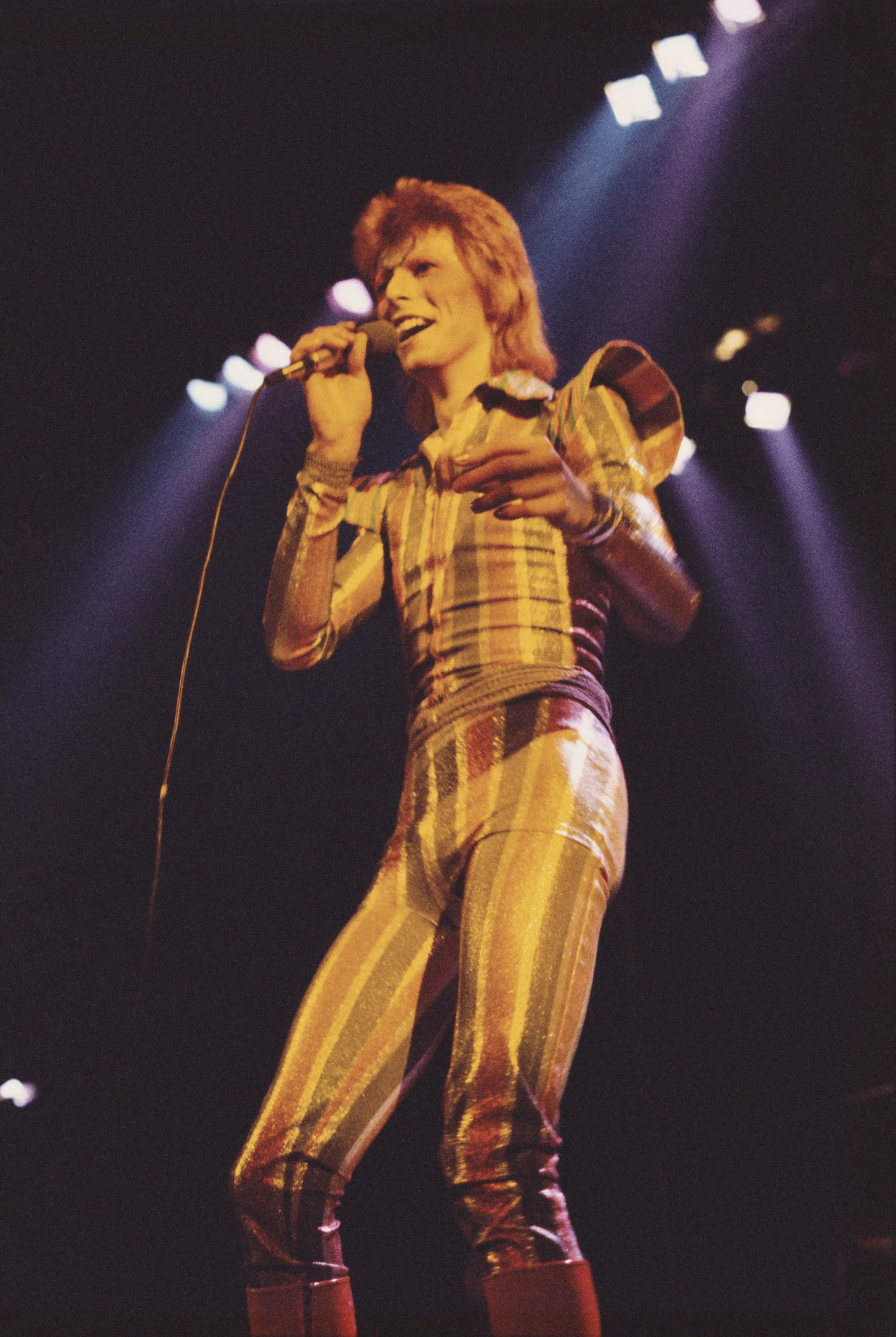 David Bowie
If you were forced to name a single musician as Raf's most consistent influence, it would be David Bowie. There are the Aladdin Sane screen-printed tees he designed way back in 1995 for the launch of his label; his SS99 collection soundtracked by "Life on Mars?"; the knitwear covered in Bowie patches for AW01; and even his inaugural show for Calvin Klein which began and ended with Bowie's 1985 classic "This Is Not America."
While there are a host of more literal references to the musician throughout Raf's career, what really marks Bowie out as a creative ancestor of the designer isn't just his face plastered on a T-shirt, but their shared spirit of unrelenting innovation. When Raf was hired as creative director of Jil Sander in 2005, many were baffled by the decision: here was a designer who had no formal fashion training and whose career thus far had existed entirely in the realm of menswear. Raf's trademark aesthetic was an irreverent, rough-around-the-edges take on subcultural dressing -- the polar opposite of Sander's trademark minimalism.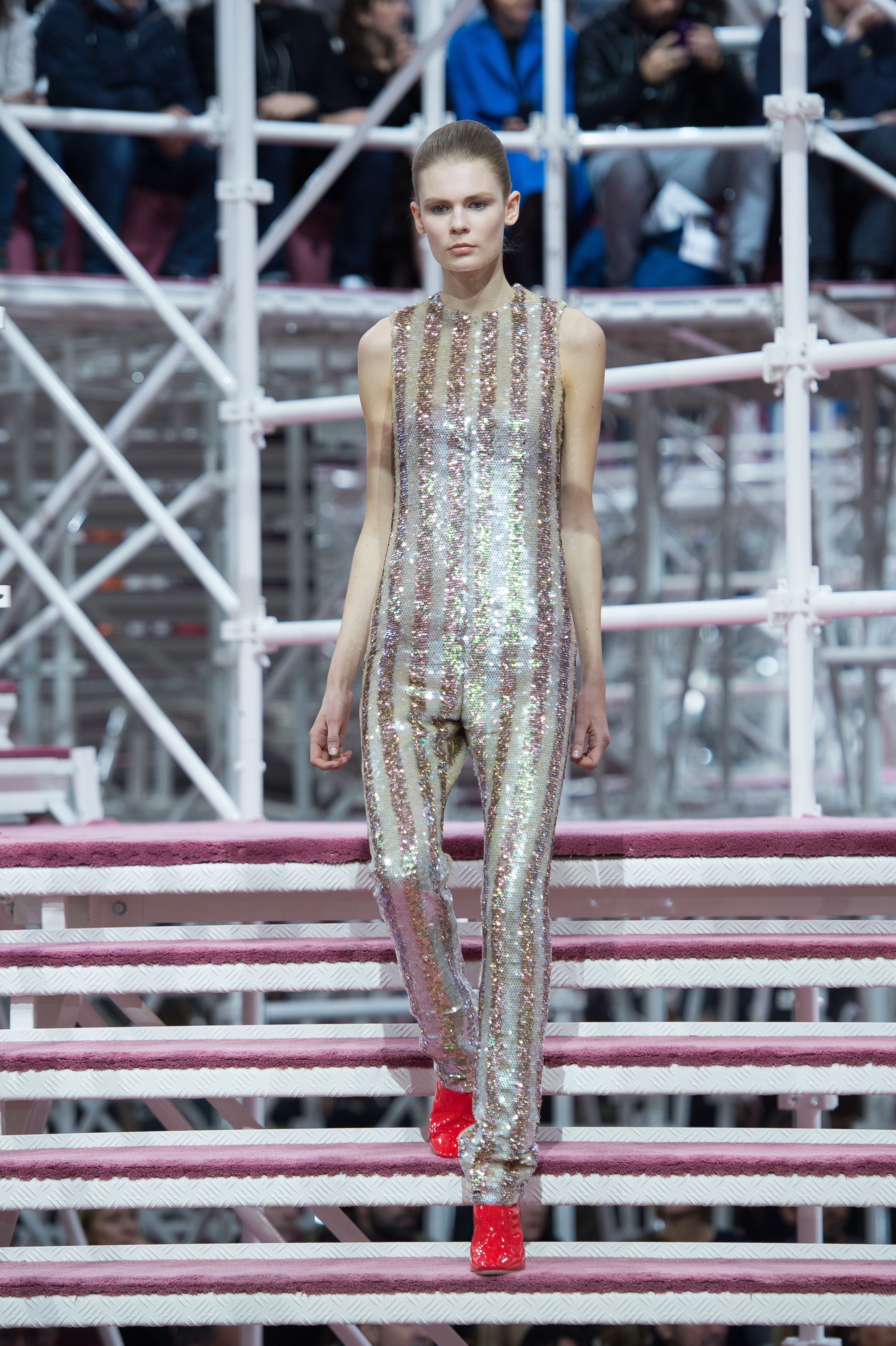 And yet, from the first collection onwards, it was an undisputed hit, as Raf proved his ability to adapt to a drastically different client base with the same confidence as Bowie and his chameleonic reinventions. Following his stint at Jil Sander, he would go on to take up the mantle at Dior, which he once again adapted to with impressive ease, given the house's codes of florals, femininity and flounce. But his passion for Bowie was perhaps most memorably expressed in his SS15 couture collection for the house: notably with a striped and sequined jumpsuit that revamped the singer's Ziggy Stardust-era costumes for the modern woman. It seems that wherever Raf goes, Bowie always follows.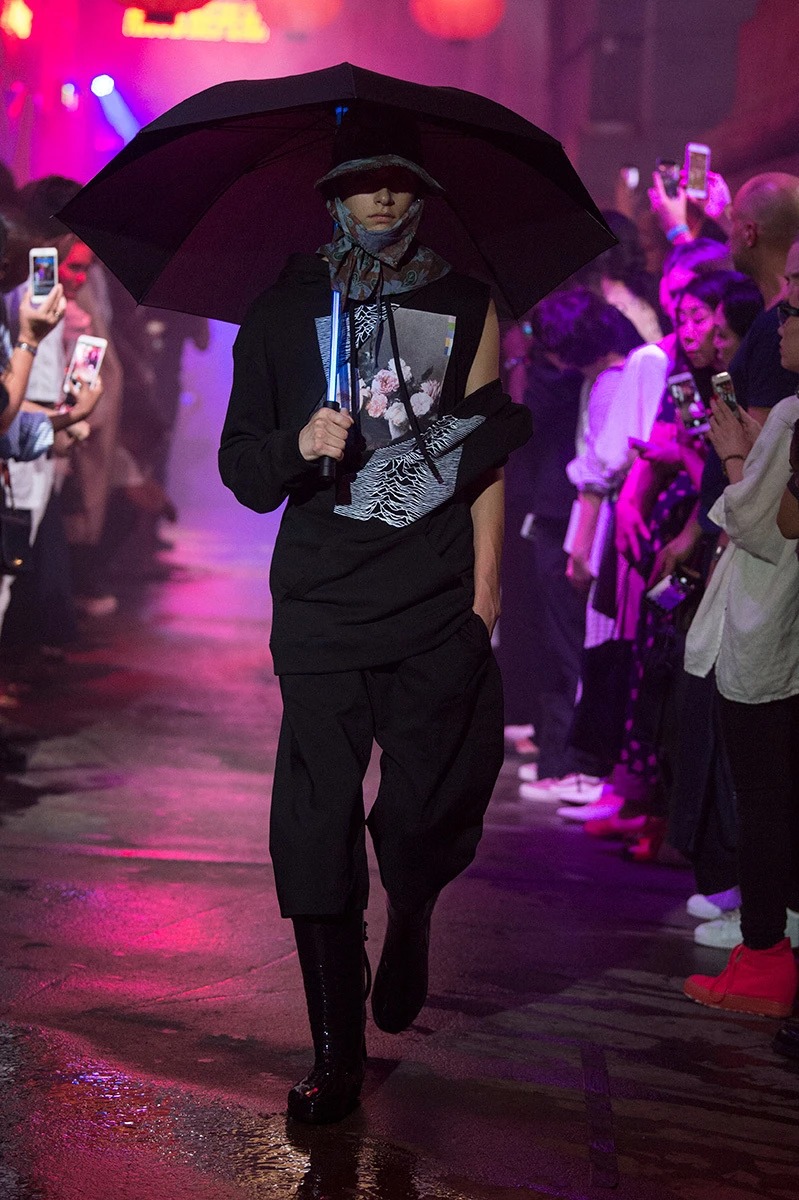 Peter Saville
In a conversation with Kanye West for Interview, Raf noted that Neerpelt, the town he grew up in, "was so small there was no outlet except for one little record store. I think that's where it started for me, just picking up records." It's easy to forget that back in the pre-Internet era, outside of the music store listening booth, it was the record sleeve that sold an album. "I picked up things because of the imagery," Raf further explained in an interview for The Talks. "We have to think back in time -- no computers, no mobiles, no nothing -- it was pure isolation in a way."
Peter Saville's now-iconic designs for Factory Records, including seminal LPs from British post-punk bands like New Order and Joy Division, introduced Raf to the avant-garde music coming out of Manchester. So, when Raf was planning his AW03 collection -- a show that "reflected on the process of growing up and reconsidering adulthood", and the marker of a newly mature chapter for the designer -- the legendary art director was at the top of his list for potential collaborators. Raf ended up being granted full access to Peter's archives, most famously printing the graphics on a series of fishtail parkas that now rank among the designer's most coveted archival pieces, fetching tens of thousands of dollars on resale sites.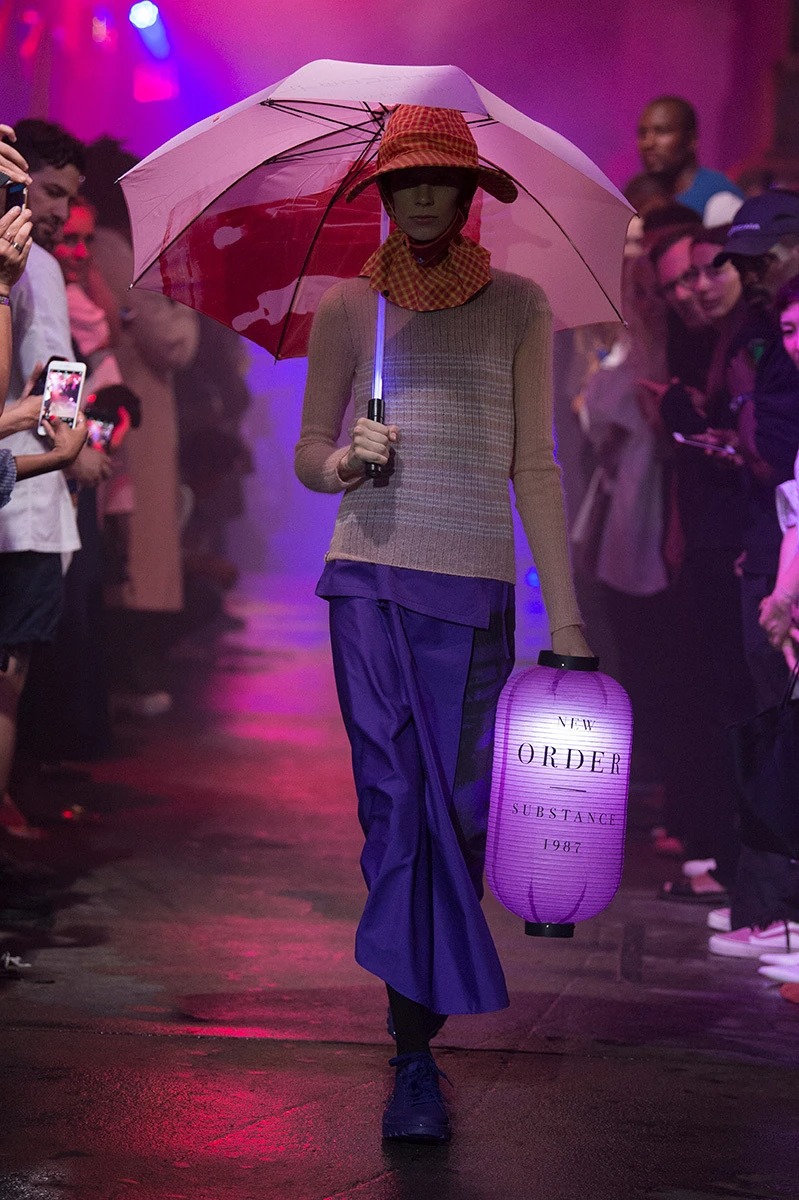 Since then, Raf and Peter's working relationship has become one of fashion's most fruitful. When Raf was invited to take the helm at Calvin Klein in 2016, he enlisted Saville to redesign the brand's iconic logo; later, for his SS18 collection, artwork from New Order records reappeared on t-shirts and was printed onto Chinese lanterns in a campaign lensed by Willy Vanderperre. For his eponymous SS21 collection last week, he returned to the work of Joy Division for inspiration once again, citing their songs "Isolation", "Incubation" and "Disorder" as a starting point for its throwback to Raf's youth. For a designer like Raf, music isn't simply the soundtrack to a show, but a window into another time and place. It's this soul and authenticity that has ensured these decades-old designs are still in hot demand by young fashion fans today.
Hip Hop
"Please don't touch my Raf." "Raf Simons, Rick Owens, usually what I'm dressed in." "It's rare Raf, when I wear Raf." From his breakout hit "Peso," to a 2017 track titled simply "RAF," rapper and self-professed "fashion killa" A$AP Rocky has never shied away from declaring his unlikely admiration for the softly-spoken Belgian designer. But A$AP is hardly the first figure from the world of hip-hop to profess his obsession with Raf's groundbreaking designs.
It's difficult to pinpoint exactly when Raf became the go-to designer for the world's buzziest rappers: while his most recent decade of work is associated with a refined approach to form and line, his early collections -- "Black Palms," for example -- represented a prescient example of the trickle-up trend, surreptitiously placing countercultural streetwear within the elite world of high fashion well before it swept through the industry like a forest fire. Kanye West has been a long-time fan, noting the designer's impact as far back as 2008 on his influential record 808s & Heartbreak. Today he's regularly papped (along with Kim K) wearing archival outfits borrowed courtesy of avid collector David Casavant. After all of his years plumbing music for inspiration, it's nice to see that hip-hop's unlikely love affair with Simons has resulted in the world of music giving something back. Just remember not to touch their Raf.
Tagged: