Cock Destroyer Rebecca More is blazing a trail for pornstars in pop culture
Britain's best-loved adult star discusses consulting on Adult Material, her upcoming reality show and her mission to cast sex work in a positive light.
|
28 October 2020, 11:09am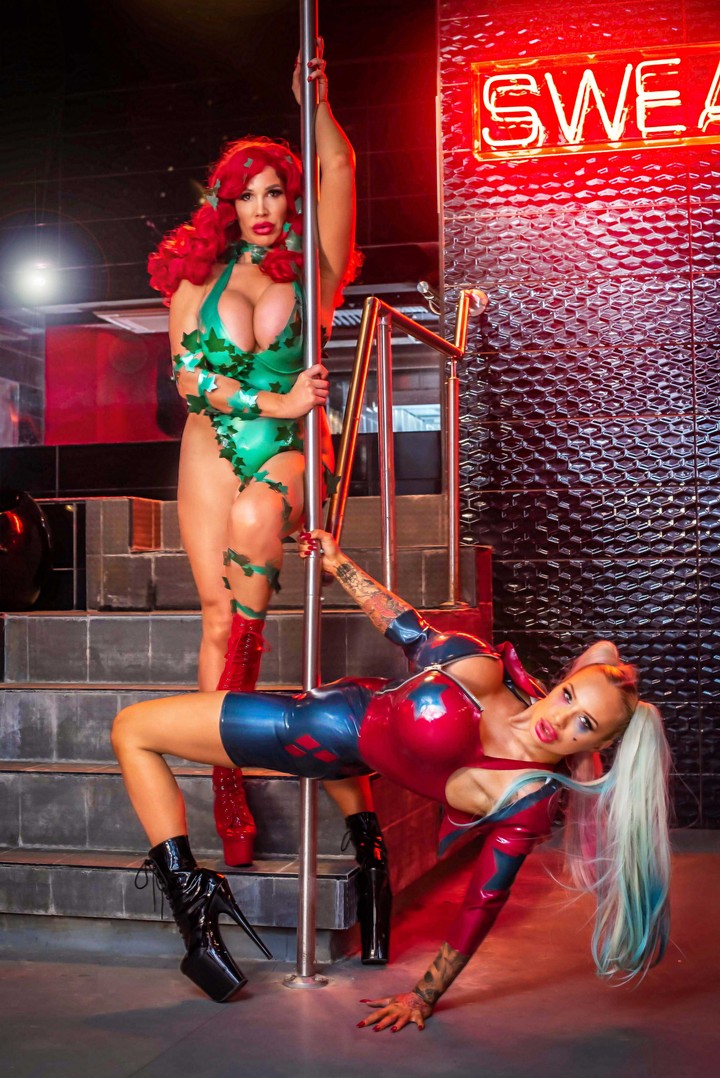 Photography Matt Spike
Even though it's been in the Urban Dictionary since 2007, it wasn't until 11 years later that the world learned the true definition of a "cock destroyer," all thanks to a viral video created by Rebecca More and her partner Sophie Anderson. "Do you know who we are? We're fucking Cock Destroyers," exclaimed red-lipsticked, blonde bombshell Rebecca, and the rest was history. Both as part of the duo and through her solo work, Rebecca has since established herself as a superstar whose reach goes beyond the traditional audiences of straight porn. She's a social media meme and a gay icon as much as she is a sex icon for straight men, embracing and celebrating her career in porn and escorting. She is also a true ray of sunshine who isn't afraid to tell it how it is.
Beyond that, though, Rebecca More is also a versatile entrepreneur, who most recently added a TV debut to her lengthy CV. In addition to appearing in several scenes, she joined fellow pornstar Danny D as an expert advisor on the new Channel 4 four-part drama series Adult Material. The show focuses on the life of fictional MILF pornstar Jolene Dollar aka Hayley Burrows (played by actress Hayley Squires) who experiences a whirlwind of emotions in a story that shines a real, human light on the industry. Despite many similarities, Jolene isn't just based on Rebecca's own life but is an amalgam of the thorough research that director Lucy Kirkwood and her team compiled on the porn landscape. We jump on a Zoom call with Rebecca to hear what she thinks of the final product – and much more.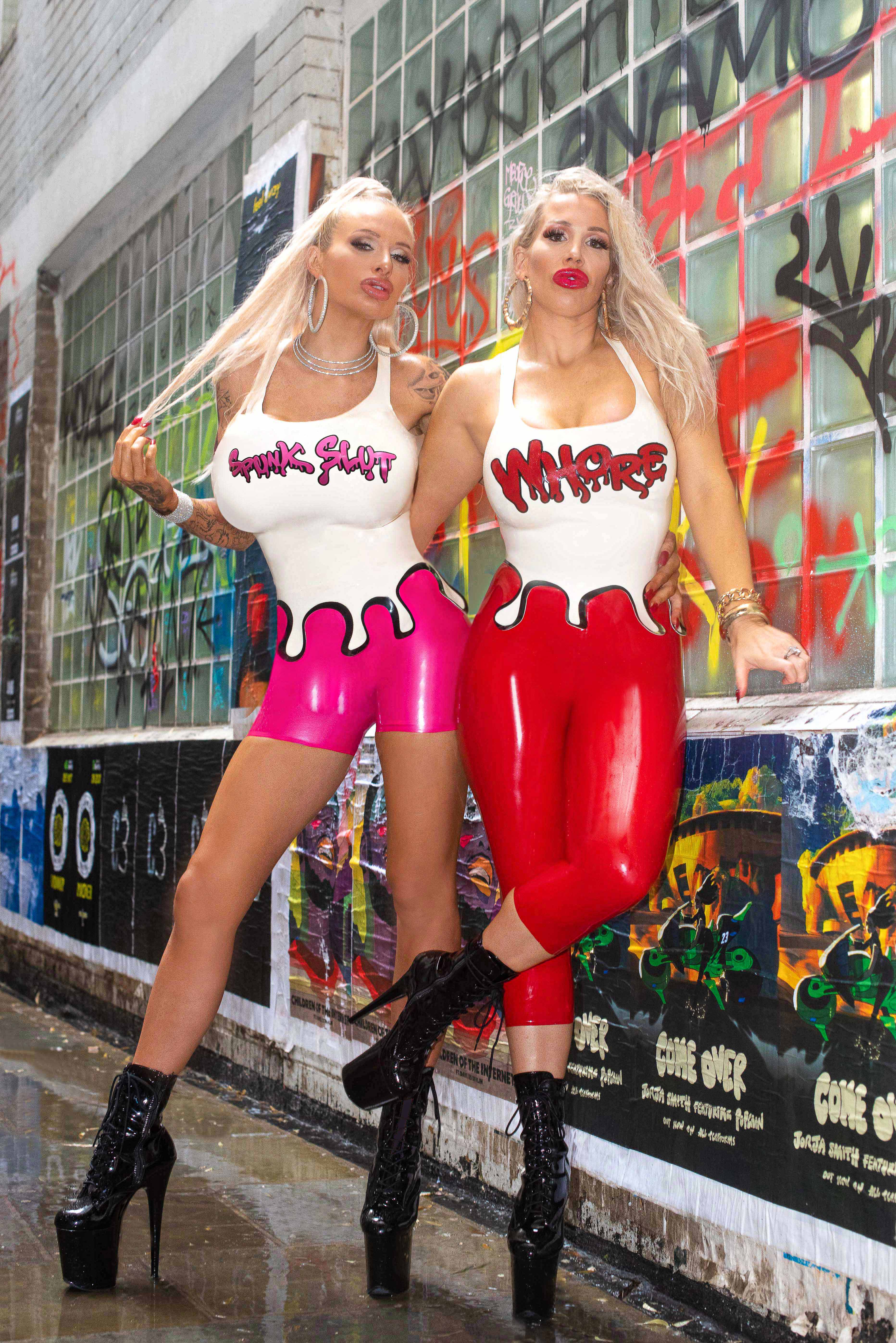 How have the past eight months been for you? A lot has changed in terms of having access to certain aspects of work, but you don't seem to be slowing down.
I look after my mum and my daughter, and we moved from Windsor to Suffolk once the lockdown was first lifted. Life has changed for everybody, and moving for me really felt like a weight off my shoulders. It's really great as I can shoot content here. It's very isolated, and there are loads of grounds. But we weren't able to shoot at first — you can't shoot porn, you can't see clients. Any performer in this situation would think: what am I going to do? But there is a market for solo stuff. Also, Sophie and I have been really busy. During the pandemic, we worked with Men.com on the first safe-for-work reality competition TV show. It's been so much fun and I think people are going to love it. Matthew Camp [a gay pornstar and Rebecca's business partner] came over and had to spend two weeks in quarantine. A contestant from Mexico, a contestant from California… They all had to quarantine, too. It was pretty amazing working on it.
Tell us more. What's the concept behind it?
This is actually the first time I'm talking about it. All of the contestants are sex workers or models in the industry. We've called it Slag Wars: Finding The Next Cock Destroyer and it's coming out in November and will be available to stream for free on a special landing page at Men.com before moving to a popular streaming service. Sophie and I, we don't take ourselves too seriously and we've really embraced hardcore words and we own them. We're reclaiming the word 'slag' to celebrate sex-positivity, and that's what we are all about. The show follows a hunt for the next Cock Destroyer and it features a diverse cast of queer contestants. We're very excited as there's never been a reality TV show based around sex workers in a positive and fun light. We've also done a song for it, which was so much fun! People have seen Sophie and I in certain characters, but here they're going to see us and our relationship more intimately, as well as how we are mentors and judges at the same time. But it's also funny because we don't know what we're doing, we're not RuPaul… So anything can happen – it's all a bit bonkers.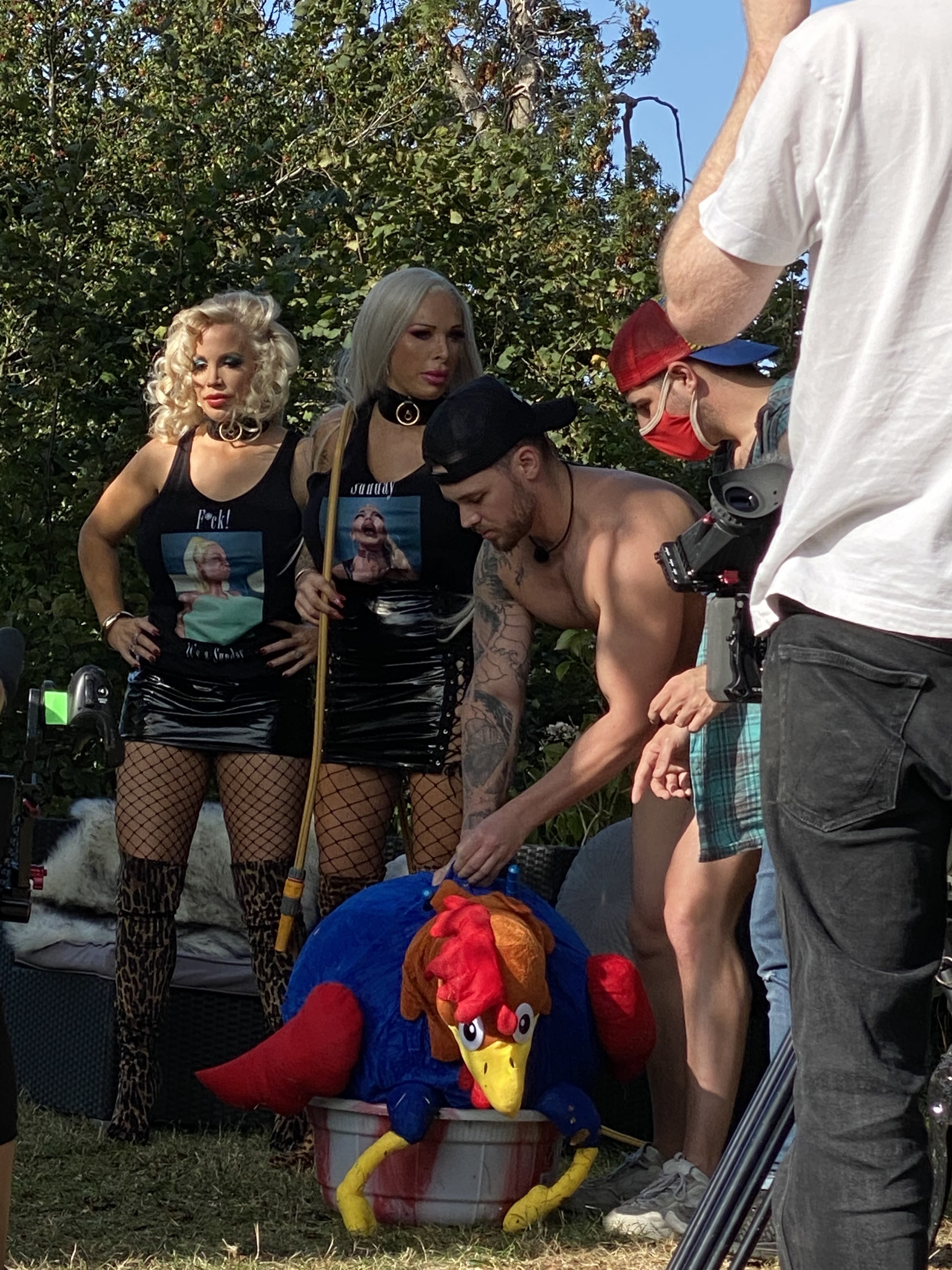 Speaking of RuPaul, you know you've reached peak gay culture when you are played on the Snatch Game. You were played by Ilona Verley on the first season of Canada's Drag Race – what did you think?
I loved Canada's Drag Race and was obsessed with it so it wasn't a case of me going 'Oh, I'm in this one!' It hit me so strong and I was living for it. I was so happy that Priyanka won, I loved her confessionals. I was shocked that Jimbo wasn't in the finale, she's so funny and she's going to go flying. I thought Ilona's impression was really, really good. I loved it and I know that a lot got cut out. She went wild, and they couldn't keep a lot of it in. Actually, [Scarlett] Bobo was going to be Sophie [Anderson] but they wouldn't let the pair of them do it together.
When it comes to entertainment, you recently went one step further and worked on your first-ever TV show – you were a creative advisor and porn coach on the new Channel 4 four-part miniseries Adult Material. How did that opportunity come about?
So, Television X are a very straight, adult parody TV channel, and I did a lot of parody stuff with them. Everybody always contacts them to get hold of porn stars, because people usually aren't sure how to otherwise. So, I got a phone call from Anna [Kieran] who owns it and she told me that Channel 4 wanted to talk to a few porn stars and get some background because they were making a show about the industry. I said that if they're going to make this anyway, I'm happy to help. I met them at the BAFTA building, and they were all women. I thought that was quite important when they were writing about me as a female sex worker. They said: 'Look, we're writing this piece about a pornstar, a MILF, and she's got children. We just want to be able to write this correctly.' What we have to remember is that the porn industry has changed so rapidly even from the moment they started working on the show. A lot of it is sort of out of date now. My initial meeting with [the director] Lucy Kirkwood was back in 2018, we started filming in June 2019 and our wrap party was this past February. The only people that are shooting straight porn in the UK now are Brazzers. All the girls have their own OnlyFans accounts. To keep up with porn, you'd have to have a series like Eastenders. But I kind of gave them the history of where I had come from.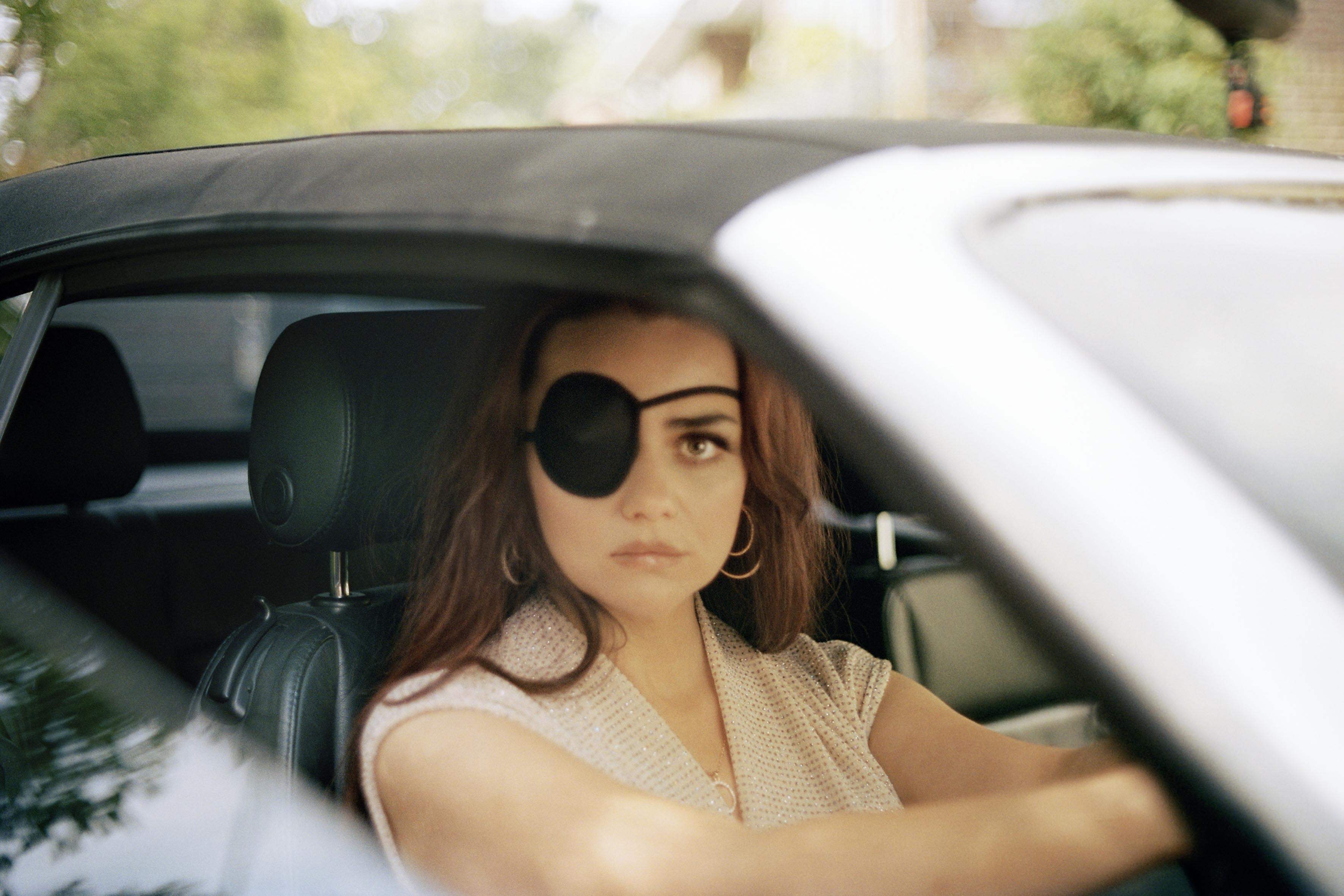 The main character Jolene Dollar definitely shares some similarities with you.
When they gave me the script, I said, 'This is not about me, but can this happen?' With all the experience I've had in the industry, I was like: yep, yep, yep… The first episode was shocking and got people talking, and I always think that's a good thing. I know the good, the bad and the ugly in the porn industry. I've had my bad experiences with how it can affect your relationships, your personal life… Why would we butter something up? Why would we want to glamourise something that's not true? There are glamorous sides to it, of course, if you make it and you're successful. But not everybody makes it and not everybody is successful.
There's also the character of Amy who plays the young ingenue just getting into the industry and idolises Jolene. Without spoiling anything, it's safe to say she has quite a wild ride through the show. What were your beginnings like?
I started in the business quite late in pornstar years. I was in my late twenties so I went straight in as a MILF. Honestly, I feel like that's the best way to get into porn. I had my kids, I'd been married and just knew I could do what I want. I've seen a lot of youngsters that sometimes do seem too young. I feel that going in – because it does affect your relationships and that's the truth. When I got into porn, I wanted to go in at the deep end. I always wanted to be known as the most hardcore performer. I wanted there to be no limits, because I am very open. People always ask me about my sexuality – I'm bisexual. But I've had loads of amazing experiences with everybody, and I've loved every minute of it.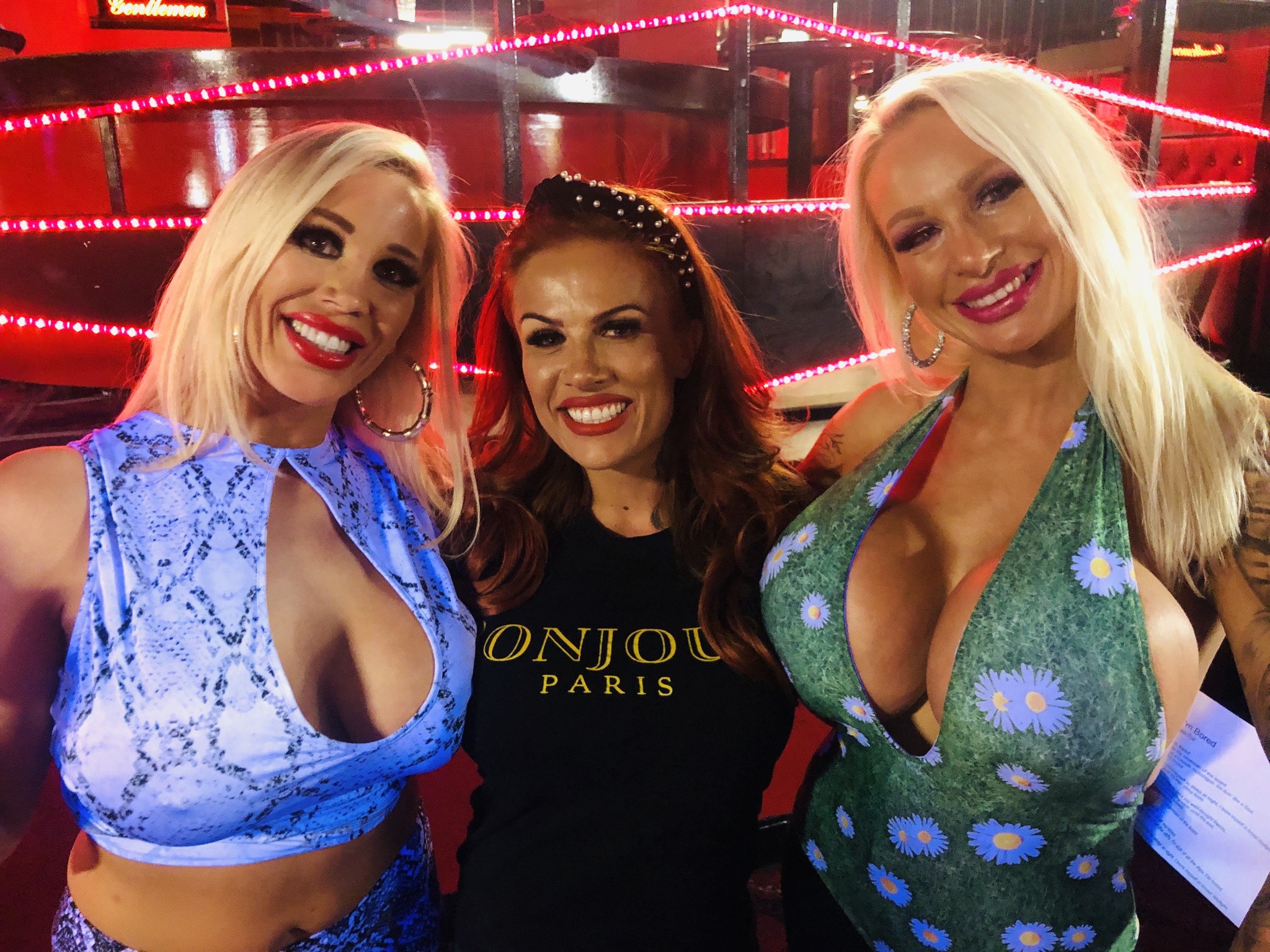 Adult Material also brings a sense of humanity to sex workers which is so rarely seen on TV. One topic in particular is the idea of family and the complex relationships these people have with their kids, partners and parents. What has been your experience as a mother?
It's a very, very difficult one and I'm always very honest about this. I know a lot of women that have got children in the sex industry, and it's not easy. You have to have a very strong bond with your child for them to understand your job. Luckily, I have such an excellent relationship with my daughter and all of my family -- they just get it. I have a son who is 22 now and a daughter who is 16. I'm best friends with my daughter, we've got a very good relationship, but, as you can imagine, it's much harder for a boy. There's no getting away with it. I used to have to avoid going to school just in case any of the parents recognised me… It was difficult and always has been, and the thing is -- you're in a job that people are going to judge you for, but it's a job that's paying really well and can support your family and set your future up. Those are the sacrifices -- I couldn't go to parents' evening and things like that. It got better as I got older, but when I was younger, I used to be more worried that people might know me and talk behind my back. But I'm very good at hiding who I am in the sense of how I dress and how I present myself -- I feel like I can be quite a chameleon.
What are your hopes for the sex industry in the future? Are there any things you would like to change?
If you had asked me this three years ago, I really felt like the porn industry hadn't been paying us enough. It was a really hard slog and it was a bit of a pisstake the way you had to climb your way up to make any money. Having sex online, with everybody watching it -- I think that's pretty awesome and it's pretty fucking brave, and it is to be celebrated. It's nice now to see a bit more respect, but I don't think that we're ever going to get that completely. It would be nice to be a bit more accepted in the mainstream, and I think that's happening now. People are starting to understand that there's more to performers than just the performance. They are people, they have families. I also think porn is in a much more positive position than before. You've got women directing and performers are really able to take things into their own hands. Things are more fluid and open to different sexualities -- those barriers are being taken down, too. Honestly though, I think that things are changing. I do feel like I'm having better experiences -- there used to be certain things that people used to say: 'They would never have you on there because you're a pornstar!' but I have just been on Drag Race Canada. [laughs] Well, not quite me, but my toe is in the door.
Tagged: