Help! I'm obsessed with… Sylvanian Families TikTok dramas
Good lord, I am so deeply invested in their sad little lives.
|
16 February 2021, 8:30am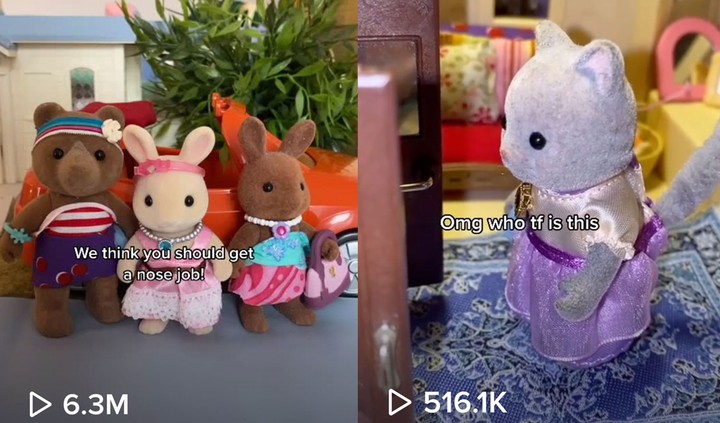 Images via @sylvaniandrama
The endless monotony of a global pandemic has forced us all to desperately seek respite in distraction, making us realise that there is a lot of content in the world that we will eventually get sick of watching. The pandemic has rotted our attention spans, thanks to sheer overexposure to prestige (say The Sopranos) and decidedly un-prestige (the kind that contains lots of shagging and Ariana Grande covers and nice hairpieces) television. So much so that we just can't concentrate on things properly anymore. We've completed Netflix, and books seem insurmountable, and so it makes sense that in the past year, TikTok has become a tour de force of pandemic distraction.

Thanks to the nature of the FYP, there is literally no time-limit on the hours you can spend scrolling through TikTok, slack-jawed and deliciously distracted by the nothingness of the app. But spend 11 months doing anything and you will become an expert, and as such our scrolling tastes have become progressively more refined during these pandemic months. We don't want the interchangeable D'Amelios dancing around their focus-group curated bedroom set-ups anymore. We want all the drama and emotional investment of good television and moving literature, but in a sixty second, easily digestible blast straight to the retinas. Enter a new obsession for us all: Sylvanian Families soap operas, but on TikTok.
@SylvanianDrama is a cinematic account, currently sitting at over 360,000 followers and with over six million likes, which reimagines the characters of the Sylvanian Families toy line in increasingly emotive, adult and dramatic scenarios. In several one minute videos, we see the adorable woodland creatures of Sylvania as they navigate dark topics — road traffic collisions, eating disorders, bullying and domestic abuse — poking fun not at the topics themselves, but the way they are usually presented in actual TV soap operas, which are usually just as absurd as these TikToks. The themes may be dark, but the absurdist way they are told — we cannot emphasise enough that these are small woodland figurines — somehow makes the unfolding drama worthy of a binge watch. The account is so popular it even has (inevitably) its own merchandise line, also sold through TikTok, which sells hoodies, stickers and tote bags of SylvanianDrama's most beloved characters. Pizza Mole — a mole figurine who works in a pizza parlour — is a staple figure of the collection.

But perhaps we're getting ahead of ourselves here. To fully understand the allure of SylvanianDrama in TikTok form, we must first understand the allure of the Sylvania universe itself. First created in 1985 in Japan, Sylvanian Families is, according to the company, "a unique and adorable range of distinctive animal characters that live, work and play in the idyllic land of Sylvania". The toy range, which sold anthropomorphic creatures living in their own intricate treehouse homes, was iconic even if it didn't totally make sense. (An elephant? living in the woods?). It would eventually come to be sold in 50 countries. To date, Sylvanian Families claim, the range has sold over 100 million figurines across the world. It's even got its own theme park, which opened last year in Osaka, Japan.
"Sylvanian Families let children craft their own stories, and help them develop social skills and emotional intelligence through imaginative play," the company's website goes on. "Sylvania is a sanctuary where everyone can be part of the family, letting children learn about relationships, including being kind to each other."

Perhaps though, they did not anticipate that the natural end point of that learning and imagination would be on TikTok, where Pizza Mole and his girlfriend escape a police raid on their Sylvanian home while M.I.A's "Bad Girls" blasts in the distance.

The latest modern update to the world of Sylvania comes courtesy of Thea von Engelbrechten, the mind behind the SylvanianDrama TikTok account. At 19, Thea wasn't around for the first Sylvanian Families craze of the 1980s. But like most of us, she is currently stuck at home during the pandemic and bored out of her mind. After returning from DCU in Dublin to her native Kildare, the student, procrastinating one Friday night, decided to get the Sylvanians out of the attic and make them go dark to create videos to make her friends laugh. "I'm a huge fan of shows like Gossip Girl and movies like Cruel Intentions," Thea explains. "So I think the base of the storylines are really inspired by them, but the random plot twists are just my sense of humour." The most recent plot twists include mole assaulting the dead body of the man who cheated on her bestie, before the entire funeral party is run over by a caravan. "I put a Taylor Swift song in the background and used a cut up pair of thongs from Penny's [Primark, to Brits] to make the woodland creature's lacy funeral outfits."

Thea often takes the character's original cute outfits to the next level for her storytelling, using fabric around the house (her mum is an interior designer, which helps). "It makes the videos a bit more aesthetic," she says. But even with the attention to detail on styling and background music, Thea herself is surprised at the runaway success of her account. "My most popular video has nearly five million views, and I'm still in shock that so many people saw it," she says. The video in question involves a group of popular girls telling the elephant figurine that she needs a nose job, before skateboarding icon Tony Hawk turns up to save the day. "The actual Tony Hawk commented on the video," Thea says. "So that was good fun."
As to why thousands of people now follow Thea's Sylvanian Family dramas, she has an idea: "I think people follow the account ironically in the beginning but then actually end up getting invested in the characters lives. I don't know how long the hype about them will last, or how long people will find them funny, but I'm definitely just having fun making them for the time being."

It makes sense that Thea doesn't fully understand why people love the twisted Sylvanian soap opera she has created so much, because we don't actually know why we enjoy it either. Maybe it's our aforementioned utterly destroyed pandemic attention span only letting us consume media in short, funny and attention-grabbing bursts. Maybe it's more to do with nostalgia, with many of us back in our childhood homes, quarantining as adults while surrounded by the detritus of our childhood lives and imaginations. For the sake of thorough reporting, i-D reached out to the Sylvanian Families creators to ask them for their own input on their beloved woodland creations turning murderous and toxic on TikTok, but, perhaps unsurprisingly, they were not available for comment. Perhaps we will never truly know.
Tagged: