Photo by Kevin Mazur Archive/WireImage.
7 of Christy Turlington's most iconic outfits
With her glam looks and cozy minimalism, let the 90s supermodel and i-D cover star be your winter style icon.
|
18 December 2020, 8:00am
Photo by Kevin Mazur Archive/WireImage.
One of "The Big Six" supermodels of the 90s, Christy Turlington's career has been, in a word, legendary. Since her debut in 1987, the super has walked the runways from Calvin Klein in New York to Chanel in Paris; she's been a muse to photographers like Peter Lindbergh and Steven Meisel; she's covered numerous fashion magazines, including i-D; she's been the face of prestige luxury houses from Louis Vuitton to Versace and massive beauty brands like Maybelline, alike. Grace Coddington even called her, "the most beautiful woman in the world." One of the most glamorous — and instantly-recognizable — women of the 90s, Christy's own personal style mixes the ultra-glam of high fashion — think Versace suits and sequinned party dresses — with cozy, minimalist basics. Here, we chart the super's extraordinary career with a look back at some of her chicest off-duty outfits.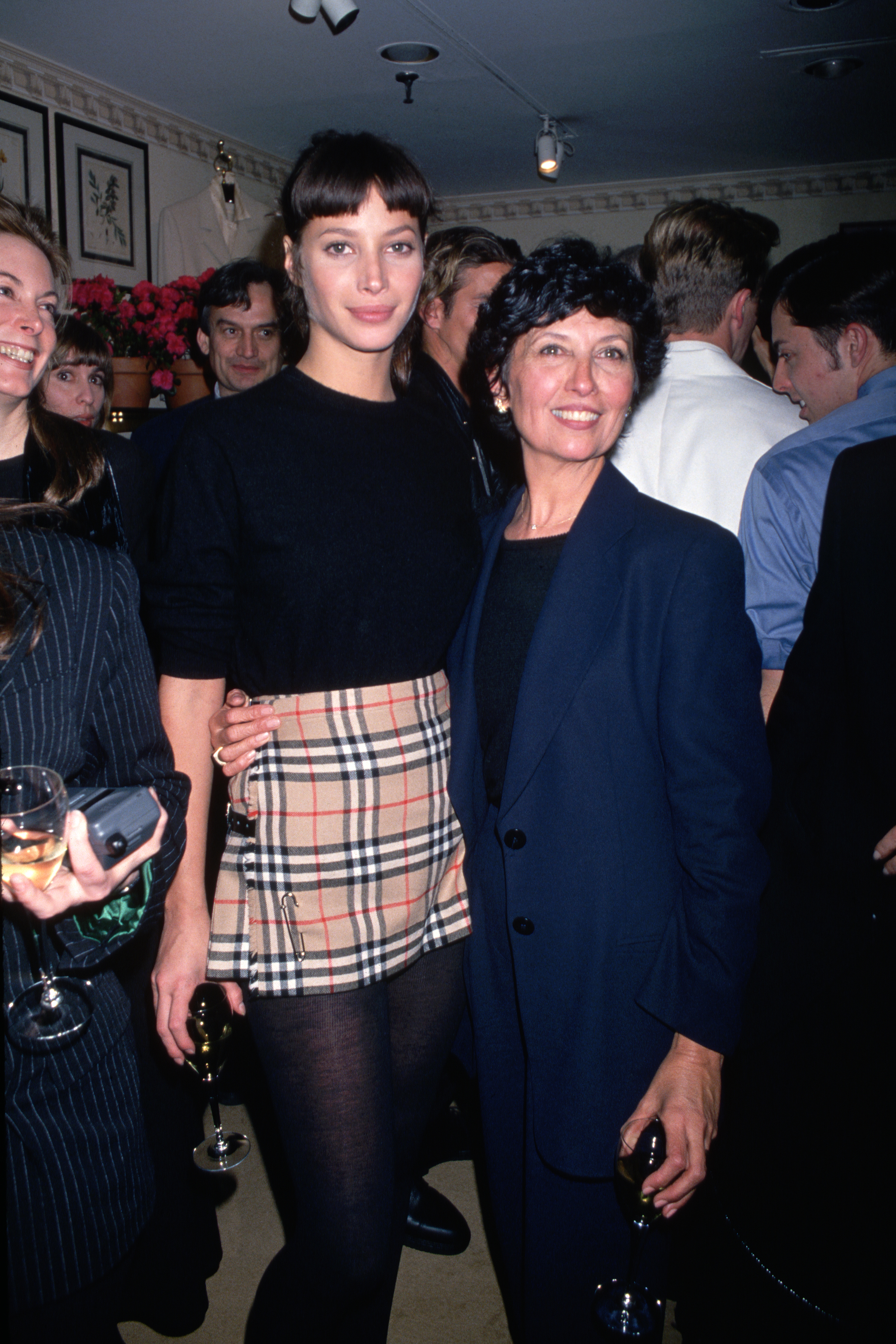 Backstage at Burberry, 1994
Christy was born in Oakland, California, the middle child of three sisters. At age 14 — in the early 80s — she was discovered by photographer Dennie Cody while taking horseback riding lessons in Miami, Florida. Throughout high school, Christy modelled part-time before moving to New York City at age 18 to pursue the profession full-time. It was there she would launch her legendary modelling career. Here, she poses backstage at a Burberry fashion show, wearing one of the label's Nova Check miniskirts, with her mum.
In New York City, 1991
Since its official beginnings in 1987 — when she walked her first runway for Marc Jacobs — Christy's modelling career has been legendary. One of the 90's foremost supermodels, Christy's faced the covers of myriad fashion mags, walked runways from around the world and fronted the campaigns of lauded houses like Versace and Louis Vuitton, as well as the era's maverick designers such as Calvin Klein and Donna Karan. She's been a muse to fellow industry legends Peter Lindbergh and Karl Lagerfeld. Here, out-and-about in New York in 1991, Christy wears a marigold-yellow Chanel suit — accessorized with the house's signature gold buttons and chain details. Fun fact: Christy modelled this very same outfit for the brand's spring/summer 91 campaign, lensed by Karl Lagerfeld, himself.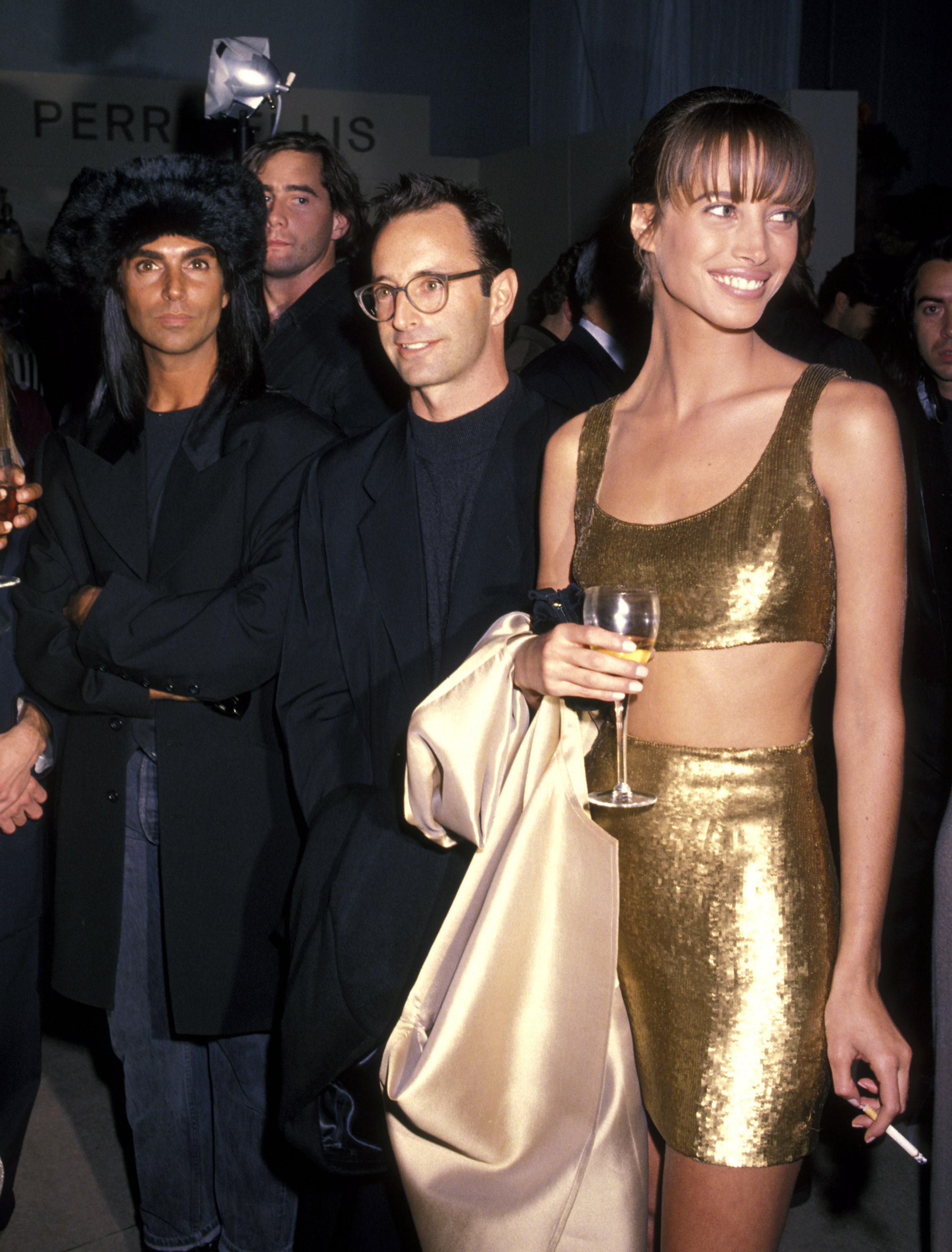 At an AIDS benefit, 1990
From her 90s heyday to today, Christy's been active in the realm of philanthropy and humanitarianism. In 2010, Christy founded Every Woman Counts, a non-profit committed to making pregnancy and childbirth safe for women around the world — a cause that's close to the supermodel's heart. Here, in 1990 Christy attends an AIDS charity benefit — alongside Steven Meisel and Herb Ritts — wearing a gold sequinned two-piece.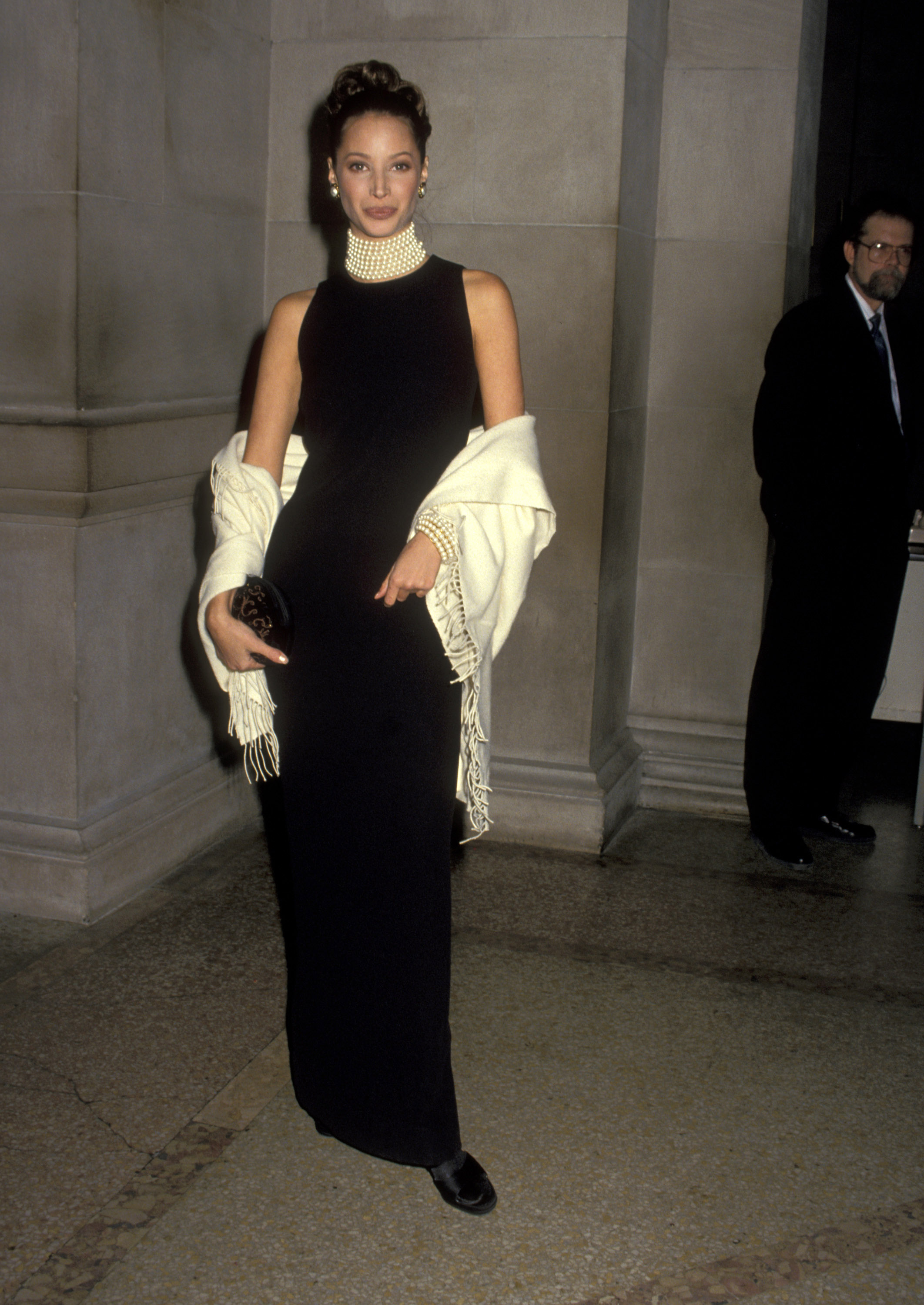 At the Met Gala, 1992
Channeling the theme of the Met Gala's 1992 edition, Fashion and History: A Dialogue, Christy showed up to the event in full Audrey Hepburn cosplay. The super wore her own take on the actresses' iconic Breakfast at Tiffany's Givenchy look: floor-length fitted gown, pearl choker and bouffant updo. All that's missing? A croissant and espresso, of course.
Off-duty at fashion week, circa 1990
Christy's off-duty looks range from immaculate 90s minimalism (myriad Calvin Klein pantsuits) and cozy-casual (ample wool turtlenecks) to streetwear-leaning (a New York Rangers jacket paired with jeans) and fun and colourful (a powder blue and electric purple ensemble by Ralph Lauren), all pulled off with a poise and elegance singular to the supermodel, herself. Here, wading through the crowds at fashion week, she wears a more glamorous — but no less effortless — take on the off-duty outfit: unbuttoned knit shirt layered with bustier camisole, very 90s medium-wash denim, cat-eye shades, Chanel handbag and quilted jacket wrapped neatly around the hips.
Interviewed for Catwalk, 1993
In 1993, Christy Turlington pivoted from the pages of glossies to the big screen, starring in Robert Leacock's documentary Catwalk. The film — an absolute must-see for any fashion fan — follows the supermodel during the spring/summer 94 season, from New York to Paris, giving the viewer a glimpse into the life of a supermodel and the behind-the-scenes of one of fashion's most iconic eras. Watch Christy party with a young Carla Bruni, call her agent on a brick-sized car phone, share some playful banter with a chatty Isaac Mizrahi and witness John Galliano coaching a young Kate Moss on how to storm down the runway of his iconic Lucretia show. The doc also serves some serious 80s model-off-duty style: flowing pantsuits, Canadian tuxedos, varsity jackets and more. Here, interviewed with her pal Naomi Campbell, Christy wears one of the film's many immaculately minimalist fits: a simple ribbed wool turtleneck.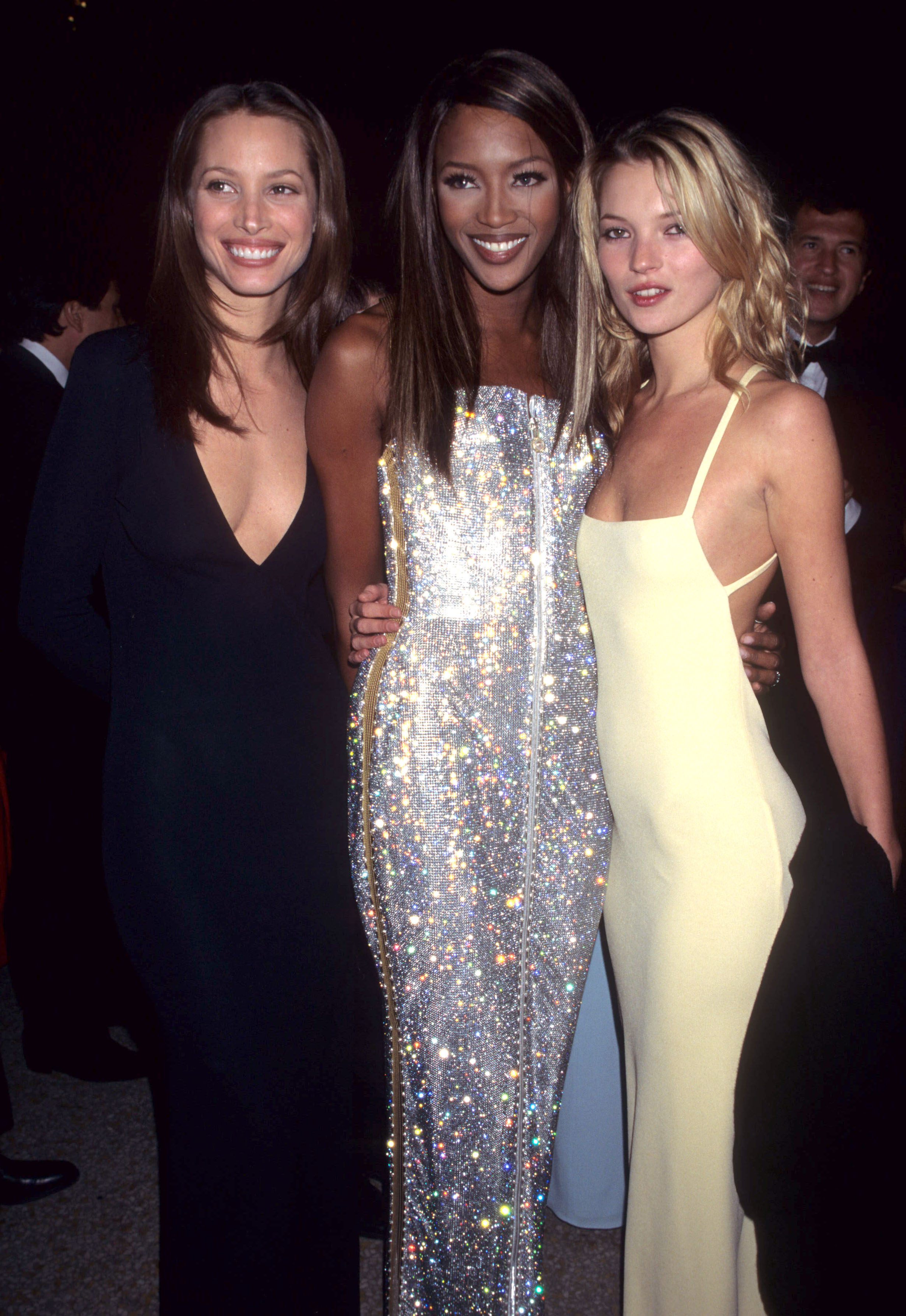 At the Met Gala, 1995
Throughout the 90s, alongside Kate Moss, Naomi Campbell, Cindy Crawford, Linda Evangelista and Claudia Schiffer, Christy was one-sixth of a group of models known as "The Big Six." Not only did this crew of models frequently front the same campaigns (90s Versace, anyone?), share the same runways (remember the feathered finale at Anna Sui spring/summer 94) and co-star in some of the best Steven Meisel-lensed editorials, they were also each other's best friends and supporters. Here, at the 1995 Met Gala, Christy poses with Naomi and Kate. Both Christy and the latter are wearing designs by Calvin Klein. In fact, Christy modelled this same black jersey evening gown on the American designer's spring/summer 96 catwalk.