5 Palace collaborators photograph what family means to them
David Sims, Alasdair McLellan, Juergen Teller, Jim Goldberg and Frank Lebon all capture the essence of the Palace community.
This story originally appeared in i-D's 40th Anniversary Issue, no. 361, Winter 2020. Order your copy here.
Before Palace was a pioneering, cross-cultural, boundary-ignoring fashion-streetwear behemoth it was a community. It was formed by a group of friends who hung out together at the South Bank, who lived and skated together, and who have built this incredible fashion label that is now as much a London skateboarding institution as the South Bank itself.
It is incredible because Palace has grown and expanded without ever losing sight of that original community who helped shape it. It's a family more than a company, a feeling and an ethos. For this, i-D's 40th Anniversary, Palace have enlisted five of the best photographers in the world to shoot an image to celebrate what family means to them.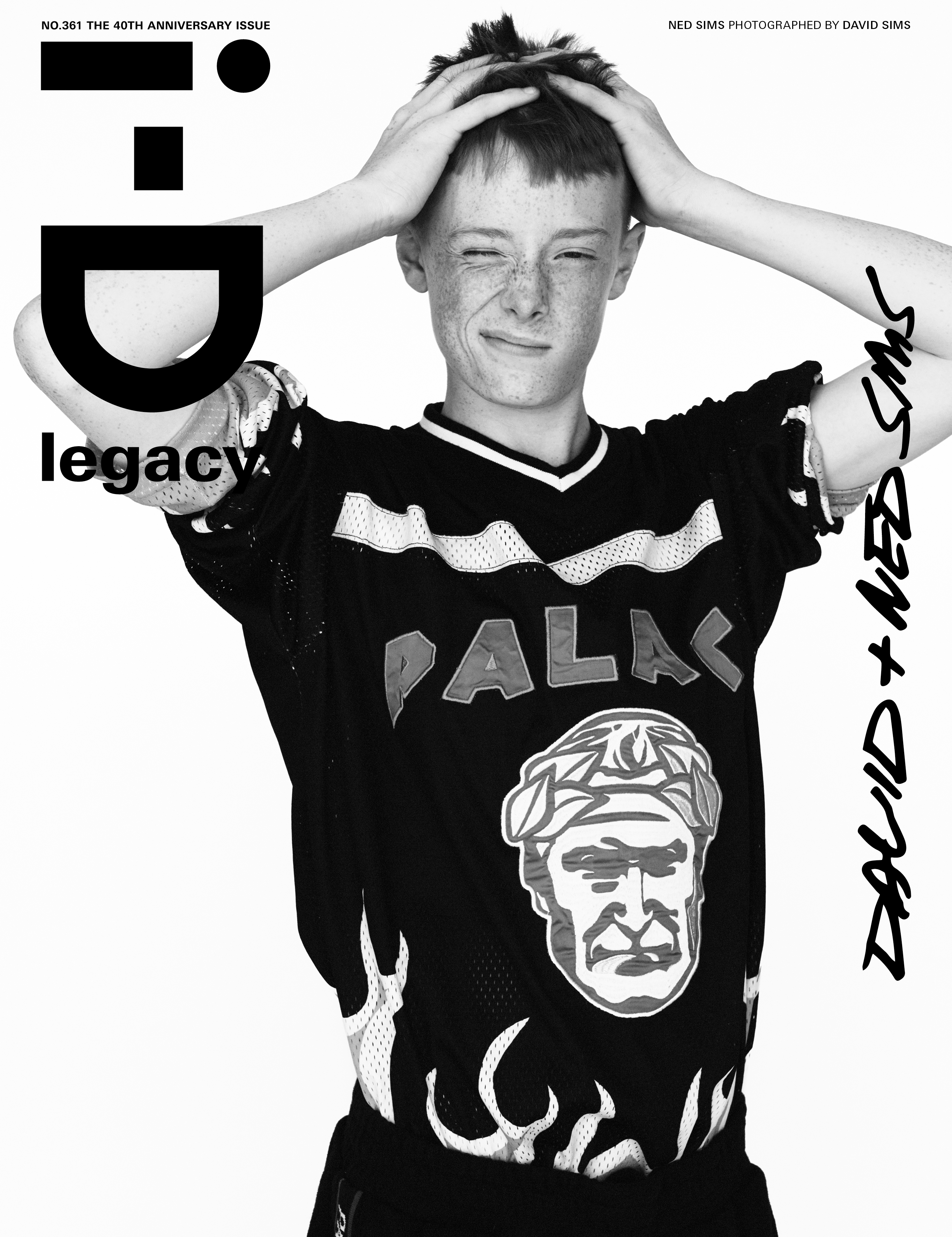 Claire: This issue of i-D is all about family and community, so let's start by talking about the beginning of Palace and the importance of community to building Palace.
Lev: Everything we've built, much more than people may realise, is built on community. I started off working in Slam City Skates with a guy called Gareth, who is now my business partner and he was someone who I knew from skating, and it's a similar story for almost everyone we work with at Palace. Like all the skate team – we lived together, we met at South Bank, and community is what we are. It's all come from community. We were friends for ten years before Palace even started.
I get the feeling that there's no separation between friends and family and work and life.
There are no boundaries, it's a brotherhood, it's a family. It's something very special that we have. And it's special because we'd still have it without Palace, you know. But because it's family it makes it so much more fun, going on skate trips together, opening stores around the world, it's a group effort. Everyone is there to support each other. My life is like a stag do.
Have you become professional as Palace has become more successful? You seem like a very open person?
Nah, I'm not more professional and I've always been an open person. If anything, I'm more open now. I've not changed. I've always been like this. It's nice to be nice. That's how I was brought up. That's my personality. If your business or work changes you as a person, you aren't doing the right thing. I don't want to be someone who becomes different because of my job, I want my job to make me a better person, and I think it has. I want to share what I have. I want to be supportive to people.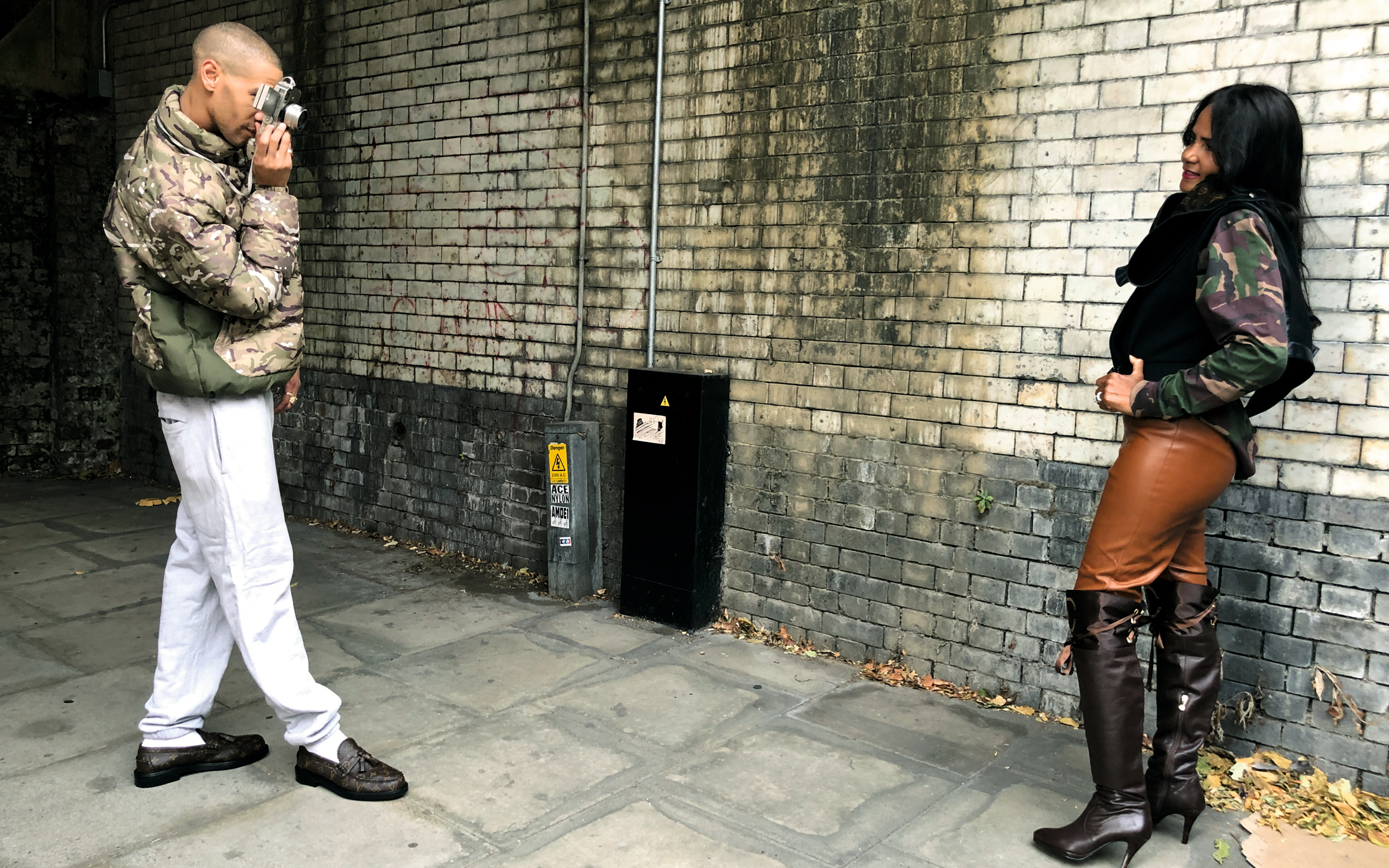 Did you have someone like that? Did you have a mentor?
The whole skateboarding world is like that in a way. If you wanted to make a cool T-shirt or if you had a problem with a girl, someone would help you, talk to you, support you. All my friends are like that. I don't think there's been one person but all my friends have mentored each other, we all help each other.
So how have you coped during the pandemic being apart from your community of friends?
Work is always busy you know, and it's easy to get disconnected from old friends in skating even if I work with some of my best friends… but the pandemic really made me want to see everyone, you know, so I just built a big skate ramp in the garden. Over the years I've been skateboarding less which means I've seen people less, so I built the ramp and over the last few months we've all been round having barbecues, hanging out. I think I'm trying to bring skating closer to me, because if you're working all day it's hard to find that time.
How do you feel your relationship to the fashion industry has changed over the years? It's been part of it but never really in it, but over recent years the fashion industry has really taken from streetwear's collaborative culture.
I think people like Palace because it's always been a bit of everything. Everyone used to be so set in their own group – if you were a skater, you were a skater and couldn't be into fashion. But I like so much different stuff and when I started Palace I just wanted to bring that all together. I wanted to make loafers and Chelsea boots and tracksuits and skateboards. I never wanted to confine myself to just making skateboards. I want to do everything. And I love collaboration you know, I think it's great that bigger brands and Parisian fashion houses are getting strong-armed into working with young brands, and taking on board fresh ways of thinking. People working together is amazing. I love it. I love working with people who do things we can't do. I love that energy of collaboration but I hate when people just put out product that has no story or meaning behind it. We work so hard on our collaborations in all the things we do – even if it's a video – because people need to understand why we do something. When we come to a collaboration it needs to contain our perspective, our view on why something is amazing, whether that's working with Juventus or Ralph Lauren. It's about telling a beautiful story of why you want to work together.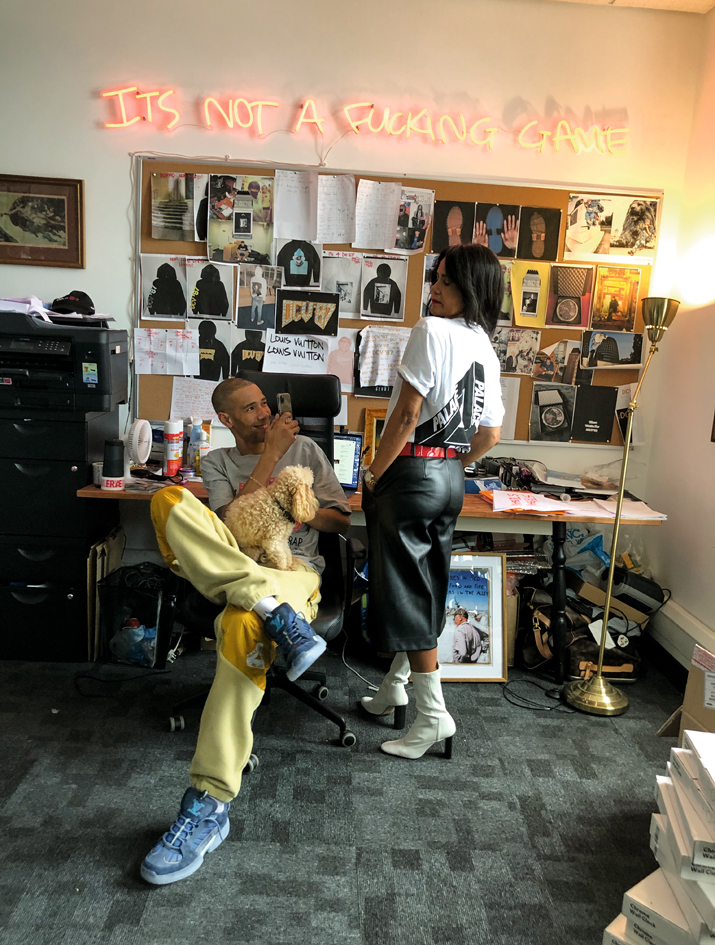 Palace resonates with people because it has those values, a soul, a story and a community. It feels very beautiful. Would you describe yourself as an instinctive person? Very. I run off instinct. I know what I want out of something within five minutes. I'm like, 'We should make this, this, this and this'. Other people in the design team add to that, and they often think about it more and have better ideas than me, but straightaway I know. I'm a consumer. I love buying stuff. I love other brands. A lot of Palace is just stuff that I want, it's personal and selfish, but everything comes from something I want or think is cool.
Is creativity a pleasurable process for you?
I love it. I love my stupid ideas. Palace is like a stupid idea you might have as a teenager in a bedroom when you're stoned but you can actually do it, because there's a company and a structure that allows you to do it. But that stupidity and simplicity and funniness makes it so enjoyable.
Is it a challenge to have so much freedom?
The challenge is to know what other people might like, I want to keep people happy, to give back to the people. But we can get away with a load of shit, we do everything we do because we want to do it and because we believe in it. We're not too cool to do something and we're not too serious to do something. We have freedom, but the only constraint is if we are staying true to ourselves.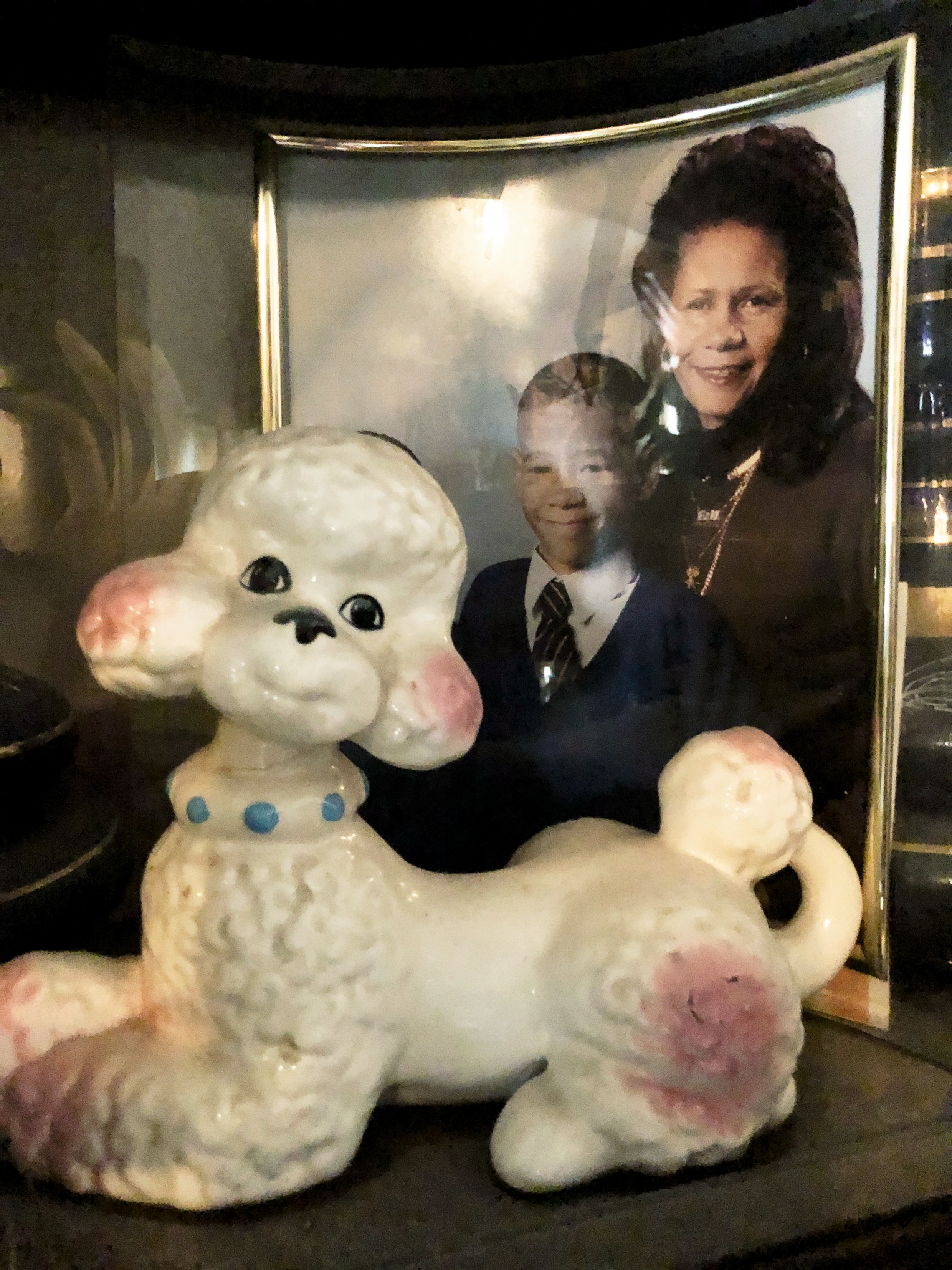 So, what's the biggest challenge?
The amount of things going on, it's easy to be spread too thin. I'd love to be able to just do one thing on one day. But you know, everything is great, really.
What's your obsession in your work?
Nothing! I love it. It's my job. I do it because I love it, but I'm not like waking up in the middle of the night to draw a sketch of a T-shirt I saw in a dream.
What's your motto?
First thought, best thought.
What inspires you?
People who don't care what other people think.
What's the greatest luxury to you? What is luxury?
Happiness. Home. My girlfriend and my dogs. To be at home and to be comfortable.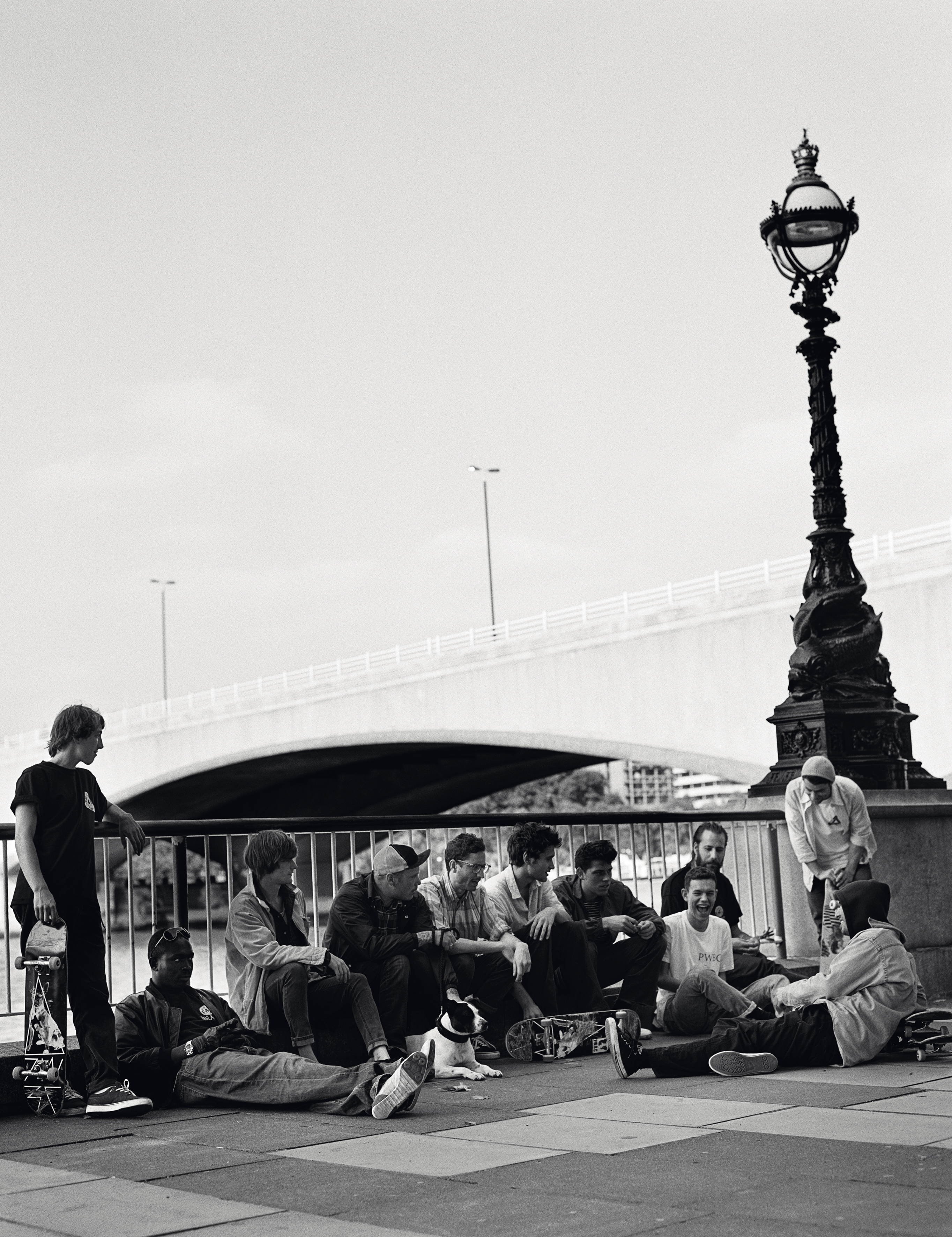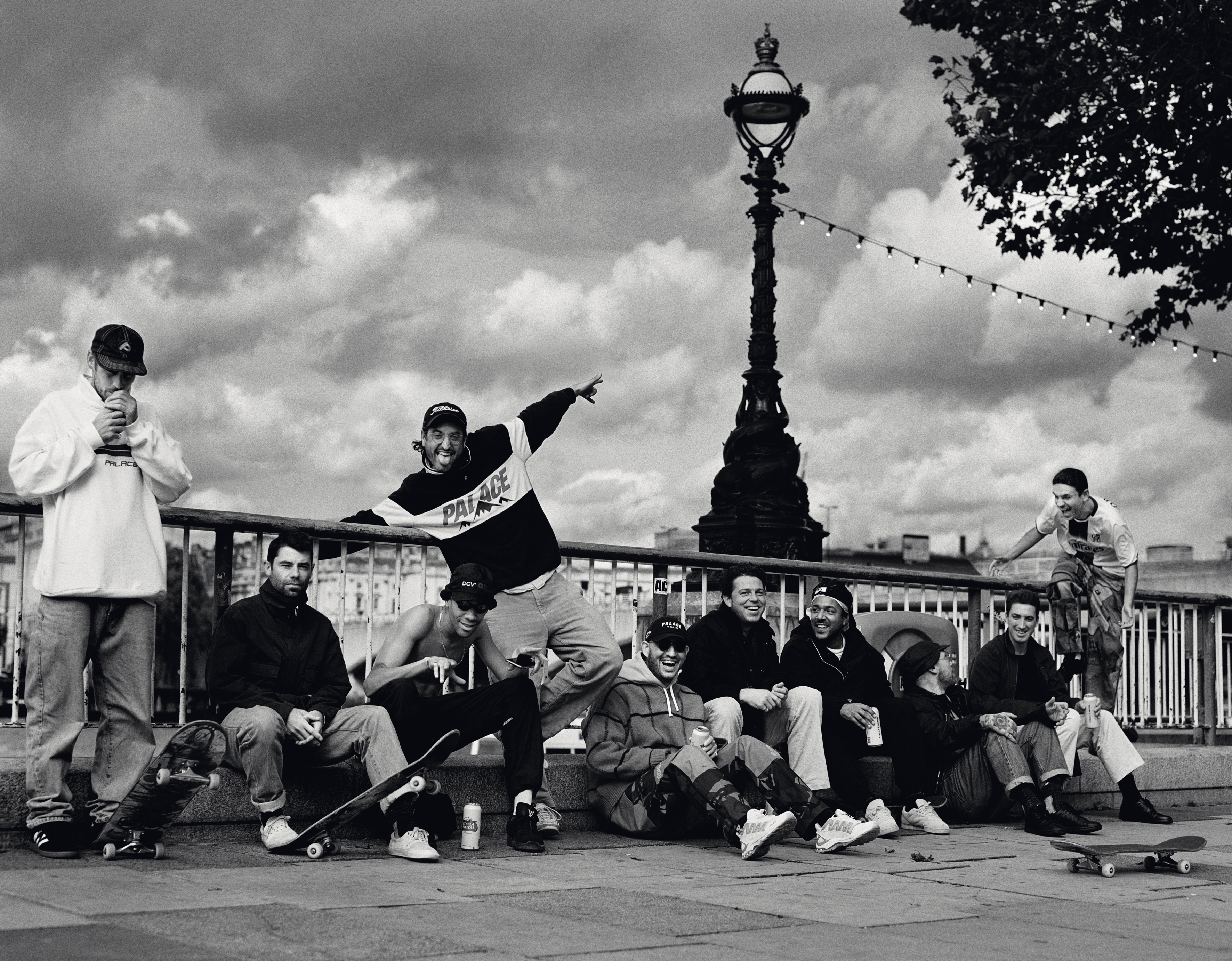 Alasdair McLellan
Describe Palace in four words…
Dickens, Perishers, Ravey, Rovers.
What was your first impression of Lev?
That anything was possible.
This is the 40th Anniversary Issue of i-D, when did you last celebrate and what did you celebrate for?
My friend's 30th birthday.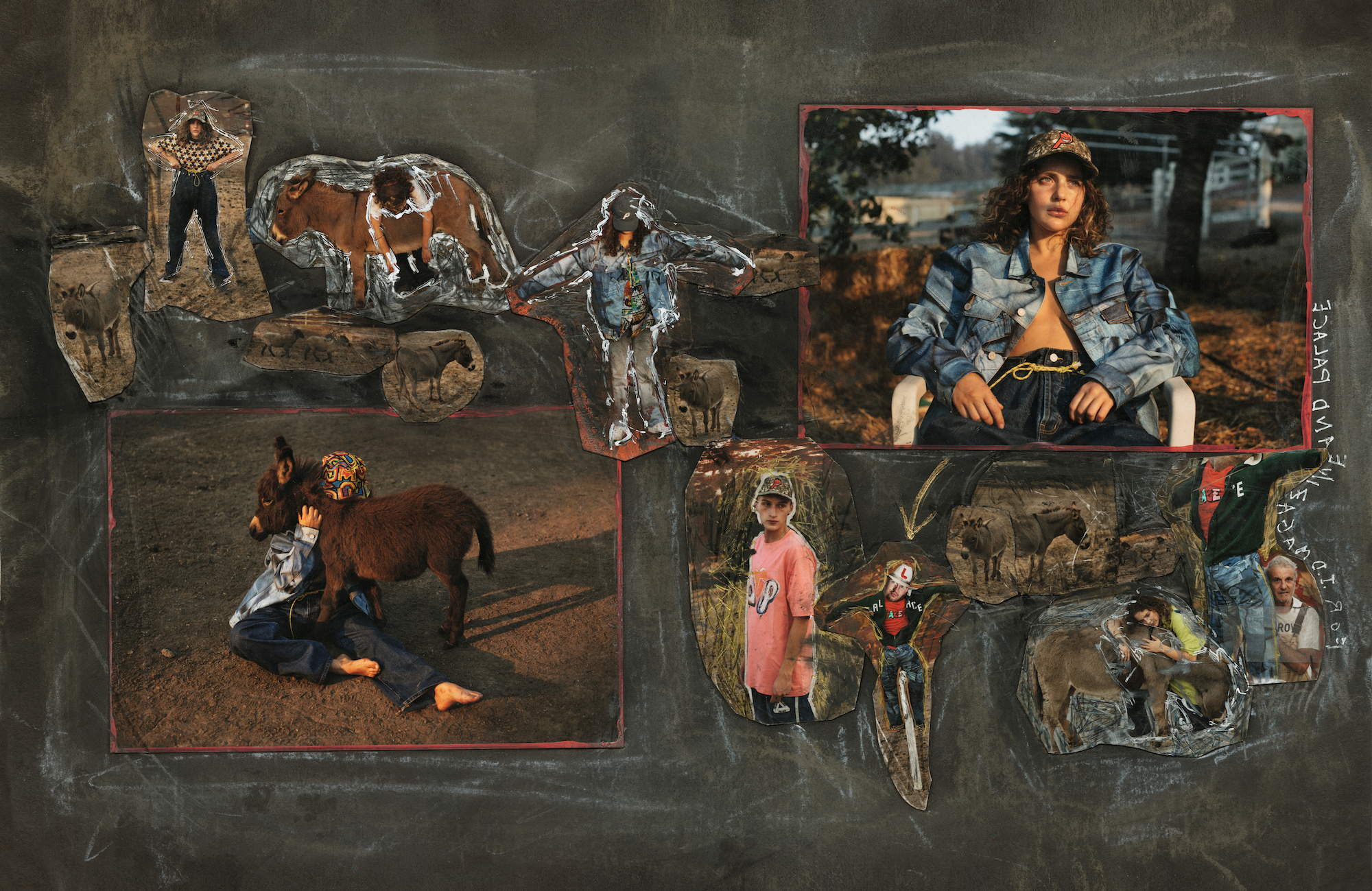 Jim Goldberg
Describe Palace in four words…
Irreverent. Brotherhood. Iconoclasts. Hungover.
What was your first impression of Lev?
Hungover.
What does family mean to you?
Home.
This is the 40th Anniversary Issue of i-D, when did you last celebrate and what did you celebrate for?
Three days of celebration for my youngest daughter's birthday. This included a virtual party, the Palace photoshoot, and eating takeout sushi at our farm.
Where do you see yourself in 40 years time?
107 years old and smoking a cigar.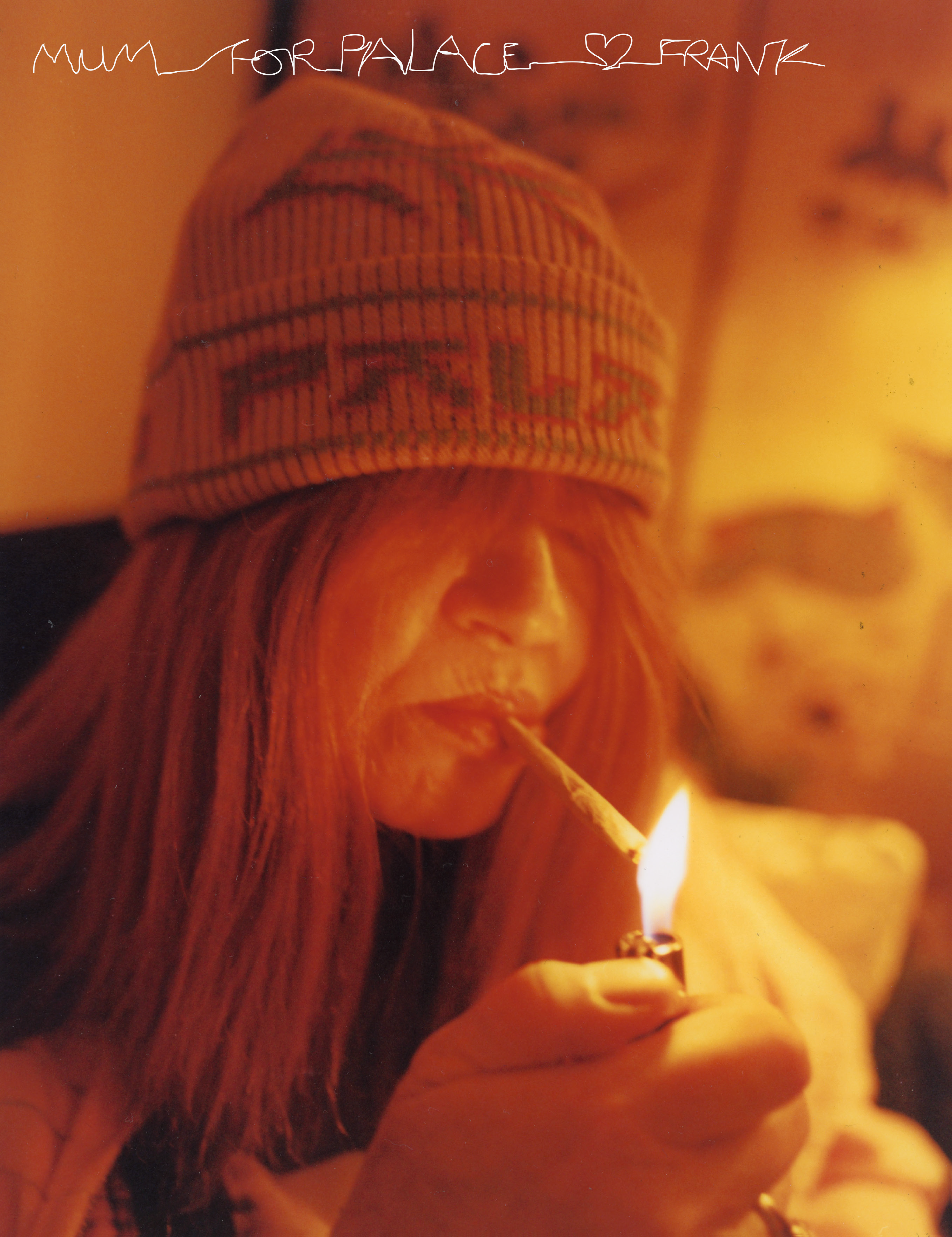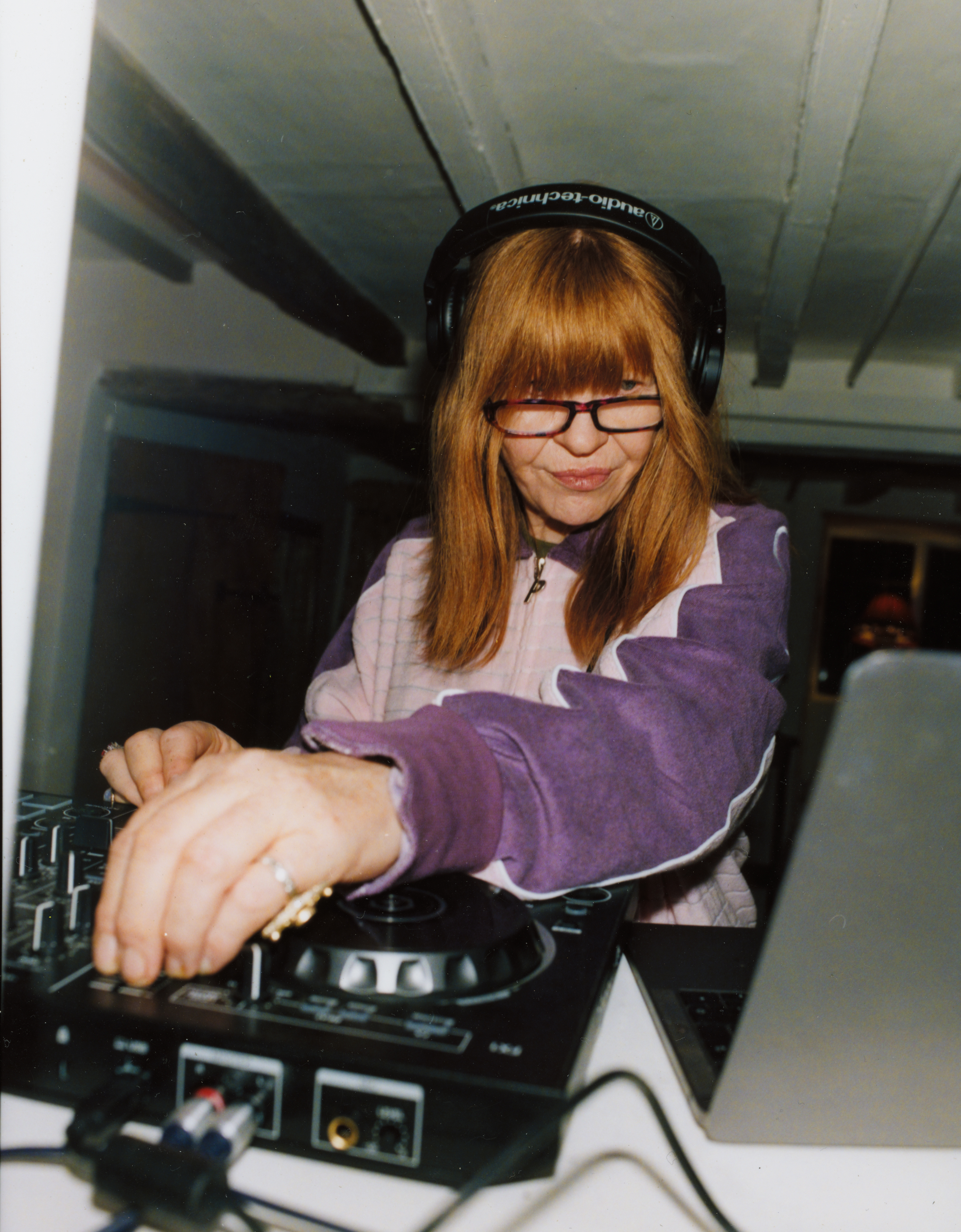 Frank Lebon
Would you consider Palace a member of your family?
I now see my mum as the living embodiment of Palace, so in a way I have a filial relationship with it.
What does family mean to you?
Unconditional.
Describe Palace in four words…
Really, really, really, fit.
What was your first impression of Lev?
Really, really, really fit.
This is the 40th Anniversary Issue of i-D, when did you last celebrate and what did you celebrate for?
When I got a 100% in my target blood glucose range on my diabetes app.
Where do you see yourself in 40 years time?
Strange question when faced with the current uncertainty of the world. Six feet beneath the ocean?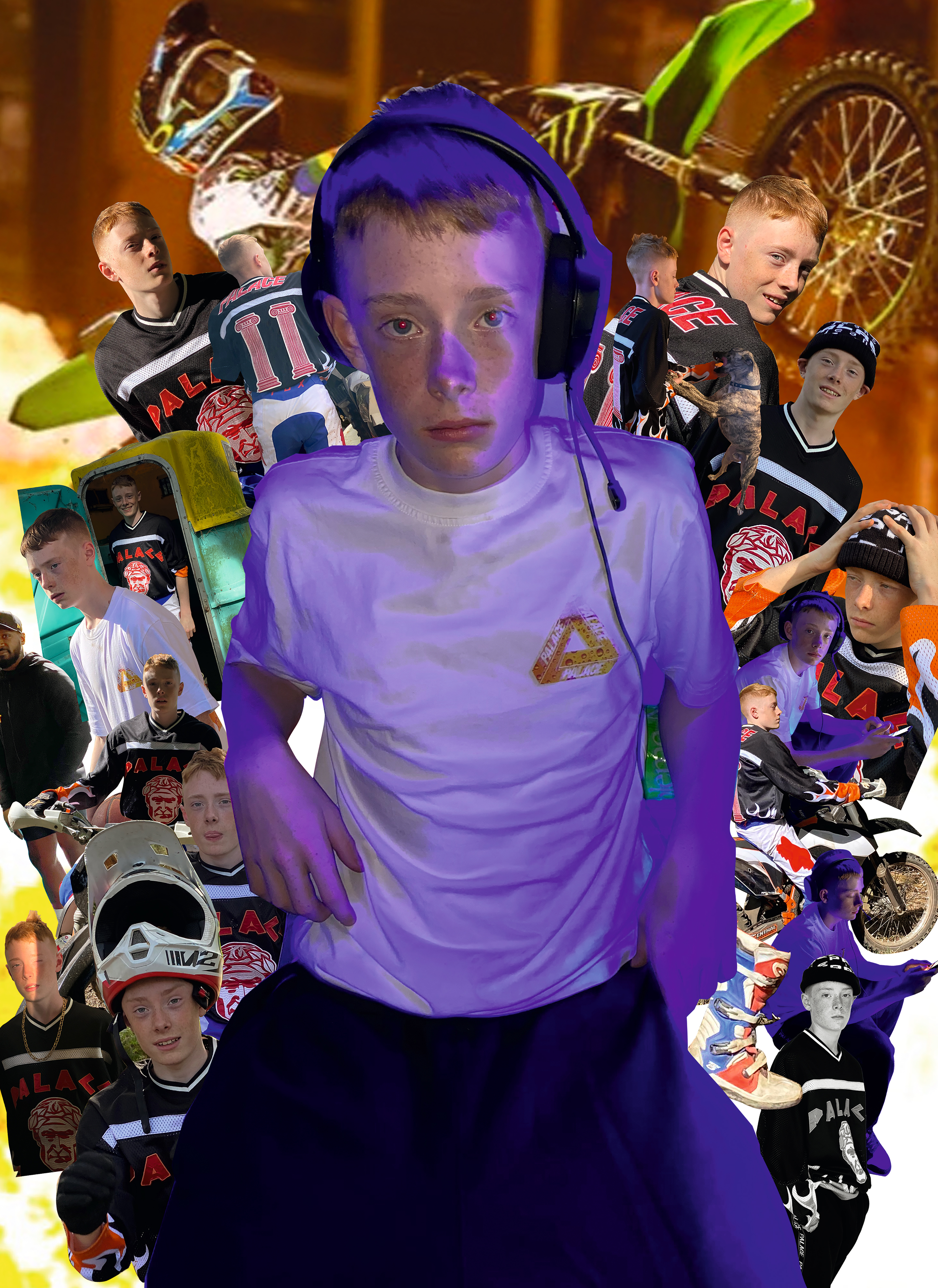 David Sims
Describe Palace in four words…
One word: Righteous.
What was your first impression of Lev?
Candid and smart.
What does family mean to you?
It's a mad beautiful soap opera.
This is the 40th Anniversary Issue of i-D, when did you last celebrate and what did you celebrate for?
Being a dad… every day.
Where do you see yourself in 40 years time?
A room with a view at Dignitas.