Photo courtesy of Christina Seewald.
Christina Seewald on how to stage a virtual runway show and the future of fashion
In the midst of lockdown, the Viennese knitwear designer took her AW20 offering digital with a focus on sustainability.
Photo courtesy of Christina Seewald.
"I hope I can do a show," CSM grad and knitwear designer Christina Seewald told me, back in March, during the first few weeks of Covid-19-induced lockdowns in her native Austria. We were speaking about her upcoming autumn/winter 20 collection, for which she had been in the midst of planning a runway show just as the pandemic hit. With venues across Vienna closed indefinitely and her studio team members scattered in self-isolation, it seemed as though the presentation Seewald had conceptualized would never come to fruition. "It's a shame, but there's nothing I can do. Maybe I'll do my own show at home," she joked. Neither of us knew it at the time, but she was on to something.
Over a month later, still in the midst of the pandemic, Seewald is basking in the afterglow of her successful presentation. Over the phone, her voice is effusive. "We're back on track," she exclaims. The show in question isn't the one she'd conceived of earlier this spring, however. Forced to forgo the now-precarious realm of the physical, Seewald took to the World Wide Web to present her latest collection, digitally. The young designer is one of a handful of fashion industry innovators -- from Shanghai to Tokyo and, now, to Austria -- to stage virtual presentations in response to the coronavirus lockdowns, paving the way for the fast-approaching SS21 season. On June 12, London Fashion Week Men's went completely digital (and gender-neutral, I might add). But with little to no precedence for this kind of fashion event, what does it take to go virtual?
The short answer: a lot of communication, excellent organizational skills and some heavy out-of-the-box thinking, according to Seewald, whose digital presentation came together through the collaboration of many creatives across multiple borders and timezones. The idea to go digital came about during a phone call between Seewald and content producer Joana Bravo, whom Seewald had initially tapped for her physical runway show. "It all started with Joana," Seewald explains. "I called her and said 'I still want to do the show somehow.' For me, a lookbook is not enough because knitwear needs to be shown moving on the body." From there, the duo brought on board stylist Karo Rose and make-up artist Naomi Ufelle, two frequent Seewald collaborators.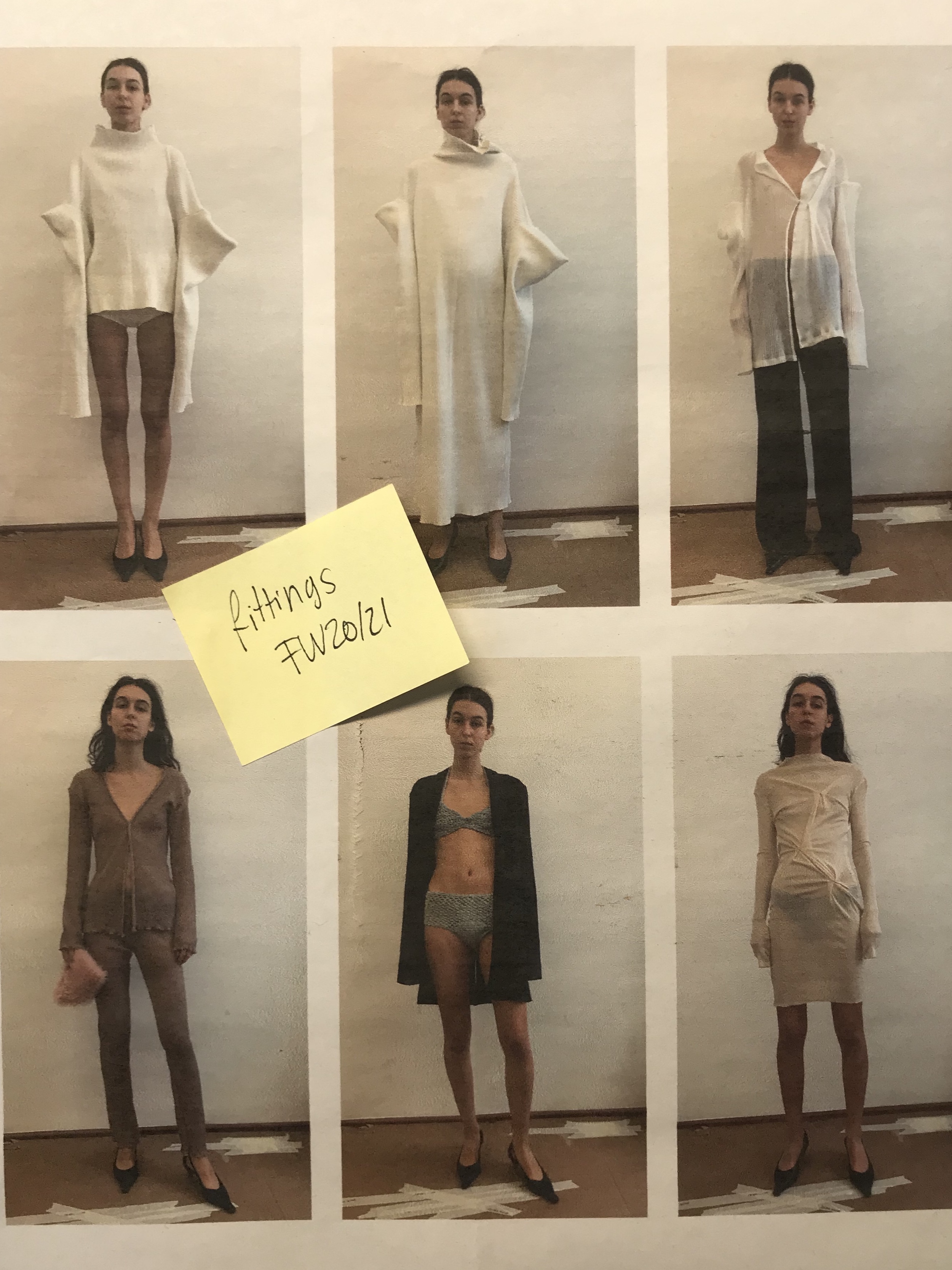 From their own social isolation bubbles -- for Seewald, from her home studio in Vienna; for Rose, over 500 km away, in Berlin -- the group took to Zoom, DropBox, Gmail and the like, to begin organizing and bringing the pieces together. "It was a lot of computer work," Seewald laughs. She recalls video conferences with Rose, who, separated from the tangible garments she was meant to style, guided Seewald, via webcam, on how to bring each look together. "I was literally putting on the clothes and she was telling me how to pair them," Seewald elaborates. As for beauty, Ufelle created video guidelines, filming herself applying the make-up looks à la YouTube tutorial.
Despite the cumbersome, perhaps, inorganic nature of undertaking a collaborative creative endeavor entirely online -- think the 40 minute time limit of a Zoom call, the unpredictability of international shipping services -- the virtuality of it all did have its upsides. "The modelling cast expanded. It was very international," Seewald says. "If I had the original show in Vienna, the cast would be just Viennese girls." With the virtual world as her oyster, Seewald was able to cast talent from Denmark, England, Germany, Spain and France, mostly through Instagram.
Once the visuals and the casting were finalized, WeTransfer links (for styling and make-up looks) and mailing packages (containing the physical garments and set pieces) were sent off to the models, who would be responsible for shooting their own portion of the video presentation. In order to show off the garments, Seewald and Bravo provided some filming direction. But the rest was up to the models, themselves. "It's a new way of doing a runway and it left the girls with a bit more freedom. Since they were in their own spaces, each girl shot [their short film] a bit differently." To create their own at-home sets, each model was provided with Seewald's signature newsprint paper and tape, which was to be plastered onto their apartment walls as a backdrop. "It's something very simple, but it's individual to each girl," Seewald explains.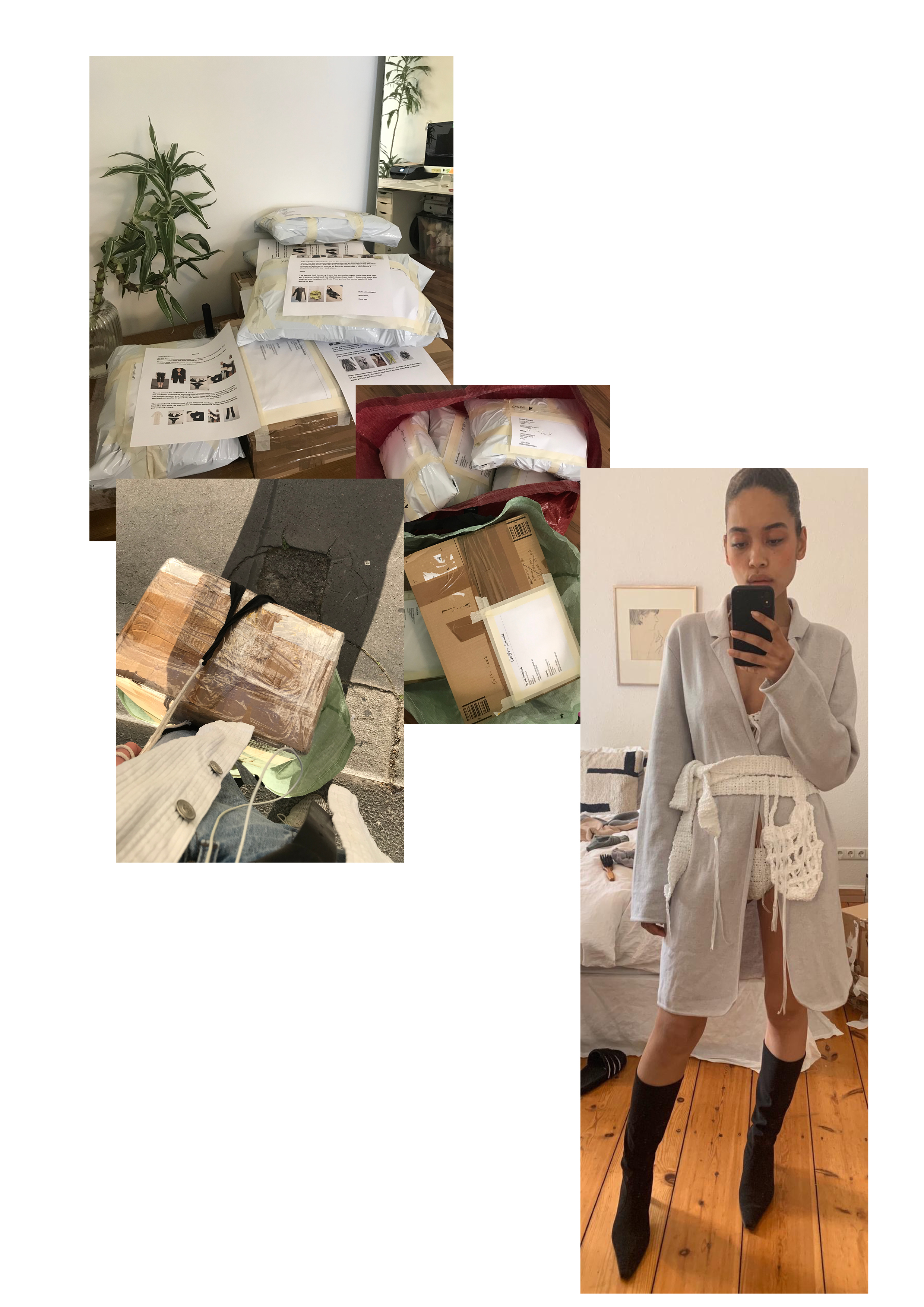 In terms of make-up, each model was to adapt Ufelle's guidelines to the products available in their own bathroom cabinets. "We couldn't expect the girls to have plenty of make-up at home, especially during lockdown," she says. Finally, in addition to the essential full-look and close-up shots that would highlight Seewald's designs, each girl was directed to film a video portrait, or video-selfie, if you will. "It was important to me to make the presentation about the girls who were showing the clothing, because it was very personal. You sent it to them at home, they made it in their space."
This intimacy comes across in the final AW20 show. Shot in lo-fi video through digital devices, in bedrooms and living rooms, models pose and dance as though in private. Maneuvering the self-facing camera of their iPhones or crouching in front of their laptop webcams, they arrange and rearrange their bodies the way we all sometimes do, alone in our abodes, as we contort ourselves into the perfectly-angled selfie. Objects from the models' personal lives sometimes peek into frame: the crumple-sheeted corner of a mattress, the tallest leaves of a sprightly houseplant, parquet floors and wooden door frames, the trappings of a life.
The clothes, too, were very much about this familiar, at-home vibe. Partially inspired by quarantine, Seewald's AW20 offering includes plush loungewear -- overlong sleeved sweaters, ribbed palazzo pants, bespoke scrunchies for bedhead -- and also soft tailoring, knitted blazers and slim-fit pants that are at once "comfortable and sexy," to be worn at home or to WFH.
The singularities -- the uniqueness of each model -- Seewald hoped to capture in her AW20 show also speak to the ethos of her label, as a whole. Seewald's signature motif, the juxtaposition of sheer and opaque materials, is a means of expressing the multiplicity inherent to being a woman. "A topic I always explore is the interplay between feminine fragility and self-determination," she says. "Feminism is the foreground. That principle embodies the label itself."
Knitwear, Seewald concludes, has a lot in common with the multifarious women she dresses -- her muses, her collaborators, her customers. This room for play and expansiveness is what draws her to the form, itself. "Knitting is a very personal process," she says. "Everyone crochets or knits a bit differently. For example, if I were to start a piece and hand it over to someone else, you might see a difference in texture because everyone holds the yarn slightly differently. If you choose to listen to music, it can influence your way of knitting. A little bit of the maker goes into each knit garment, and I think that's the beauty of it."
Seewald and her team spent just over a month painstakingly pulling the threads of her AW20 presentation together, through cyberspace, across country lines and timezones. Would she do it again? Emphatically, yes. "It's something I want to keep for the brand," she explains. "Obviously having a physical show is important for me. I love when a room is filled with people, you can feel the models moving and see the reactions on everyone's faces. But I have a lot of ideas for the future that I want to bring to moving images and virtual presentations." For Seewald, going digital is also about a democratization of fashion, both for designers and consumers. "It's a good way to showcase your work on an international level without, for example, being part of the fashion calendar," she remarks.
Of the effect that coronavirus, specifically, has had on the fashion industry as a whole, Seewald is nothing but positive. "It's slowed everything down, and through slowing down, people have had time to rethink and reevaluate things. It gives us all a chance to reconsider our production processes or the fashion calendar, like dropping collections all the time rather than focusing on two collections that are thought-through and considered, and to care about sustainability in both a social and environmental sense." Indeed, the quarantine has pushed Seewald to double-down on her sustainability practices; for example, to transform studio scraps into new pieces, like her new AW20 scrunchies. "They're all individual and handcrafted, recycled pieces that are made out of leftovers from previous collections." A small piece of Seewald's multitudinous and ever-evolving woman.