Warriors In The Garden: "Our demands will be met. Our voices will be heard"
Read the collective's manifesto here.
|
21 September 2020, 2:27pm
"Warriors in the Garden is a collective of progressive activists.
Our Mission: We are determined to protect our community from state-led misconduct and all forms of systemic oppression. We are committed to activating and expanding the political, educational, social, and economic sectors in order to eliminate race-based discrimination and ensure the health and wellbeing of all people of colour in New York City.
Our Vision: A prosperous nation where empathy and justice is paramount. A progressive society where all lives are valued and each citizen given the opportunity to succeed without having to navigate any form of systemic oppression. A non-violent republic free of police brutality and other forms of violence against people of colour. A world where young Black boys and girls can live fully and freely without apprehension or fear. A nation where there is truly liberty and justice for all.
Our Values:
Strategic Dismantling: We are determined to dismantle every oppressive systemic apparatus impeding the advancement of people of colour in the United States.
Community Nourishment: We are committed to providing low-income neighbourhoods, impoverished communities, and under-educated communities with the necessary resources to thrive.
Youth Advocacy: We refuse to rear another generation of Black boys and girls living in fear of those who are supposed to protect them, oppressed by rickety old systems created to keep them quiet, disengaged and disenfranchised. We believe that it is crucial to shape the minds of our young people and secure them a fair and prosperous future by providing the necessary educational, economic, legislative, and social resources to become engaged and knowledgeable citizens.
Social Progress: We are committed to propelling this nation forward. We acknowledge, respect, and celebrate differences and commonalities. We know the power of intersectionality. We proudly stand in solidarity with the Queer Liberation movement. We know that Black LGBTQ individuals have been trailblazers since the beginning whilst still being vilified and mocked. We curate spaces, support legislation and resources that uplift Black women and are free from sexism, and misogyny. We practice empathy. We are committed to human rights.
Legislative Impact: We believe in democracy. We believe that true change will happen when engaged politically. Education is crucial in navigating the political sphere. We are committed to civic engagement. We will educate our community on a slate of legislative and social issues that contribute to systemic racism in America like disparities in health care, employment, business, education, criminal justice and voting rights.
Criminal Justice Reform: We refuse to allow another one of our brothers and sisters to become victims to the corrupt and militarised police that is supposed to protect them. The duty of the city government is to improve and protect the lives of its residents. In good faith, we call on the city to recognise the socio-economic inefficiency of the NYPD. We acknowledge that police brutality is just one piece of the corrupt puzzle, one bolt removed from the racist apparatus known as the American Criminal Justice system. Our life work is bound to dismantling this system while creating new ones of equity.
We are determined. We are committed. We are warriors; uncompromising in our pursuit of racial equality and ending police brutality. Our demands will be met. Our voices will be heard. Strategic. Tenacious. And Resolute. This is just the beginning. It's our time now."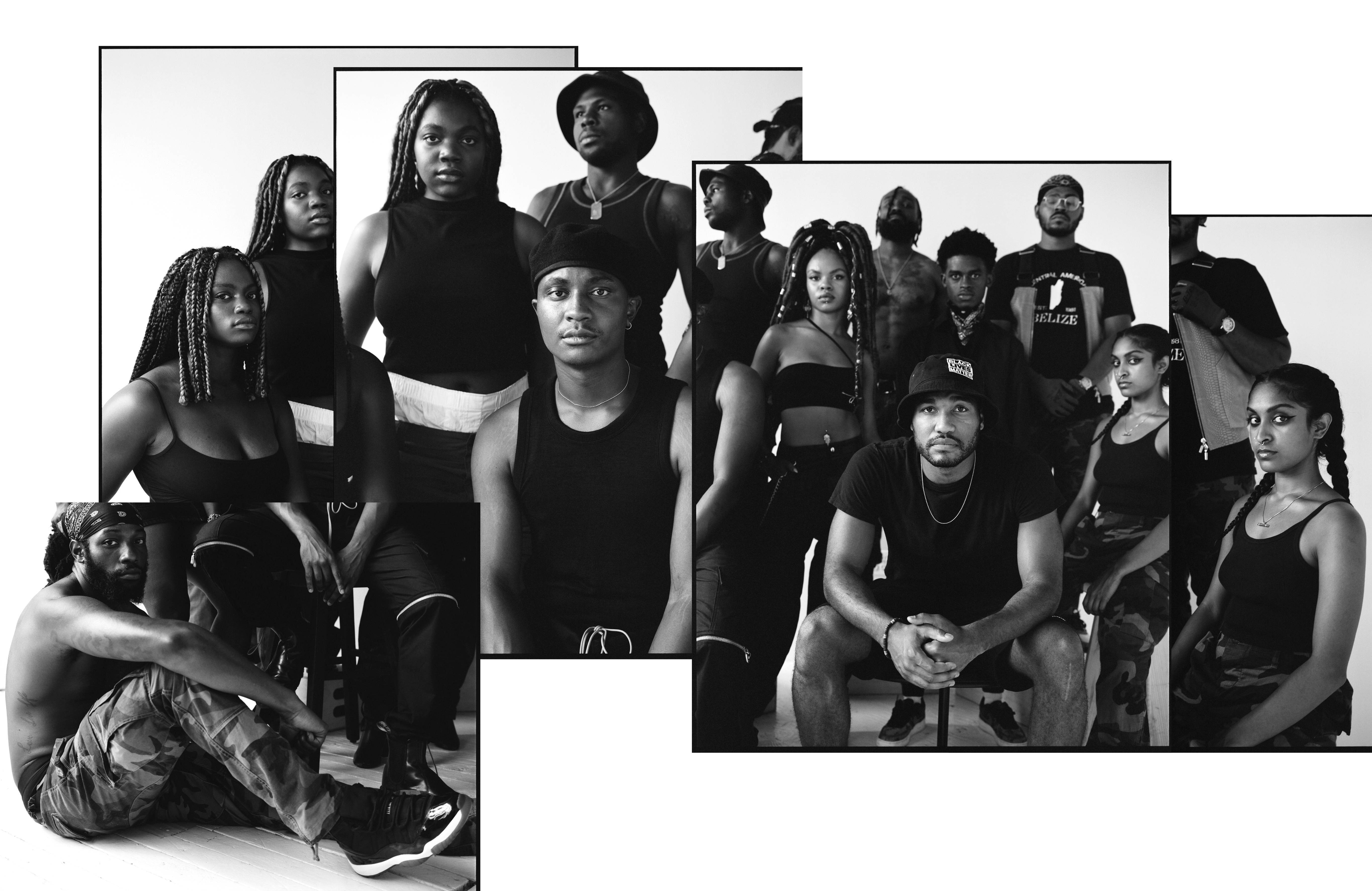 Credits
---
Photography Deirdre Lewis
Styling Sydney Rose Thomas
Hair Latisha Chong using Bumble and bumble and Mideyah Parker at MA World Group using Oribe.
Make-up Raisa Flowers using Pat McGrath Labs.
Digital technician Paolo Santana.
Photography assistance Tatum Mangus.
Styling assistance Milton Dixon.
Hair assistance Safiya Wiltshire.
Make-up assistance Iona Moura and Ashley Brignolle.
Production Jess Mendes.
Casting director Samuel Ellis Scheinman for DMCASTING.
Casting assistance Alexandra Antonova.
Tagged: