Lady Gaga and Ariana Grande are weather girls now
They teamed up with The Weather Channel for their first live dispatch from Chromatica.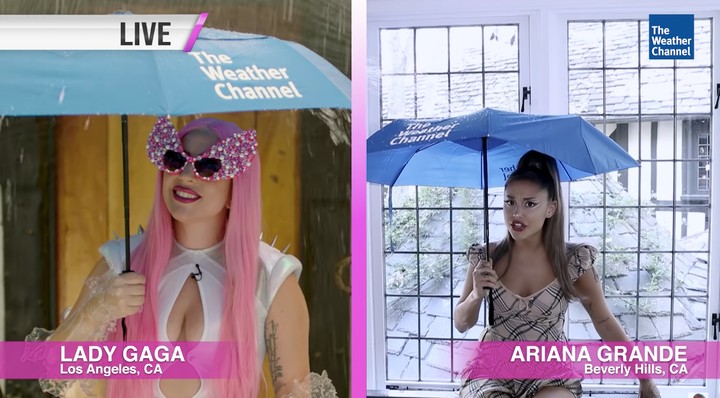 We know better than to scoff at the acting chops of Lady Gaga and Ariana Grande. Back in 2019, when the world seemed to be in pretty much tip-top shape compared to the hellscape it resembles now, Gagz was walking the Oscars red carpet, nominated for her turn in A Star is Born. And while Ari hasn't quite reached those heady heights yet, let's not forget her iconique years as a Nickelodeon staple before pop stardom took hold.
Film sets around the world might be barren at the moment, but theatricality lives on in the form of this weather cast Gagz and Grande have created in honour of the release of their single "Rain On Me", an anthem for the girls, gays and theys to revel in their darkest moments, say 'fuck it', and learn to live with them.
In the video -- which is sponsored by The Weather Channel because of course -- Gaga reports on a sudden downpour from beneath an umbrella with a burst of optimism: "We are soaking wet, and whilst some are complaining about the recent downpour, we would like to celebrate the rain," she says, before passing over to Ariana inside (yes, inside) her Beverly Hills home with some more intel in full "Rain on Me" regalia. It's a back and forth about delivering acts of kindness in this time, which seems to be the core message of the Chromatica era. Appropriately, Ari passes back in her iconic, Italian-American tone: "Back to you, f*cker".
The video, which is just a bit of fun and shot on a super low budget (Ari seems to be working with her kitchen tap and an iPhone) proves what we prayed was true: that Gaga and Ariana seem to be as strong together as their bond in the "Rain On Me" video suggests. Now, let's get the fuck out of this quarantine so we can get a live performance next. Thanks!