GmbH SS21 looks to the progressive and transgressive possibilities of fashion
Benjamin and Serhat present 'Season Of Migration To The North' a film about a fashion show in Khartoum for their SS21 digital fashion week offering. Watch it here exclusively first.
Since Benjamin Alexander Huseby and Serhat Isik established GmbH in 2016, representation and diversity has been an innate part of their tough-luxe aesthetic. Benjamin is Norwegian-Pakistani and Serhat is German-Turkish. Both are gay, too, and their work is imbued with the sartorial codes of Berlin's queer scene, born out of the city's dancefloors and creative community. The duo usually presents their collections on Paris menswear schedule, and in lieu of staging a show this week, the have decided to present three-part project that riffs on the ways in which fashion can be progressive, even transgressive. The first part was a film they made in just under a week, Guest on Earth, which poetically captures residents of their Berlin neighbourhood, such as Honey Dijon and M.J. Harper alongside figures far removed from the world of fashion. It captured human interaction against a grey skyline, an ode to the idea of community at a time when communities are forced to be apart.
The second instalment is a much more pertinent to their slot on the digital Paris Fashion Week schedule, and essentially they are handing over their platform to Norwegian artist Lars Laumann and Sudanese activist and architect Eddie Esmail. In Lars' film, Season of Migration to the North, Eddie reads his diary entries from the days before his arrest in Khartoum, where a fashion show he staged and took part in was raided by police, who arrested all of "the boys who they thought looked gay" as well as the girls that "looked immoral". He was subsequently forced to flee Sudan and seek asylum in Norway, where he was faced with Western Islamophobia. Original footage from this fashion show provides the visual backdrop -- dapper barefoot models parade on a spot-lit, carpeted catwalk, enjoying an innocent moment of freedom and self-expression before being violently persecuted for it.

"It embodies how fashion can be a political act, a transgressive act," Benjamin explains. "We have this platform on the official schedule of Paris and we're not doing a show, so why not show that as our fashion show? It felt so powerful to take that and bring it to the centre stage of the fashion world. We wanted to amplify that message of the power of a fashion show."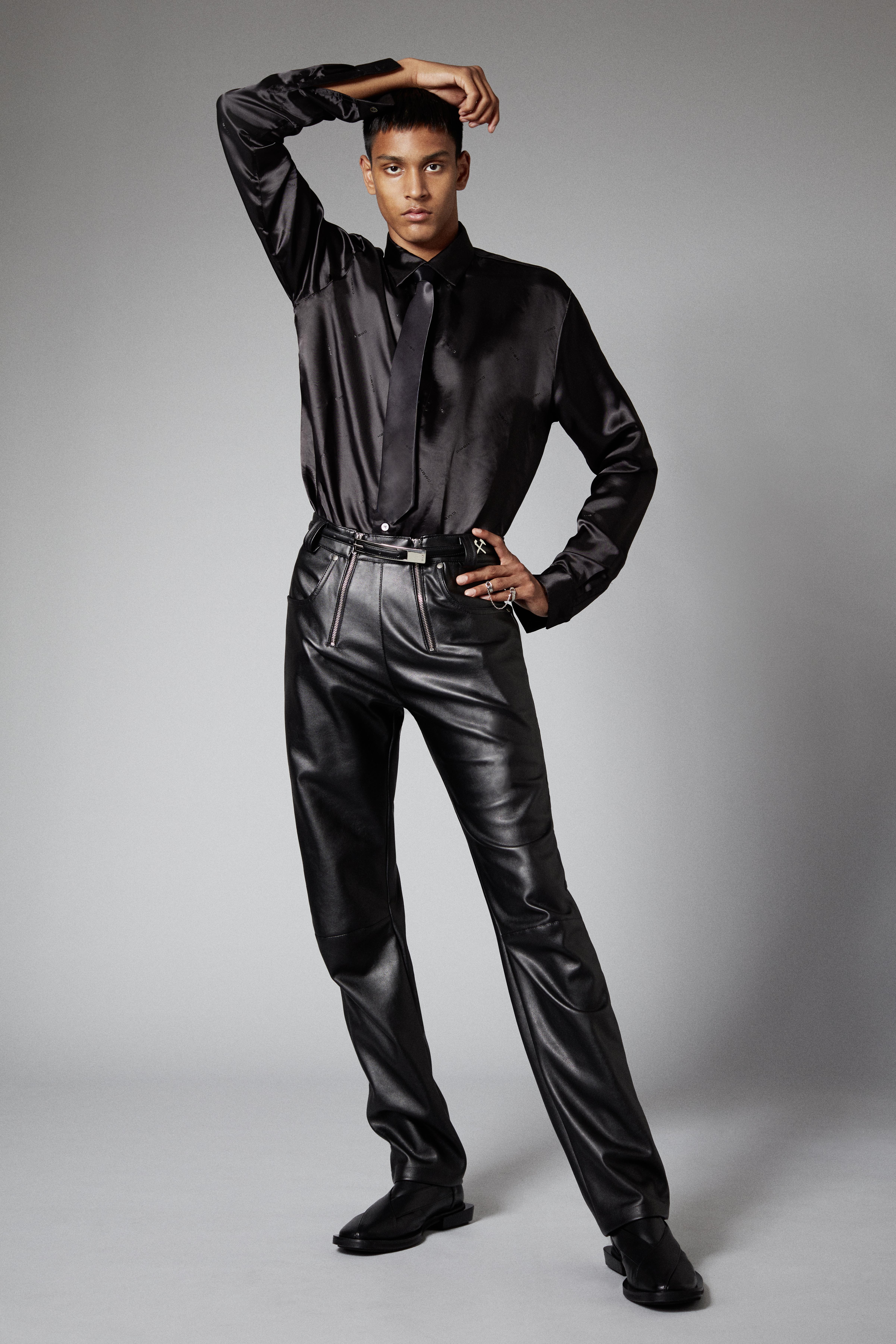 Both films also touch on recurring themes for the designers: migration, queerness, and the experiences of marginalised communities. Both make reference the queer Norwegian poet Gunvor Hofmo's I Want To Go Home To The Humans, from 1946, written when she was only 25. Hofmo spent most of her life in a psychiatric ward, after her girlfriend Ruth Maier, an Austrian Jewish refugee in Norway, was deported to Bergen Belsen and killed as Germany occupied Norway. Essentially, the struggles faced by Jewish homosexuals during mid-20th-century fascism are echoed in the experiences of Muslim homosexuals today -- both are minorities within a minority group.
As fashion has seemingly woken up to racism overnight, with brands making hollow statements in response to the Black Lives Matter movement, GmbH is one of the few brown-owned businesses that demonstrates why it's important to listen to voices that have historically been ignored. "We don't think of diversity as something we have to be, we just are. It's authentic to what we've always been doing," Benjamin explains. That said, the pair are still committing to advocating for more change. "Something we both felt through this movement, it made us think of how we can do much better. Just because you're diverse, doesn't mean that you're perfect."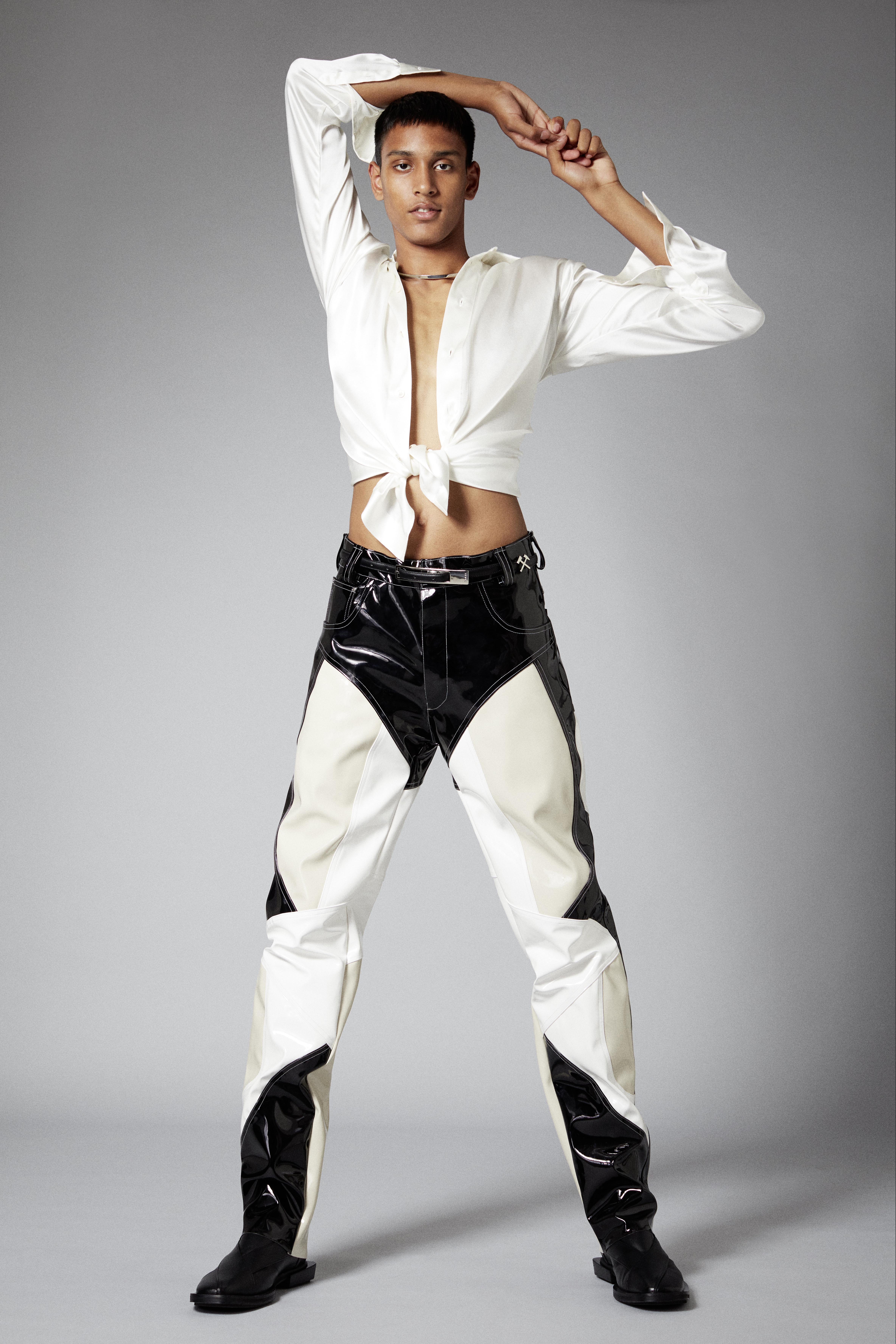 Given that both designers suffered from Covid-19 and were out of action for a month, it also comes with the added pressure of keeping their independent business afloat. With mills and factories closed, their SS21 collection was made almost entirely from the resources they had available in their studio. There is still the signature squeaky zip-up leather trousers and intricately seamed outerwear, alongside collarbone-flashing tops, fluid midriff-tied shirts and slinky knits in bold red and pale blue. "It's about the signature things that we've done, a small collection that we really like because it's focused on what we're about in terms of the clothes, the message and the core elements of the brand," Serhat says.
The pandemic has given them time to reflect on the future of their beloved label. "It became very clear that we don't really care that we don't care about being a big business, which is usually how success is rated," Benjamin attests. "It's about going against this capitalist idea of eternal growth, which is totally unsustainable. That freed us from the things you constantly have to do to make your business financially grow. Instead, we want to focus on all the things we really love and see how that works. We wanted to mess with this capitalist idea of success."