Everything we know about Harry Styles' next movie
'Don't Worry, Darling' will star Florence Pugh as well. When we tell you we're hyperventilating...
|
14 September 2020, 11:32am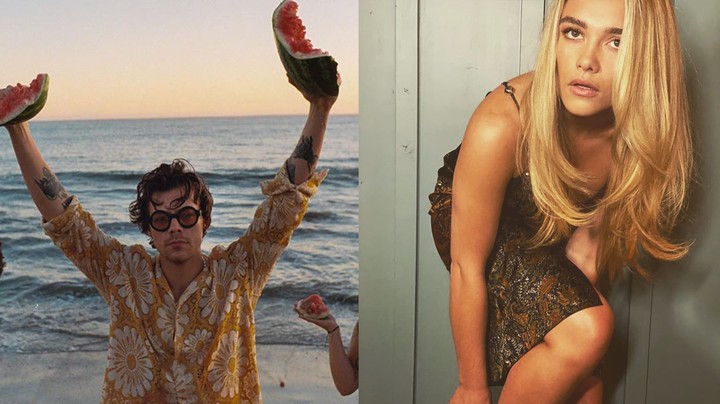 Images via Instagram
Harry Styles stans know the feeling of false hope. When it was announced last year that the singer-slash-actor was in the running to play Prince Eric in the upcoming live action remake of The Little Mermaid, we were gunning for him to say yes and sign on the dotted line. Alas, he didn't in the end, focusing on touring his new album which would have overlapped with filming. But since the coronavirus hit, neither of those things have been able to go ahead. Halle Bailey — of Chloe x Halle — who was cast to play Ariel, is still cooped up in Los Angeles awaiting the green light for filming to kick off in London. Harry's tour has been mostly rescheduled until next year. Everyone, quite frankly, has been fucked over.
Which was perhaps why we responded so fervently to the news that Harry may be making his first big-screen return post-Dunkirk alongside Brad Pitt, in an American indie titled Faster, Cheaper, Better by Nightcrawler director Dan Gilroy. The rumour, spread unwittingly by a Spanish distributor, gave us hope. And then both Brad and Harry's camps denied it and we were back to square one.
What we didn't know was that these swirling rumours were mere decoys for a project that's sent serotonin coursing through our bodies. Yep, actor Harry is back, baby! And he's in Don't Worry, Darling — a film directed by Olivia Wilde — playing Florence Pugh's f*cking husband! Sweet Jesus, what did we do to deserve this?
Anyway, if this news is, well, new to you, then here's a quick rundown of everything you need to know.
What's it about?
So Don't Worry, Darling has been doing the rounds in Hollywood since late last year. Though we haven't read the script (the original is, apparently, out there on the internet somewhere), the gist is that it's about a 1950s housewife living a run-of-the-mill, somewhat depressing suburban life in California. Stuck in a cycle of mundanity, everything is broken when the facade of her existence starts to crack, unveiling terrifying truths underneath. The original script, written by the Van Dyke Brothers, gained praise as part of the famous screenwriting Blacklist in 2019, a hotbed for new, unproduced projects. But it's since had a partial rewrite, courtesy of Booksmart's Katie Silberman — a move to make women an integral part of the production process.
Who does Harry play?
In the film, Harry plays Jack, the husband of the lead character. In the original script, he's supposedly framed as something of a slight chauvinist, and is present in the film from start to finish. Quite how he'll manifest in the new script is still to be seen. What we do know is that Harry is taking over the role from Shia LaBeouf, who dropped out of the project earlier this year.
Who else is involved?
The film's original script, as we mentioned, was written by Carey and Shane Van Dyke, who came up with the concept for the film in the first place. But as the project has progressed, more people have come on board. New Line Cinema, who are set to fund the project, have brought a majority woman team on board. Olivia Wilde will, of course, direct the film in her first project since Booksmart. Catherine Hardwicke, known for directing Thirteen and Twilight, will be the film's executive producer. On the cast side, Harry will be joined by Florence Pugh, who will play the lead, while Dakota Johnson and Olivia herself will both have supporting roles. Chris Pine is set to play a cult leader who lives in the same town. The project is still in its early stages, so expect more names to pop up as time goes on.
When does it come out?
This is the question on everybody's lips, and it's one we don't have a solid answer to yet. The film isn't scheduled to start shooting until a little later in 2020, which, depending on post-production, might mean the film could be ready for late 2021: if it's Oscar chances seem high, maybe they'll push ahead for a big flashy premiere at an awards-friendly festival like Telluride or Toronto this time next year. But there's also a chance they could hold out until early 2022 and take things a little slower. With rona making scheduling a nightmare, the truth is we won't know for a while. All we do know is that we'd like to pre-book tickets now please. Don't Worry, Darling is the only thing that can get us through the last few months of 2020.