Ludovic de Saint Sernin has made horoscope tank tops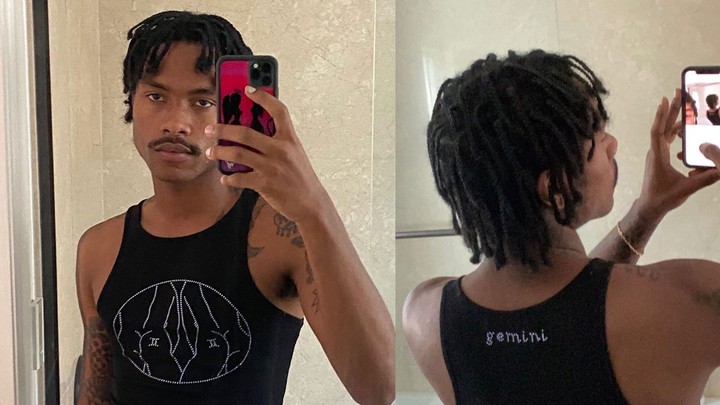 via @ludovicdesaintsernin
Hear that? Queer men across the world are quaking at the news that Paris' favourite maker of sexified, sensual clothing, Ludovic de Saint Sernin, has launched his new collection. And it's an off-piste capsule released in honour of his birthday, dedicated -- aptly -- to horoscopes.
Teased across Instagram over the weekend, the collection celebrates the muscular physique in various salacious states; nude bodies stoned in circles with Swarovski crystals. Aries has a man on all fours, back arched in cherry pink jewels. The Gemini version, modelled by i-D cover star Steve Lacy, featured two perky behinds branded with the star sign in blue. Or maybe you, like Ludovic himself, are a Virgo? Strong; intense; dominating -- this creation's legs are splayed in a kneeling position, captured, for eternity, in aqua crystals. Or maybe you're an Aquarius, represented by the muscular back of a man submerged in seawater?
The 12 tank tops are already setting Instagram on fire, with the gays, girls and theys of the fashion world sliding into LDSS's comments in admiration. Hanne Gaby Odiele and Marc Jacobs are already obsessed.
And now you too can own yours! The Swarovski crystal tank tops have gone on sale on Ludovic de Saint Sernin's site in the run-up to the designer's birthday later this week. Perhaps they'll follow in the footsteps of the towel skirt and the Tenga Egg sex toys as his latest most coveted and talked about pieces. The gays, as they say, are living.
See the full line-up of Ludovic de Saint Sernin's tank tops here