TikTok's tiny house tours show how generation rent find comfort and privacy
The cramped walkthroughs you're seeing on your FYP might not be aspirational, but for young people who came of age during an endless housing crisis, at least they're realistic.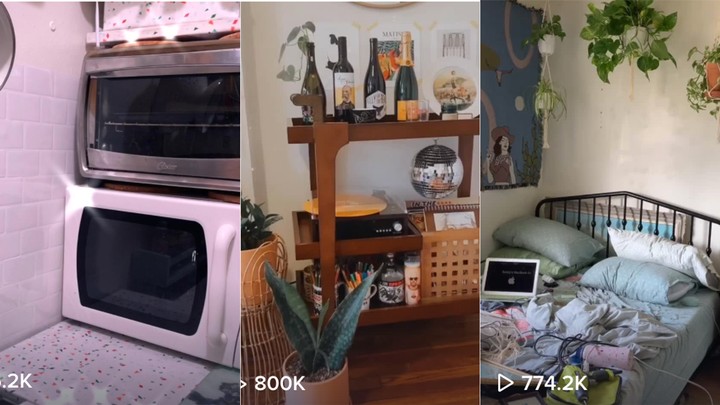 Chances are, if you're currently addicted to TikTok — who isn't? — you've seen a bougie house tour on your For You page. You know the sort of thing: expansive roof terraces, exposed brick walls, kitchens you could play football in; all filmed with TikTok's bling filter on, as if they needed to look any more luxurious. But what about 'micro-living' content? One-room rented apartments, euphemistically referred to as "studios" by the landlords that dictate our lives and incomes, are becoming more and more popular on the app.
For most of us, particularly those living in hub cities like London, New York or LA, housing options are increasingly limited. Young millennials and generation Z can choose from living in a house share, sometimes with friends but often with strangers found on RightMove, Gypsy Housing or Spare Room, or staying at home in our childhood bedrooms long into adulthood. According to the Office of National Statistics, there has been a 46% rise in the number of young people living with their parents in the last two decades. Out of all the people who live alone in the UK, less than 20% are under the age of 34. For many, the idea of having an entire apartment to yourself is a pipe dream, but that doesn't stop us window-shopping wistfully via TikTok's 60-second snippets.
KC is lucky enough to live that dream. But it's pretty cramped. The 26-year-old has lived alone in her 280 square feet studio in New York City for the past eight months. She started sharing videos of her home on TikTok in April; since then she's gained more than 36,000 followers and her most popular video has been viewed over 3.5 million times. As well as showing off her collection of houseplants and thrifted furniture, she shares tips for decorating rental properties and making a space feel like home when it isn't technically yours.
KC was drawn to the platform for its entertaining qualities, but also for its honesty. "I really wanted to show that no matter how small a space or budget, you can make a place a home," she says. "Most of the NYC apartment tours I had seen on TikTok were huge and full of expensive furniture. I wanted to bring a new side to it with my tiny space. I never thought I could reach this many people on one app. I was really making these videos for fun in quarantine, but the experience and support has been amazing."
She adds that her interior design projects and having somewhere to share them has been her saving grace during lockdown: "When you stare at the same gallery wall for 15 hours a day, you start to wonder if you even really like it. Having the outlet to decorate and redecorate, because it's something I enjoy so much, has helped keep me sane."
On the other side of the US, 26-year-old Bailey has lived in her one-bed Los Angeles apartment for a year and a half. She started posting home decor content on TikTok in May — her most popular video, captioned "exposing myself with this depression room", has been watched over 77,000 times and shows her bedroom before and after cleaning it.
"I enjoy making apartment videos on TikTok because it's more creative than posting photos," she says. "It can be hard to come up with new content in a 290 square foot apartment, because there's only so much space to decorate. TikTok always has new trends and challenges, and sometimes you can find fun new ways to showcase your work."
One of the most interesting things about Bailey's apartment is that she built her kitchen inside a cupboard; the countertops fold down when she needs to use them and her pots and pans hang from a curtain rail. "A lot of you asked what kind of meals I can cook in this kitchen that I built in my closet, so I wanted to give you a quick recipe," Bailey deadpans in one of her videos. "So what you're gonna want to do is walk to the liquor store down the street and get a White Claw and some popcorn and a bag of cashews and a Perrier and some dusty Reeses cups."
"The culture on TikTok is different than on Instagram in that there's more honesty and humour," she tells me. "Like, the teens on TikTok want to see your depression room at its messiest. That doesn't really happen on Instagram."
Laurence Jones-Williams, an organiser at Tenants Union UK, believes the trend is an indictment of the crisis facing those who rent, of which young people make up the largest group. "I think this phenomena is likely due to the lack of choice young people have as land value is soaring and space comes at a premium, whereas one bedroom apartments are a lot of what is being offered these days because they often have the highest return for property investment," Laurence says. "Living on your own is often the only choice. Young people only being able to afford really small flats or tiny studio apartments is definitely a symptom of the housing crisis."
TikTok has given a platform to a new form of aspirational content, in that it's not really aspirational at all – it's realistic. It's less curated and more honest than sites like Instagram and so, perhaps because it's more relatable, it's also more entertaining. Combined with the fact that a reliance on renting means young people have had to significantly tone down their housing aspirations compared to previous generations, it's no wonder that these pint-sized apartment tours are a hit on the app. What the homes lack in space, they make up for in one key element: privacy. When so many of us share our lives with strangers, a room of one's own is gold dust. The fantasy of a tiny rented studio may seem a little mundane compared to the luxurious penthouses that occasionally pop up on your FYP, but that's what TikTok is all about. For most of us, a closet-kitchen conversion is more likely to be on the cards than a roof terrace and exposed brick walls. Thank you, landlords of the world.