Courtesy Silver Art Projects. Photography Joe Woolhead
Tourmaline: "My practice depends on dreaming of what could be"
The New York-based artist and filmmaker discusses the radical power of speculative storytelling and her new residency.
Courtesy Silver Art Projects. Photography Joe Woolhead
"I've always been drawn to projects that radically reimagine a space and its intentions," says Tourmaline, the New York-based artist and filmmaker. It's a statement that chimes well with the message of her films, which recuperate and retell stories intentionally written out of history by white supremacist hands. Today, however, she's talking about a physical space: 4 World Trade Center, right at the lower tip of Manhattan.
It's "a space dedicated to commerce and capital," admits Tourmaline, though she'd pondered "what [it would] look like to instead fill it with artists, with community?" A chance to do just that has been created by a new annual residency programme run led by Cory Silverstein and Joshua Pulman of Silver Art Projects, with an inaugural cohort of 25 artists offered rent-free studio spaces for up to 8 months, Tourmaline among them.
In a city where the cost of ideally-located studio space is so steep, it's a welcome opportunity, to say the least. But beyond such pragmatics, it has offered Tourmaline new space and perspective to research, revive and reimagine the forgotten histories that have played out in the streets below. "Lower Manhattan is a place where Black people have loved, lived, and gathered for centuries, from the times of slavery – when the Dutch colonized Lenape land – to the present day," she says. "It means so much to work and create in proximity to a place where Black people before me were dreaming – asking for more, and then creating it."
Her most recent film, Salacia (2019), is a sterling example of Tourmaline's propensity for activating the history that lies dormant in the city's fabric. Set in Seneca Village, a free Black community destroyed in 1855 to make way for Central Park, it tells the story of Mary Jones, a Black trans woman who lived in the early 1800s and worked as a sex worker. In staging her fight to survive within a racist, transphobic social ecosystem, acute attention is drawn to the parallels that continue to exist between then and today.
The film garnered widespread critical acclaim and was, earlier this year, acquired by MoMA. Now, she's preparing for further major institutional shows, though she's doing so at her own pace. "My practice depends on dreaming—giving myself time to rest and think my dreamiest thoughts of what could be, what I want this world to be, looking for the glimmering parts of my life and my community where I'm seeing the world that I want as already being here," she says. "Silver Art Residency gives me a whole different perspective to dream from -- literally. Seeing the city in a panoramic way and thinking about the rich history of Lower Manhattan and how its physical and psychological landscape has changed over time."
Between dreams, we caught up with Tourmaline on her journey as a filmmaker, her work as an activist and organiser, and how speculative storytelling can light the path towards better tomorrows.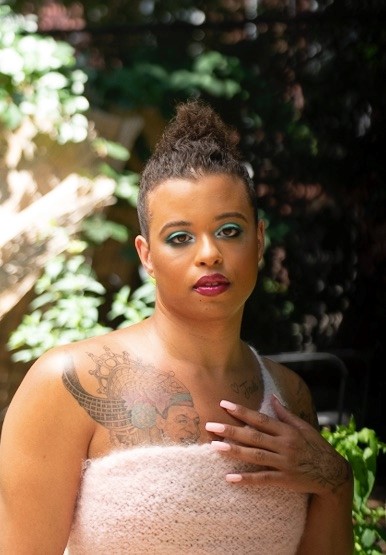 How and when did you start making films? And what is it about film that you find particularly conducive for your voice as an artist?
I really started making films in 2015. I had spent so much time as a community organiser and researcher uncovering previously lost footage of Marsha P. Johnson and Sylvia Rivera, creating my own visual archive of those who had been left out of the whitewashed historical narrative of Stonewall, of the LGBT movement. Those who were seen as too unruly, too radical, too combative, too transgressive: sex workers who were firmly anti-police, Black trans women who walked down the street naked, community leaders who did everything it took to house and protect their own. I saw the power that showing this footage had, the way my loved ones were now able to situate themselves in a lineage that looked and sounded like them, that wanted the same kind of world they wanted. I love this dual power of film: how it has the capacity to show us what has happened—what we otherwise might have forgotten—while also giving us the space to dream and create entirely new worlds.
Much of your work focuses on giving voice to undocumented histories, often adopting a speculative realist lens to 'fill in the blanks', so to speak. How did you develop your particular style of storytelling?
Speculative storytelling is embedded in who I am because it's always been a part of marginalised communities. Our histories aren't preserved in dominant narratives or mainstream storytelling -- our lineages are glossed over, or, more often, buried, hidden from us because of how powerful they are. Growing up in the tradition of community organising within Black power movements, I was taught how important it is to fill in the blanks, to search for and find the very things that people in power don't want us to know about our pasts. Historical narratives are so often sanitised and whitewashed in order to serve and preserve the white supremacist, transphobic status quo -- it's no accident that mainstream LGBT organisations would have us forget that Stonewall was an anti-police riot, led by Black trans women, because that forgetting is in service of maintaining power, corporate sponsorship, and legal rights-based organising. I'm so much more interested in excavating our wayward histories, embracing them in all their messy glory, and dreamily filling in the blanks when the footage isn't there.
How can creating and staging 'imagined' versions of the past set us on the right course for the future?
It's like Rowin Amone, playing outlaw trans sex worker Mary Jones in my film, Mary of Ill Fame, says: "We can be anything we want to be." Reimagining and communing with our past sets us up to reimagine the future. Spending time studying the life of Mary Jones -- a real historical figure -- getting to know her, imagining her adventures and her desires, allows me to approach my own life, and our current movements, the same way. When I think, "what if Mary Jones pulled off this prison break in the early 1800s," my next thought is, "what if we pull off this prison break today, in the 2000s, springing all of our loved ones to freedom?"
What inspired you to work on your most recent film, Salacia_**? Where did your research for the film begin?**
_Salacia follows Mary Jones, a Black trans woman who was a sex worker and an outlaw in the early 1800s, criminalized both for being trans -- "Wanted" posters called her a "manmonster" -- and for working, stealing wallets from her tricks. My brilliant sibling Che discovered her court transcripts while I was working on Happy Birthday, Marsha!, and shared them with me. I've thought about Mary ever since. I wanted to imagine her into a different historical record, a record beyond courts and jails, not dictated by systems that wanted to cage and kill her. I wanted to imagine her into a record of freedom and adventure, of magic and determination and escape.
The film has entered MOMA's permanent collection. What do you hope to see on the part of institutions of similar size and stature when it comes to diversifying their collections?
I hope to see more big institutions buying Black trans art for their permanent collections! There is a huge spotlight right now on Black artists and Black trans artists in particular; it feels like the world is finally listening to what we've been saying for decades: that our lives and our art not only matter, but in fact are responsible for so much of the beauty and culture and freedom that the world has access to today. I hope that museums and powerful cultural institutions make the choice to materially support this recognition, investing in our work, showcasing our work, buying it at market value, and giving us opportunities to curate these spaces ourselves.
Prior to making art, you spent an extensive amount of time working as an organiser -- how does it feel to witness and partake in the events we've seen over the past few months?
It feels powerful. I know that this moment is a culmination and continuation of the countless forms of resistance and refusal that have been going on for centuries! Spilling out from our beds, from our phones, from our reconnections to the land and our ancestors, from the hospitals to the prisons to the streets to the shelters, to the gardens and the parks to what happens when we are asleep. Watching 15,000 people gathering in the streets of Brooklyn to declare their commitment to protecting and uplifting Black trans lives -- it's moving to witness such a public outpouring that's really a recognition of all the work that has happened over decades to make our voices heard, so much of which has taken place necessarily in quieter ways. We are so deeply indebted to the Black trans elders who are no longer with us, and to those who are, like Miss Major. To so many disabled organisers, to all of the conversations that have been whispered while cruising, to everyone who has, for so long, and in so many big and small ways, opposed the oppressive violence of the deeply racist and transphobic police state. It gives me a lot of hope to watch more and more people recognise that we don't have to rely on a state that was never intended to keep us alive, to recognise that only we can keep each other alive.
Tagged: