Julie Blackmon's surreal photos capture daily life in American suburbs
The photographer's latest exhibition 'Fever Dreams' explores the artful chaos in the everyday.
It was in Julie Blackmon's 30s, after she'd moved into a 100-year-old house in Springfield, Missouri, "in the middle of the country, in a city with a generic name," that she decided to pursue photography in a real way. She discovered her new suburban home had a darkroom in the basement, which had once spawned Springfield's first photography business. And as she tried to make the living room look like Pottery Barn — "It was all the rage to have black and white pictures of your kids lined up on a shelf behind your couch at that time," she says — the mother of three became inspired by the humour she found in the everyday moments of domestic life.
In an exhibition titled Fever Dreams that opened at Fotografiska New York in March, but will once again be on view on August 28, the photographer explores the complexities of contemporary life in a selection of surreal scenes, saturated with a sense of the uncanny. The show includes work from both her Homegrown series, as well as recent images that respond to the way coronavirus has altered daily life. An image titled "Trapped," shows a garage filled with discarded protest posters. A dramatically lit cat sits in front of the word 'FUCK' scrawled into a dusty window. It encapsulates the common cry for freedom we're all releasing during lockdown.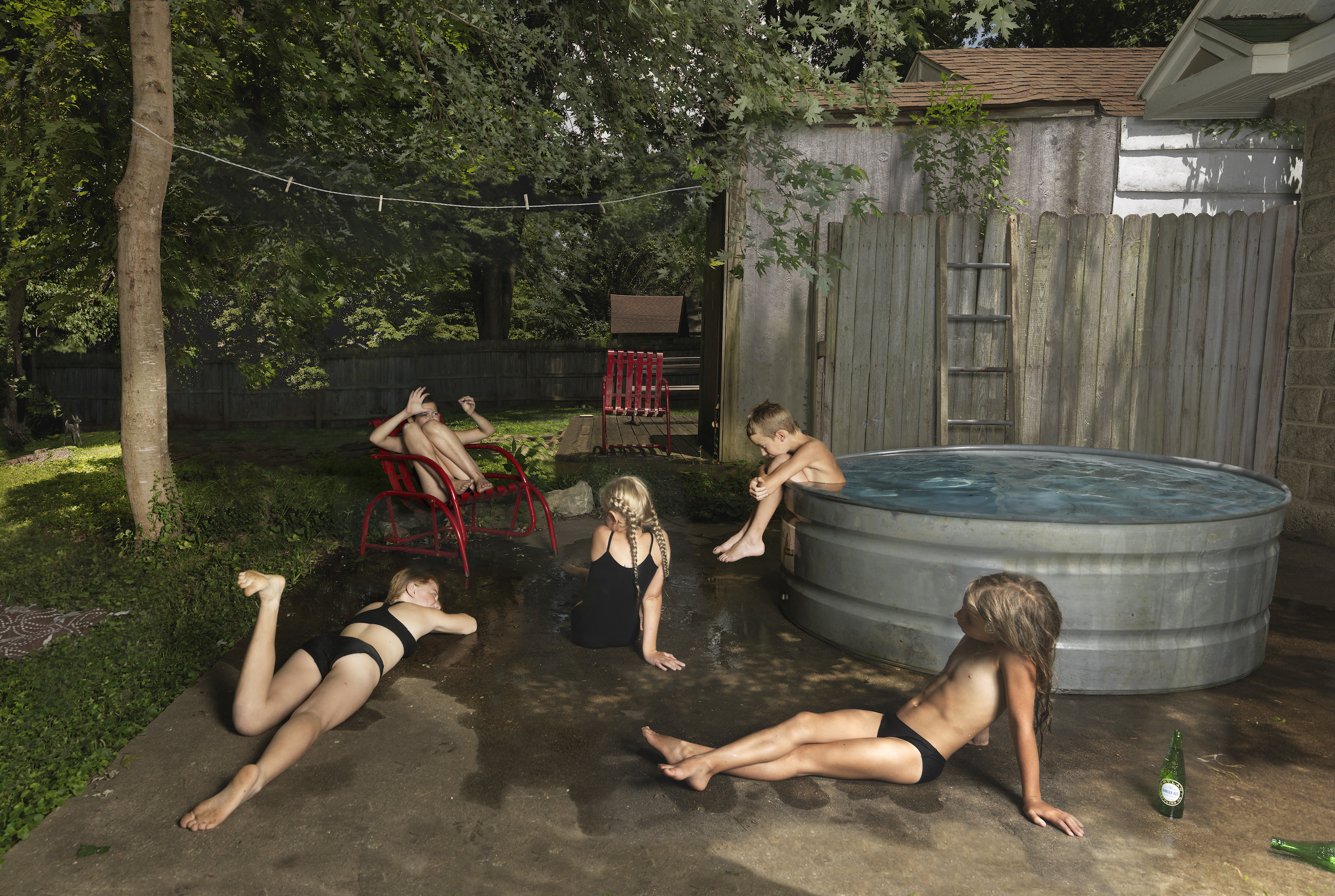 Blackmon breathes energy into the seemingly mundane, finding comedy in the small moments we all take for granted. Triggered by a recent trip to a homeware store, she heard someone say: "We can't really keep paint in stock. Everybody has a project right now since they can't go anywhere." That inspired her work "Spray Paint," which reflects on everyone's pursuit of DIY projects at a time when everything else in their life is out of their control. Another image captures five bored looking children sitting around a metal tub beside empty beer bottles haphazardly left out in the yard.
"I want to say something — like most artists — about the times and culture I'm part of," Blackmon says. "Most people assume my work is all about kids. It's actually not so much. The kids and crazy scenes are often just metaphors for a certain psychological state. It might be the absence of the mother or parent, or a child in a potentially dangerous situation, that helps create the tension and humour." The children frolic contentedly in a world imbued with colour, oblivious to the unexpected dangers, darkness and chaos of the outside world.
In her Homegrown series, a too-big-knife juts out of a watermelon by a pool filled with children, one of the boys dangling his arms into the water — too young to be able to swim, his buoyancy devices strewn out of reach. A little boy presses himself against the window in his pants, looking into a yard covered in pipes and Christmas lights. Or children strut across a crosswalk in the style of the Beatles' iconic Abbey Road cover, one of them crying from their red Toby Wagon.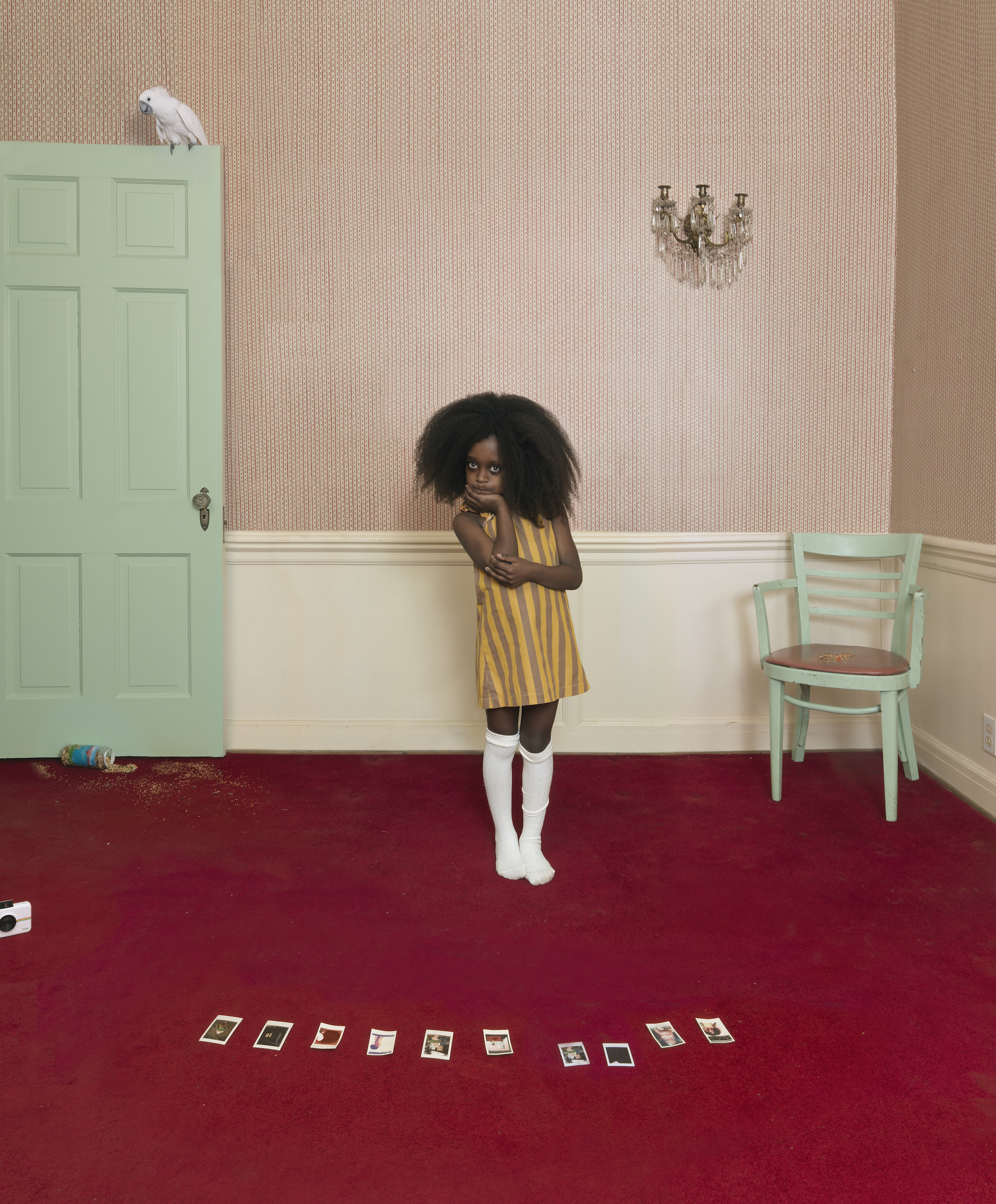 "You would think there's not a lot going on in a place like this, but I find that not to be the case. There's not a single day where I don't find inspiration around here," Blackmon explains. "But I think there's a danger with women in that it's assumed all their work is autobiographical," that the work has been created during a pause while looking after the children. Blackmon's work, however, is all fictional. It's meticulously planned, thought out and orchestrated. Her own children are all grown up, so they don't feature at all in the works. "I'm shooting and then editing for the strongest and most compelling moments, and then in some cases, reworking the entire scene to create a moment or narrative that all fits together."
Blackmon is inspired by 17th century Dutch and Flemish paintings of domestic life, especially those by Jan Steen, who depicted chaotic households and rowdy scenes. Turned upside down in a festival of objects, she appreciates their humour. It seems in many ways to be the reality of growing up as one of nine children, and as the mother of three. Just like in Steen's paintings, the photographer hides details and metaphors that don't reveal themselves until the viewer takes a closer look. The scenes are littered with crisp packets, beer bottles, toys and magazines — discarded artifacts that are perhaps an allegory for our throwaway culture and consumerism.
She also loves the cinematic quality of the light in the old paintings, a quality that she recreates in her images using a combination of natural light and strobes. "I prefer lighting that captures all the details and lights up the bodies and expressions of the kids," she says. It adds to the sense of drama and the surreal that gives the images their fantastical appearance.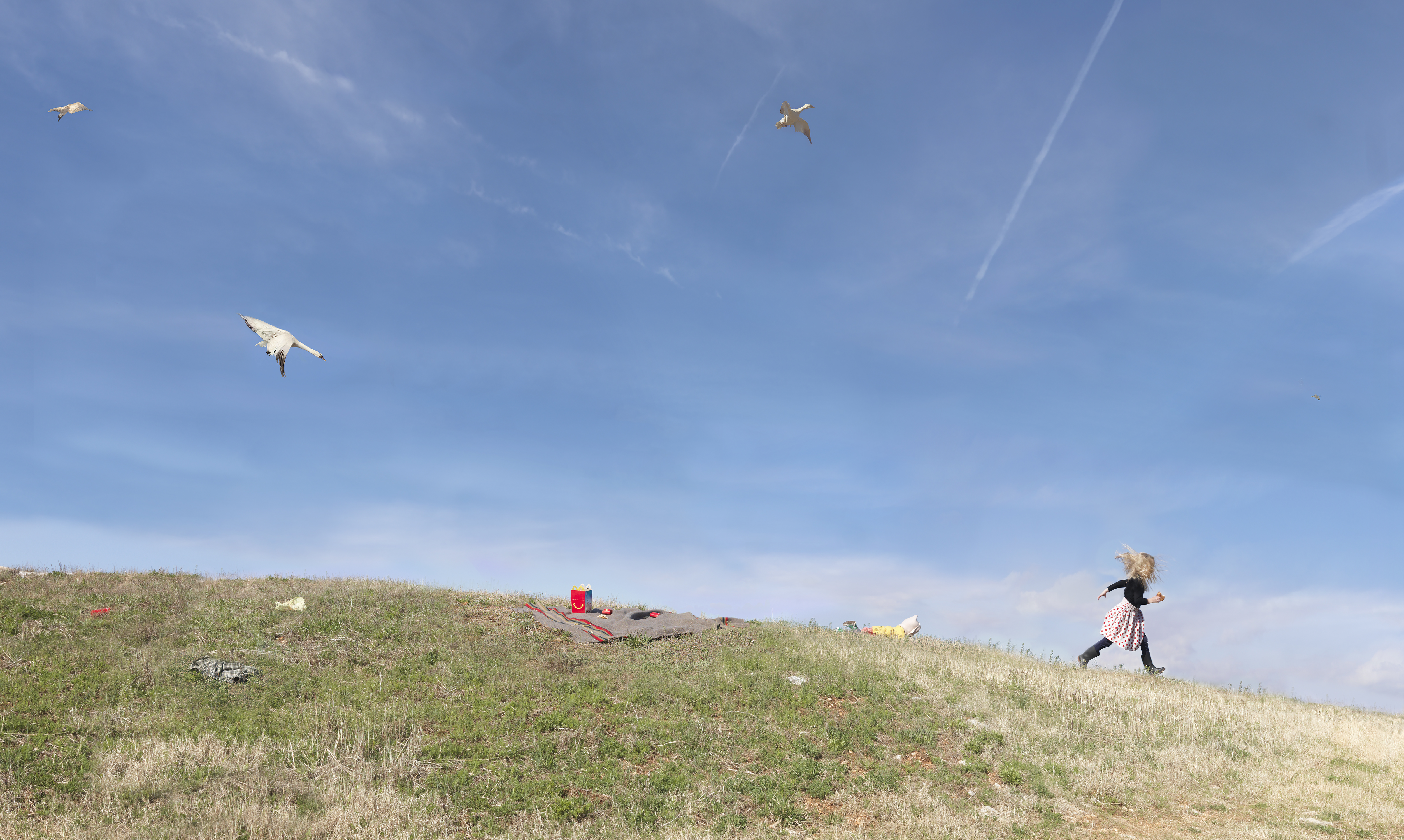 The same is true of her costume and staging, both of which are equally filmic. There's a Diane Arbus-inspired girl called Ezra with a haunting gaze and knee-high white socks, pictured in a room with pastel pink walls and mint-coloured furniture. A parrot perches on the doorframe and a line of polaroids lie on the floor. It draws similarities to one titled "New Neighbours," that was influenced by Stanley Kubrick's The Shining and features her two cousins dressed in matching red dresses.
Whether a social commentary on American life, parenting and consumer culture, or simply a reference to art history, Blackmon's images are as haunting as they are infallible. They capture the reality of domestic life in ways that are truer than a simple snapshot — the situations are relatable even though their compositions are dramatic.
"Each individual picture has its own challenges that are unique to it. The details, scene and setting within it are all new. The moments are new. The gestures are new," she explains. "The work as a whole will evolve and change naturally on its own over time."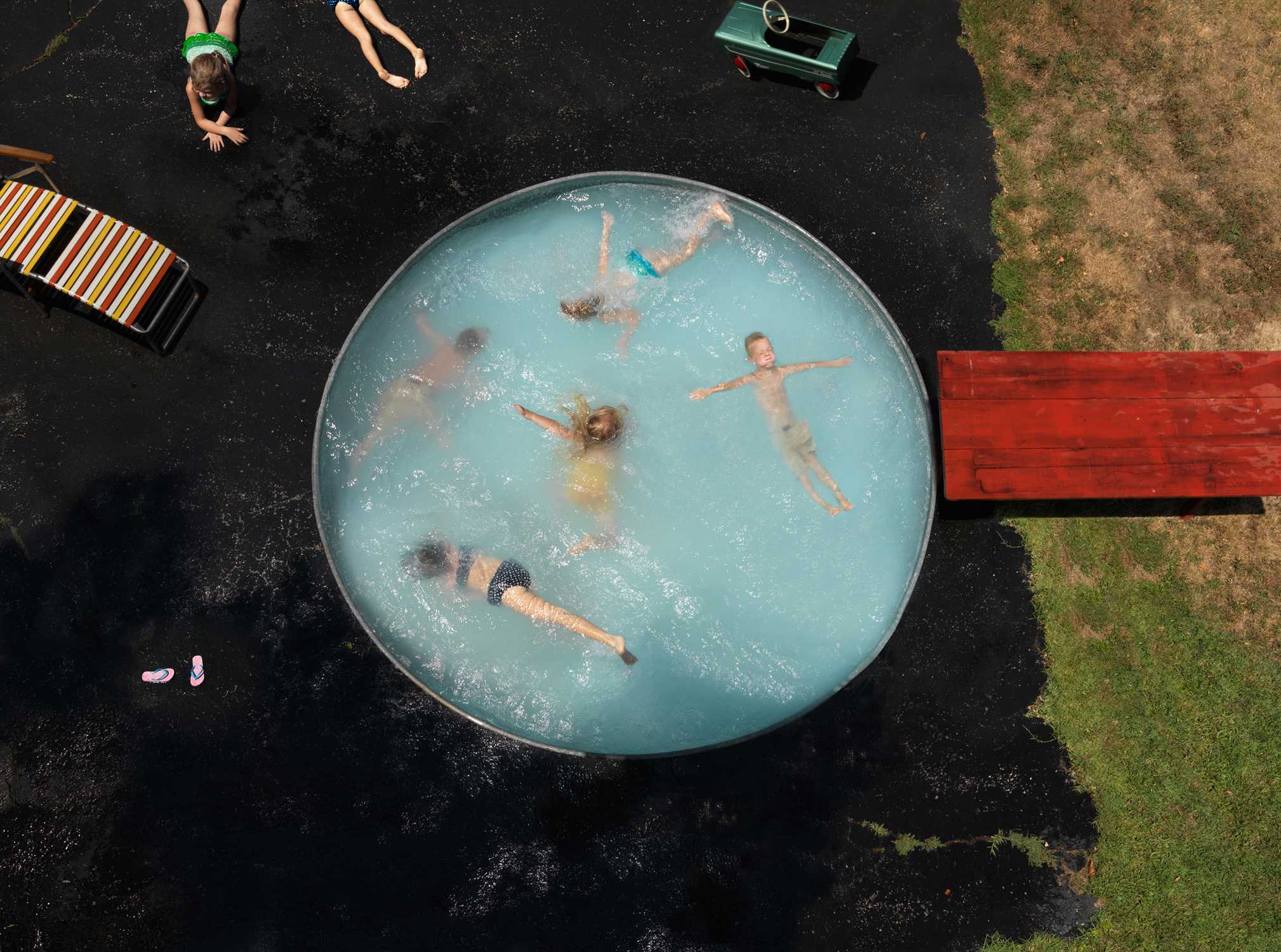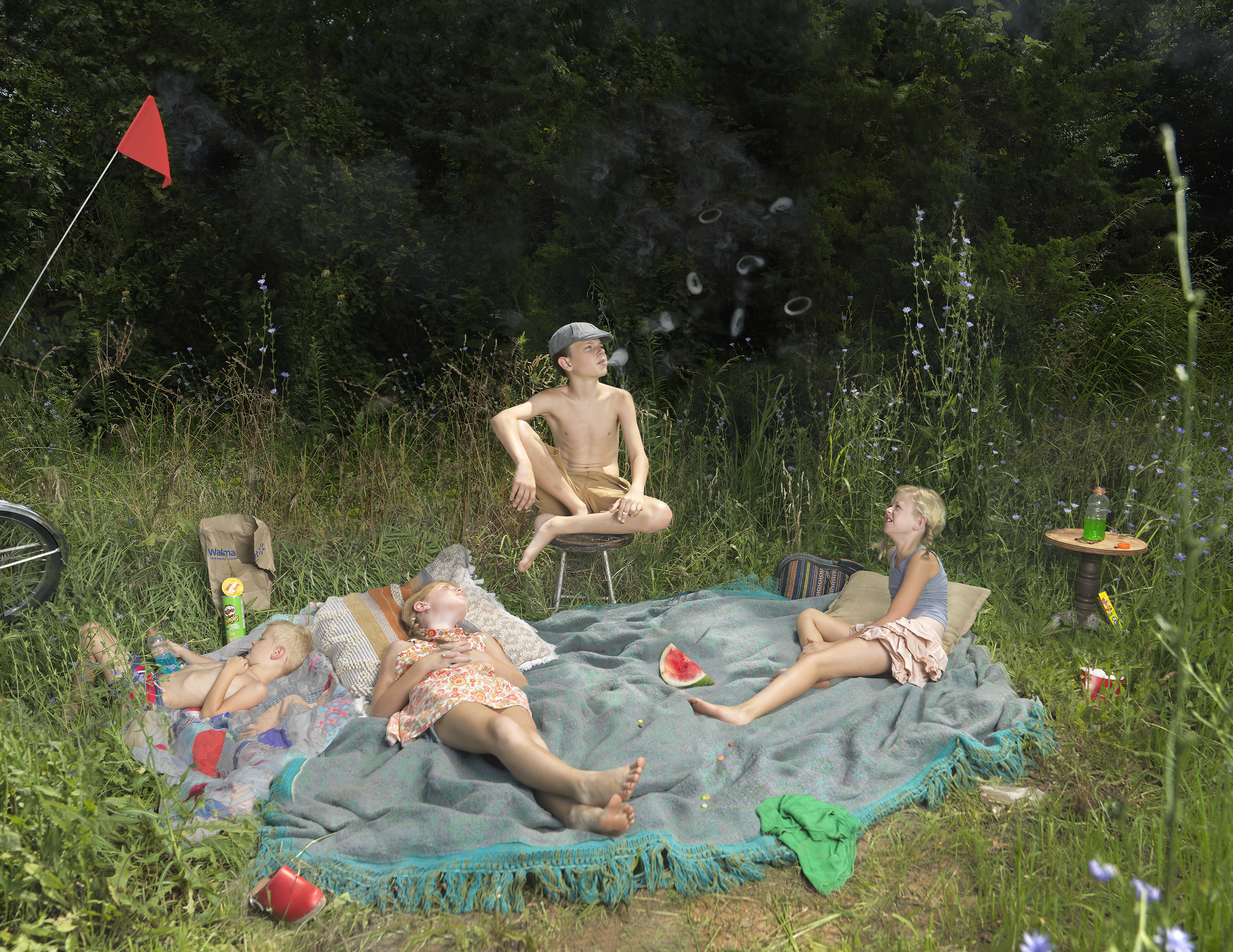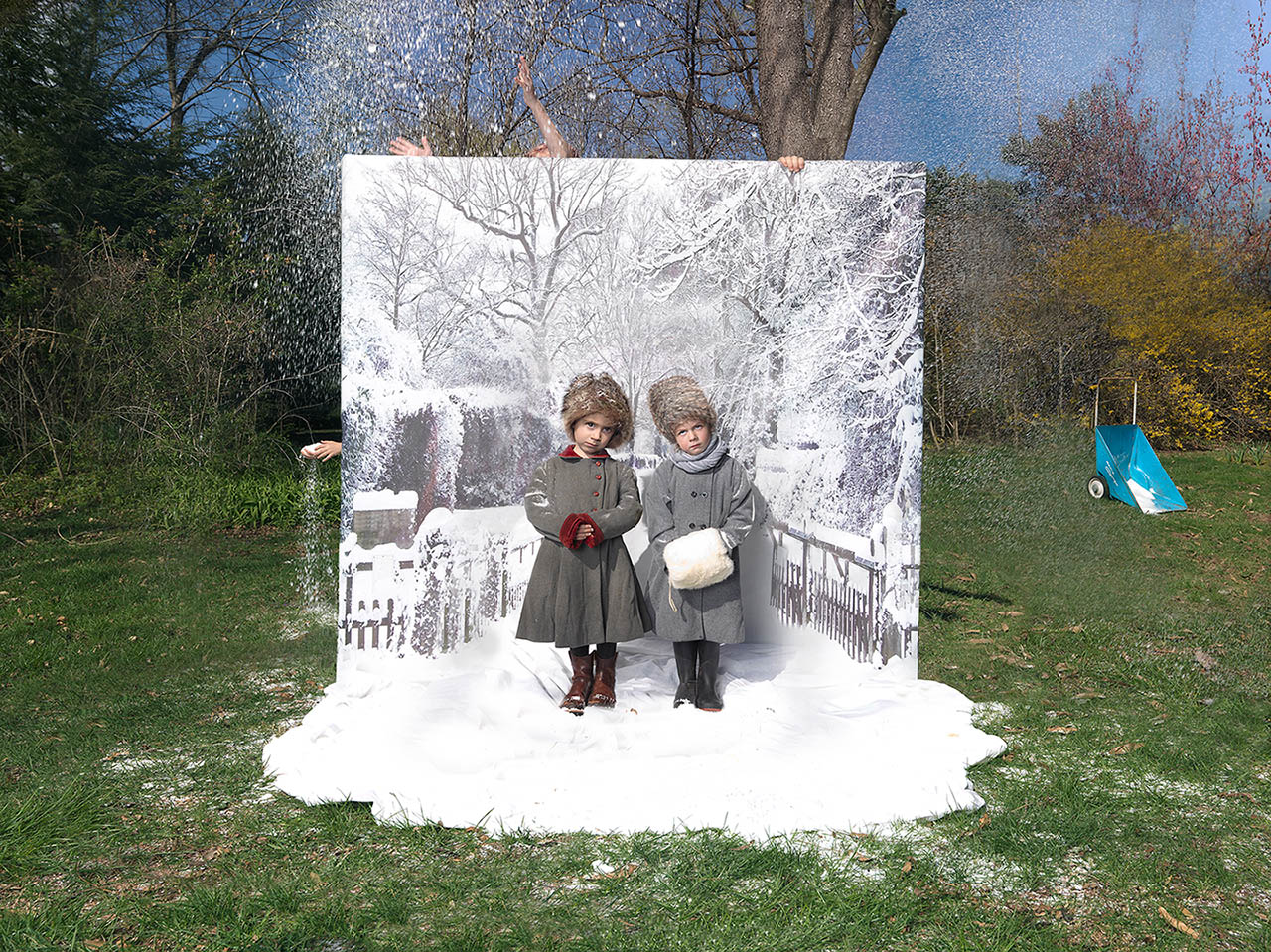 Fever Dreams is on display at Fotografiska New York until 18 October 2020.