The Kristen Stewart gay Christmas rom-com is coming out sooner than we thought
Honestly, who cares about the vaccine? The festive season is instantly saved.
|
03 September 2020, 1:48pm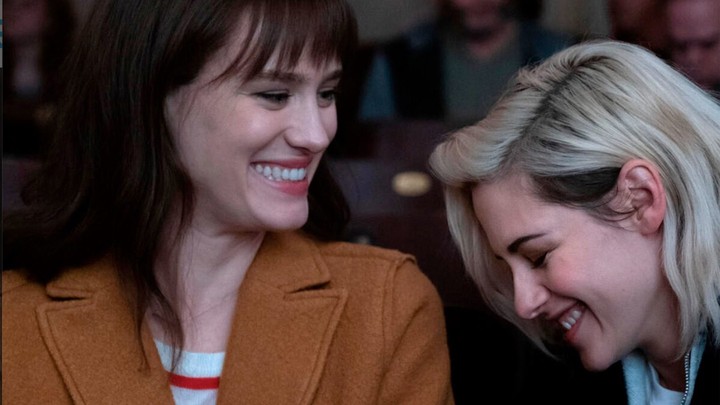 Last month we got a sneak peak at Kristen Stewart's new festive rom-com, Happiest Season, and at the risk of sounding over-excited, we think this is already about to be a future classic. Now, with the fear that the pandemic might have taken the one last good thing of 2020 away from us, Hulu have announced that they have acquired the US rights to the movie, giving it a release date of 26 November 2020, one day after it was meant to hit cinemas and saving it from the doom of perpetual postponement that so many other films currently find themselves in.
Admittedly, it feels weird that we're already thinking about Christmas, that Christmas films are even a topic of conversation. How is it possible, after all, when it was March only like, three days ago? Weird! But if we must face up to reality and the loss of almost an entire year and the imminent festive season, then we should at least do so through the prism of great Christmas films. As in, not Love Actually.
Images released via People magazine last month, show Kristen and Black Mirror actor Mackenzie Davis as the film's leading couple. Breaking with archaic tradition, Happiest Season will mark the first time a gay couple will play the lead roles in a Christmas movie, with Kristen and Mackenzie's characters navigating a family celebration. Abbey, played by Kristen, wants to propose to Mackenzie's Harper, who hasn't yet come out to her conservative parents.
"I think I've wished to see a gay Christmas rom-com my whole life," Kristen told People. "I'm so happy and proud of Clea for bringing this into the world. I love when a holiday movie makes you long for an idea of home, but also examines how hilarious and hard reality at home can be sometimes."
With Clea DuVall directing (and co-writing) and an impressive supportive cast -- featuring Alison Brie and Aubrey Plaza, we live -- we already can't wait for this one. It drops in the US on 26 November while plans for its international release are still being finalised. But time isn't linear anymore, so whatever.
Tagged: